The coronavirus pandemic has caused major behavioral shifts in our priorities and how we go about our lives. Some of the behavioral changes will only be circumstantial and temporary, lasting only as long as the pandemic. For example, wearing face masks is probably not a long-term trend that will continue after Covid-19 infection is no longer a concern. However, some behavioral shifts will remain with us well into the post-pandemic world. Those that do will mostly be driven by emotional changes in our priorities and become part of our emotional DNA.
One of those emotional, behavioral shifts is an acceleration of a trend that began several years ago – parents increasingly putting themselves first instead of their kids as their Gen X parents did.
I can trace the beginnings of this trend back to 2014 when Chuck E. Cheese's recognized that the mom "veto factor" was negatively impacting their sales, so they implemented changes to upgrade their menu offerings to appeal not just to kids, but to also to adults, especially the Millennial moms who wanted to provide their kids with a fun time without sacrificing their own experience.
Last year, in our company Leisure eNewsletter, we wrote how "family time" had taken on a new meaning. Millennials' parents wanted to pursue their passions while they spent their free time with their kids. When doing things with their children, it's no longer about kid-specific activities. They want to have new, exciting experiences that fulfill them personally while bringing their kids along for the ride. Four in ten dads even said they have no problem bringing their kids to bars.
Now the pandemic has accelerated that trend. The Family Room consultancy surveys tens of thousands of people to determine their most important "Passion Points" – their emotional priorities. Their latest research identified a pandemic-driven emotional shift that they say will outlast the pandemic. They describe it as a shift from "We Love" to "Me Love" – parents now putting themselves first rather than their kids. Parents now feel they can't be good to their kids unless they're good to themself. Several parents' behavioral shifts that demonstrate this long-term trend are a higher emphasis on getting promoted over their kids getting good grades and having fun with friends over fun as a family. Another "me love" shift places a higher priority on devoting time to making and keeping good friends over their children's happiness. This "we" to "me" love shift even shows up in dining out. Family fun is no longer the number one emotional reward parents seek from dining out with their family. There is now less importance on having fun together as a family and much more significance on parents choosing foods they feel good about eating.
The "we" to "me" trend has profound implications for the future of not only children's entertainment centers (CECs) that are focused exclusively on children, but also on family entertainment centers (FECs) that are focused on both children as well as the family as a whole. To satisfy this trend requires that location-based entertainment centers now have a primary focus on the adults.
Along with the "we" to "me" trend, several other trends underway are creating a perfect storm that threatens the survival of traditional model CECs and FECs, not only during the pandemic, but also into the post-pandemic world.
Covid-19 baby bust – The baby bust that started back in 2008 continued through 2019 with 42,000 fewer births, a 1% decline from 2018. In 2019, there were 565,000 fewer births than before in 2007, a 13% decline.
Brookings' researchers tell us that if you thought all the people stuck at home with their romantic partners during the lockdown and/or self-quarantining would reverse the trend and lead to a baby boom, you are probably wrong. The research estimated that the economic downturn caused by the pandemic could result in a dramatic decline in births on the order of 300,000 to 500,000 fewer births in 2021 than would typically occur.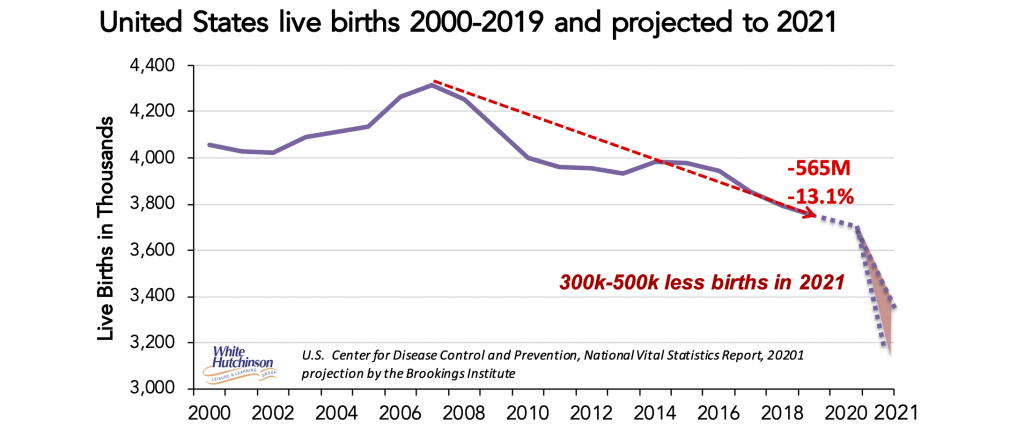 The researchers went on to say that additional future reductions in births may happen if the labor market remains weak beyond 2020 since the current economic circumstances are likely to be long-lasting and will lead to a permanent loss of income for many people [at the time the research was conducted, it was expected the pandemic would end much sooner than now anticipated]. The researchers expect that many of the births will not just be delayed but will never happen.
Families with children at an all-time low – The percentage of households with children is at a historic low, down from one-third in 2000 (33%) to only one-quarter of all households in 2019 (26%). The percentage of households with children five and younger are down by one-fifth. 

Not only is the percentage down, but the actual number of families with children is down by two percent compared to an almost one-quarter increase (23%) in the number of all households over the same two decades.
The decline of households with children means is that on average, a smaller share of households in any market area has children.
Fewer Millennials live with children than earlier generations – Far fewer Millennials live with a spouse and child than previous generations. Only 3 in 10 Millennials lived with a spouse and child in 2019, compared with 4 in 10 Gen Xers, 46% Boomers, and 7 in 10 Silents when they were the age Millennials are now. At the same time, the share of Millennials living with a child but no spouse (12%) is the same as Gen X but higher than Boomers and Silents. Overall, only 42% of Millennials live with a child compared to 52% of Gen X, 55% of Boomers, and 74% of Silents.

KGOY – Another phenomenon is fueling a shift of "family time" away from children's venues to places that satisfy parents' entertainment preferences – kids getting old younger (KGOY). Children's age compression, children growing up faster and becoming more sophisticated for their age in what appeals to them, has shrunk the children's age range for the appeal of children's entertainment centers. In the early days of Chuck E. Cheese's, it appealed for children up to around age 12. Today, it would be rare to find a 9-year-old wanting to go there, but instead preferring an adult entertainment venue that would also satisfy their parents.
Don't wait for the child-oriented family and the children's out-of-home entertainment market we once knew not that many years ago to return; they are gone and never coming back.