During the pandemic, home has become the multiverse where we work, eat, play, are entertained, learn and connect with family and friends. It has become the safe sanctuary, the uber-bunker where we stay as much as we can to avoid the dangers of the outside world, especially from infection from the coronavirus. Home has been recast as the new office, coffee shop, restaurant and leisure venue.
Our Uber-Bunkering is not a sudden shift in our behavior. It is an abrupt and dramatic acceleration of the trend of spending more time at home that has been underway for a number of decades. Our company first started following and reporting about the trend and its impact on location-based entertainment in our Leisure eNewsletters back in 2007.
Over the past 15 years, Americans have on average increased the time spend at home and not sleeping by 16 minutes per day. This translates to 6.4 days' worth of daily awake time (about 15 hours and 10 minutes a day). People are also sleeping 14 minutes more per day bringing the increase of total average daily time at home to 30 minutes.

Back in 1981, futurist Faith Popcorn predicted the lifestyle Cocooning trend – people staying at home and cocooning there. Then in 2008, she envisioned it would intensify with her prediction of Uber-Cocooning, brought on by the Great Recession, causing people to retrench even more inside their homes with new at-home digital entertainment and socialization options. Then she came out in 2016 with her observation that Uber-Cocooning was getting more extreme and evolving into a new lifestyle trend she labeled Bunkering, a more intensive staying at home trend.
With Bunkering, Faith saw Americans seeking safety and escape from permanxiety – the near constant state of anxiety that existed from worries brought on by fear from terrorism, natural disasters, multiple mass shootings in the US and other bad news. Back then, the outside world had become a very stressful and scary place. People escaped reality by Bunkering in the sanctuary of their homes.
Research in 2016 by Ypulse found that nearly 3 in 4 millennials (72%) would rather stay in and bunker on the weekends than go out at night.
The 2018 Trusted Media Brands Modern Family Study found that "staying in is the new going out" – 80% of families and 78% of millennials said they would rather stay in with their family or friends than go out. The most popular at-home quality time activity for 95% of people was socializing/hanging out. The study found the reason for this lifestyle trend was not only due to the explosion of on-demand entertainment and delivery options at home, but also stagnant wages and people feeling frazzled, whether they're exhausted from constant digital connection or anxious about where society and the world is headed.
The trend of increasingly hunkering down in our homes has been given many other names including home-basing, hygge and digital-hiving.
Then along comes the coronavirus, changing the outside world into an even scarier place, as no matter where we go, visiting is a serious risk to our health, even our lives. We've now entered the era of Uber-Bunkering. We're staying home and avoiding unnecessary trips to the outside world. Home has become the sanctuary where technology has enabled us to access almost all our needs.
Since Uber-Bunkering is not a new behavior, but rather just a sudden extreme continuation of a behavior trend that was already underway, can we ever expect the outside world to again become an inviting place when the pandemic is finally over?
One way to look at Uber-Bunkering, our new behaviors and whether they might continue post-pandemic, is to examine the routines and habits it interrupted that previously took place in the outside world. Routines and habits create comfort and structure. They help us confront a world we often can't control.
The virus has caused us to lose our familiar rhythms of life – the simple pleasure of the coffee shop, driving to work while listening to NPR, meeting friends at a restaurant, meeting fellow workers for an after-work drink, going bowling with family or friends, attending a concert or festival with friends. So, we rushed to establish new ones.
The at-home virtual technology evolution that took place over the last few months has facilitated finding new routines, as it gave us so many new ways to occupy and enjoy ourselves at home. People who previously didn't use at-home digital games and virtual technology have adopted them; they're the "virtual immigrants." And the already digital and virtual natives have increased their use.
Today, we're learning new recipes online and cooking and baking more; taking mixology lessons, enjoying hobbies; gardening; having virtual cocktail hours and virtual dinners; socializing virtually, binging on video content; virtually visiting museums, zoos and aquariums from all over the world; living a 2nd life in Animal Crossing. We're developing new rituals and routines in our uber-bunkers to bring us comfort and security. We're like a child who lost their blankie. We've found a new blankie.
Socialization, getting together with friends or family at some out-of-home (OOH) leisure activity, whether dining at a restaurant or visiting location-based entertainment and cultural activities (LBE&C) was the primary reason people left home for leisure activities pre-Covid. The coronavirus has prevented or severely limited those activities, even where those businesses have reopened, due to people's fear of catching the coronavirus and/or bringing it to their loved ones. Currently only 1 in 3 adults (30%) are still socializing in public places, with most of them doing it less than before. For the rest, 7 in 10, who are no longer socializing in public places, over half of adults (53%) are socializing at home in person or virtually with family and friends, and 1 in 6 are not socializing at all (17%).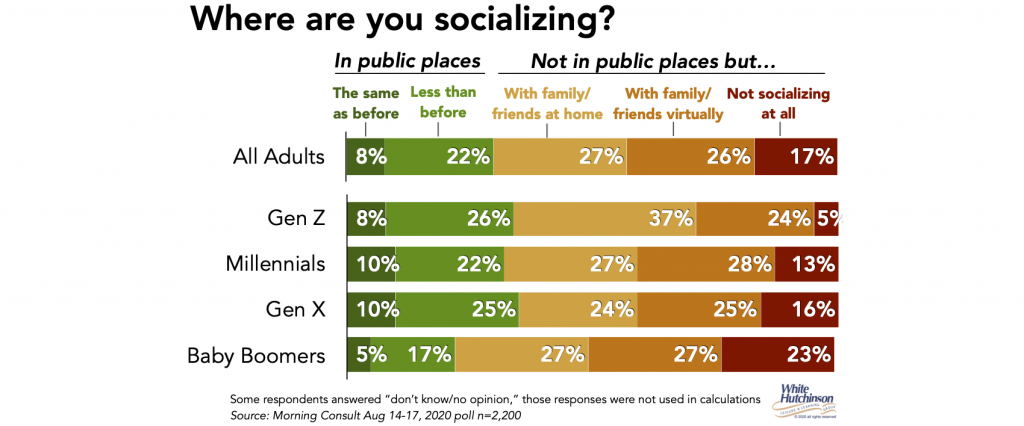 Not everyone has had an easy time maintaining their social connections. While, a little over one third of adults (37%) say it has been very or somewhat easy, nearly one-quarter (24%) say neither easy nor difficult, and nearly 4 in 10 say it has been somewhat or very difficult (38%).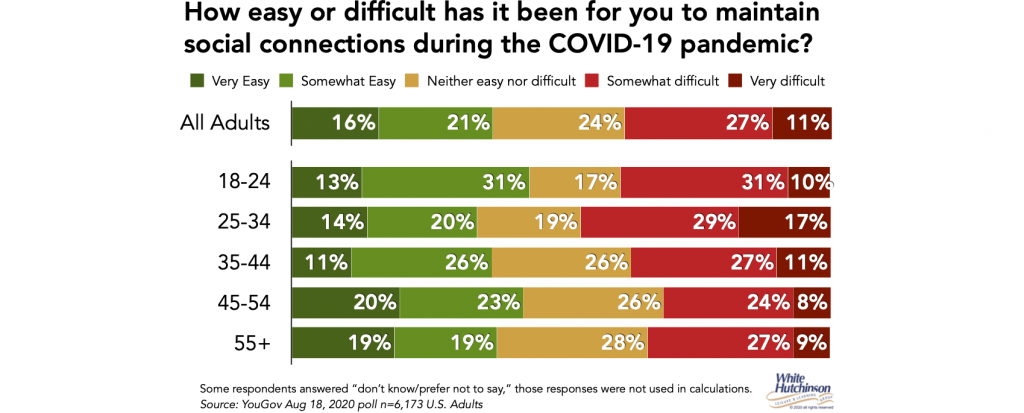 Nearly two-thirds of people miss their old routines (64%); more than 6 in 10 have developed new ones (62%) that may in part outlive the pandemic.

One or more vaccines will hopefully be developed with a majority of Americans vaccinated by the end of 2021. Assuming that happens to end the pandemic, what can we expect for LBE&C in 2022 and beyond? Which of our new blankie behaviors and habits will stick, which old 2019 normal behaviors and habits will we return to? Following are my predictions as it relates to attendance at LBE&C.
Past epidemics, disasters and other social disruptions can alter our behavior for years. The Great Depression permanently altered many people's behaviors. The roughly decade-long crisis led many people, later in life, to be frugal and fear discarding anything that might turn out to be useful.
I believe one thing is for sure, we will not be going back to 2019. Faith Popcorn has predicted, "Covid-19 will redefine our homes forever – favoring bunkers and self-sustainability." Post-pandemic, the home is likely to continue to remain as a major hub for more social and leisure time and activities than it was pre-coronavirus.
Some of the new routines and habits we've developed are likely to be sticky to some degree and permanently replace some of the time we previously spent at LBE&C experiences. People have found and enjoy new hobbies, cooking and baking, DIY at home, virtual entertainment and cultural experiences, along with socializing with family and friends in our home or someone else's home or virtually. The August 21-23 Harris poll found that nearly half of adults (49%) have found new at-home hobbies and pastimes they've enjoyed during coronavirus. More than 6 in 10 say they're connecting and communicating more with family and friends either in homes or virtually (61%).
A June survey by Accenture found that the majority of people have adapted new behaviors and a large majority of them predict they will continue them going forward.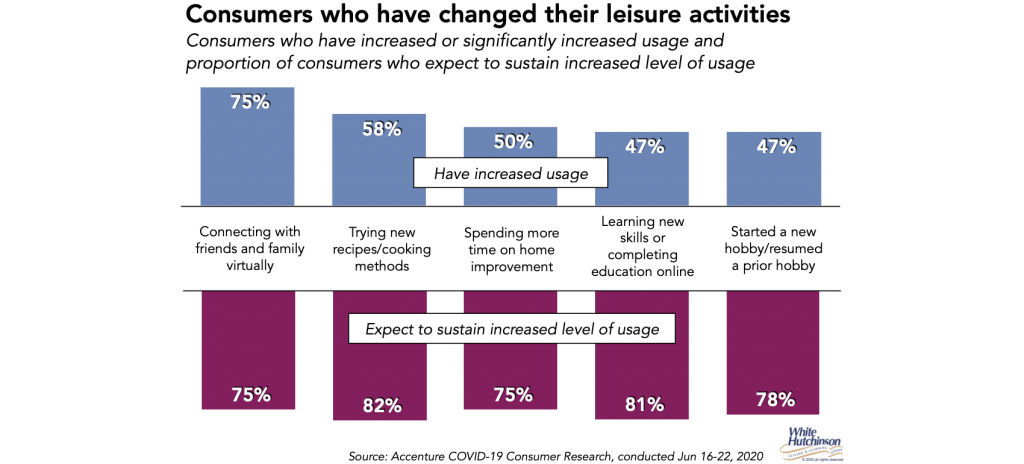 A Morning Consult poll found that the majority of people who have learned and been cooking from scratch plan to continue post-pandemic.

A June survey by The Hartman Group found that almost half of adults (49%) say they expect to continue to prepare meals at home more frequently than their pre-pandemic norms. Few (8%) imagine they will cook less.
During the pandemic, we've learned to use and enjoy many new virtual experiences in our homes. We've learned and used at-home delivery options, including for chef prepared meals and bartender prepared cocktails from restaurants. Although those virtual and delivered experiences are not as good as in real life (IRL), they come much closer, meaning what used to be attractive as an OOH option may have lost some of its appeal. To get people to leave their homes is much more inconvenient and/or costly than the at-home alternatives, so the OOH options in the future will have to be much more appealing to overcome their inconvenience and cost barrier.
One indication of what OOH activities people will most likely return to post-pandemic is to examine what they currently most miss doing. An August 21-23 Harris poll found that three of the four most missed activities are social activities – gatherings with family and friends, in person celebrations and going to social gatherings – missed by more than two-thirds for adults.

The other one of the for, dining out in a restaurant/bar, in reality is a social activity. The social aspect of visiting a restaurant or bar is typically more important to people than the food or drink. A Morning Consult poll found that the number one thing people miss about dining out is socializing with friends and family (41%) followed by food they can't or haven't made at home. We're social creatures by evolution. We're hard wired to get together with other people face-to-face. So, OOH social activities will have the strongest appeal.
A mid-August poll found that once the pandemic is over, half of people think their eating habits (51%) and nearly 7 in 10 think their social activity (69%) will not return to normal.

A significant post-pandemic influence will be the economic recession that is predicted to last for a number of years. The recession's continuing impact on consumer discretionary spending due to unemployment, reduced earnings and accumulated debt during the pandemic will definitely negatively impact visits and spending on non-essential LBE&C.
At-home social activities should continue to retain a larger market share of social activities than pre-crisis. The quality of our digital social options increased during the pandemic with options such as Zoom. Zoom interactions are higher quality than phone and text as they are face-to-face. Many virtual activities have turned into shared social experiences such as virtual happy hours and dinners. Non-violent video games such as Animal Crossing have attracted a large following as they allow shared social experiences. I can visit your island and you can visit mine. We can do things together, even attend a streaming concert together.
During the pandemic, people found many of the new at-home entertainment and cultural optionsexperiences enjoyable, with many being very social. Those at-home options pass the two major tests for a habit to continue – first it needs to bring some benefits, and second the constraints of keeping up with the habit need to be low, it is easy to continue.
At the other end of the socialization spectrum, the pandemic may have altered our priority for IRL social interactions. The August 21-23 Harris poll found that nearly half of people (47%) currently feel lonely and cut off from the traditional outlets for human connection with family and friends. The pandemic has taught many people that the things they hold on to dearly can be taken away nearly instantly. It may make us more likely to say yes to IRL face-to-face social invitations well into the future.
When the pandemic ends, our longing for social interaction will have us craving physical world contact with friends and family. However, more of that IRL socialization will take place in people's homes. I remember when I was growing up, going out to socialize at restaurants and entertainment centers was not part of the culture. There weren't as many OOH options like today (or at least in 2019). My parents got together with their friends in their homes, often around food and drink. Families got together in each other's homes, again with food and drink being important. Today, we have the option of having quality restaurant food delivered to our homes for those occasions. I believe in the future we will see more of those retro-style home get togethers, a trend that millennials were already into pre-Covid.
Many of our new virtual and at-home behaviors and habits are likely to stick and continue even post-pandemic, permanently replacing some of the OOH ones. Yes, most people will return to visiting LBE&C, but less frequently, as leisure time is a zero-sum game. You only have so much of it. More of it will continue to be enjoyed at home.
Instead of asking, "Is there a reason to do this online or at home?" people will now be asking, "Is there a good reason to do this away from home?" The new at-home and virtual opportunities and habits will be formidable competition to the forms of OOH LBE&C that existed pre-corona. The virtual experiences have raised the bar for what is required to get people to again leave their homes to visit LBE&Cs. Many OOH experiences that were attractive in the past will be less relevant and compelling compared to the at-home ones we have gotten comfortable with and are enjoying on a regular basis. The at-home options are far more convenient and less costly.
There will be less OOH LBE&C visits and spending to go around post-pandemic, so those venues that survive will need a winning formula, a compelling reason to visit. Although the number of LBE&C venues that survive will be fewer, the OOH demand will be less due to the increased time spent with at-home experiences.
So, what will that winning formula be to get people to leave their homes? There are two essential elements. First is good quality, craveable food and drinks that includes the elements of adventure and discovery; food and drink that you can't easy make or enjoy at home. Of all OOH leisure business experiences, restaurants and bars are missed the most. They were the most frequent OOH experiences people had pre-pandemic and that will continue post-pandemic. In fact, a significant portion of people prefer visiting restaurants over attending entertainment venues. A YPulse 2016 survey found that nearly 8 in 10 millennials (78%) prefer going out to a restaurant more than other options, including entertainment venues.
The second essential element is highly social experiences, not the shared ones like going to the movies sitting side-by-side, but ones where people do things IRL face-to-face, such as interactive social games. The perfect formula is when the food and drink can be enjoyed while the group is participating in the social games, think of social eatertainment experiences such as boutique bowling and social driving ranges such as Top Golf.
Value, what the experience offers, will be more important than price. To get people to leave their homes will require premium experiences. In the post-pandemic world, mediocre experiences will no longer work for LBE&C.
Make no mistake. One thing is certain. The LBE&C competitive landscape will be forever changed in the post-pandemic new normal.
Follow me on Twitter and Linkedin – I try to post news and information that is relevant to the location-based leisure, LBE and FEC industries a few times every weekday.
To subscribe to my blog, click here