Vol. XXII, No. 8, August 2022
---
---
Is the potential oversaturation of eatertainment venues in Atlanta a precursor for other markets?
The Atlanta market has seen the opening of many new eatertainment venues over the past few years, including Puttshack, Punch Bowl Social, The Painted Duck, Fowling Warehouse, Pin and Proper, Roaring Social, and the Roof at Ponce City Market, some within the same neighborhoods.
Atlanta appears to be a hot market for eatertainment venues at the moment. Currently, 11 new ones are slated to open in and around Atlanta by the end of 2023. This could well bring on oversaturation. A market can only support so many.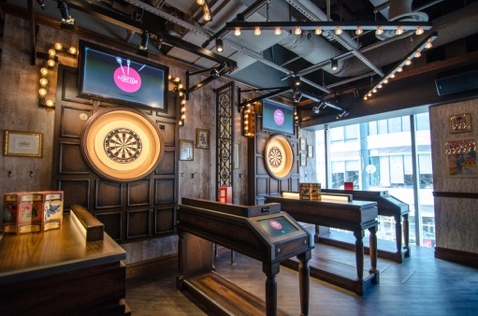 Flight Club - Flight Club will join Puttshack, Fowling Warehouse, and the Painted Duck in the same neighborhood in the Star Metals complex on Howell Mill Road. Specializing in a technologically driven take on darts with automated scoring and multi-player options, Flight Club serves pub fare paired with beer, cocktails, and wine.
Your 3rd Spot - Your 3rd Spot features over 70 game options, including bowling, billiards, shuffleboard, ping pong, and lawn games. There's a slide on the patio, a classic arcade, a beer garden, and a social club with DJs. Globally inspired small plates will be paired with cocktails, wine, and beer. Top Golf, another eatertainment venue, is located nearby (see our previous article on Your 3rd Spot)
Culinary Dropout - This Arizona-based restaurant chain features multiple TVs tuned into sports, live music on stage, and games like ping pong and corn hole on the patio.
Painted Pickle - Painted Pickle will have eight indoor pickleball courts, two patios and features a full bar and a kitchen offering everything from sushi and charcuterie boards to sandwiches and salads.
Westside Motor Lounge - Three vacant automotive repair shops will transform into a sprawling entertainment complex featuring food, an indoor-outdoor bar and lounge with a variety of seating, and a courtyard with shuffleboard, yard games, and a stage and screen.
Painted Park - Along with games, food, and drinks, Painted Park will have an outdoor space with lawn games.
Press Start - An arcade and virtual reality consoles are located on the first floor, with shuffleboard, foosball, darts, and board games on the rooftop. Expect Asian-style small plates and street foods, cocktails, beer, and wine.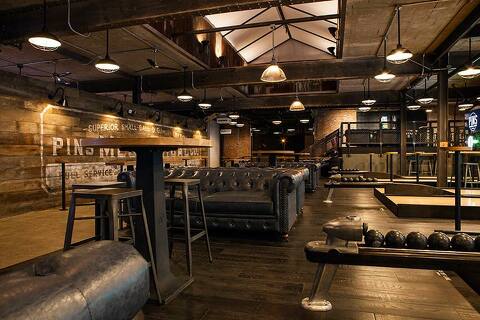 Pins Mechanical Company - This sprawling game and restaurant venue will feature rooftop patios, a courtyard, and three bars serving cocktails, boozy slushies, beer, and wine. There will be 16 duckpin bowling lanes, patio pong, bocce ball, ping pong, pinball machines, vintage arcade games, and video game consoles.
Battle and Brew - features a full bar and restaurant serving pub food, televisions playing Sci-Fi movies, and PCs and gaming consoles, including Nintendo, PlayStation, and Xbox
Puttshack - This one will be their 2nd Atlanta unit to be located in Dunwood. It will feature indoor mini golf courses using Trackaball scoring and interactive gaming technology, as well as a full bar and restaurant serving pub fare.
Fairway Social - Their 1st location was in Alpharetta. In Fayetteville expect a full-service restaurant and bar, a putting green, golf game simulators, and a patio, along with other games like darts, corn hole, and ping pong.
Many of these coming eatertainment venues, such as Your 3rd Spot and Flight Club, could be better described as competitive socializing, a higher fidelity eatertainment concept. Adult competitive socializing venues are a fast-growing category of location-based entertainment. They combine different forms of social games with high-quality food and drink available where the games are played.
There is a high probability that these newer eatertainment concepts will take market share away from many of the older location-based entertainment venues in the Atlanta market. We will likely soon see many of these eatertainment and competitive socializing type venues popping up in many other cities throughout the U.S., threatening the success of older concept LBEs there as well.
Vol. XXII, No. 8, August 2022
---
---