---
Miniature golf design for tomorrow
Guest article by Peter F. Olesen, P.E.
We retain Pete Olesen to design all the go-kart tracks, miniature golf courses and bumper boat ponds for our client's projects. Thanks, Pete, for letting us share your article with our readers.
Miniature golf is just as relevant today as it has been for many years and will still be relevant in the years to come due to its appeal to guests of all ages. Regardless of everchanging technology, the advent of virtual reality and new outdoor attractions it continues to be a draw. This is partly due to people's innate desire for social interaction and a pent-up need to shake the dependence on digital interaction and actually enjoy the real world.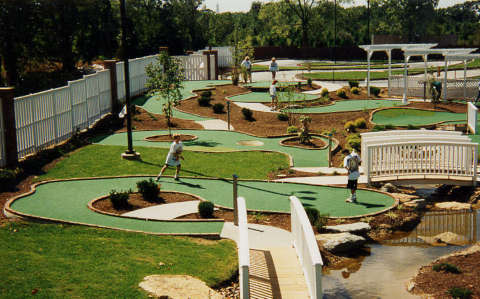 Peter's miniature golf course at The Park at Middletown, Louisville, KY
Today's miniature golf course must address different criteria than in the past. Today's more sophisticated miniature golfer has greater entertainment expectations when they visit miniature golf courses. The days of people flocking to low par, gimmicky courses are almost gone for several reasons. People are looking for "more bang for their buck" in terms of realism and challenge. Increasing exposure to golf on television and in the newspapers accompanied with the expansion of driving ranges, public and private golf courses, introduction of golf-oriented video and arcade games and golf simulators has created an audience that is far more aware of golf as a sport and miniature golf as a form of entertainment.
In place of yesterdays "gimmick" miniature golf courses with all types of gimmicks and props, we are seeing far more interest in "golf in miniature" with realistic fairways, challenging play and a themed surrounding. Although tourist-oriented facilities still compete on the basis of elaborate theming; the average local market courses are seeing a demand for better, more challenging and more entertaining play.
Miniature golf offers a relaxing, time-consuming form of entertainment that blends well into the planning of family entertainment facilities in terms of extending times of stay. It is a form of entertainment that does not require athleticism or special skills but rather offers a wide range of enjoyment and relaxation from socialization to competition. It is attractive to a broad age span including families with young children, date nights, and senior citizen groups.
Selecting Your Course of Action:
Prior to making a determination as to the type of course to construct, there are a few elements to consider:
Target Market: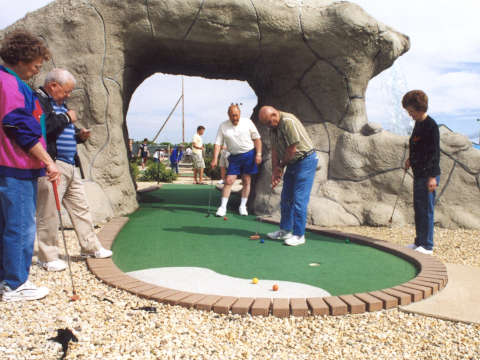 Peter's miniature golf course at Sugar Grove Family Fun Center, Sugar Grove, IL
The type of course you would design for a local community is quite different than a course you would design for a tourist environment. The typical tourist market may be able to support a number of courses in close proximity to each other where heavily themed or more visually exciting facilities take precedent over challenging play. However, the local course which relies on repeat business, must combine entertainment value with challenge play. If it is too simple (low par values), there is less desire to return.
Course Design:
Each course site has its own individual physical characteristics that must be addressed in order for the course layout to best serve the needs of the owner and provides the best experience for the guests. This includes local climate, site topography and the competition.
Physical elements that can affect the design of a specific course include the existing physical terrain, the size and shape of the site, existing drainage and surface grades. The location of existing or proposed adjacent attractions and the flow of people through the course and the surrounding facility will also have an impact. These will govern the general configuration of the course in terms of its shape and the placement of individual holes and water features.
The average size of individual fairways (holes) can vary according to available budget, overall course size and client preferences. For many sites the average par value may govern. Too simple a layout, with many par-one and par-two holes will be boring to all but the youngest players. Too difficult a course will turn off the younger players. We try to create a balance that includes several unusual holes that appeal to youngsters and some that challenge older players while not discouraging the younger players.
The character of individual holes is defined by the introduction of varying surface grades, alignment, introduction of simulated sand traps and water holes, creation of moguls and other surface irregularities, multiple cup placements, obstacles of various types, drop holes, ball ramps and other unique elements to increase the "fun" of playing the course
ADA Compliance
Current interpretation of ADA mandates is that a course must contain nine handicap accessible holes on each 18-hole course. This approach is followed by most of the established miniature golf course design-build firms. However, this writer and his company strongly believe that all eighteen holes on every course should be handicap accessible. We feel that incorporating ADA compliant design into the entire course is attainable without sacrificing play and entertainment value. We have followed this policy since our first miniature golf course design in 1992.
Sound Drainage Design
Failure to design proper course drainage can result in temporary loss of use of the course, creating a breeding ground for mosquitos, flooded fairways and destruction of landscaping. The individual fairways should be designed in such a manner that water will not accumulate and stay on the carpet. This means that the areas adjacent to the holes on the fairway carpet must also be designed to drain properly. Proper drainage does not cost extra when it is addressed during design rather than after the fact.
Landscaping Design
Good course landscaping involves more than creating attractive surroundings for the course. It must take into consideration its impact on the operation and maintenance of the facility. Plantings that require extensive watering can create drainage problems, and if not properly controlled can also impact course play. The use of conventional bluegrass and comparable lawn grasses in the areas between the fairways can greatly enhance the appearance of the course, but it also creates problems in terms of mowing operations and moving the equipment on or off the course as well as the requirement to vacuum or blow the fairways to remove grass clippings.
Landscaping Plant Selection
Care should also be taken during the design phase to avoid planting leaf shedding plants near the individual holes. This will minimize the time required to maintain a clean playing surface in the fall. For those clients that want a lot of natural landscaping as part of their course, we recommend that they work with a local landscaper to assure that the plants selected are acclimated to the area and that they are as maintenance free as possible.
Another landscaping factor is visibility. Taller and denser plantings, especially when coupled with lower lighting levels can create secluded areas that many parents would deem unsafe. We strongly recommend that the types of plantings and their placement be done in such a manner as to avoid hidden areas on the course for obvious security reasons.
Streams and Waterfalls
Modern stream and waterfall systems offer a wide range of theme and course design possibilities. Waterfalls can be designed as major structures, elements coming out of natural slopes or as small rock structures with water flowing out of them. Most waterfalls flow into a stream that connects to a receiving pond for recirculation back to the waterfall by means of a pump and underground piping. Some waterfalls are surrounded by water with all the flow and recirculation taking place from the pool to the top of the waterfall. The waterfall and accompanying receiving pond must be properly designed to flow correctly when the pumps are on as well as accommodate the overall volume of drainage in the evening when the pumps shut down.
Other aspects to consider are proper aeration to prevent algae, scum or other unsightly water elements' access to the pumps and electrical/mechanical elements such as a locked control box, and the inclusion of valves in the piping systems to regulate flow should be tightly controlled. Waterfall piping systems should incorporate valves to regulate flow. This permits the owner to vary the waterfall intensity from a very slow flow to a raging cascade.
Course Lighting
We recommend a fairly high lighting level on miniature golf courses for a number of reasons, including helping guests feel comfortable, faster play and for site security. When establishing lighting levels, it is important to be aware of and in compliance with local lighting ordinances and regulations.
Many communities have very specific regulations governing area lighting that span mounting heights, shielding, candlepower, hours of operation and related issues. The use of sharp cut-off luminaires and proper placement of the light standards can reduce neighborhood opposition.
The advent of outdoor LED lighting has brought about major savings in energy consumption and extended luminaire service life.
Safety Elements
Care should be taken in the design of the course to avoid tripping hazards wherever possible. This includes on the fairways, sidewalks and adjacent areas.
Safety fences and netting should be used to keep small children away from the ponds and other hazards that may exist on or around the course. All controls shall be housed in childproof housings. We strongly encourage chain-link, wrought iron or other childproof fencing be used to keep non-players from wandering across the course.
Play Flow Control
The design of the course should take into consideration the flow of people as they play through. Improper groupings of holes with higher par values can result in "bottlenecks" that slow down play over the entire course. Proper planning can intermix the placement of fairways that tend to slow down play to avoid creation of extended segments of the course that slow the play down.
Proper placement of benches to permit older players and those with physical problems to sit down occasionally, can greatly increase the player friendly feeling of a course
End of Play Considerations
Most miniature golf courses are incorporating some form of ball capture at the 18th hole to reduce the number of balls that disappear from the site. Some of the approaches used include rewards for holes in one. These may be in the form of premiums such as free games, coupons from community fast food restaurants and other local businesses.
Selecting a Quality Contractor
There are a number of reputable design build and construction only firms in the industry that are capable of constructing miniature golf courses that will stand up to the traffic a quality course will attract.
The methods used to construct the courses vary. However, working with a construction-oriented firm that work with plans developed by experienced designers, and that actually follow the designs and specifications, will result in superior construction, quality materials and long lasting.
Copyright 2018 Entertainment Concepts, Inc.
See next month's part two article to learn more about alternative courses, indoor golf and designing for a tourist market.
Peter is president of Entertainment Concepts, Inc. (formerly Peter F. Olesen and Associates, Inc.). He is a licensed professional engineer in several states. He founded the firm in 1984 and in the ensuing years has been responsible for the development of more than 500 separate family entertainment industry projects Peter's projects have spanned initial concepts, feasibility studies, assistance in developing business plans, final design and preparation of contract plans and specifications, construction layout and related services for both new projects and existing facility renovations and modifications. Peter can be reached via his websiteor at peteolesen@yahoo.com or 847.561-7013.
---