Vol. XIV, No. 2, February-March 2014
---
---
Importance of ambiance
The community location-based entertainment (LBE) industry consisting of different types of family entertainment centers (FECs), bowling centers, laser tag centers, eatertainment and similar entertainment venues is not very large. It is estimated that there are only around 10,000 such venues in the U.S. An industry that small in number and so diverse in types doesn't warrant much in-depth consumer research by consumer research companies. However, in related industries such as retail, hotels and restaurants, there is an enormous body of continuing research that we in the LBE industry can turn to for evidence-based guidance.
Technomic recently undertook research on the importance of ambiance to consumer restaurant value perceptions and ratings. The research found that although ambiance, the overall feeling that is evoked by the physical space including its interior design, décor, layout and lighting, can be easily overlooked because of its intangible nature, it is a very important consideration in a consumer's decision to visit a restaurant. According to their research, ambiance is associated with higher consumer experience ratings and overall satisfaction.
Some highlights from the research include: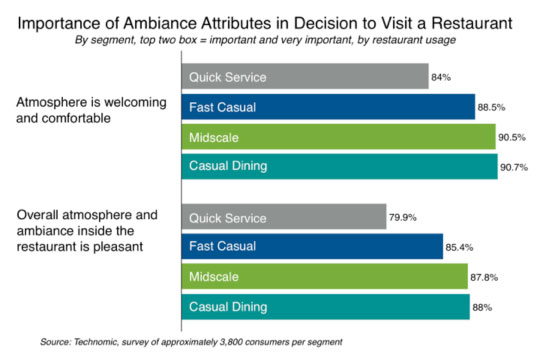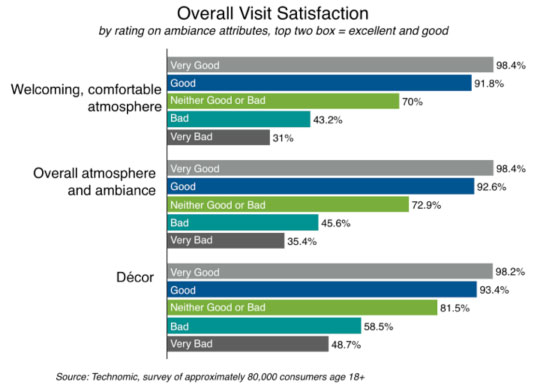 Unfortunately, what we see too often at community LBEs is that the quality of the décor, the furniture, the total physical environment and the ambiance it creates is totally ignored, for what we assume are owners' mistaken beliefs that the entertainment is all that really matters. How wrong they are, as they are negatively impacting their revenues.
The decision to visit, the price-value evaluation and the satisfaction from visiting an LBE are all based on the total experience that includes of course the entertainment, but just a important, the ambiance (what our company calls quality-of-place), the customer service and the food and beverage. Just as the food and beverage is not all that matters in a restaurant, the same is true of LBEs, it's about a lot more than the entertainment. Our company likes to compare the totality of the customer experience at an LBE to a four-legged stool. We all know what happens if you sit on a four-legged stool if the legs aren't all the same length or one leg is weak and breaks - you can end up with your butt on the floor. Well, the same is true for an LBE. If any one of the legs is weak, guest satisfaction suffers and the business can end up on its butt, or worse, in bankruptcy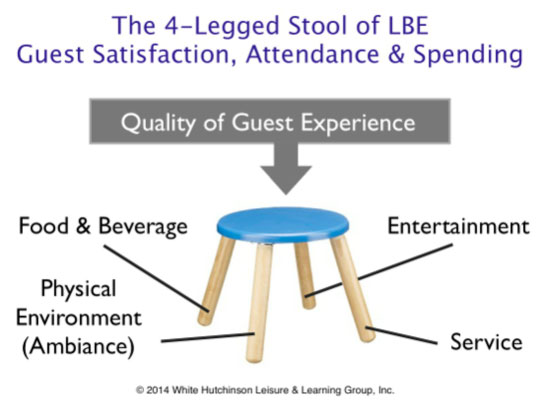 The Technomic research makes very clear how important décor, atmosphere and ambiance is to customers' value perceptions of restaurants. There is no reason to doubt the same is just as important to FECs and LBEs, especially since most of the newer successful models also incorporate such a major food and beverage component.
Vol. XIV, No. 2, February-March 2014
---
---