This article was published in by the World Waterpark Association in their January 1997 issue of Splash magazine. The article is a summary of a presentation made by Randy White at the 1996 World Waterpark Convention.
Expanding Waterparks with Dry Attractions
by Randy White
The changing leisure marketplace is challenging waterparks' abilities to maintain and grow their business.
Perhaps the most serious issue facing many waterparks and other summer seasonal destinations today is the phenomenon of the "shrinking summer," the term used to describe the trend toward earlier school start dates or year-round schooling.
Consumer options for out-of-home leisure experiences have greatly expanded since the early days of waterparks. New forms of location-based entertainment have emerged to compete for consumers' limited disposable leisure time (in an increasingly affluent society, many consumers consider time more than money to be their most limited commodity). These new options include:
family entertainment centers (FEC), some of which are entertainment category-killers - as large as 250,000 square feet of indoor space plus outdoor attractions,
multi-screen cinema and FEC hybrids,
themed 'eater-tainment' restaurants such as Planet Hollywood and the Rainforest Cafe,
urban entertainment centers such as Coco Walk in Coconut Grove, Florida, or the planned Disney Quest chain, and
major entertainment components as additions to shopping destinations such as are found at the new Ontario Mills megamall in suburban Los Angeles.
In addition to these marketplace factors, what appears to be an increased variability in the weather in many areas has further challenged the business of many waterparks.
The bottom line for waterparks is that they need to find new ways to grow their business. One option is to expand with additional wet attractions. This increases operating capacity and can sometimes increase market share with certain age groups and niche markets.
Many waterparks are also expanding by adding dry attractions. Dry attractions are less weather temperature vulnerable and can both increase peak season attendance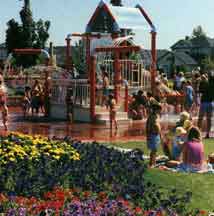 and revenues and also extend and increase shoulder season business. In some areas, outdoor dry attractions can even make the park a year-round attraction. In other areas, the addition of indoor dry attractions can accomplish the same. Converting to a year-round facility has the added advantage of allowing a park to maintain a full-time staff rather than depend almost entirely on seasonal employees.
The Five Ways to Grow a Business
When planning a strategy for dry expansion, it is important to remember that there are only five ways for any location-based business to grow its business. In decreasing ease of accomplishment, they are:
Retain existing guests (and lower their defection rate).
Get existing guests to spend more on each visit.
Get existing guests to visit the location more frequently.
Obtain new customers from within the existing market area.
Expand the market area (almost impossible).
Focusing on the first three out of five ways deals with existing guests, and those ways are the easiest on the list and the place to start.
No matter how simple and small or complex and large the expansion, you should appeal to your existing guests first. They are the ones already coming to your park. They are the easiest to encourage to spend more money, come more frequently and continue to be loyal guests (not defect). This approach is the one that gives you the highest return for your investment and effort.
The Biggest Misconception
Dry attractions cannot be everything to everybody. No, they can't, for the same reason Burger King doesn't offer wine lists, sommeliers and white linen tablecloths to its fast-food customers, and the Ritz doesn't ask diners to get their own plastic forks and bus their own tables. In any business, you have to know your customer and give that customer an experience that delights them. No business can survive by trying to be all things to all people. Dashing after every possible customer will leave you exhausted and them disappointed. Instead, you must create a unique value that you can deliver to a chosen market niche.
You only have to look at all the successful niche players in the retail, restaurant or hospitality industries to confirm this. For example, while much of the hospitality industry has lost money in the recent past, the big winner has been one of the most focused chains, Marriott Courtyard. Never underestimate the power of a niche market.
Like these other consumer industries, waterparks depend on repeat business to survive. In today's competitive environment, you either satisfy customers 100% or you probably won't see them very often or ever again. It's up to the business owner to excel in both defining the target customers and delivering an experience that meets their needs and exceeds their expectations. In industries where customers have choices, which includes location-based leisure, the only loyal customers are the 100% satisfied customers.
"Delighting guests" depends on selling more to fewer people rather than selling a little to a lot of folks. This is called going after "share of guests" rather than share of market. It means focusing on a particular market segment rather than finding the lowest common denominator that will "sort of" appeal to everyone.
Delighting a market segment requires that you learn what is important to that particular group and how that group differs from others. Then you tailor or "customer-ize" the business accordingly. Without properly identifying the market segment and its needs, wants, and values, a park cannot be designed to attract it.
When you offer an in-depth assortment of attractions, programs and services tailored to please a narrowly defined segment of the market, our company, the White Hutchinson Leisure & Learning Group, calls that "focused assortment." Think of it as target shooting with a rifle instead of a shotgun. When you have focus, you know:
who the guests are, both individually by demographic factors including age, gender, and socio-economics, and also by lifestyle factors including tastes, values and expectations;
their "affinity groupings" - who they come with;
their motivators - why they visit; and
time factors - when they will most likely come.
When our company evaluates an existing waterpark to develop a strategy for expansion with dry attractions, we first focus on learning who the existing guests are. We analyze the park's customer database, if one exists, or conduct guest surveys. In most cases, we find that there is significant variation between who management thinks their guests are and who they really are.
Even if part of the expansion strategy is to also attract new guests to the park, it is still important to focus on existing guests. The new customers who will be easiest to attract are other members of existing guests' families, or people like the existing guests in terms of age, socio-economics or lifestyle and values.
Part of the feasibility and strategic mix development process also includes identifying the park's existing market area and conducting secondary market research on the residents there, including their demographics and socio-economic/lifestyles. The market area is also investigated to identify all direct and indirect competitors and their potential impact. This information is then analyzed to determine the size of the target markets, project attendance and income, and properly size the expansion.
Targeting Families
On What Planet Do Sophomores Hang Out with Mom, Dad & Little Brother? Oh, sure, they occupy the same house, but it's the unusual family that regularly finds even young adolescents at play with their parents, much less their younger brothers and sisters, and much less in public. When it comes to location-based leisure facilities (LBLs), "family" means children accompanied by their parent(s) or other significant adults. While children are defined by law as anyone under 18 years old, it doesn't really work that way. The real age ceiling for children who come with their families is half that, around 9 years old.
We remember what it was like when we got to be about 10. We started wanting to spend more time with friends and less with the parents. By the time we were teens, most of us could stand being around the folks just long enough to snare the allowance and wheedle a ride to the mall. It's nice to know that the same behavior that so exasperated our parents was, in fact, developmentally appropriate.
Starting at about age 10 and stretching into the teens, young people need to develop adult social skills, learn how to relate to the opposite sex and develop their own identities. This is best accomplished among their peers where they can experiment without risking ridicule from adults. Teenagers today develop just as we developed - by hanging around with other gawky adolescents, away from adults and as far away as possible from pesky younger children.
Once the kids hit 10, they're pretty much out of the market niche for family entertainment until much later when they have little children of their own. This runs counter to conventional thinking in the industry, which says that teens should be included in the family market niche. But look around. Teens rarely come to LBLs with their families, and most families with younger children don't find that groups of teenagers create a welcoming environment.
Many larger waterparks have successfully attracted both families and teenagers by creating separate areas that appeal to both. However, this is much more difficult to achieve with dry attractions unless the dry attraction area will be quite large with a separately zoned mix of events for both groups.
An analysis of U.S. demographics shows that "family" means many potential customers. Our company has conducted many market feasibility studies for LBL clients in both urban and suburban settings. Our findings have been generally consistent on the family market:
57%± of all children 0-17 years are 9 years old or younger. This is attributable to the echo baby boom birth rate that continues to hold its momentum.
47%± of all families with children have at least one child 5 or younger.
25%± of all families with children only have children 5 or younger
Family LBLs Should Incorporate Five Stages of Development
Designing for families (and remember, families are parents or other adults accompanying children 9 years old and younger) is more difficult than it may seem on the surface. Childhood is a complicated part of life. Proper design requires an understanding of how children, and their relationships with their parents, change as they grow.
Children are best defined by their developmental skills and needs, which evolve as they grow. Although these changes are gradual and vary from child to child, there are five basic developmental stages that children pass through before they reach 10 years old:
infant;
older infant to early toddler (we affectionately call them belly babies and wobblers);
older toddlers;
preschoolers; and
early grade school.
Designing dry attractions for families means designing to meet the needs and abilities of all five developmental stages of children, along with the needs and expectations of their parents. For children, it requires offering a variety of attractions and events that will appeal to each and all stages. With variety, you have engaged delighted children; without it, you have bored kids that don't want to return.
To work out an attraction mix, our company uses a matrix to assure there is a balanced selection that will satisfy each development stage of children, including older children and adults if they are also targeted (See Figure 2).
The mistake many LBLs make in their mix is focusing on children in grade school or older, while overlooking the needs of younger children. Doing this cuts out a large segment of families from their market (remember, 47% of families have children 5 and younger; 25% only have children 5 and younger).
A prime example of this mistake can be found in the standard formula for an outdoor family entertainment center (FEC). Although miniature golf would appear to be the perfect event for family interaction, it really doesn't work for children 6 and younger. They have neither the attention spans nor the fine motor skills required to play successfully. Also, while go-karts and bumper boats allow children to ride with their parents, it requires that children be passive passengers. One similarity between children and adults is that both want to participate and feel competent.
The solution? Many FECs, amusement parks and theme parks use mostly passive children's rides to satisfy younger children. Or, they go for soft-contained-play, which is now a standard feature in most facilities. The problem, though, with soft-contained-play is that, if it is offered to children from 2 to 12, the older children will dominate the unit and intimidate the younger children. As the only event, soft-contained-play appeals mostly to those children with strong motor skills and an understanding of spatial relationships, but not to the rest. Without a variety of events from which to choose, these children certainly won't be repeat customers.
There's another kind of play that offers what children need, one that many waterparks have successfully tapped with wet interactive play structures such as offered by SCS.
Spontaneous Free Play Engages Children
Younger children don't need passive rides. They don't need to tag along with older folks who can do things they can't do yet. What they need is spontaneous free play. It sounds simple, and in many ways it is, but its very simplicity means that, while open-ended play has time-proven, high repeat appeal to children and their parents, it is one of the most misunderstood types of events for dry LBLs.
To succeed, there must be different areas and events for different developmental levels of children. Older infants and early toddlers need specially segregated areas with sensory and gross motor play appropriate to their development, where parents can interact and sit with the children. Older toddlers, preschoolers and six-to-nine year olds usually require other segregated or separately zoned areas because their developmental skills vary.
There is a general perception by LBL owners that free play has little value to families. After all, can't kids play at home? Not exactly. Keep in mind that most parents are afraid to let their children play in parks or even their own yards, and children have little access to unsupervised and unstructured play. Parents will gladly pay a fair price to give their children access to safe, secure, high-quality play areas.
It's not just good, it's good for them. Play is edutainment in its purest form. Play is how children learn without being taught. Children think it's a blast; but, while they play, they also develop their thinking, physical, social and emotional skills, including their imaginations, problem solving and creativity. Parents respond when play is marketed as discovery learning. Also, by marketing play as edutainment, LBLs can draw weekday business from preschool and grade school field trips, classes and workshops, after-school programs, play groups, and children's camps.
Done Right, Free Play Is a Winner
A growing number of LBEs are reaping the benefits of an investment in high-quality, well-managed children's play areas. Busch Gardens now incorporates large outdoor children's play areas in all its parks. Traditional theme parks are adding children's play areas like the Berenstain Bear Country at Worlds of Fun in Kansas City. Zoos and botanical gardens are adding special children's play areas, too.
They are not alone. Many FECs are also jumping into children's play. Some FECs, such as Davis' Farmland in Sterling, Massachusetts, and Bamboola, the new children's edutainment center in San Jose, California, are basing their entire mix on children's play and have been highly successful in attracting the family market.
As outdoor leisure destinations, waterparks are ideally suited for the addition of dry outdoor children's play. Research clearly shows that people, and especially children, consistently prefer natural landscapes to indoor, built environments. Natural outdoor environments reduce stress and are pleasing to adults. Children's play outdoors is higher in quality than indoor play - the sensory experiences are different and different standards of play apply. Children can get away with things that would be frowned on indoors. They can run, shout, be messy, and experience, interact with and manipulate the environment. Naturalized outdoor play areas are the ideal environment for family and children's play. Our company has been designing such areas, which we call children's adventure play gardens, for most of our clients' LBL projects that target families.
Children's outdoor play areas or adventure play gardens can offer children a diverse variety of play and parents a pleasant environment where they can play with or monitor their children and socialize with other adults. The adventure play gardens we are designing for clients' LBLs use nature as the basis for much of the learning-based play. These gardens range in size from 3,000 square feet to more than 40,000 square feet and are designed to appeal to children's preferences for their play and outdoor environments. Some elements we include are:
secret hiding places
dinosaur digs
mud play
water play in streams, interactive water play events, waterfalls, ponds and bogs
infant/toddler gardens, including peek-a-boo areas
creative experiences (developmentally appropriate arts and crafts)
construction, including fort building
tree houses
butterfly gardens
pretend play villages
animal and critter farms
sand play
peddle vehicle paths
climbing equipment
musical and acoustic experiences
performance areas
interactive campfire cooking
birthday party gardens
Adding dry attractions to attract the family market can greatly expand a waterpark's season and increase its revenues. Executing the expansion with a focused definition of what families are and an understanding of how to delight them with a focused assortment mix can assure a success that will make the park competitive with new LBLs for many years.