In 2019, the average American age 20+ enjoyed 5.17 hours of leisure time a day. They spent that time among a wide choice of activities.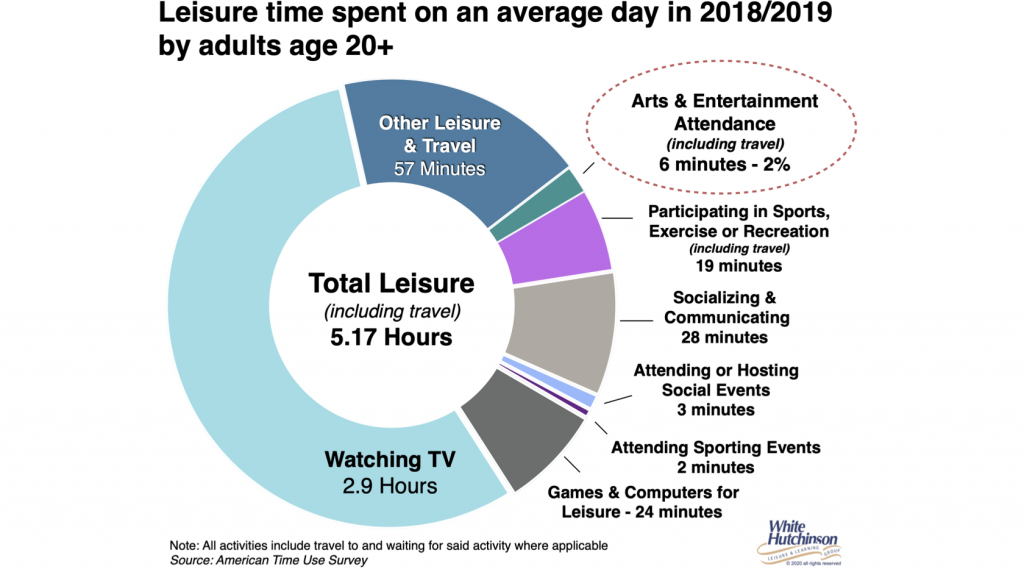 Of all that leisure time, only 2%, 6 minutes a day on average, was spent traveling to and from and attending out-of-home (OOH) entertainment and arts (cultural) activities (E&A).
Then along comes a major disruption to the entire OOH E&A industry – Covid-19. Lockdowns closed almost all venues, so leisure time spent at them went to zero. Now many are open or reopening. A large number, due to lack of capital, will never reopen or open and then close when reduced revenues can't cover their ongoing operating costs. What is the new competitive landscape that will determine the winners and survivors?
As I discussed at length in my previous blog, The illusion that a vaccine is the magic bullet to the post-pandemic era (and if it is, the timeline is much longer than anticipated), the most optimistic scenario is that the coronavirus will be around impacting our lives for at least a year, and much more likely for the long haul of many years. Overall attendance for different segments of the OOH E&A industry will not return to 2019 levels for many years, if ever.
Colleen Dilenschneider, Chief Market Engagement Officer at IMPACTS Research & Development that studies visitor behavior and intentions for cultural organizations within the United States, has forecast that if there were no longer coronavirus capacity restrictions and social distancing/safety precautions, attendance for exhibit-based cultural venues (museums, zoos, aquariums, etc.) would not get back to 2019 levels until 2022. Since capacity restrictions and other precautions are sure to continue for some time, the horizon is probably more like 2023 or later. McKinsey & Company has predicted that it will take the arts, entertainment and recreation sector of the economy until mid-2024 to sometime in 2025 to get back to its 2019 level of contributions to GDP.
When most venues are open and infection rates decline with more and more people venturing out of their homes for leisure experiences, the competitive landscape will be different than in pre-crisis times. There will be a redistribution of leisure time and spending amongst all the leisure options people have. Some will gain share while others loose share.
The coronavirus has introduced a new component to the cost (time and money) – benefit analysis people make when choosing their leisure activities – the risk of Covid-19 infection (and death). A July 31-August 2 Harris poll found that more than half of adults (52%) fear they could die as a result of contracting the coronavirus. Two-thirds (66%) are very/somewhat concerned that leaving their home to go to non-essential businesses (e.g. bars, hairdressers, bowling, museums, etc.) would risk exposing them, their loved ones, or others to the coronavirus. The large majority of people will be evaluating their risk for different leisure activities, choosing lower risk over higher risk.
There is a small proportion of people who don't consider Covid-19 a risk, so their behavior won't change. The polls indicate they are currently around 1/6th to 1/5th of adults. A significant portion of the population is highly vulnerable to severe Covid-19 illness or death. In addition to everyone over age 65, nearly 40% of all Americans under 65 have a medical condition that makes catching coronavirus very dangerous to them. Evaluation of risk will be a major consideration for them, impacting what OOH activities they choose to do, if any.

The rest of adults, around 4 in 10, are likely to also factor risk into their choices, especially for the riskiest activities.
Considerations that affect the perception of the risk at OOH leisure activities include:
Outdoors is safer than indoors
Places that allow freedom of movement vs fixed seating are safer as people have more control over their social distancing
Risk increases with increased length-of-stay
Communal, high-touch dependent experiences are risky
The greater the crowding, the greater the risk
How clean and regularly disinfected the business is
The behavior of both staff and visitors (are they wearing masks, social distancing, washing their hands, etc.)
How transparent the business is on communicating its risk reduction measures
Physicians from the Texas Medical Association Covid-10 Task Force rated the riskiness of different activities. The following is an extract from their larger chart. With the exception of going to an amusement park, all the outdoor activities were rated as safer than the indoor ones. All indoor E&A is rated as a high risk.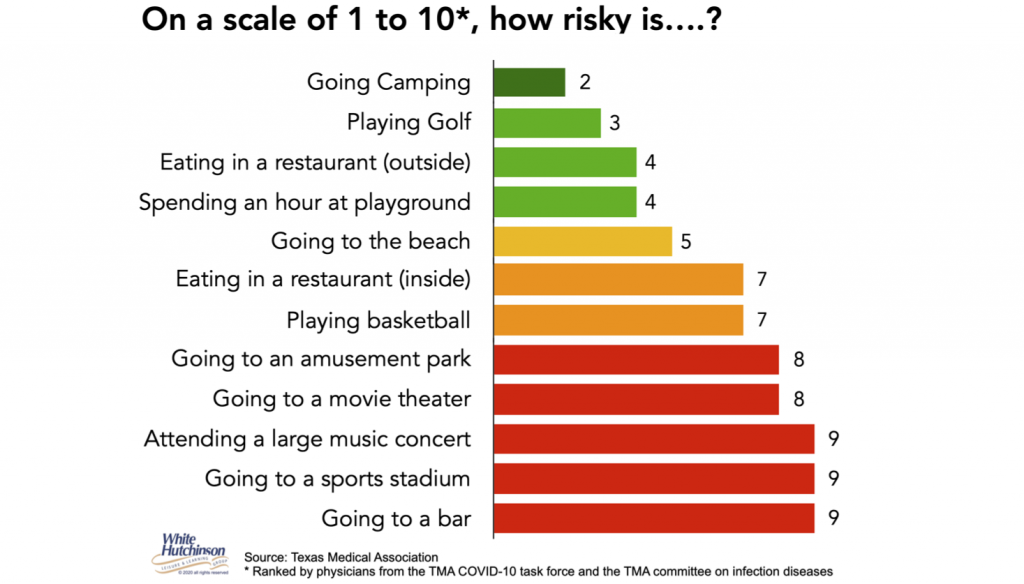 The public agrees with outdoors being safer than indoors. These are the results for a mid-July poll of 2,200 adults: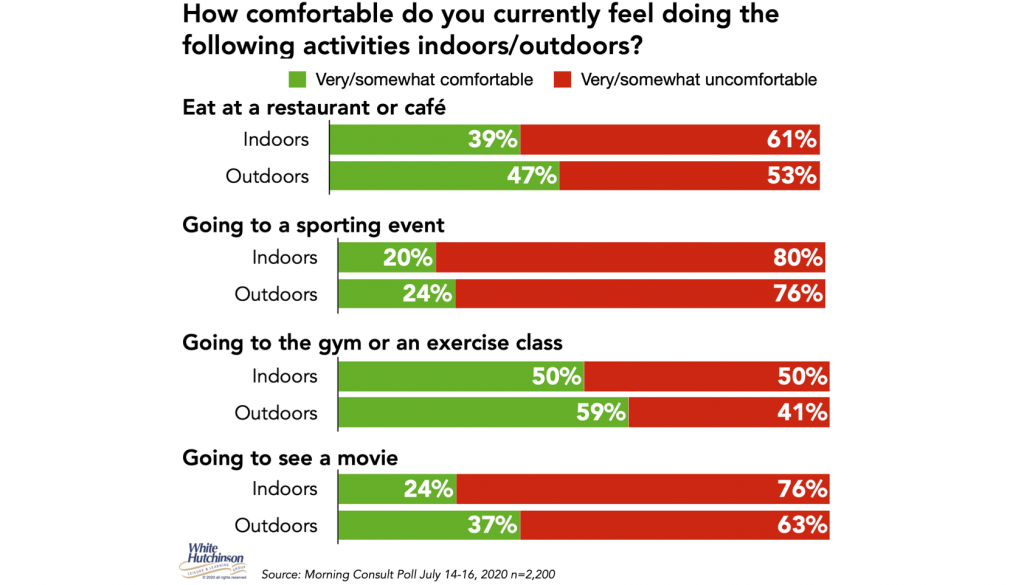 Colleen Dilenschneider conducted a survey of 2,109 adults in mid-July and found these results for peoples' preferred OOH leisure activities: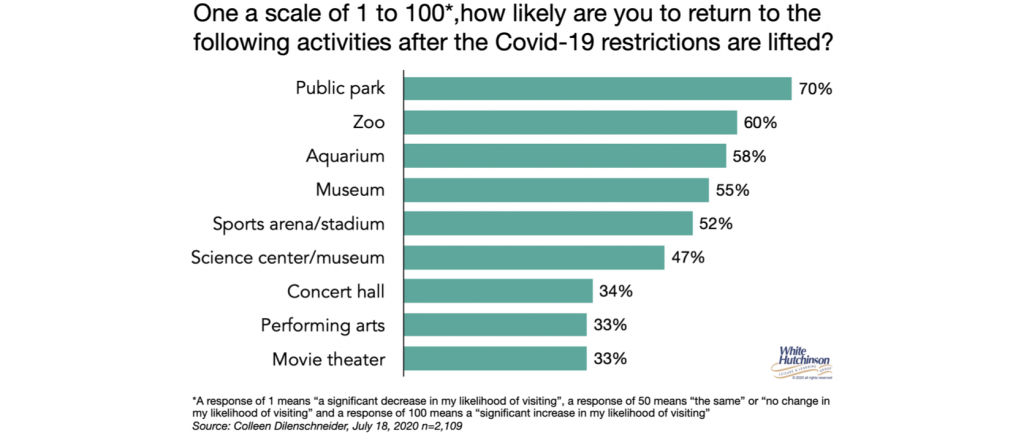 People showed the highest likelihood to return to outdoor activities followed by those indoor ones where they had freedom of movement.
These results are very consistent with other polls I follow that show peoples' perception of outdoors, less crowding, freedom of movement and shorter length-of-stay have the highest levels of safety. Zoos consistently rate high in safety and preference, probably as they cover large acreage and have less dense crowding. In all the polls, amusement parks, although outdoors with freedom of movement, are rated risky by people, probably due to crowding.
There's variation by socio-demographics and politics as to how important Covid-19 risk is to people. Comfort decreases with age. The polls consistently show that Republicans are far more likely than Democrats to feel comfortable returning to most OOH E&A activities. Venues with activities that skew to younger adults or are in heavy Republican areas of the country should have advantages.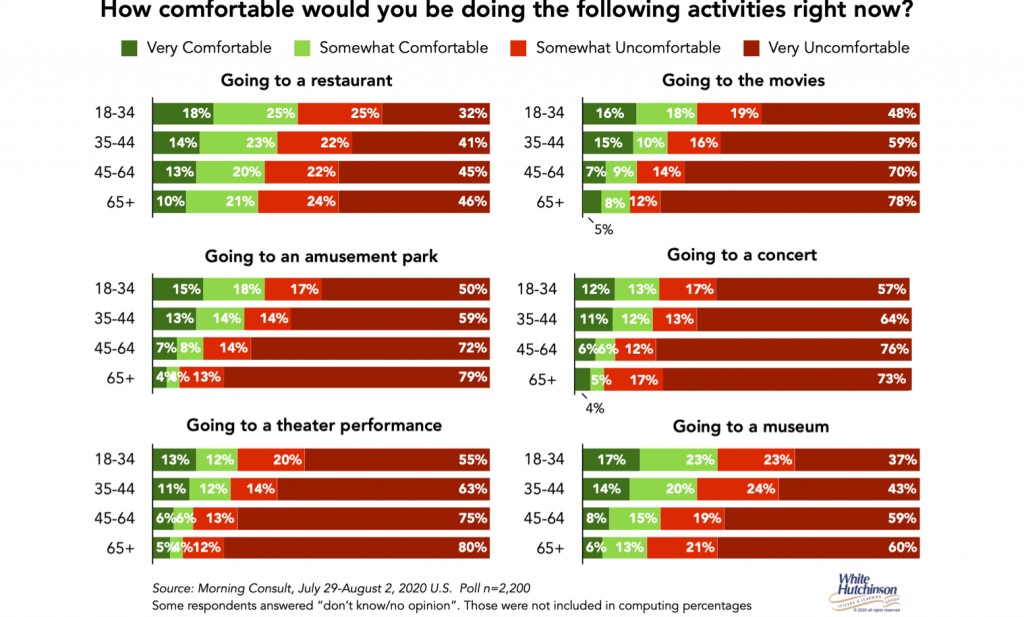 OOH E&A is not only competing amongst themselves for peoples' leisure time and discretionary spending, but its a zero-sum game that includes all other OOH leisure options as well as at-home digital ones.
We're also seeing a growing interest and participation in other forms of outdoor activities besides E&A. This includes almost all types of outdoor recreation. Bike shops are mostly sold out. There's been an extreme escalation in public park use. Camping as a vacation option has seen a 50% increase, with a fourfold increase in interest by non-traditional campers.
Since the turn of the century, the time and money people spend on leisure has been shifting to at-home digital options. The at-home virtual technology evolution that took place over the last few months has exponentially accelerated the trend. Covid-19 forced people to change their behaviors and give up their OOH leisure habits and find new at-home virtual ones as replacements. Peoples' virtual experiences have become part of their new leisure normal.
People who previously didn't use at-home digital games and virtual options have adopted them; they are the "virtual immigrants." And the already digital and virtual natives have dramatically increased their use.
At-home virtual experiences not only require little effort and time and are very inexpensive, they are also safe from the risk of infection from the coronavirus. When people find the new virtual experiences enjoyable, with many being very social, those new behaviors and habits are likely to stick and continue even post-pandemic, permanently replacing some of the OOH ones.
Instead of asking, "Is there a reason to do this online?" many people will now be asking, "Is there a good reason to do this in person?" Many OOH experiences that were attractive in the past will be less relevant and compelling compared to the at-home ones we've gotten comfortable with and are enjoying on a regular basis.
The new virtual worlds, opportunities and habits have become formidable competition to the forms of OOH E&A that existed pre-corona. The virtual experiences have raised the bar for what is required to get people to again leave their homes for leisure experiences. The migration to all these new virtual worlds will impact our OOH leisure experiences long-term, even when the pandemic and all its restrictions on our OOH experiences have passed. We will not be going back to our 2019 normal. Many of the virtual behaviors and routines people developed during the pandemic will permanently replace some of the time they spent pre-Covid-19 at OOH E&A.
Peoples' priorities for what type of OOH experiences they choose are likely to change. Having been physically socially isolated at home for so long, one strong deciding factor will be a craving for highly social experiences with their friends or family. This will include food and drink experiences, which are very social. In fact, the social aspect of meeting up and sharing food and drink together is typically more important than the food and drink itself. When asked to remember their most memorable meal, most people can't remember everything they ate, but they remember who they were with.
So, what type location-based entertainment (LBE) and family entertainment centers (FECs) do I think will be the winners when people do venture out? Based on all the polls and research, I see a strong preference for outdoor entertainment experiences that offer interactive social games, that offer good social distancing from other attendees and are minimal high touch, such as miniature golf or bocce. Fall agritainment corn mazes and pumpkin patches may see a boost in attendance, as they are outdoors in large areas and also include seasonal and craveable foods. Venues such as Top Golf and Drive Shack that offer an outdoor interactive social game combined with food and drink served at the same location where you play and that is socially distanced from other attendees is a perfect combination of low risk activities. All outdoor activities that offer contemporary food and drink should have proportionally increased demand compared to other venues. Indoors, interactive social games such as bowling, where there is also the appeal of food and drink served at the lanes, may find priority. Game rooms may have decreased appeal, as they are high-touch and the majority of games are not social. Indoor group activities such as escape rooms, laser tag and axe throwing will have appeal if they also include food and drink. Typically, the debriefing of the play experience around food and drink is the most important aspect of the overall experience.
The polls consistently show that amongst all the cultural venues, zoos, botanical gardens and outdoor historical places are top choices followed by aquariums and museums (e.g. art, history, not high touch dependent).
Indoor venues with fixed seating and a several hour length-of-stay, such as theaters, concerts and the movies, will have the hardest time attracting people back.
Until there is a medical breakthrough that removes the risk of catching the coronavirus in public places and becoming seriously ill or dying, the quality of most OOH E&A experiences has actually decreased due to social distancing, mask wearing and other Covid-19 related restrictions. Businesses can no longer offer the level of service practices and hospitality as in the past. Many can't offer indoor dining, or it is highly restricted in capacity. Socialization, the primary reason most people visit OOH E&A venues, is not the same when you can't see a person's entire face and their smiles. Always worrying about social distancing takes effort. It's stressful to be concerned about everything you touch. Half-full venues are not as exciting. Visiting any type of OOH entertainment or cultural venue will not be as enjoyable an experience as it was back in 2019.
Essentially, the majority of potential guests are asking themselves, "Why is this OOH experience compelling, necessary, or valuable enough for me to take an infection risk (for myself, family, or friends) or to expend my (limited) budget and leisure time? Why is this worth doing and why is this different from all my other choices, including staying home, whether with my virtual options or having family or friends over?
LBEs, FECs and cultural venues that are reopening need to understand that they are now a startup in a new reality, competing for a share of leisure time and spending from completely transformed consumers. This will require an evolved and improved business model to make it through to the other side of the pandemic and beyond. Operating and competing in the pre-Covid competitive landscape is history and will not return.