New School consumers are flocking to eatertainment restaurant & old-school game venues
by Randy White, CEO, White Hutchinson Leisure &amp Learning Group
Okay, first let's get straight on who New School consumers are. Media seems to be obsessed with categorizing Millennials as both the vanguard and the sole practitioners of so many digital- and values-driven cultural behaviors and trends. And they are to the extent that they are part of a larger group embracing those behaviors and trends. But it is not limited to some narrowly defined age group such as Millennials. In fact, within the Millennial generation, different ages and different groups have different behaviors and likes. An 18-year-old woman in college is a lot different than a 33-year old married mother with a one-year old. However, they both likely have smartphones and post on social media. Many consumers beyond the Millennial age (defined as somewhere between ages 18 and 20 and ages 32 and 38 depending who is defining Millennials) also fit many or all of the characteristics so commonly attributed to only Millennials. For example, many 45-year-olds are just as active on social media as most Millennials. Millennials are not the only people who take selfies or post food-fies (foodporn) on social media. Millennials aren't the only age expressing environmental and social justice concerns in their purchasing decisions. The consumers who embrace these new consumer cultural behaviors, most of which are disruptive to old business models, including yesterday's FEC and LBE models, are demographic agnostics.
We could call them Millennial-minded consumers, but that still indicates Millennials are the target market. So our company, along with the brand-marketing firm Continuum, has decided to call forward-thinking, more culturally and digitally progressive consumers who sound a lot like many Millennials, but aren't defined by age, as New School consumers.
Okay, now that you know who the New School consumers we will be referring to are, we can get on with the article.
New School consumers are flocking to all types of food and drink venues that also incorporate different types of games. It's known as eatertainment. The eat comes first in the word as it is as important, if not often more so, then the [enter]tainment.
Yes, we've had some models of eatertainment around for some time, such as pizza and games with Chuck E. Cheese's and Peter Piper Pizza, buffet-tainment with Incredible Pizza and Amazing Jack's and adult-oriented Dave & Buster's. However, what is changing is that the food and beverage is gaining more importance than in the past to drive attendance to these type destinations. In fact, often the food and drink is the primary driver rather than the entertainment. Let's admit it, neither Chuck E. Cheese's nor Dave & Buster's food could be considered trendy, adventurous, socially and sustainably responsible, or anything to food-fie on social media as foodporn.
We are currently seeing the growth of many new eatertainment concepts, where innovative operators are putting a decidedly modern spin on the food and beverage as well as the entertainment. With the entertainment, they're tapping into the tactile, real world versus virtual appeal of old-school games such as darts, Ping-Pong, vintage arcade games, bocce, bowling, shuffleboard and even miniature golf. Perhaps we are seeing a growing desire for real world tactile play as a push-back from digital screen games and a growing desire for real world social experiences as a response to the growth of social media. But unlike all the digital diversions in our lives, it takes two or more people in the same physical location to play these old-school hands-on games. And you can play them with an alternative-protein burger or a drink in one hand. This hits the bull's eye in terms of offering a High Fidelity social experience to get people out of their homes, off the street and away from the Convenience of the digital screen.
Annika Stensson, senior manager of research for the National Restaurant Association, puts it this way, "Restaurants and bars are venues for social gatherings, and what's more social than engaging in a good-natured game with friends and family? This is a particularly attractive proposition for younger consumers - also know as Millennials [and all other New School consumers] - as they tend to put a premium value on social and interactive activities when visiting restaurants."
What we are seeing is a combination of contemporary enlightened eating and drinking and a retro-chic gaming trend at a growing number of venues with old school games attracting New School consumers. It is important to understand the direction these new school venues are going in, as they are rapidly causing a market disruption to the old-school community location-based entertainment and FEC models, and its happening much faster than most people in the LBE and FEC industry realize
Here are just a few of the innovative eatertainment concepts that are spins on old-school LBE models.
Betty Danger's Country Club
This is perhaps one of the wackiest and outlandish eatertainment concepts around. Self-described as a "country club on crack," it's owner Leslie Bock's response to being denied membership to a private country club. She turned an old car wash into a 200-seat caricature of a country club, no membership required (talk about repurposing!). And talk about kitsch, there's plastic animals, pink fireplaces, a miniature golf course and a 65-foot tall pink Ferris wheel that Bock bills as a vertically revolving patio.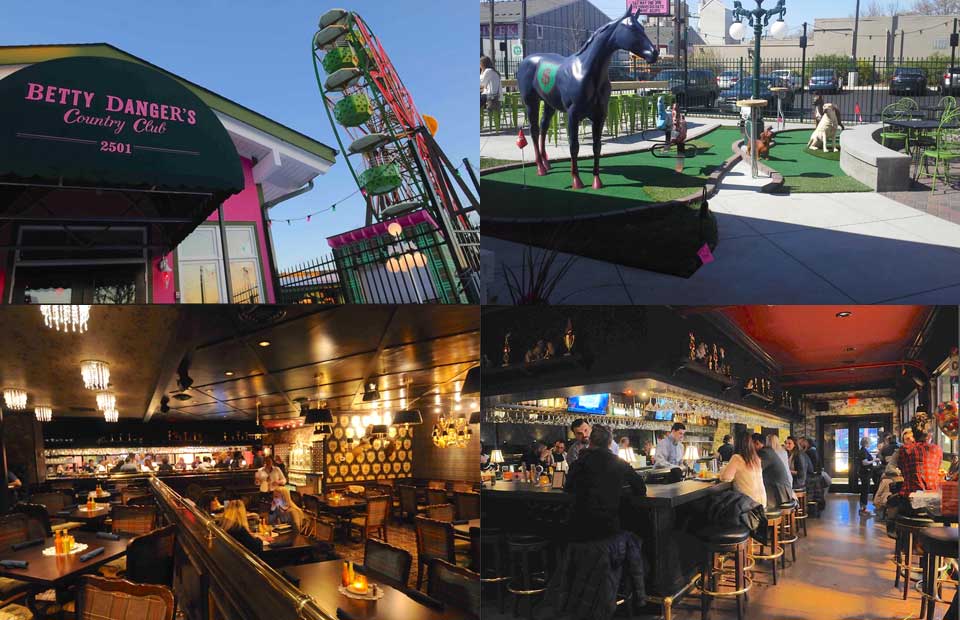 Royal Palms Shuffleboard Club
This 17,000-square-foot retro-themed, Florida kitsch venue has turned a pastime favored by septuagenarians into the next Ping-Pong for New School hipsters. The club features 10 regulation-sized shuffleboard courts, craft beer, trendy cocktails and food-truck dining (yes, from a food truck). There's an indoor bay for food trunks, which change nightly, and two 27-foot bars serving drinks like you would get on vacation in the tropics such as coconut cocktails, key-lime fizzes and hand-shaken pina coladas as well as standard bar offerings including 8 craft beers on tap. The club serves up a lot more than biscuits (shufflespeak for pucks). You can also play board games at the cabana tables and there's nightly DJ-curated music, tiki-bands and even bingo nights.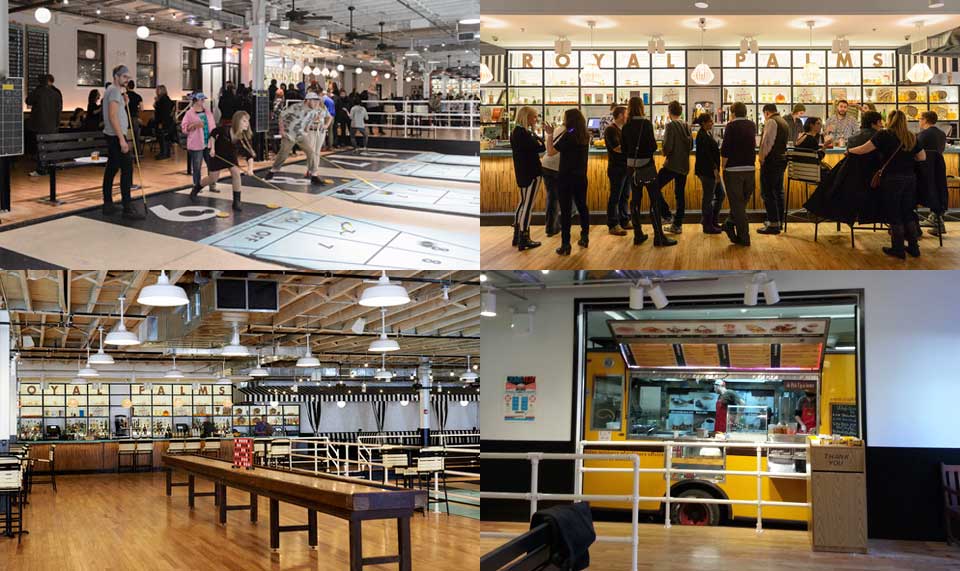 Punch Bowl Social
Punch Bowl Social was named by the Nation's Restaurant News as one of the top 10 national breakout brands of 2015. As the name proclaims, PBS has a large social component. Think about gathering about the punch bowl or bowling. Their gastro-diner comfort food is all prepared from scratch using locally sourced organic ingredients. The drinks include local beers, craft spirits and wines and innovative cocktails.
The games include more then classic bowling. There's shuffleboard, Ping-Pong, billiards, classic arcade games and even private karaoke, all paid by the hour. The décor is what the company calls "dirty modern" style, a blend of industrial, Victorian, mountain lodge and modern elements. The venues average around 24,000 square feet. Unlike old school eatertainment venues, the food and beverage is 85% of revenues.
Punch Bowl Social currently has four locations open with six more scheduled to open over the next four years.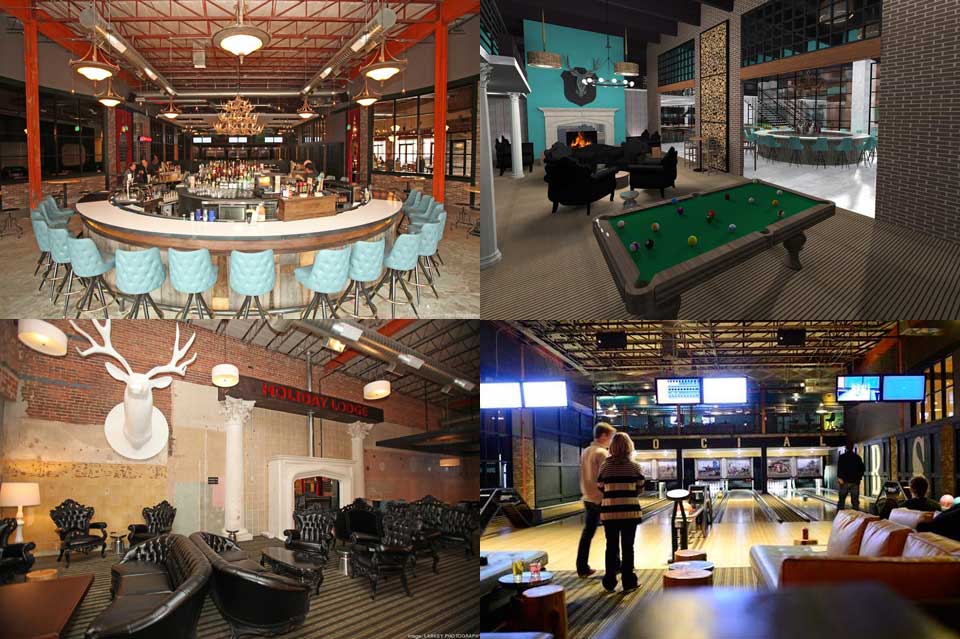 Level 257
Inspired by the game that filled childhoods more than three decades ago, the 42,000-square foot "playground" as Level 257 calls itself, is a whole new world of Pac-Man. The original Pac-Man arcade game ends at level 256, and so Level 257 honors it in name while going one level higher. At Level 257, that next level is intended to be the next level of socialization.
16 bowling lanes line the sides of this new school eatertainment spot in Chicago. There are also foosball, Ping-Pong and arcade games including everything from Pac-Man itself to Space Invaders to Q*bert to Asteroids. All the games are played on time cards.
The center of attention is an upscale restaurant and lounge area. In fact, the majority of revenue comes from the food and beverage, not the games. The extensive menu includes a Tiki rumaki appetizer, a kale salad with apricot vinaigrette, cauliflower steak, filet mignon and dessert items like liquid chocolate filled donut holes with Pop Rocks. The overall design is what you might call retro-chic style.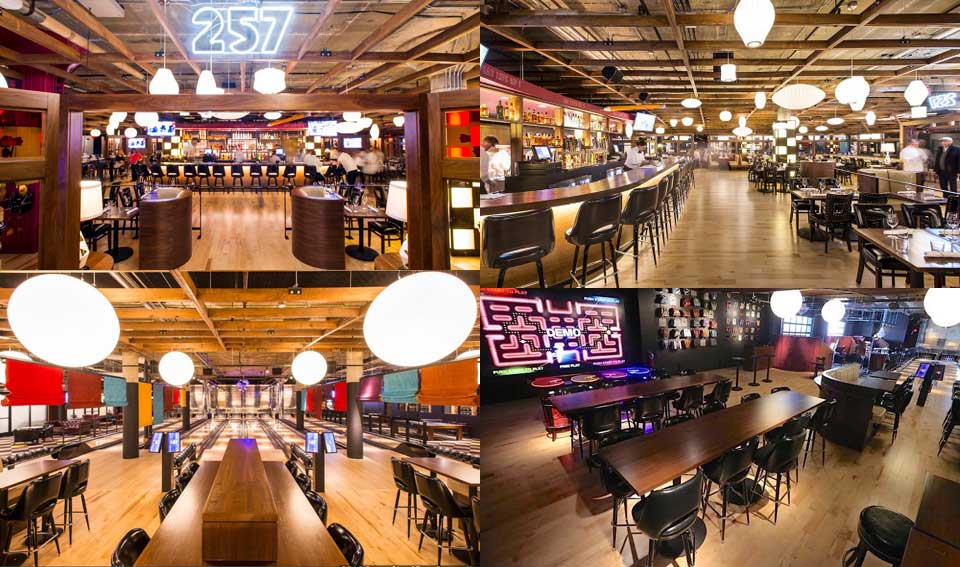 Plank
This 34,000-square-foot indoor, 15,000-square-foot outdoor dining and entertainment concept in California includes a full-service restaurant, two bars with an extensive wine list, cocktail menu and whiskey collection, 18 state-of-the-art bowling lanes, 2 billiard tables, over 60 interactive games and live entertainment. The outside features a beer garden with 50 craft beers on tap, three full-size bocce ball courts, games such as a beanbag toss and giant jenga blocks, and a patio overlooking the San Francisco Bay. Michael Auger, a managing partner of the owner, said, "We look at the entire facility as one big dining room. . . It's a dining experience in a non-conventional setting." About 80% of income comes from the food and beverage.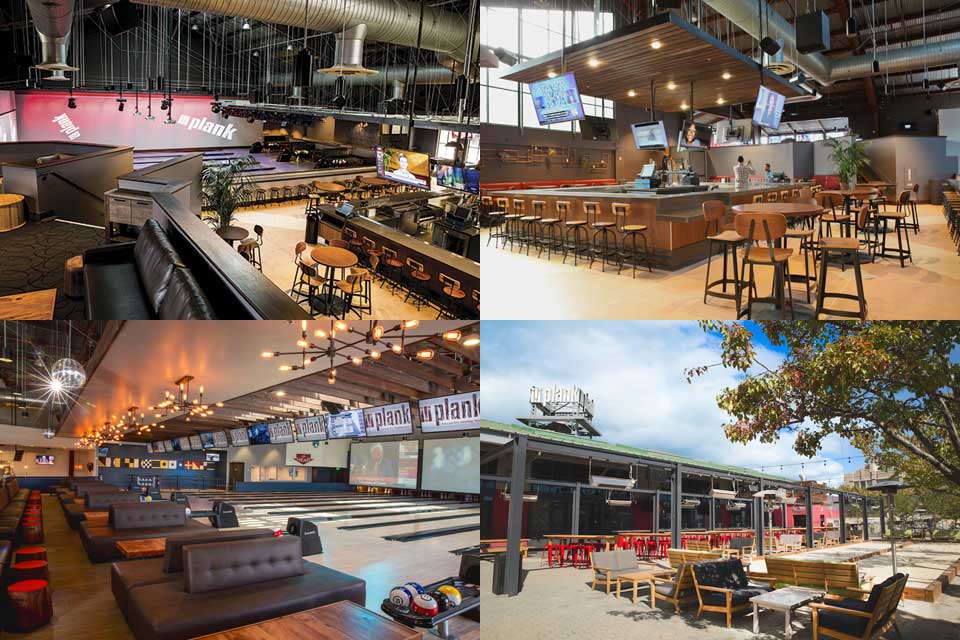 Topgolf
Topgolf is a driving range designed to appeal to New School consumers. It's not golf that brings them, in fact 60% of TopGolf customers consider themselves new to the game. TopGolf has turned their driving ranges, miniature golf courses and clubhouses into must attend party spots. CEO Ken May puts it this way, "The Millennials [and all New School consumers] are there to have fun, not necessarily to get good at golf." Playing golf is secondary to partying and hanging out with friends. At TopGolf food and beverage is important as it makes up more than one-half of TopGolf's revenues. Their menu won't seem out of place in a New York gastropub. Drinks, music and friends make TopGolf a social experience rather than a golf experience.
TopGolf created three-levels of climate-controlled golfing bays where groups of up to six people can eat, drink, listen to music or even watch TV and maybe take a swing at a ball on the driving range as the main attraction. The driving range has sunken, circular targets, each divided into pie-like sections, looking a bit like a dartboard. Players can amass points as they try to complete a circuit by hitting each section.
In addition to the golfing bays and a high-end restaurant and bar, the newer facilities include roof-level beer gardens, 100+ gaming consoles and over 200 HDTVs in around 65,000-square foot buildings.
Since most New School customers at TopGolf spend as much time on social media as hitting the ball, TopGolf has purposely designed its facilities to maximize social photo and video sharing. Many locations are purpose-designed to optimize landscapes and views.
TopGolf currently has 13 U.S. locations open with 12 more on the drawing board or under construction.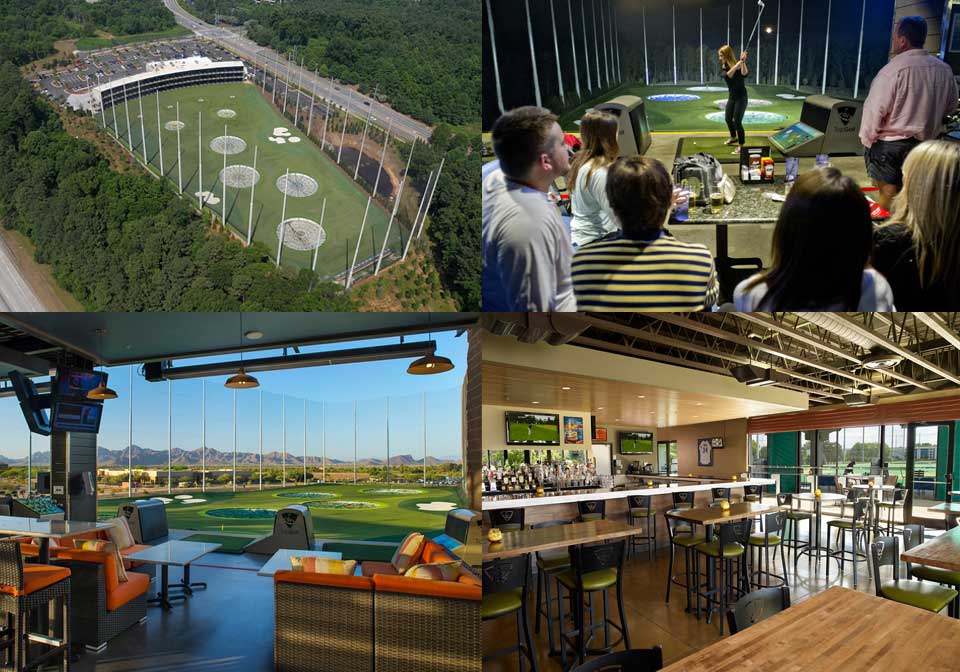 The commonality of all these venues is that although they have entertainment in the form of different social games, the entertainment is secondary to the food and beverage, which generates the majority of the revenue. It's the synergistic combination of social games with great food and beverage that drives their success. This is how eatertainment has changed over the past few years. The eat has moved into the forefront.