What no one tells you about the mall apocalypse and the future of malls
We've all read about the disruption to retail as e-commerce eats brick-and-mortar's lunch and is causing the demise of so many malls, often referred to as the mall apocalypse. To make up for the loss of their retailers, including all the closed anchor department stores, malls struggling to survive are adding other uses including restaurants and entertainment.
What the industry and press is reporting only scratches the surface of the trends driving the apocalypse and what the future holds. We've dug into the data to tell you the full story, and it's a lot worse than what you've probably been reading.
First, just how much of retail sales has e-commerce captured?  Most reports put it at around 10%. However, it all depends on how you define 'retail sales.' That percent is based on the exclusion of only vehicle and gasoline sales, but includes grocery, building materials and restaurant sales. If we look at retail from the perspective of the true retail-type stores that are found in malls by also excluding grocery, building materials and restaurant sales, e-commerce now accounts for close to one-quarter of all retail sales (23.8%).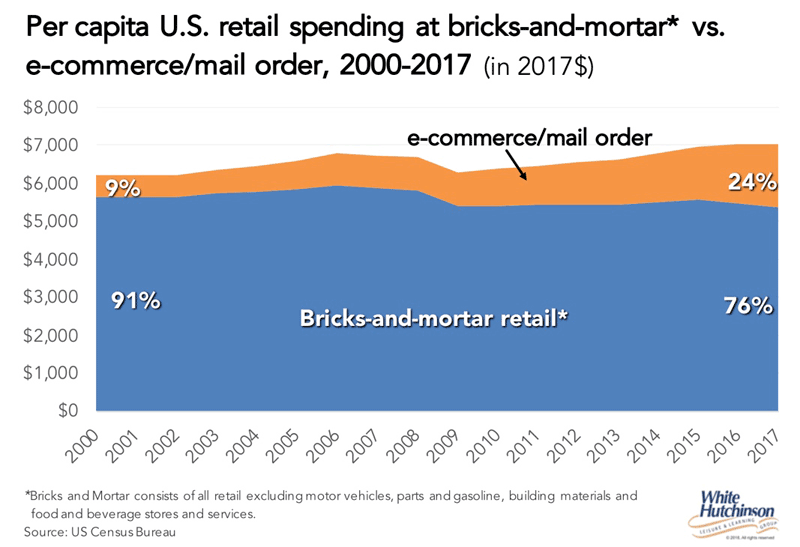 Using this purer definition of retail finds that e-commerce is growing almost three times as fast as bricks-and-mortar retail.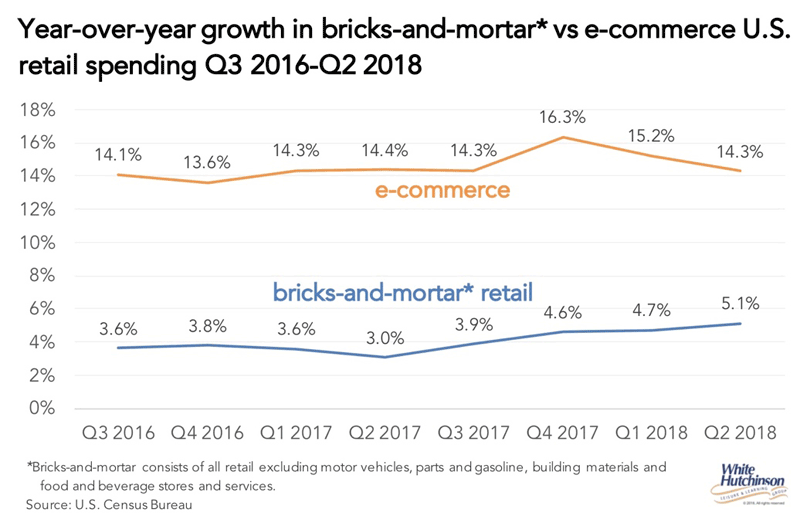 Apparel has always been a dominant part of malls' retail mix. Eight years ago, apparel stores where the majority, about 70% of the typical mall's tenants. They are now down to around 50% and declining.
E-commerce accounted for 27.4% of apparel sales in 2017. However, that doesn't tell the whole story of what is happening to apparel sales. People are spending less on apparel than in the past. Since the turn of the Century, apparel's share of total personal consumption expenditures has decreased by almost one-third and per capita apparel spending has decreased by almost one-fifth (inflation-adjusted). Apparel spending is being displaced by spending in other areas. In fact, today, spending on all types of digital technology, all the different screens we have, cellular and other digital subscriptions and services, downloads etc. makes up a greater share of personal expenditures at 3.8% than apparel's 2.8%.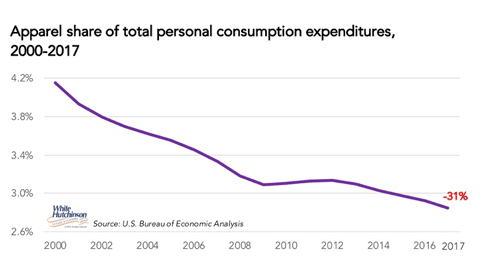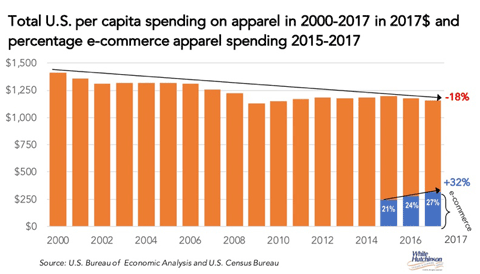 In just two years from 2015 to 2017, e-commerce's share of apparel sales has grown by almost one-third from 20.7% to 27.4%. While the share of apparel going to e-commerce is on the increase, overall per capita apparel sales are simultaneously declining, magnifying the negative impact on brick-and-mortar apparel sales to a 11% decline over just those two years.
With the launch and growth of e-commerce try-before-you-buy concepts such as Amazon Wardrobe and clothing subscription models, including renting apparel from services such as Rent the Runway, the growth of e-commerce's appeal is sure to continue to chip away at apparel's in-store sales.
 
An explanation for the rapid growth of e-commerce is rapidly expanding is partially explained by a finding from Nielsen - 46% of shoppers view shopping as a chore.

There's another way to measure the trend for bricks-and-mortar retail. It's the time consumers spend leaving their homes to visit and shop. Along with bricks-and-mortar retail sales, it is on the decline as well, by almost one-quarter since 2006.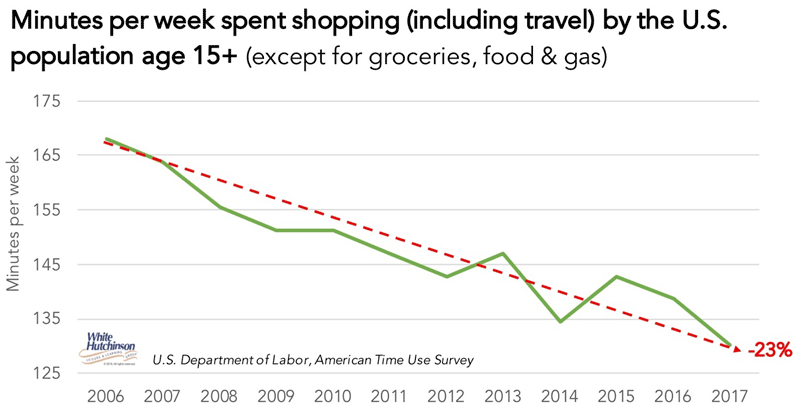 The decline in time spent shopping is consistent with data from RetailNext's tracking of monthly brick-and-mortar retail performance. From January 2016 through August 2018, they found there has been an average of a 7.5% year-over-year monthly decline in retail traffic.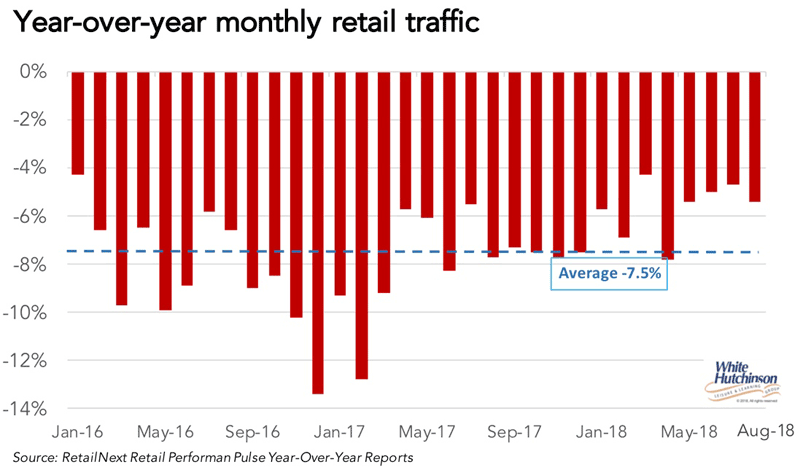 RetailNext also tracks bricks-and-mortar retail sales, which have seen a corresponding average year-over-year monthly decline of 7.2%. The decline is less that the decline in traffic due to increases in conversion rates and increases in the average retail transaction.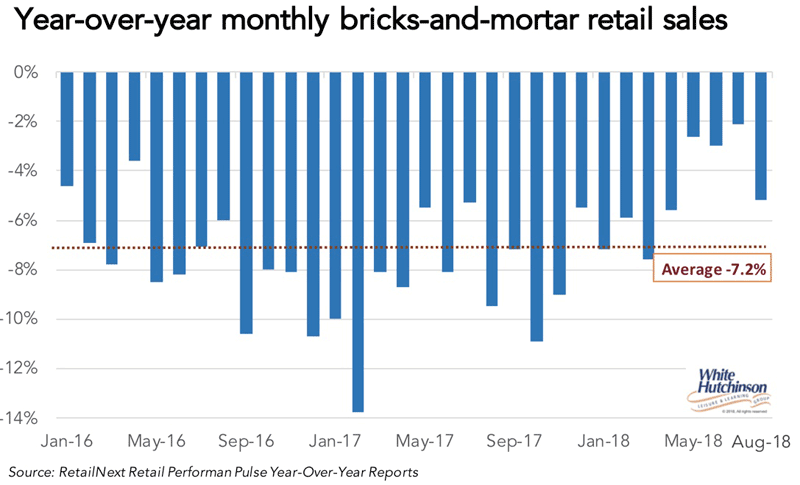 There's no question that the amount of supportable retail bricks-and-mortar square footage has declined and will continue to decline. Apparel shopping has lost its place as the dominant driver of mall visits. So, what about the decision to replace dark retail stores with restaurants and entertainment? What are those prospects?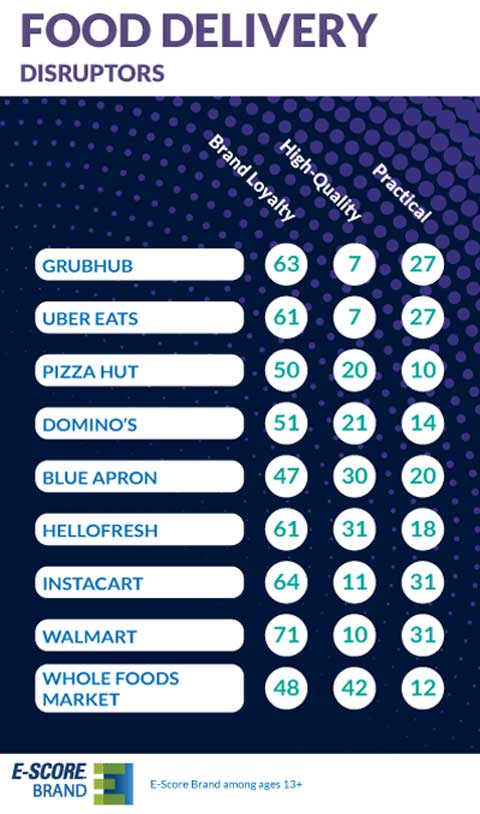 People go out to restaurants a lot, so restaurants in malls can definitely drive visits. However, dining at home is becoming more fashionable than dining out. Fast-growing home delivery of fully prepared meals from restaurants as well as from commissary kitchens/virtual restaurants with Uber Eats, GrubHub, Doordash and other third-party delivery apps has seen a 20% increase in sales since 2012 and now account for a 3% share of all restaurant orders according to the NPD Group. Investment firm Cowen found that the most popular app-based delivery firm was GrubHub, used by 34% of their survey respondents. UBS Investment Bank's Evidence Lab says that ordering food online is a mega trend and we are at the first stage of the industrialization of meal preparation and delivery. They found that Millennials are three times more likely to order food in than their parents.     E-Poll Market Research found 36% of the population, and close to half for 25- to 34-year-olds (49%), had meals delivered at least once in the past year. UBS estimates that spending on home delivery food will grow by a compound annual growth rate of more than 20%, increasing by a factor of 10 by 2030. 
We are also seeing an increase in cooking at home, partially driven by the time saving convenience of meal kits from BlueApron, HelloChef and others and in-supermarket and coming soon drive-thru meal kit purchases at Chick-fil-A (Nielsen reports that in 2017, 9% of consumers had purchased meal kits over a six-month period) along with rapidly growing supermarket home delivery, now offered by just about every grocery chain of any size as well as online grocery delivery services including Peapod, FreshDirect and AmazonFresh. A study by the Food Marketing Institute predicts that online grocery sales will capture 20% of total grocery retail by 2025.
The percentage of people cooking at home on an average day increased between 2006 and 2017 by one-eighth from 48% to 54% and the time they spent preparing meals increased as well.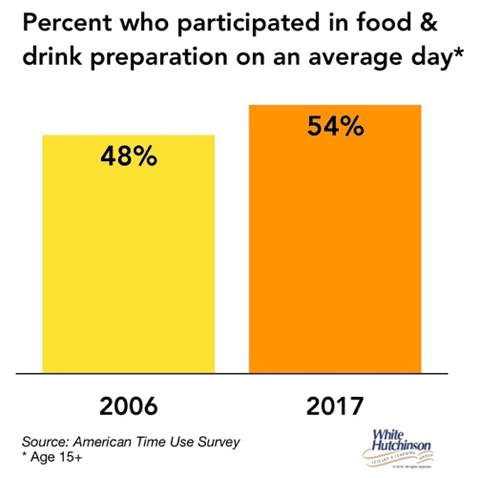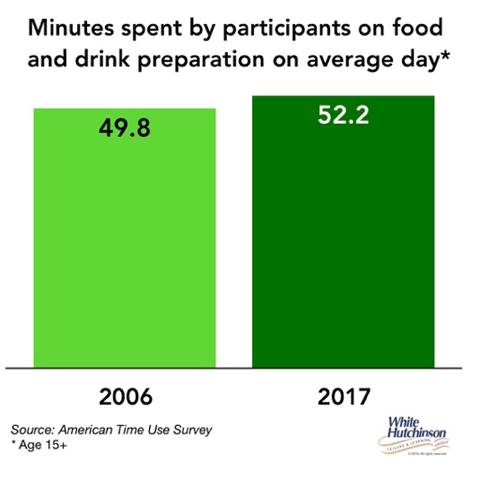 As a result of the changing landscape for meals, we are seeing a reduction in the frequency of restaurant visits. Since a peak in 2000, annual per capita restaurant visits have declined by one-seventh (-14.3%), and it's across all age groups.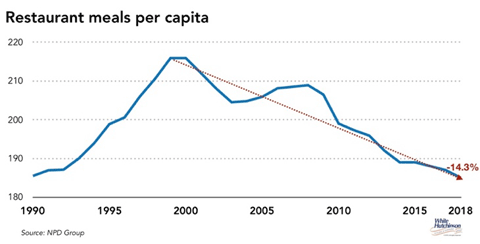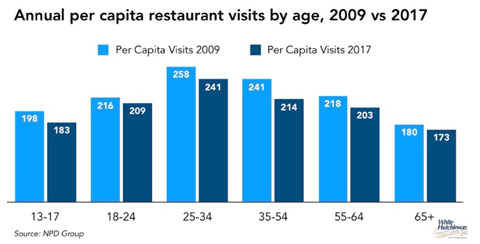 Along with the decline in restaurant visits, we are starting to see a possible long-term trend of a decline in the number of restaurants.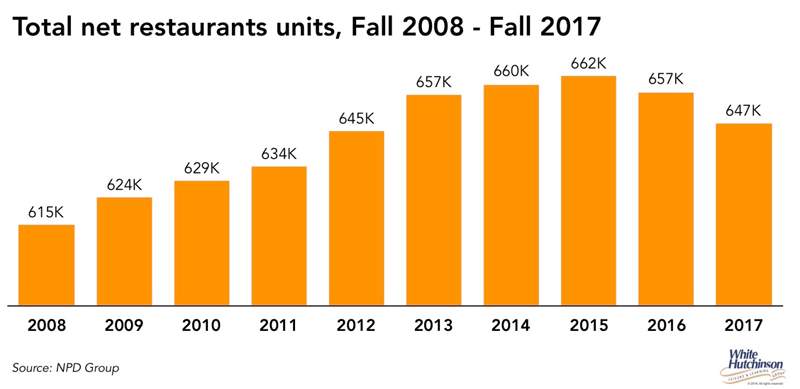 Morningstar's October 2018 Consumer Observer report predicts U.S. restaurant unit counts will continue to decrease over the next five years.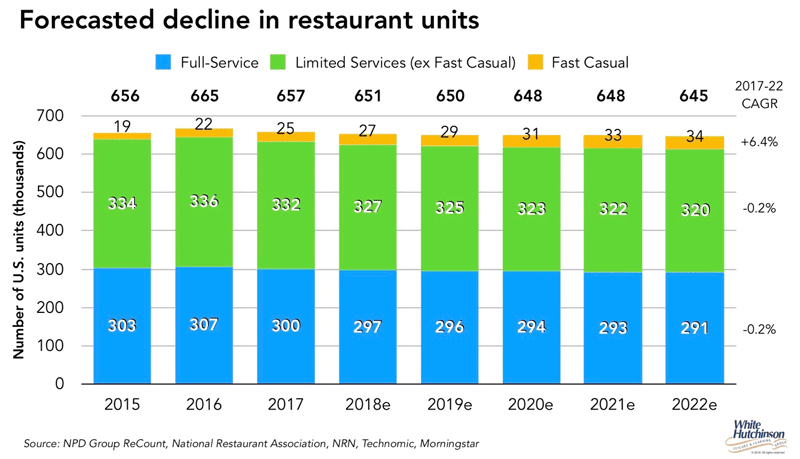 We are at the start of the digital disruption of dine-in restaurant visits and supportable restaurants due to home delivery, meal-kit meals and an increase in cooking at home. Time-pressed Americans are increasingly opting for the satisfaction of cooking and the growing convenience of eating at home with delivered meals. There is already a trend underway with restaurant chains reducing the footprints of their new units to account for a smaller share of sales coming from dine-in customers.
The bottom line for malls is that although restaurants can be traffic drivers, the number of out-of-home dining occasions is likely to continue to decline along with the number of restaurants.
Many malls are replacing vacant retail with entertainment venues. What are those prospects?
Movie theaters for a long time has been the entertainment venue of choice for malls. However, the many streaming options for at home digital entertainment on the high definition screen, such as from Netflix, Hulu and others, has been cutting into movie theater attendance. Since 2002, per capita movie attendance has declined by almost one-third.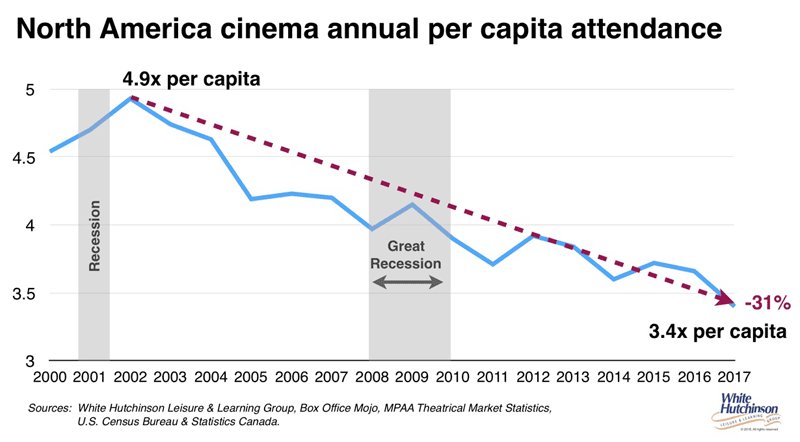 Average household spending at community-based entertainment and arts venues of all types, which include family entertainment centers, has basically remained flat since the turn of the Century (inflation-adjusted). Since then the revenue share being spent by the top twenty percent of households by income has increased from 42% to almost one-half (47%). The top 40% of households by income now account for 70% of all community-based entertainment and arts spending.
The share of all entertainment spending has actually dramatically increased over that time span. But all the increases are going to at-home and personal screen-based entertainment and social media (video games, cellular, Internet and audio-visual equipment and services).
Since 2000, average household spending on digital entertainment has almost doubled at an 89% increase with increases ranging from 72% to 114% across the different quintiles of household income (inflation-adjusted).
Although out-of-home entertainment spending has held steady, the frequency that people venture out of their homes to entertainment and arts venues has declined by almost one-quarter (-23%). People are going less often but spending more time and apparently more money on each trip, explaining why out-of-home entertainment spending has remained flat.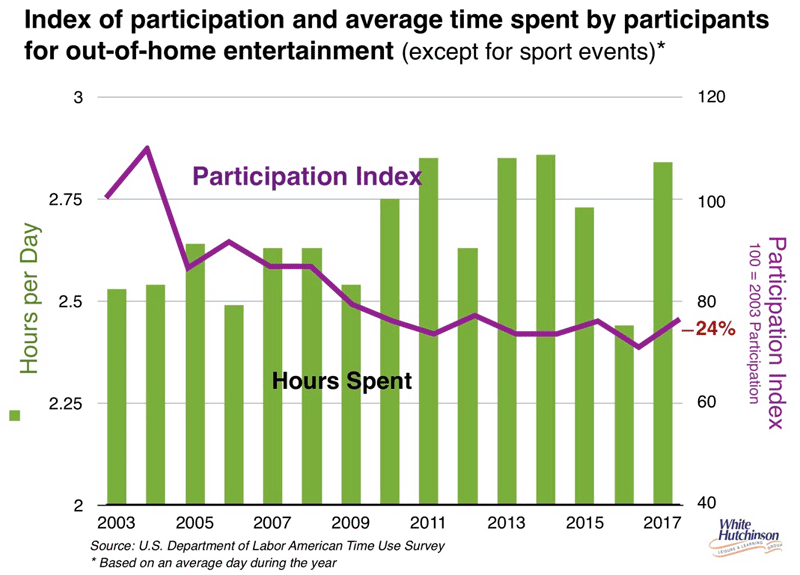 What this means is the amount of supportable out-of-home entertainment venues has remained flat and is likely to continue to remain so.
Meanwhile in many markets we are seeing an over saturation of new entertainment venues with expansion by chains including Dave & Buster's, Top Golf, GameTime and Punch Bowl Social along with the development of entertainment centers by independents. With many malls attracting entertainment tenants with sweetheart deals, there is already an entertainment venue bubble on the horizon in many markets.  
There's been a transformational cultural change that is impacting attendance at many bricks-and-mortar entertainment venues and it has to do with the experience economy. People, especially the younger generations, are fundamentally different than the earlier generations that most consumer and retail companies, including malls, were designed to serve. These younger generations define themselves far less by what they own and more by what they do, how they live life. More than three-quarters of Millennials (78%) say they would rather spend money on an experience than a material good (it's 59% for Boomers). So younger generations are especially drawn to experiences and favor those products and services that augment their experiences.
American culture has always been about novelty seeking and the pursuit of the new. In today's experience economy, people now collect new and memorable experiences that they share on social media and add to our Experiential CVs to reflect who we are and to gain bragging rights and social capital. Peoples' desire to collect a variety of experiences is also driven by their desire to feel productive, as checking off items on their experiential check list creates the feeling that they have used their leisure time productively. The vast majority of Americans now have the desire for adventure and discovery when it comes to their experiences. With the vast and expanding selection of out-of-home entertainment and leisure options we have today, they quickly move on to new ones to add to our Experiential CVs rather than just repeat the same ones.
As a result, entertainment venues with fixed attractions as their destination anchors are losing their repeat appeal.  A study by PGAV found that ­the percent of family entertainment center guests that were repeat customers declined from 78% in 2015 to 62% in 2017.
There is one bright spot for out-of-home entertainment – festivals and live events. Research by EventBrite found that Americans are attending more live events than ever before, from entertainment-focused experiences like music concerts and beer festivals, to more cause-related events like marches and rallies. A study by J Walter Thompson found that more than half of Millennials go to festivals and live events in order to discover something new. EventBrite says the increased preferences for live experiences is being driven by a strong desire to connect with people, the community and the world. Their research found that 4 in 5 Americans (78%) attended a live event in the 12 months ended May 2017. For Millennials, the participation rate was 90%, an increase from 82% just three years earlier. Attending a festival or live event is the ultimate status symbol for Millennials. Half attended a live event so they had something to share online (building their Experiential CVs and social capital). Since live events are very limited time offerings, they harness the power of FOMO (fear of mission out), giving them high bragging rights.
So, the bottom line is that not only is e-commerce eating malls' lunch, but growing digital at-home meal and entertainment alternatives are eating the opportunity for serving up restaurants and entertainment venues to fill vacant retail spaces and to drive mall traffic.
When we look at all the digital disruption to out-of-home businesses of all types, it is largely being driven by the pursuit of convenience. Americans feel very time pressed. All the convenient and fast evolving digital options allow consumers to save time by just staying home, whether for shopping, meals or entertainment. Today, consumers craving convenience is more than a trend, it's a cultural value. Convenience has become the ultimate currency.
The lack of convenience is a major contributor to the downfall of malls as destinations for bricks-and-mortar shopping. Parking and visiting a mall is not as convenient as shopping at a strip center or free-standing store. One of the reasons that lifestyle centers are growing in number and are successful is that they offer consumers the perception of convenience and also offer a much more appealing setting and ambiance than malls. They are also very attractive to tenants due to their lower common area charges.
Today the decision-making choice for consumers has become very bifurcated; either convenience or experience. It's the choice of time saved, or time well spent. You either have to be at one extreme or the other to win today. And with the convenience options expanding exponentially, the bar for experiences to get people out of their homes is high and getting higher every year. Today, an experience has to be a high quality, what we call high fidelity, with a high value for the time people spend. And unlike purchasing goods and services, they are willing to pay a premium for it.
To stay relevant to today's consumers and their changing lifestyles and preferences and to survive, malls need to shift their business paradigm from being only passive lessors of space. Seeking out different experiential users whether retail, restaurants or entertainment won't be enough with a limited supply and supportable square footage of restaurant and entertainment tenants and the shrinking supportable square footage of retail. Malls will also need to make their malls experience destinations for a wide variety of festivals and pop-up, live and special events. Mall owners and managers need to become experience producers. Just renting to experiential tenants, whether retail, restaurants or entertainment, will no longer be enough to stay relevant to the fast-evolving consumer due to the continued growth of all their digitally driven at-home options, their desire to seek out new discoveries and experiences and the convenience of shopping at free-standing, strip center and lifestyle center stores when they do decide to visit brick-and-mortar retail, restaurants and entertainment.
The White Hutchinson Leisure & Learning Group is a 29-year-old company that works with entrepreneurs and malls, shopping centers, resorts and other consumer destinations on the development of leisure experience destinations of all types. Its CEO, Randy White, who has extensive shopping center and mall development experience, can be reached at randy@whitehutchinson.com.