Can entertainment venues save the malls?
Long before the Great Recession, America was overstored in terms of the amount of retail square feet per person. Now we have ecommerce slowing eating away brick-and-mortar retail's lunch. As a result, big box stores are shrinking and many retail and department stores are closing. Millions of square feet of retail space have gone dark. Millions more are yet to follow including 100 Macy's department stores, many Sears' stores and many big boxes. There is no doubt that ecommerce will continue to grow and cause more and more retail space to go vacant.
Mall developers are faced with the challenge of how to repurpose all this vacant retail space and find new anchor tenants. Many shopping center developers are so frenzied about this issue that they will seize virtually any opportunity, however unsuitable, to gain occupancy and drive footfall.
"Part of what they're trying to do is get beyond shopping as a reason to come to the mall," said Paco Underhill, founder of Envirosell, a behavioral research and consulting firm that specializes in retail and commercial environments.
Robin Lewis and Michael Dart, co-authors of The New Rules of Retail, predict that among the roughly 1,300 major malls, only as many as 300 will survive as vibrant, fun, enjoyable retail shopping experiences, the "A" malls. Another 200 to 300 malls will change the mix to appeal to their local communities. The remaining 700 shopping complexes will decline or go dark, as they will be seen as neither convenient nor experiential, so won't regain their retail footing.
Now that we have truly entered into the experience economy, one answer for malls seems to be to replace the purchase of stuff with the purchase of experiences. Experiences include dining and drinking and various forms of out-of-home entertainment (OOH) such as family entertainment centers, upscale bowling venues, cinemas and eatertainment concepts that combine destination dining and bars with interactive social entertainment. These experience venues are now becoming the sought after new mall anchors to attract footfall to the malls and past retailers' storefronts.
A just release report by the International Council of Shopping Centers confirms the importance of experiences to mall visits. Of all the adults who visited a mall/shopping center this holiday season, 73% shopped, 45% dined at a restaurant or other eating establishment and 26% saw a movie. 20% of their expenditures were for experiences.
The potential for OOH entertainment at malls is limited. In fact, overall OOH entertainment expenditures, like retail, are shrinking. It is slowly losing a share of consumers' leisure time and discretionary spending to eleisure, all the at-home and screen-based digital options consumers now have. And the selection of the digital options is growing with the introduction of virtual and augmented reality.
Our company's research clearly shows that across all socioeconomic groups, the amount of time consumers spend at OOH entertainment venues is on the decrease, with the amount of decrease being inverse to educational attainment.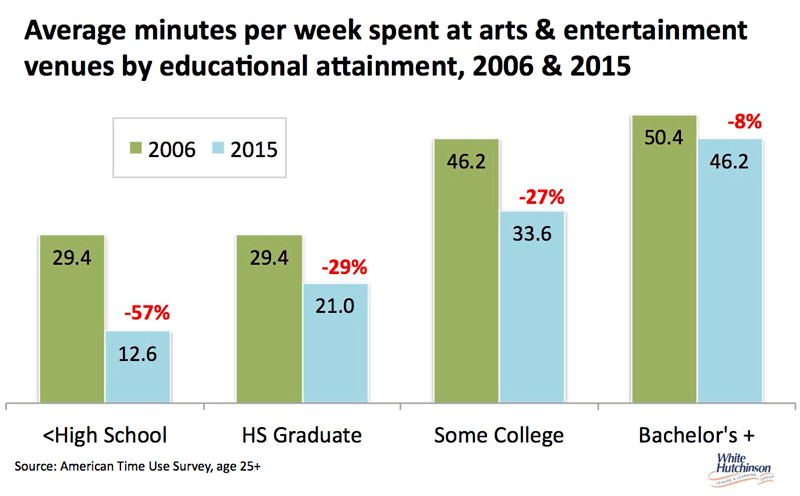 Back in 2006, households spent 0.39% of their income on OOH entertainment. In 2015, it had decreased by one-sixth to 0.33%. OOH entertainment spending is on the decrease for all socioeconomic consumers, again with the amount of the decrease being inverse to education. As a result, whereas Bachelor's and higher degree households represented slightly less than half of all OOH entertainment spending just ten years ago, their share in 2015 grew to 69%.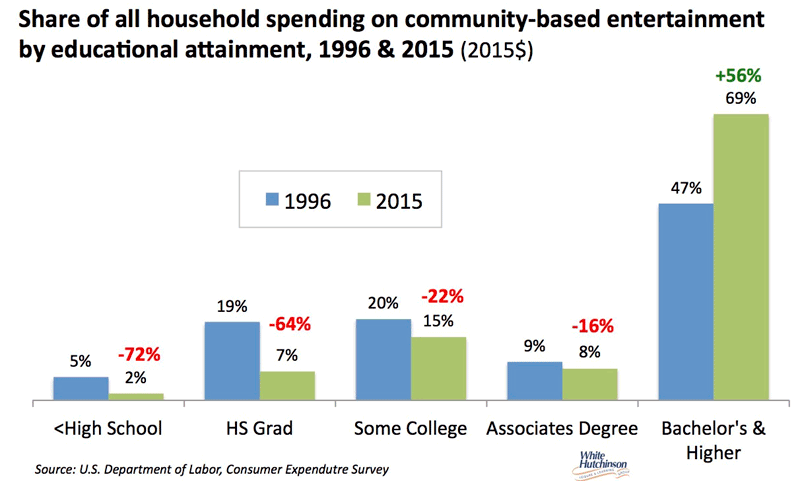 There are opportunities for malls to replace some of the growing vacant retail space with entertainment venues. However, the target market for that entertainment is now the higher socioeconomic consumers. And that means it has to be high quality, what we call high fidelity, to attract them. And for most entertainment to work today, it needs to be paired with high quality food and drink. That makes it a good fit for the "A" malls that want to continue to target and attract those higher socioeconomic consumers. But for the struggling "B" and lower quality malls, it probably is not the answer. And mall developers need to remember that the demand for OOH entertainment is not elastic. It is a limited finite market, and showing a slow long-term decline. So too many malls chasing after entertainment venues as their answer can easily create an entertainment venue bubble, resulting in the failure of all but the highest fidelity entertainment venues in the higher socioeconomic markets and "A" malls.