A earlier version of this article was published in the December 2011 issue of our Leisure eNewsletter.
Kids' Menus are Evolving
The appeal of kids' menus to both kids and their parents is increasingly important for attracting families to both entertainment venues and restaurants. It doesn't matter what type of family entertainment center it is, as attending families will either be the majority of the business or a significant part. Even adult entertainment venues such as Dave & Buster's and Lucky Strike Lanes attract families during the daytime and early evening daypart.
The healthiness of children's foods is a growing concern of parents. Everyone, including parents, the White House, USDA, food commodity boards and the medical community, is pushing the restaurant industry to improve kids' menus. And the industry is responding. In a National Restaurant Association survey, chefs ranked healthful children's meals as the fourth-hottest restaurant trend, behind locally grown and sustainable foods.

In July the National Restaurant Association launched Kids LiveWell, an initiative to provide better-for-kids menu options. 15,000 restaurants have pledged their commitment to bring healthier menu choices to children including Burger King, Denny's, Au Bon Pain, Chili's, IHOP, Outback, Joe's Crab Shack, Chile's, Carrabba's Italian Grill, Friendly's, Outback Steakhouse and Cracker Barrel.
Restaurants participating in the Kids LiveWell program:
The Darden restaurant company with its Olive Garden, Red Lobster, Longhorn Steak House and three other chains now makes a fruit or vegetable side dish and low-fat milk standard on kids' meals. If a child wants French fries or another substitute, an adult has to ask for them. Their Olive Garden chain has eliminated French fries and milkshakes from their kid's menu in favor of fruit smoothies and grapes. The fruit shakes are a frozen blend of fruit puree and non-fat yogurt and come in strawberry, wild berry or peach-mango flavors.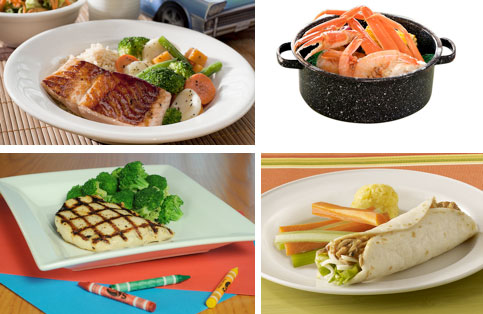 Kids' menu items from participating restaurants in the Kids LiveWell program clockwise from top left: Silver Diner teriyaki salmon, brown rice and veggies, Joe's Crab Shack snow crab and corn on the cob, Chevy's Fresh Mex kiddie chicken soft taco and celery and carrot sticks and Chili's grilled chicken and broccoli. All four selections come with a fruit juice.
McDonald's has responded to the call for more healthy kids meals by reducing the portion size of the fries in Happy Meals from 2.4 ounces down to 1.1 ounces and has expanded its healthful side options to include apple slices (sans the previous caramel sauce), carrots, Mandarin orange slices, pineapple slices or raisins.
To find what family restaurants offer the best value, the most nutritious food and least stressful experience, Parents magazine analyzed the calories, fat, saturated fat, and sodium on both the kids' and adult menus of more than 150 national restaurant chains. For the places with the healthiest options, they also scrutinized the quality of the ingredients such as whether there was organic milk or antibiotic-free chicken. Then they considered conveniences like call-ahead seating, online ordering, crayons to keep kids busy, and high chairs and boosters. From this they selected the 10 best family restaurants.
Their number one choice was Jason's Deli for its organic produce, nitrate-free lunchmeat, and whole-grain bread on both its kids' and adult menus. Last year, it was the only restaurant chain in the country to ban high-fructose corn syrup and artificial colors in all its food. All of Jason's children's meals come with a side of organic carrots, apple slices, or a fruit cup in addition to organic milk or apple juice. They're now working on reducing sodium across the menu board. Their organic PB&J on whole wheat is currently the lowest-sodium kids' option, with 445 milligrams (mg) per serving.
Parents magazine's 2nd choice was Cosi. All their kids' menu sandwiches and pizzas range from 150 to 425 calories -- the perfect amount for children 8 and under. Così was the only restaurant surveyed that didn't have any kid's dish exceed 700mg in sodium—most choices were between 200 and 400mg, Entrées come with a mini fruit cup (usually pineapple, melon, and grapes), a small bag of baby carrots or potato chips, a beverage, and a small cookie. Cosi will also make any of its sandwiches and pizzas on light-colored whole-grain flatbread, which is virtually impossible for kids to tell apart from the white stuff.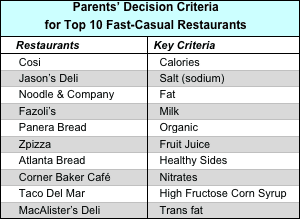 Organic is among the top parent considerations for their children's meals. A recent survey commissioned by Kiwi Magazine found that nearly half (48%) of parents' primary motivation for buying organic food for their children is their belief that organic products "are healthier for me and my children." Other motivators included concern over the effects of pesticides, hormones and antibiotics on children, and the desire to avoid highly processed or artificial ingredients.
Chemical contamination of food by chemicals found in food packaging and food containers such as cups is becoming a heightened concern for many parents, especially for the chemical Bisphenol A (BPA) found in many plastics. The potential harm from BPA is highest for young children because their bodies are early in development and have immature systems for detoxifying chemicals. BPA is an endocrine disrupter, which can mimic the body's own hormones and lead to negative health effects. Prenatal exposure has been linked to later neurological difficulties in young children, including hyperactivity and aggression. BPA exposure has also been linked to increased risk of cancers, heart problems and early puberty in females.
Panera Bread is one restaurant chain working to address BPA-contaminated food. Both the plastic bags that hold their soups shipped from their central commissaries and the plastic bags to cook their turkeys using the sous vide method use BPA-free plastics.
The healthiness of kid's menu selections is an issue for parents, but they also, as do their children, want the meals to both appeal to kids' taste palettes and be fun for them.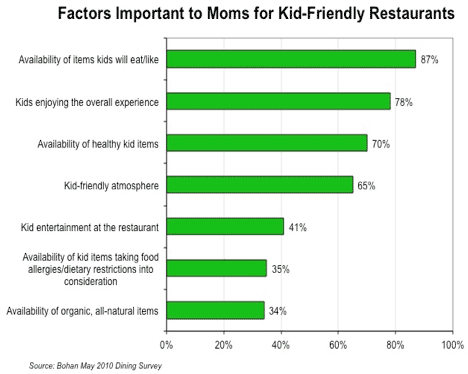 Today's kids, often labeled as koodies (kid foodies), have refined palettes. Kids, especially in urban areas as well as from their television viewing, are exposed to a diverse range of foods beyond the standard American faire. Many have grown up eating a wide range of global cuisines including such things as tapas, sushi, and Indian and Thai foods.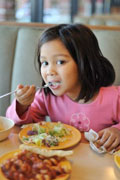 Some McCormick & Schmick's Seafood Restaurants offer young sophisticates options such as teriyaki chicken bowl with stir-fry vegetables, shrimp lotus salad, and grilled salmon with jasmine rice.
Marketing firm Kidzsmart conducted a survey of children 12 and younger earlier this year and found children preferred many foods not usually found on kid menus including fish and salad. When they were asked "what is your favorite healthy food to eat?" fruit and broccoli received the most votes (yes, broccoli).
Older kids asked for bigger portions and more choices including steak. One restaurant chain that has stepped up to the plate on this desire is Texas Roadhouse that offers a two-tier kids menu where older children can order a 6-ounce grilled sirloin steak with a side choice of fresh vegetables, mashed potatoes or apple sauce from their Ranger Meals menu. Younger kids can order the Lil' Dillo Sirloin Bites – sirloin steak pieces with the same side options. Also on the old kids menu is a rib basket.
Legal Sea Foods kids' menu includes the choice of a half lobster or a smaller portion of wood-grilled fish of the day, both served with sides, fruits and veggies.
Outback Steakhouse has a Joey Menu for kids 10 and younger with Joey Sirloin and Junior Ribs with the choice of baked or sweet potato, or grilled vegetables.
There is an emerging trend of restaurants offering child-sized portions of their adult menu items as an alternative to less healthy kids' menu options. In July, Ireland's Nutrition and Health Foundation (NHF) and the Restaurant Association of Ireland rolled out a campaign among the restaurant association's 6000 members called Kids Size Me. Participating restaurants will offer children access to healthier food options by making child-sized portions of adult meals available as an alternative to the standard children's menus and display the new Kids Size Me symbol on their menu. Research commissioned by the NHF found that 98% of parents want child-size portions of adult meals available.
Children love to imitate their parents and other adults. Offering them the choice of a smaller portion size of adult menu items not only plays to this desire, but also offers them many healthier options. NHF believes the initiative could have an important impact on children's long-term eating habits, as providing children with scaled-down versions of adult meals will encourage them to eat a wider and healthier range of foods.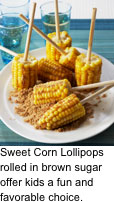 Recent research is also shedding light on designing menus and the arrangement of food on plates to encourage kids to eat more fruits and vegetables. Researches at Cornell University and London Metropolitan University found that kids appreciated different qualities on a dinner plate than grownups. While adults prefer three different food colors and three food items, children 5 to 12 preferred a plate with six different colors and seven different food items. Adults prefer their main food item in the center of the plate; kids liked theirs toward the bottom. And kids will be kids; they liked their food arranged as a picture whereas adults preferred a casual plate arrangement. The researchers said the study suggests that healthy eating by children can be encouraged by designing menus and plating to satisfy children's visual preferences for a wide variety of foods and colors.

Movenpick Hotels and Resorts recently launched a new kids Power Bites menu with low-fat and reduced-sodium recipes that incorporate a variety of produce. To make them appealing to kids, the presentation of the food has characters and scenes using the food as props such as a millipede with a tomato head inching across the plate on cucumber feet.
Burger Bar has opened its first unit in Ft. Lauderdale. They developed a healthful kids desert, Rocky Mountain Mango Brownies, that incorporates dried mango, pureed mango and chocolate chips. Their kids' menu also offers a turkey burger with sliced mango. Burger Bar plans to expand their kid offerings with Mango Coconut Waffles and a tropical mango roll-up wrap with turkey and mango salsa.
Pork items are appearing on kids' menus. Brio Tuscan Grille offers a Brio Pork Chop grilled and served with mashed potatoes and the veggie of the day. Claim Jumper's kids' menu has Little Jumpers Baby Pork Ribs with dippable BBQ sauce and a choice of two sides.
In addition to choosing their foods, kids also want to be in charge of choosing their ingredients, flavors, toppings, sauces, etc. Offering them customizable menu options gives them a sense of empowerment and ownership. Interactive is an important fun component of any kids' meal.

They will want to come back to the place where they get it their way and have fun too.
Chipotle offers a kid Taco Kit with soft or crispy taco shells and a choice of any three ingredients (one naturally raised meat or guacamole, and two other ingredients from the line, like salsa and cheese) and two crispy or two soft taco shells. The kit also comes with a small bag of chips and a choice of organic plain milk, organic chocolate milk, apple juice or a soda.
IHOP recently rolled out a new kids' menu under the Simple and Fit banner with items that range between 400 and 600 calories and are designed to be fun for children.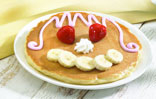 Their Create-a-Face Pancake allows children to decorate their pancakes with yogurt and fresh fruit pieces.
Keeping young customers entertained at a restaurant can be a challenge. Some restaurants have gone the D-I-Y route to entertain kids by having them participate in the preparation of their food. Liberfad, a restaurant on the North Shore of Chicago, has Sunday night make-your-own quesadillas, pasta, grilled cheese and taquitos for its age 10 and younger customers.
Allergens are a concern for parents and can have a huge impact on which entertainment centers or restaurants families will visit. The latest research indicates that 8% of children, about six million, have food allergies. 40% of their allergen reactions are severe and nearly one-third has sensitivities to more than one food. The top food allergens include gluten, casein (milk protein), peanuts, tree nuts, soy, eggs, fish, and shellfish. In addition, many parents whose children are not gluten intolerant or do not have celiac disease have their children on gluten-free diets in the belief it can reduce ADHD behaviors.

Also both gluten-free and casein-free diets are believed to benefit children with autism spectrum disorders and/or be healthier. There are also families, including many Southeast Asians, who require vegetarian or vegan menu options.
One family restaurant chain that is addressing these needs is Rainforest Café. Their kids' menu lists all the allergen-free features of each menu item. They even offer a vegan kids entree that is gluten, egg, nut and dairy free—Andy Pandy Mash, a mix of potatoes, white cabbage, roasted red peppers and virgin olive oil.
Offering kids' meals that are fun and healthy are a great way to win the family market for entertainment venues and restaurants alike.