Earlier versions of this article were published in the Sept-Nov 2011 Leisure eNewsletter and the March 2012 issue of Replay magazine.
Does Alcohol Belong in Family Entertainment Centers?
Our family entertainment center clients occasionally ask us whether they should serve alcohol at their FECs, and if they do, should it just be beer and wine or do they need to also serve liquor. Before discussing the issue, let's first look at some statistics on American's alcohol drinking habits.
There have been a number of recent surveys examining who drinks and who the teetotalers are. A March 2011 survey by Harris Interactive found that 22% of adults 21 and older don't drink. A survey in November of 2010 by Rasmussen Reports found that 29% of American adults don't drink. A July 2010 Gallup survey found that 33% don't drink. So, it appears that somewhere between a little over a fifth to a third of adult Americans don't drink alcohol.
Variations in abstinence
The rate of abstinence varies by generation. Here's the breakdown from the Harris survey. As the chart shows, the percentage of non-drinkers increases and the frequency of drinking decreases with age.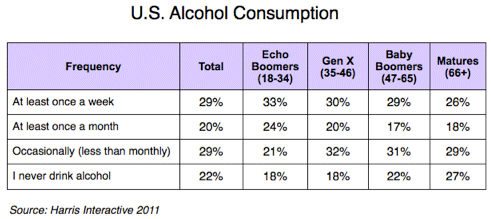 The rate of drinking also varies by the region of the country. A 2007 study by the Center on Disease Control found that the percentage of non-drinkers is greatest in the South.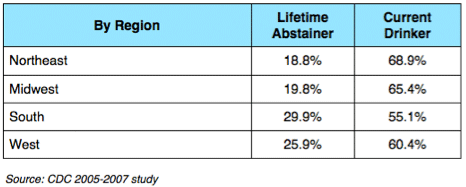 Drinking wine on the rise
Beer is decreasing in popularity and wine's popularity is increasing. The 2011 Gallup survey found that the two are almost now tied in popularity.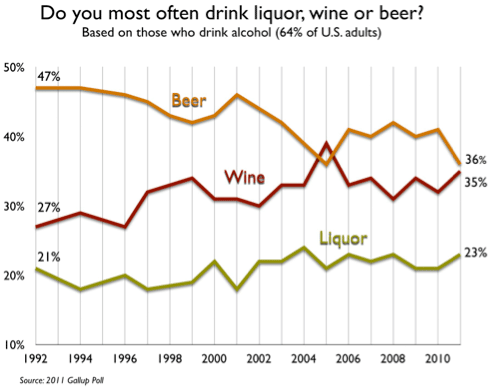 However, again the numbers vary by generation. When Gallup looked at adult drinkers age 18 to 34, beer outranked wine 39% to 29%. Still, even with this age group, the popularity of beer is on the decrease and wine is on the increase. Preferences vary by gender. 41% of women age 18-49 prefer wine compared to 13% of men the same age. Overall, the preference for beer decreases and the preference for wine increases with age.
Although a greater percentage of people in the South don't drink, of those that do drink, a larger percentage prefer liquor, 28%, compared with 17% in the East and Midwest. Interestingly, people in the West have the highest preference for liquor at 29%. 46% of Midwesterner prefer beer compared to 29% in the South. Wine is most popular in the East.
Correlation of drinking to socioeconomics
Drinking alcohol has a positive correlation with socioeconomics and a negative correlation with church attendance and age. A much higher percentage of higher socioeconomic adults are drinkers compared with lower socioeconomic adults. A higher percentage of Catholics drink than Protestants.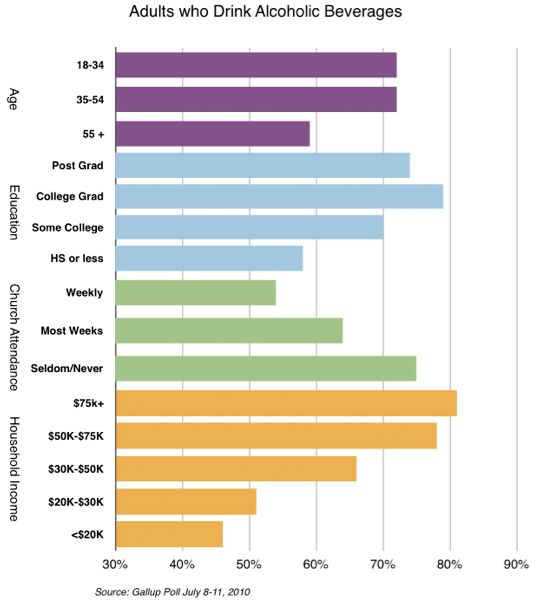 Should entertainment centers serve alcohol?
So what does all this mean for whether entertainment centers should serve alcohol?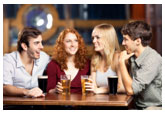 The first point is that the majority of American's do drink alcohol, and rather regularly. When it comes to adults socializing together, whether at a ball game, out at dinner, at someone's house watching football or at a large gathering, such as a corporate group or a wedding, there is almost always alcohol available. Alcohol and socialization and celebrations seem to almost always go together.
So what about alcohol in family entertainment centers (FECs)? Let's start by looking at the largest operator of children's entertainment centers, Chuck E. Cheese's, with around 550 units across the entire U.S. That company learned long ago about the importance of serving beer and wine. Yes CEC sells beer and wine in the vast majority of their units. You have to look way down at the bottom of their menu to find it. Our company calls the beer the dad pacifier. Dad will come if he can have his beer (about 75% of men drink beer). And occasionally, mom likes to have a glass of wine. Alcohol is in the low single digit percentage of CEC sales, but it serves the purpose of making the experience more palatable to parents. Also, pizza, the primary CEC menu item, goes hand-in-hand with a cold beer.
Next let's look at FECs and family eatertainment centers, the ones that target the family together. Here it's a mixed bag with many not offering alcohol, while others that have destination dining such as Bullwinkle's Family Fun Center, SpeedZone. Peter Piper Pizza and John's Incredible Pizza offer it. We are somewhat baffled why more don't. Perhaps some FECs worry about mixing alcohol and go-karts. However, with proper operational standards, it is not a problem at FECs as Bullwinkle's and SpeedZone have found. When you look at what might be described as family restaurants or family-friendly ones, almost all serve alcohol, mostly with a full bar. Red Robin, the favorite for families with tweens, has a bar. Other casual dining restaurants that draw families such as Applebee's and Chili's have a bar. Even Chipotle serves beer and margaritas. It doesn't take away from the family appeal. Another consideration is that pizza is usually a featured food item at FECs. The combination of pizza and beer is as all-American as apple pie.
For FECs that want to serve alcohol and maintain more of a family rather than an adult image, the answer is in the presentation of the alcohol. There doesn't necessarily have to be a bar if only beer and wine is served. And if liquor is offered, then you really need a bar to show its availability, but the bar can be designed to have a low profile and not look like a bar where you would have a bar crowd hanging out.
When FECs serve alcohol it broadens their market to more than just families with children; it greatly increases their appeal to adults. Lasertron Interactive Entertainment Center in Buffalo, NY added alcohol and saw a significant increase in business from adults and adult groups.
Generating group business is essential to the success of any community-based family entertainment center. There are some groups that will not come when there is alcohol availability. However, there are many more that will not come when there is no alcohol service. A dedicated group area with a portable bar, a small bar where liquor bottles are not on display or a liquor display that can be closed off behind cabinet doors solves the problem for groups that don't want alcohol or to have alcohol in the group area.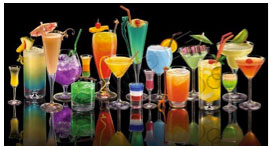 What about serving liquor?
So what about liquor? Is beer and wine enough? In some situations such as Chuck E. Cheese's where you are not targeting adults, but rather trying to make the adult experience at least tolerable, yes it is enough. However, if you want business from adults in addition to families, such as at a hybrid-bowling center, you really need liquor. In the South, over a quarter of drinking adults prefer liquor. Mixed drinks and cocktails, such as Margaritas and rum drinks, are associated with festive and fun occasions, which is an association that strengthens the appeal of entertainment centers. And of course, if you are primarily targeting adults, such as at Dave & Buster's or Lucky Strike Lanes, the answer is an absolute yes to having a bar with liquor.
Alcohol increases satisfaction with food
There's an added benefit to serving alcohol. Diners who consume beer, wine or cocktails say they are more satisfied overall with their experience and are more likely to recommend the restaurant or entertainment venue than teetotalers. The research shows that they perceive heightened levels of service and tend to spend more.
One final advantage of serving alcohol, especially in an FEC that has destination dining, in a pizza buffet center or in a facility with bowling where guest will be eating on the lanes, is that the availability of alcoholic drinks not only increases the appeal to adults and thus increases attendance, but it also increases per capita sales. Entertainment centers that serve alcohol enjoy much higher sales and profits per square foot than centers that do not.