In my blog last week, I discussed how the pandemic increased our time on hometainment with the accelerated development and adoption of at-home digital and virtual entertainment and social options and its coming transformation of the post-pandemic entertainment and social landscape. This week I will examine how the pandemic has changed our dining behaviors and its impact on our post-pandemic dining and visits to location-based entertainment venues.
A Hunter poll of 1,005 Americans ages 18-73 found that over half (54%) report cooking more a home during the pandemic. Of the adults cooking more, three-quarters (75%) say they have become more confident in the kitchen, 73% are enjoying it more than they did before Covid. Over half (51%) report they will continue their more frequent cooking after the coronavirus crisis comes to an end. Their top motivations for continuing include cooking saves money, helps them eat healthier, and is relaxing.

The Zagat Future of Dining Study found that more people plan to cook five or more times a week more frequently after the Covid crisis than they did before the crisis.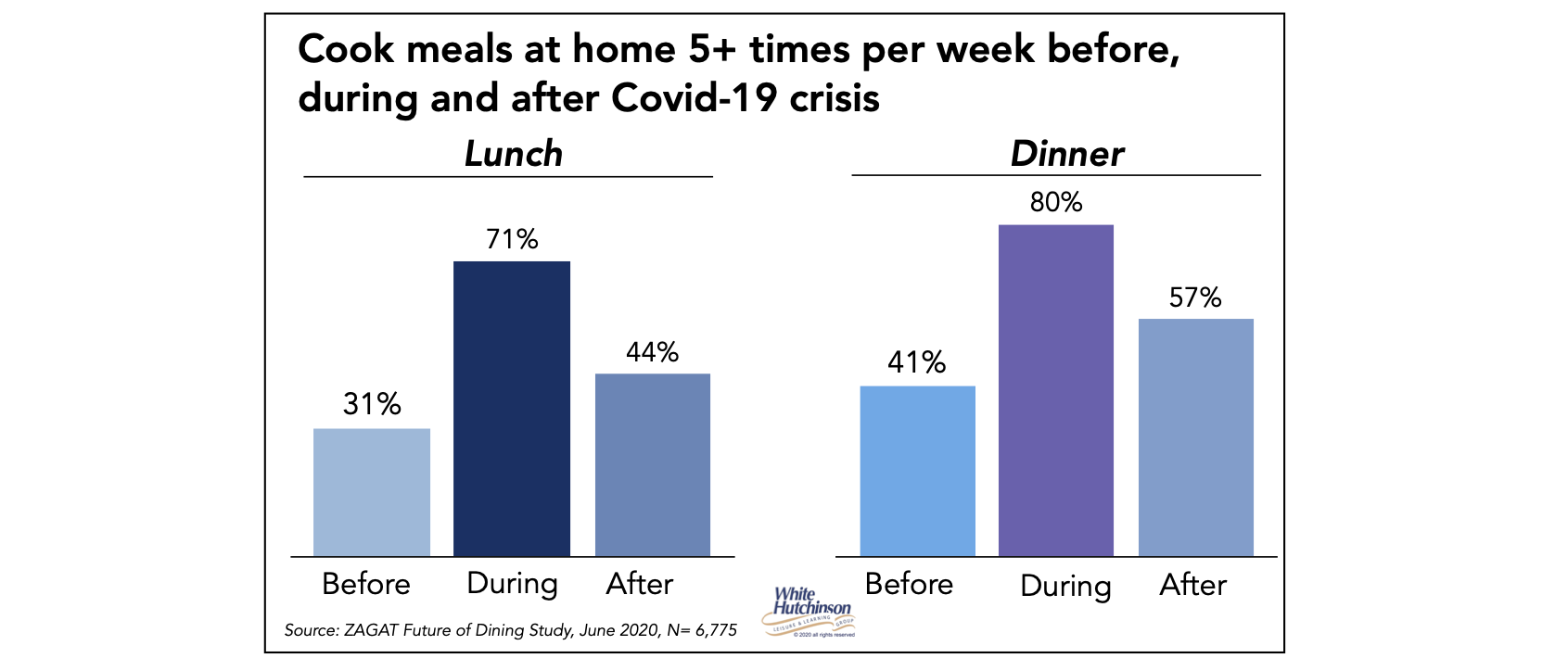 A YPulse poll of 13-39-year-olds found that half (51%) are cooking more than they did last year. Young adults reported they are more passionate than ever about cooking and that cooking makes them feel happy, accomplished, and relaxed.

YPulse also found that over 6 in 10 13-34-year-olds (62%) say they would rather prepare a meal at home than go out to eat or order delivery/takeout.
Data from the American Time Use Survey strongly suggests that the increase in cooking meals at home during Covid-time is not a new trend. Instead, the pandemic has been an accelerant to a trend that started at least 15 years ago. From 2004 to 2019, people increased the amount of time they spent on food and drink preparation by 24%. On a typical day in 2019, one-fifth more people (19%) were preparing meals than in 2004.

A Morning Consult poll found that adults of all ages plan to cook more when the pandemic is over than they have during the pandemic.

The YPulse survey found that young consumers are far more likely to plan to keep cooking more meals at home than to stop cooking at home as much as when the pandemic is over. The pandemic has accelerated the frequency of cooking at home long-term.
In addition to cooking more meals at home, people are also using more takeout and meal delivery from restaurants. Research by the National Restaurant Association found a significant increase in takeout and meal delivery for both lunch and dinner when comparing results from two days in 2020 before the pandemic to October 31 – November 1. Gen Z and Millennials had the highest percentage of all the generations ordering takeout or meal delivery. Boomers showed the most significant percentage point increase.

A Deloitte study found that both meal delivery and takeout increased for all generations. Older adults showed the greatest percentage point increases.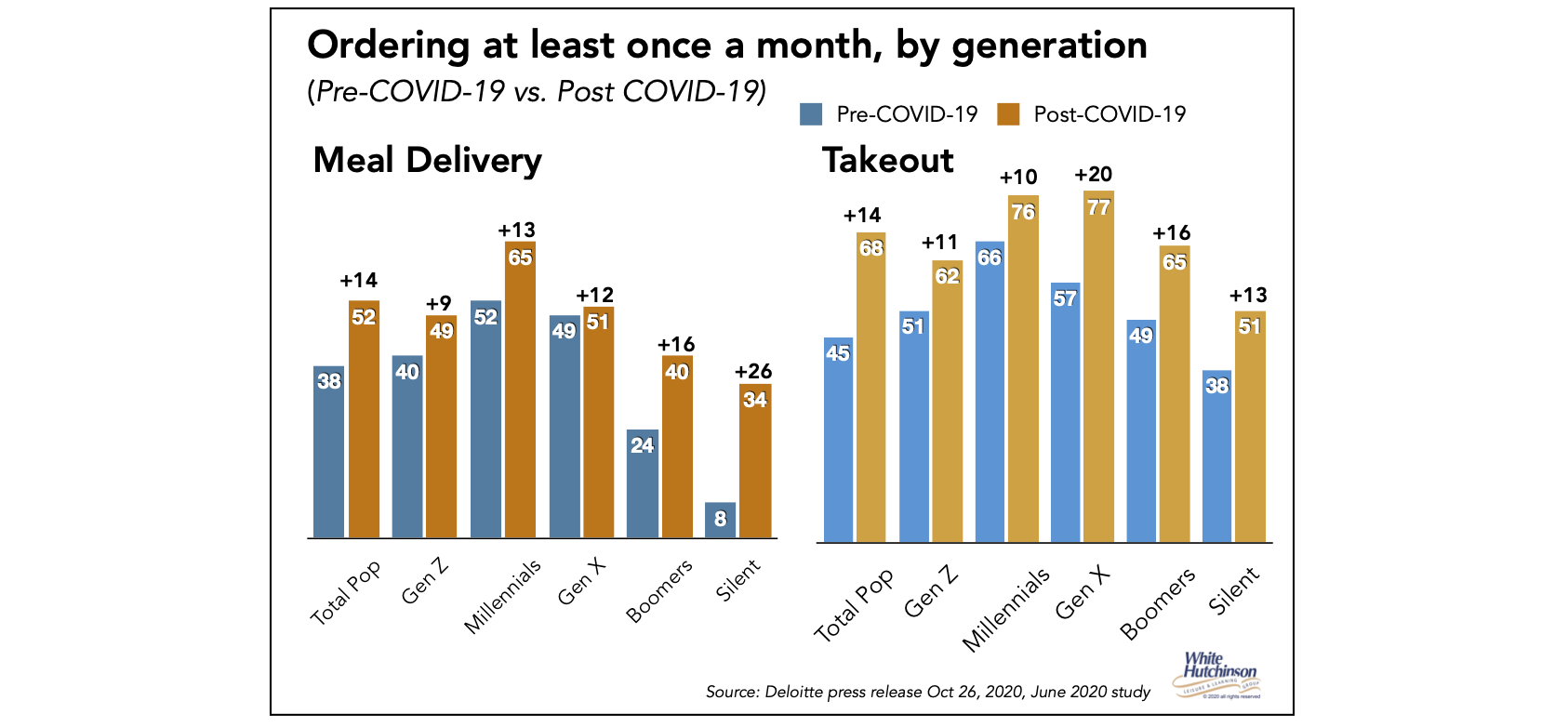 The September 18-24 McKinsey & Co. Covid-19 Consumer Pulse Survey found 23% of adults report having started or increased restaurant meal delivery since the pandemic began. According to a Manifest study, two-thirds of people (65%) ordered meal delivery in July at these monthly frequencies.

The above Zagat study found that meal delivery increased from 7 in 10 consumers pre-crisis to 9 in 10 consumers during the pandemic, a 19-percentage-point increase.
Digital and delivery were already gaining momentum before the pandemic. The pandemic has been a boon to meal delivery, which has surged. Morgan Stanley Research says the growth in meal delivery projected pre-Covid to take three years happened in just months.
A survey by Acosta found that a post-Covid increase to home cooking, takeout, and meal delivery will result in over one-third of people eating lunch out less often or not at all (36%)
and 1 in 3 people (30%) eating dinner out less frequently or not at all.

The projected post-pandemic decline in eating out due to increased home cooking, takeout, and meal delivery will not only negatively impact restaurant visits; it should also result in fewer visits to location-based entertainment venues (LBEs) than occurred pre-pandemic. This will be especially true for those LBEs that fall under the category of social eatertainment, where the food and drink are close to half or more of all revenues.
I'll use one example that in the past wasn't necessarily considered eatertainment – dinner and a movie. People used to go out to eat at a restaurant and then head to the cinema. Then along came dine-in movie theaters such as Alamo Drafthouse Cinema and Studio Movie Grill, followed by the large chains such as AMC adding in-theater dining. Dine-in cinemas had a lot of appeal from the convenience of a single venue where you could enjoy a half-decent quality meal and a drink while watching a movie on the large screen.
The appeal of that out-of-home dining and movie viewing experience is not only currently diminished due to the risk of catching the coronavirus, but also long-term even when the crisis has passed due to the new at-home virtual social entertainment options and meal delivery. Now we have the convenience of ordering in delivery of a quality restaurant meal and streaming a movie while sitting in the comfort of our homes. But even more importantly, at home, it can be a social experience of either watching with someone in person streaming on a high-def large screen TV or having a virtual screening party using extensions to streaming platforms, such as Netflix Party, that allow to you remotely watch together and use text, audio, and even video chat while watching synced content. At the dine-in theater, there is no talking; it's only a shared experience. It's a more expensive experience both in money and the use of leisure time to travel to and from the theater. The at-home option as a social experience with its convenience and lower cost has become serious competition for dine-in cinemas.
It's not just dine-in theaters that will have lost some of their appeal post-Covid. All eatertainment venues will. At-home digital entertainment has expanded and improved its offerings. Video games allow us to socialize with friends inside virtual worlds while playing a game, exploring a virtual world together, watching a live concert, or even attending a night club. Now we even have virtual escape rooms that people can remotely play together. Add in the convenience of ordering in a restaurant meal, and we have a highly appealing virtual "night in at-home" versus the old "night out on the town."
Consumer habits can change permanently after someone tries a new way of doing things two or three times out of necessity, as the pandemic has caused. And when a new habit brings benefits and the constraints on keeping the routine are low, it is easy to become a permanent behavior change, even when the original necessity for doing it is gone.
Many aspects of pandemic life will disappear afterward. However, Covid's legacy will be the increased cooking and restaurant meal dining at home and the virtual social entertainment experiences we're increasingly using.
Our new at-home entertainment and dining experiences, especially the social ones, will be new and formidable competition to many LBEs that existed pre-Covid. Our new at-home options have raised the bar for what it will take post-Covid to get people to leave their homes again to visit LBEs.
One way to understand this long-term behavior shift is the trade-offs people make for their entertainment and dining experiences. It's a trade-off between the Fidelity, the quality of an LBE experience, and the Convenience of at-home virtual social, entertainment, and meal options, measured and evaluated based on effort, time, and money.

The more Convenient digital at-home entertainment, meal delivery, and socialization become, the more appealing cooking at home becomes, the higher the Fidelity of an out-of-home entertainment experience has to evolve to compete and attract people. And as virtual entertainment and socialization and the selection and quality of restaurant meals we can have delivered improve in Convenience as it has during the pandemic and is sure to continue to, what used to be a High Fidelity experience is no longer considered High Fidelity and falls into what is called the Fidelity Belly, not a place any venue wants to find itself as it has no appeal.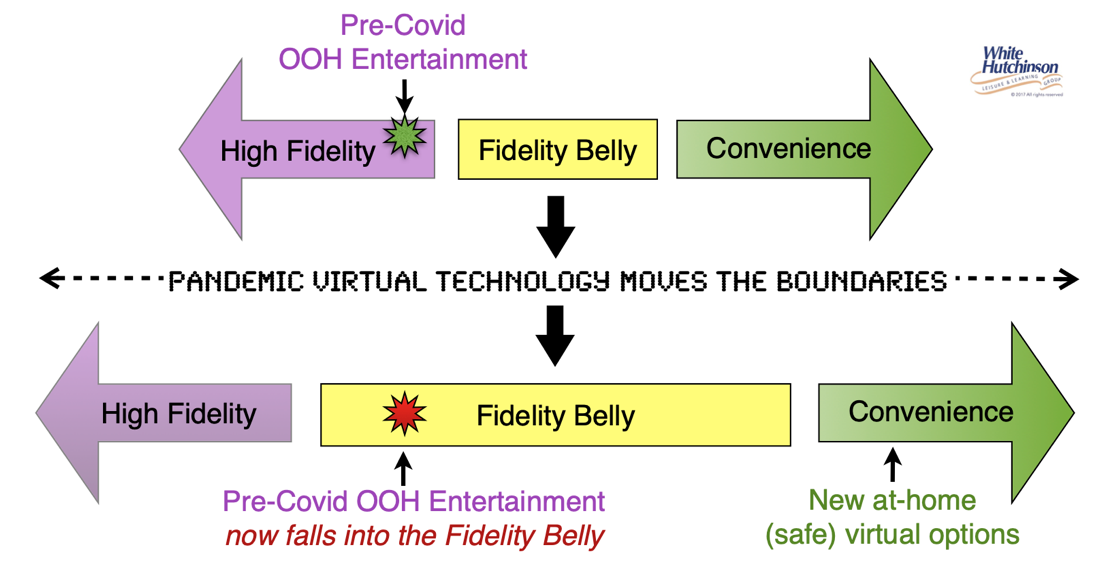 To win, you need to be at one end of the axis or another and ten times better than what you're aiming to replace. This means ten times more high-impact or high-quality or ten times cheaper, less time-consuming, and easier to do.
Rock-concerts are not convenient (they take time, effort, and money to attend), but they offer a High Fidelity experience. MP3 music on a smartphone is compressed and removes much of the sound quality, offering a low-fi experience, but it is very Convenient. Attending a virtual concert with friends within Fortnite now provides a better experience than just listening to music on a smartphone and is more appealing than previous at-home options. This raises the bar for what it will take in the future to get people to leave their homes to attend a music concert.
Instead of asking, "Is there a reason to do this virtually and at-home?" many people will now be asking, "Is there really a good reason to leave my home to do this in person?" Many LBE experiences that were attractive in the past will be less relevant and compelling than the at-home ones we've gotten comfortable with and are now regularly enjoying.
Make no mistake. One thing is certain, the at-home entertainment, social, and dining experiences are forever changed and are now and in the future more competitive to out-of-home LBE experiences.
Follow me on Twitter and Linkedin – I try to post news and information relevant to the location-based leisure, LBE, and FEC industries a few times every weekday. 
To subscribe to this blog, click here