Back in March, the coronavirus dramatically changed our entertainment and socialization behaviors. Out-of-home (OOH) options came to an abrupt halt. All our entertainment and socialization was restricted to taking place in our homes. It became a 100% hometainment world with only at-home digital, virtual and analog games, entertainment, and social options. Even as the world has opened up and some location-based entertainment (LBE) venues have reopened, the vast majority of people are still hunkered down in their homes, sticking to hometainment.
Our Covid-time hometainment is not new. It's the super acceleration and continuation of a long-term trend of people spending increasing time at home.
Back in 1981, futurist Faith Popcorn predicted the lifestyle Cocooning trend – people staying at home more and cocooning there. Then in 2008, she predicted it would intensify into Uber-Cocooning, brought on by the Great Recession with people retrenching even more inside their homes. In 2016, she observed that Uber-Cocooning was getting more extreme and evolving into a new lifestyle trend she labeled Bunkering, an even more intensive staying at home trend.
In 2016, Ypulse found that nearly 3 in 4 millennials (72%) preferred to bunker in on the weekends rather than go out at night. The 2018 Trusted Media Brands Modern Family Study declared, "staying in is the new going out." They found that 80% of families and 78% of millennials said they would rather stay in with their family or friends than go out. The most popular at-home quality time activity for 95% of people was socializing/hanging out. The study found that this lifestyle trend was partly due to stagnant wages and people feeling frazzled, whether they're exhausted from the constant digital connection or anxious about where society and the world are headed.
Research by Impacts Experience has found that staying home more on the weekend is not a new trend. They've seen a continual increase over the past decade in the percent of people preferring to stay home on the weekends, growing from 37.7% in 2011 to 49% in 2019, and peaking at 53.4% in Q3 this year.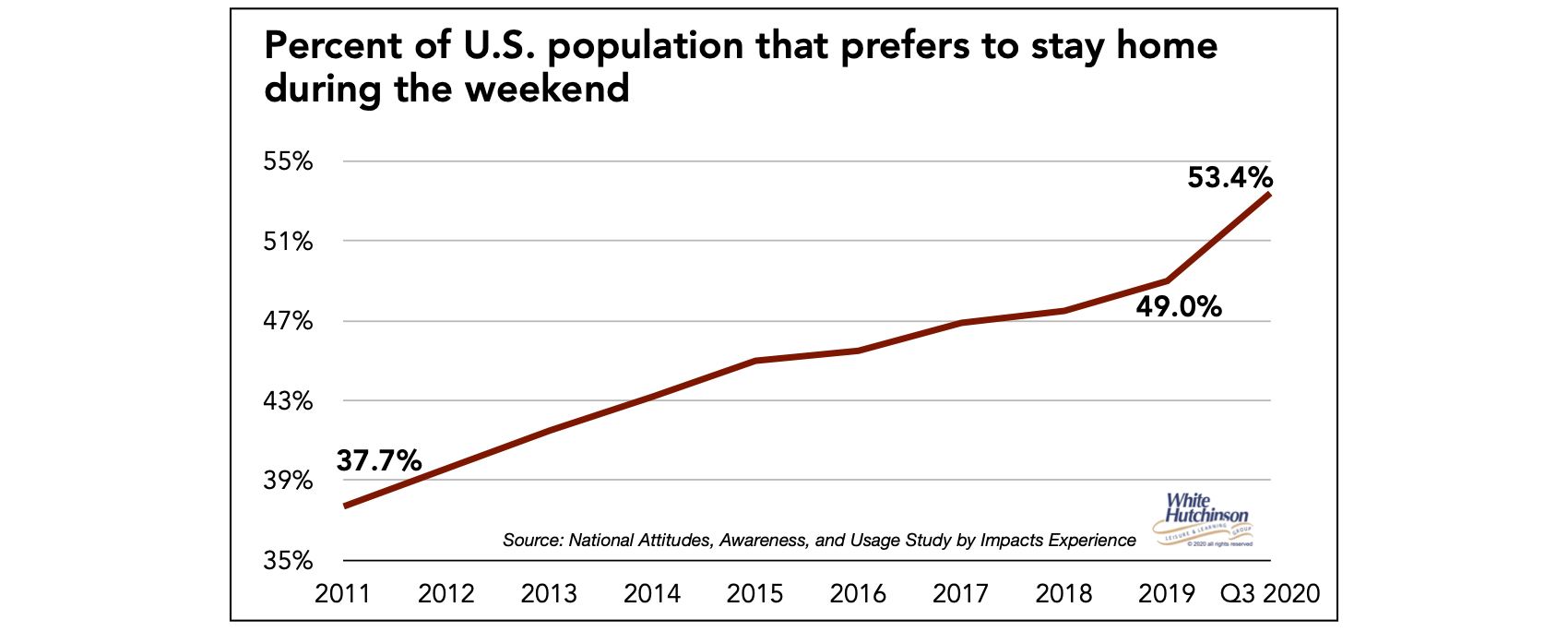 The trend of increasingly hunkering down in our homes has many other names, including home-basing, hygge, and digital-hiving. Regardless of what name you give it, time at home has been on a gradual increase for decades.
Data from the American Time Use Survey that tracks how Americans spend their time further verifies the staying at home trend. ATUS data shows that over the past 15 years through 2019, Americans have, on average, increased their awake time spent at home by 16 minutes per day. This translates into an annual increase of 6.4 days' worth of awake time (averages 15 hours and 10 minutes a day) since 2004. People are also sleeping 14 minutes more per day, bringing the increase for the total average time at home to 30 minutes every day.

As a result, people spent one-half hour less time each day away from home.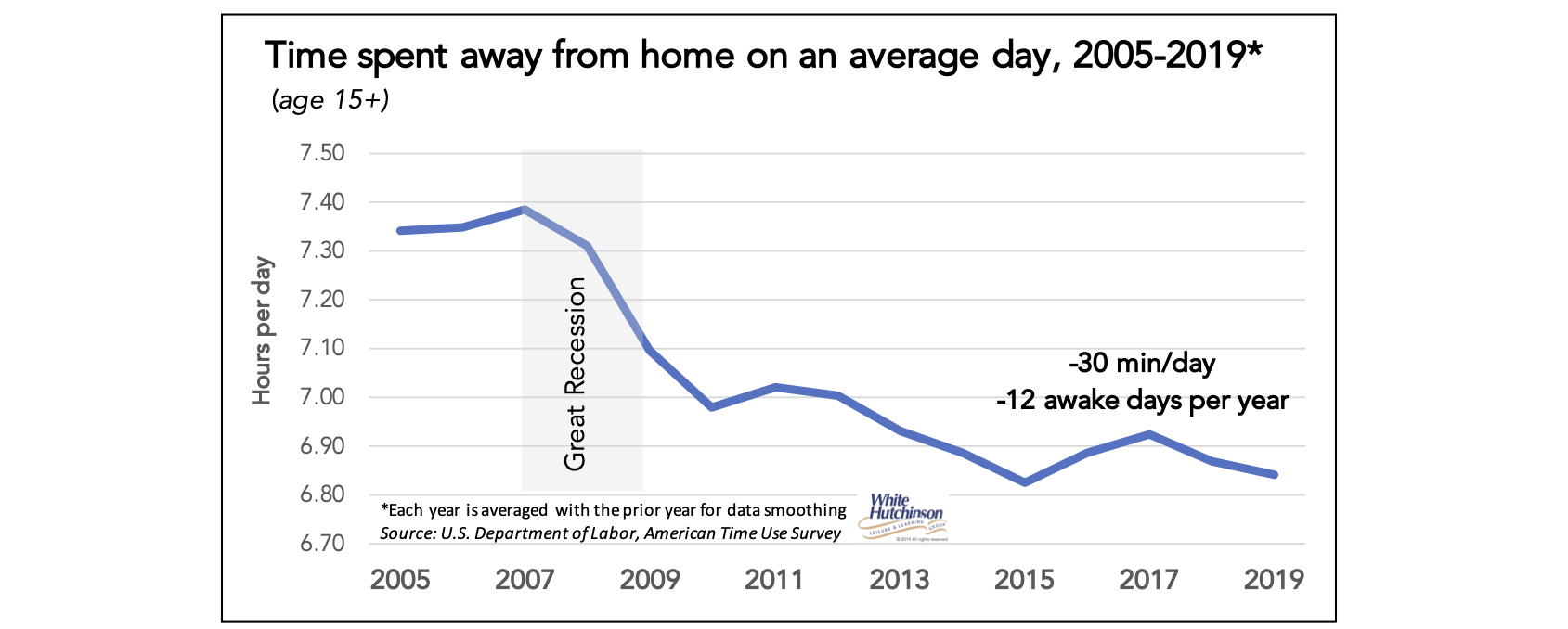 Time on digital leisure has increased simultaneously with increasing time at home. For all Americans age 15+, time spent on digital leisure (mostly at home) has increased by 11%, nearly 20 minutes a day over the 15 years before the coronavirus. The increase in time spent on digital leisure surpasses the growth in awake time at home. This strongly suggests a correlation between an increase in the use of digital leisure and staying home more.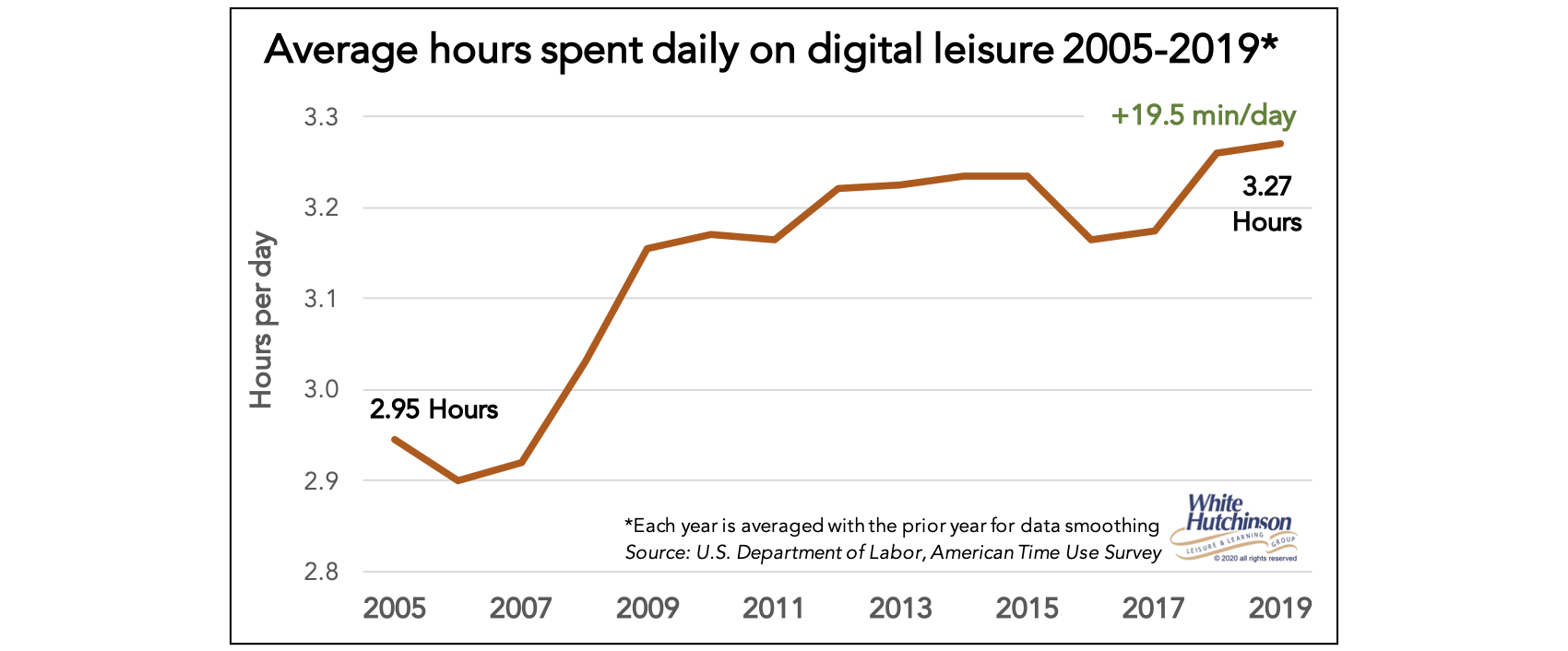 Digital leisure time has increased with a minor exception for all age groups.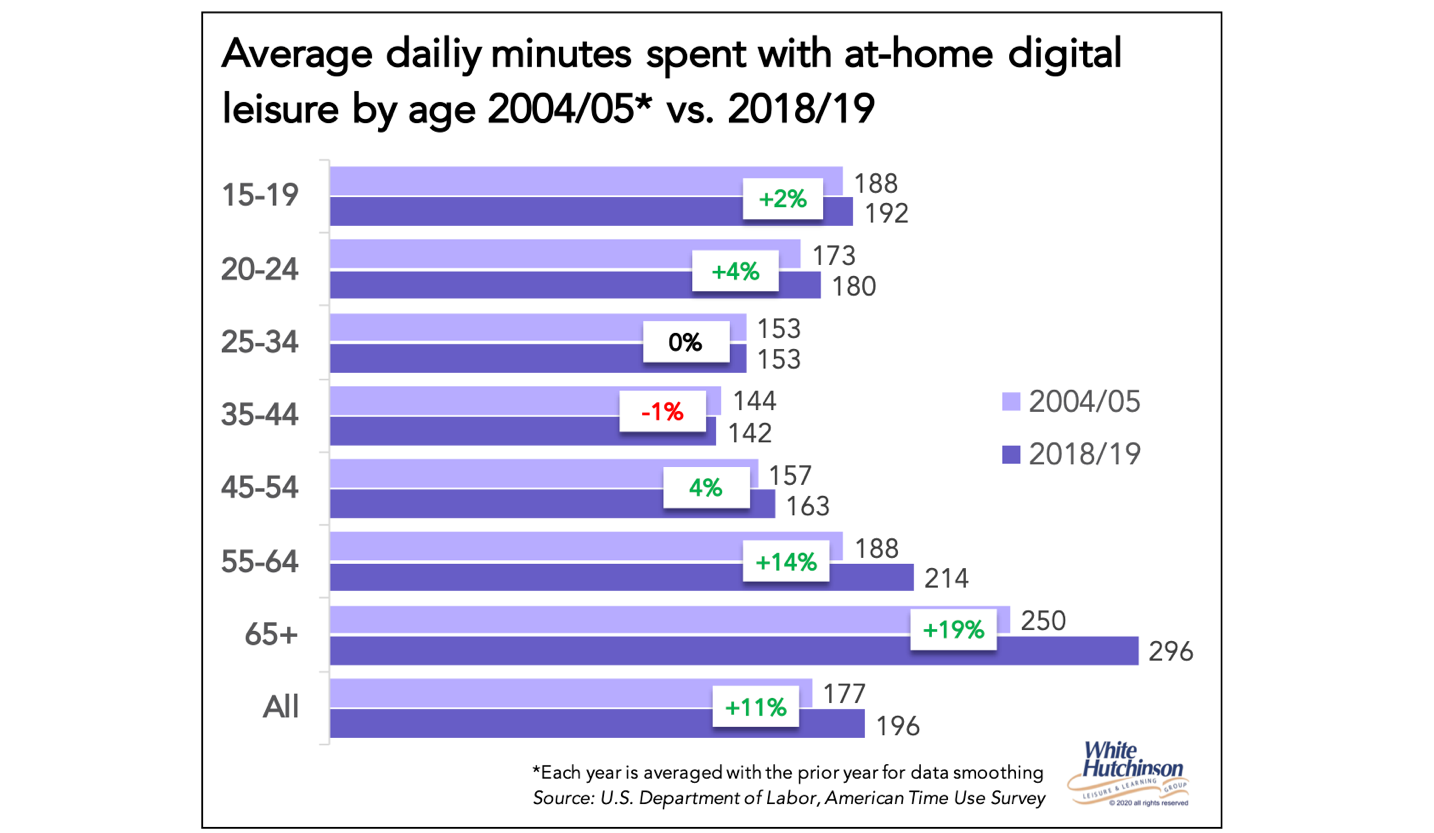 It can well be argued that advances in the quality and selections of at-home digital leisure over the years have increased the appeal of staying home and made the inconvenience and cost of leaving home for OOH leisure options less appealing. At-home digital leisure has become serious competition to OOH options.
Along with time, spending on digital entertainment has increased dramatically, more than doubling over the 15 years (+161%) compared to only a 28% increase in fees and admissions for OOH entertainment, arts, and sports.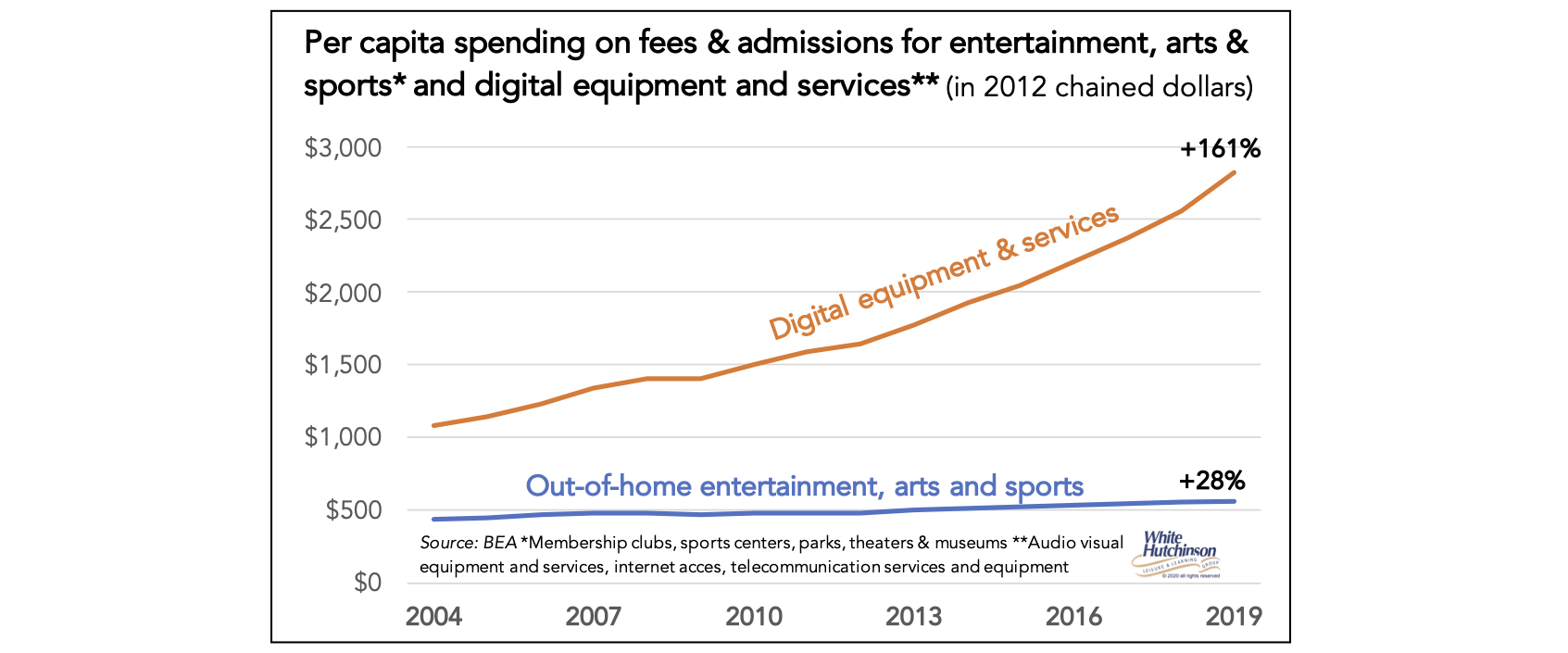 We've now entered the era of Uber-Bunkering at home. The coronavirus has changed the outside world into a scary place, as no matter where we go, visiting is a serious risk to our health, even our lives and those of our family and friends. We're staying home and avoiding unnecessary trips to the outside world. Home has now become the sanctuary where Covid accelerated advances in digital technology have enabled us to access almost all our needs, including entertainment and social connections.
When the risk of leaving home finally disappears, hopefully sometime in late 2021 or early 2022, will our current levels of hometainment continue, or will our OOH leisure return to its 2019 levels?
While avoiding visiting public entertainment and social activities due to the coronavirus, people were inspired to try digital activities for entertainment and to connect with friends, family, and community. Deloitte's 2020 digital media trends survey found that, during the pandemic, more than a third of consumers have, for the first time, tried new video gaming activity, used a cloud gaming service, or watched esports or a virtual sporting event.
The crisis caused a rapid acceleration in the advancement of digital and virtual technologies. The digital platforms have made digital social experiences richer and more enjoyable.
Recent extensions to entertainment platforms create a virtual sense of community by offering "screening parties" where people can use text, audio, and even video chat while watching synced content. Examples include Netflix Party, TwoSeven, Disney Plus GroupWatch, and Twitch Watch Parties.
Zoom, Messenger Rooms by Facebook, Houseparty, Google Hangouts, and other video chat technologies enable people to recreate pre-pandemic IRL social experiences such as happy hours, wine tastings, crafting parties, book clubs, even weddings and graduations. In the very early stages of the stay-in-place orders in early April, the Pew Research Center found that one-third of U.S. adults (32%) had already attended a virtual party or social gathering with friends or family. An April Ipsos/Mozilla poll found that 57% of Americans are currently using video chat platforms, with 38% saying they are using them for the first time since the pandemic.
Video games are reeling in players across generations, as gamers are drawn in part by the ever-increasing opportunities to socialize with friends and strangers inside virtual worlds such as Animal Crossing: New Horizon, Stardew Valley, and Grand Theft Auto V. Fortnight is now hosting concerts and talk shows, transforming itself from just a video game into a social platform. In many respects, the game aspect has become secondary to a place where people can connect and spend time together. People are getting together to socialize, for social events, and to play online together while messaging each other or chatting through headsets in video games.
Much of the draw, the increased use of all the digital platforms is their capacity to create a digital community. They have morphed to become the new social platforms, actually today's "third places."
In 1989, sociologist Ray Oldenberg coined the term "third place" to describe the social places between home and work that create communities, such as cafes, bars, churches, and coffee shops. Video chat and games enable people to socialize and participate in a community setting as they have for thousands of years in real-world third places such as the Roman baths.
The pandemic and advances with digital and virtual technologies have accelerated the migration of entertainment and socialization from the real to the digital world. People's virtual experiences have now become their new normal.
I see the migration to all these new digital virtual worlds reshaping long-term how we will connect and be entertained even when the pandemic and all its restrictions on our IRL experiences have passed. The new at-home virtual options pass the two tests for a habit to continue – first, it needs to bring some benefits, and second, the constraints of keeping up with the routine needs to be low, it is easy to continue.
We will not be going back to our 2019 out-of-home social and entertainment normal. Many people will continue to embrace the virtual social and entertainment behaviors and routines they developed during the pandemic, replacing some of the time they spent pre-Covid away from home for entertainment and socialization.
Make no mistake. One thing is sure. The way we entertain ourselves and socialize with family and friends will never be the same. To some degree, the digital habits developed during the pandemic world will continue post-pandemic. The entertainment and social landscape will be permanently transformed, shifting to more time spent at home on digital and virtual entertainment and social platforms. The post-pandemic market demand for OOH entertainment will not return to its pre-coronavirus levels. Entertainment venues will need to increase their appeal to succeed in that era.