Morning Consult has been polling Americans every two weeks on their comfort levels of engaging in different out-of-home leisure activities. For every activity tracked, the comfort level has been improving until their most recent June 23-26 poll. That poll saw a drop in comfort level for every activity and across multiple demographics. Even going out to eat at a restaurant, which has consistently shown the highest comfort level, saw a drop from 41% to 37% of people feeling comfortable doing it right now. Here's a sample of some of the public activities and their respective comfort levels since the end of April.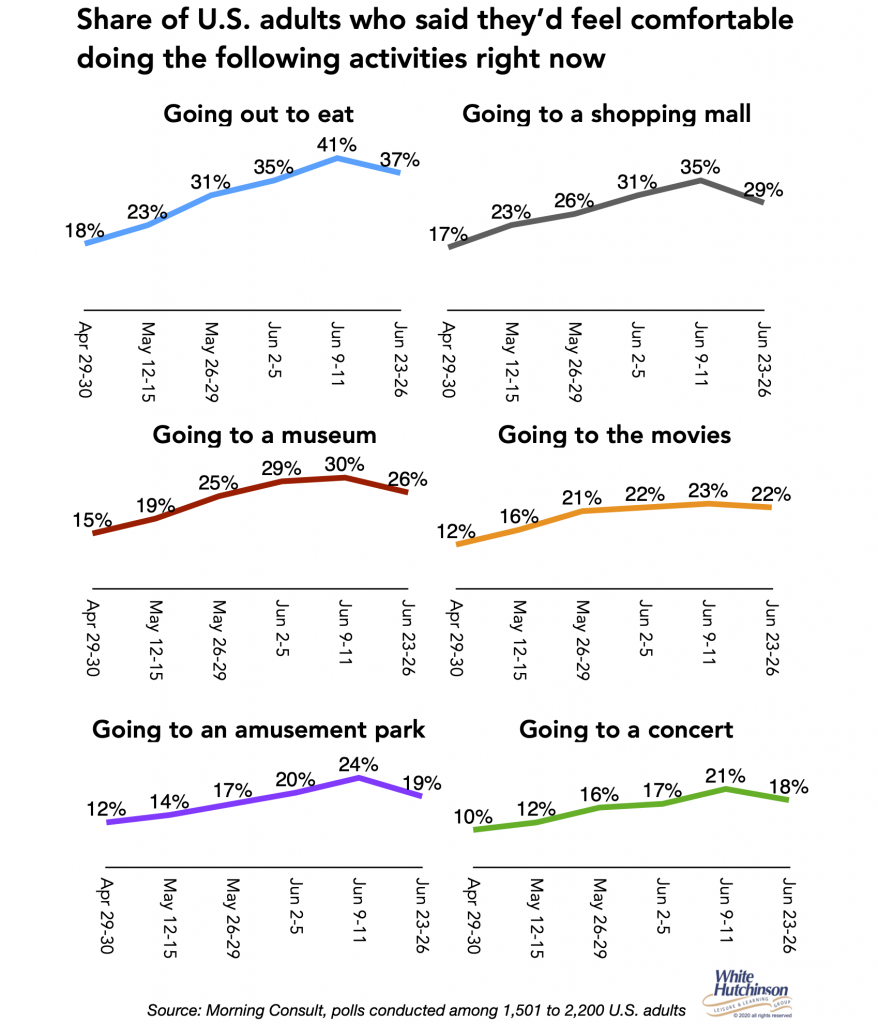 Colleen Dilenschneider polls people on their intent to visit 84 different unique cultural venues from art museums and aquariums to theaters and symphonies. Colleen tracks "intent to visit" since research shows it aligns closely with actual plans and visitation behaviors and is generally a reliable gauge of likely attendance. The polling information she collected June 27th showed a decrease in intentions to visit in states that have reopened and are experiencing significant upticks in coronavirus transmissions and are now epicenters of the US coronavirus pandemic – such as Florida, Texas, Utah, Arizona, and South Carolina.
New research on the relationship between the health threat and opening the economy I reviewed in a previous blog showed that reopening itself won't bring back business to the old normal as long as there is a health threat and fear of the coronavirus. Colleen confirmed this relationship by saying "there is a correlation between regional increased transmission of the coronavirus and decreased intentions to visit cultural organizations in those areas." The Morning Consult poll results show that this increased caution to visit public activities is also true for all out-of-home leisure and entertainment activities, which include location-based entertainment (LBE) of all types including family entertainment centers (FECs) and amusement parks.
Until the Covid-19 threat of infections is seriously reduced, and probably not until there is a vaccine, can we expect any significant financial recovery for any type of location-based entertainment or cultural business.