In my last blog, I cited data from two national polls on the decreasing comfort and intent to visit different entertainment and cultural venues, especially in those states experiencing a significant surge in coronavirus infections. We now have data from multiple new polls that show an increase in Americans' concerns about the coronavirus outbreak and fear of getting sick.
The Axios/Ipsos June 26-29 poll shows a definite upward trend during June in the percentage of Americans extremely or very concerned about the outbreak, with 60% extremely/very concerned compared to 48% in early June. The poll also found a substantial increase in the percentage of people concerned about the possibility of getting sick from the virus, with 78% saying they are concerned about getting sick compared to 69% in early June.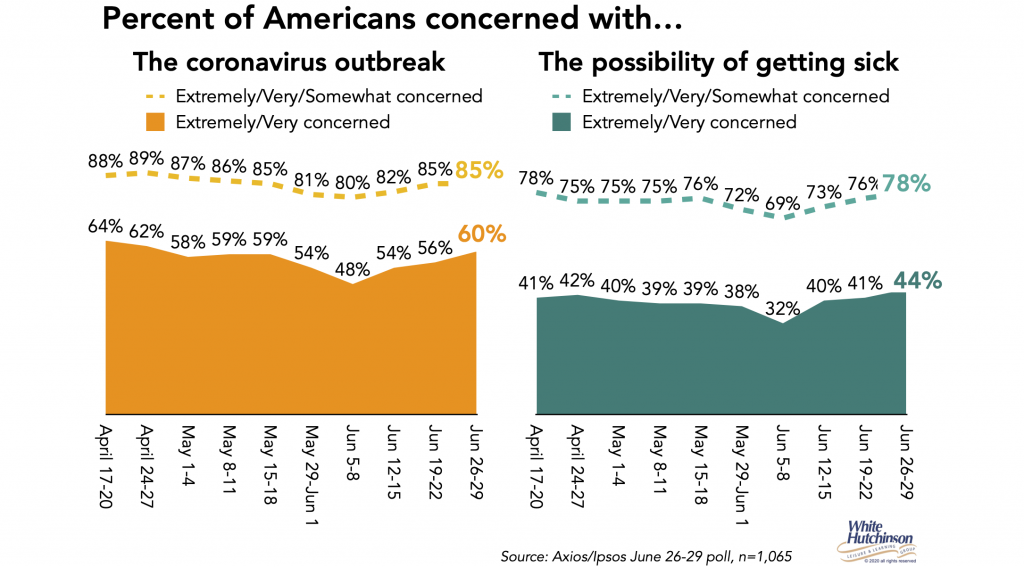 The poll also found an increase in the percentage of adults who say it would be a large or moderate risk to their health and well-being to return to their pre-coronavirus life right now, up 13 percentage points from 57% in early June to 70%.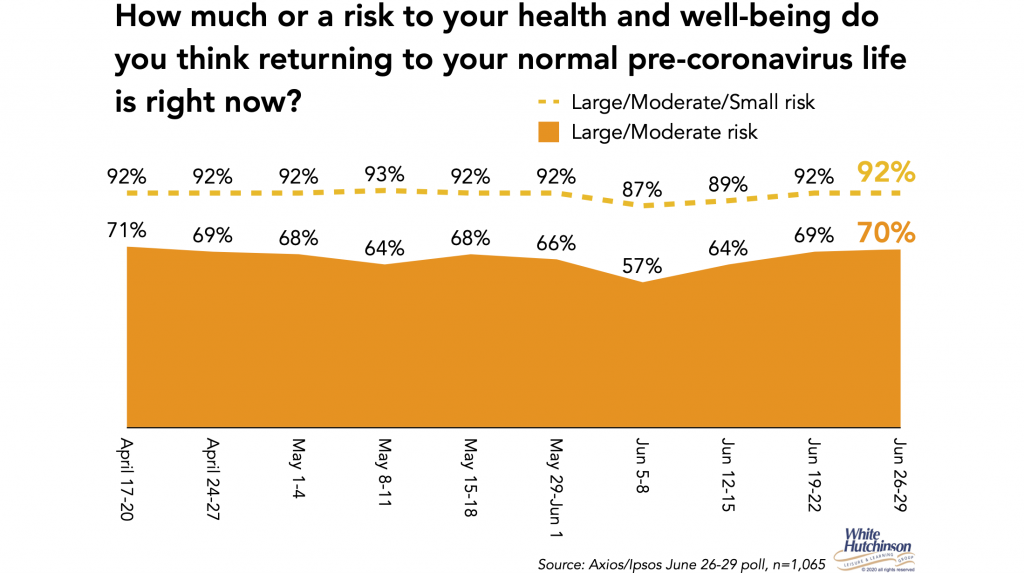 The Monmouth University June 26-30 poll found an increase in the percentage of Americans very worried about someone in their family becoming seriously ill from the virus. 41% are now very worried compared to 37% in early June. The current poll found another 26% are somewhat concerned, making a total of two-thirds (67%) worried about someone in their family getting seriously ill from Covid-19.
The most recent June 22-28 Gallup poll also found that the share of Americans very or somewhat worried about getting Covid-19 has increased, from 48% a week earlier to 56%.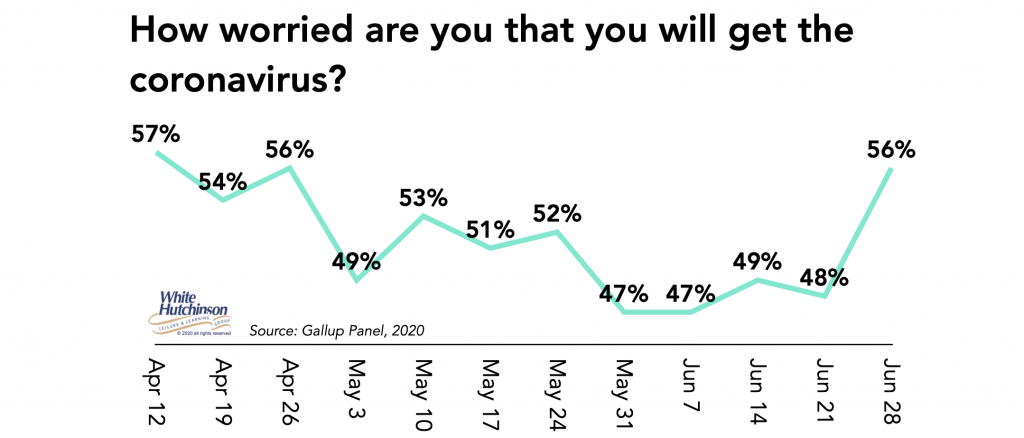 Worry about getting the Covid-19 has increased most among Northeastern residents (up 19 percentage points, to 60%) and Western residents (up 15 points, to 58%), with little change among those living in the Midwest or South.
Gallup also found a new high of 65% of people saying the coronavirus situation is getting worse, an increase from 30% in early June. Gallup first asked Americans in early April whether they thought the coronavirus situation was getting better or worse. At that time, 56% said it was getting worse and 28% better, the most negative assessment prior to the latest reading. 
Gallup found widespread agreement among Americans in all parts of the country that the situation is getting worse. Between 62% and 68% of those living in the four major regions of the U.S. say it is worsening. These rates represent heightened concern over the prior week in all four regions, including increases of 13 percentage points for those living in the South and Midwest, 19 points for those in the West and 22 points for those in the Northeast.
Additional Gallup poll findings were that fewer Americans now (25%) than the prior week (32%) say they would resume their normal day-to-day activities "right now" if it were up to them. Overall, about half of Americans indicated they will be more cautious about returning to normal — with 30% saying they will not do so until there are no new cases in their state, and 19% waiting for the development of a vaccine. This means that half of Americans (49%) have put a desire to return to their "old normal" life on a definite hold.
There can be little doubt that there is a growing public consensus that the Covid-19 situation is getting worse, resulting in a growing fear about the safety and a resulting reluctance to visit public places, including restaurants and location-based entertainment and cultural attractions of all types. Peoples' concerns and caution are now probably even higher, as none of the polls and surveys reflect the worsening surge in infections and hospitalizations that have taken place since the end of June, including all-time record high infections in many states and cities over the Fourth of July weekend (I will report on new survey results as soon as they become available). The worsening situation is sure to slow or postpone the reopening of family entertainment centers (FECs) in many parts of the U.S.
No poll tracks Covid-19 trends for FECs, as the category encompasses such a wide variety of venues. Several polls track bowling. Here's the latest there is. The most recent June 26-28 Engine Insights poll found that only 13% of adults would be willing to go to entertainment establishments such as bowling alleys and arcades in the next week compared to 17% for movie theaters and 42% willing to go to restaurants. ABC News/Ipsos Polls found that the percentage of those adults who typically go bowling decreased their willingness to return to bowling by 7 percentage points, from 38% June 10-11 to 31% June 24-25.
Unfortunately, it looks like the chance for entertainment and cultural venues to make a substantial recovery from the lockdowns is a long way off, probably not until months after a highly effective vaccine is widely deployed, most likely not until sometime into 2021 under a best case scenario (and that assumes there is an effective vaccine).