We haven't arrived at the new normal yet. We're currently in a transitional time when conditions and the consumer are constantly undergoing change. We won't be in the new normal until when we get past the corona-time era we're currently traveling through and finally arrive at the post-pandemic normal, most likely and hopefully after deployment of a vaccine (in hopes the scientists will save us with one rather than being permanently stuck in corona-time).
The Covid-19 pandemic has changed everything, including changing the consumer. In one of my previous blogs, I wrote about the inconvenient truth of how every existing location-based entertainment (LBE) business model is now obsolete. Whether operating in corona-time with social distancing, masking, uber-cleaning and sanitizing, or free from all those requirements in the post-pandemic world, here's my research and thoughts on which customers will be the first to return to which out-of-home (OOH) entertainment/leisure activities and the extent to which they will return.
Back in late March and early April, Lisa W. Miller & Associates conducted a survey of what adults looked forward to the most once Covid-19's quarantine measures are phased out. They found that the top out-of-home activity that the most people said would bring them the most joy was dining out (81%). Dining out was also the top out-of-home activity they said they would do first when things opened up (86%). In late April, Volition Capital conducted a national survey of adults and asked them "Which banned activity has had the biggest impact on your life?" The largest response was "sitting in a restaurant." An early April Morning Consult poll found the number one pastime that was missed the most by adults during quarantine was "go out to eat at a local restaurant or café (80%)." We have many other polls that show that dining out at a restaurant was the most missed commercial activity (being able to visit/socialize with family and friends typically rated the highest.)
When Datassential asked people what they missed the most about dining in at a restaurant, the number one answer was "going out with friends and family / socializing" followed by "not having to cook." When they asked people "what are you most excited to do after shelter-in-place restrictions are lifted?" the top response was visit with family you haven't been able to see" followed very closely by "dine in your favorite sit-down restaurant (84%)."
As I documented in my previous blog, adults said they expect to return to dining in a restaurant within one month at about double the percentage of returning to any type of LBE or cultural event.
Here's some of the primary reasons why people want to return to dining out: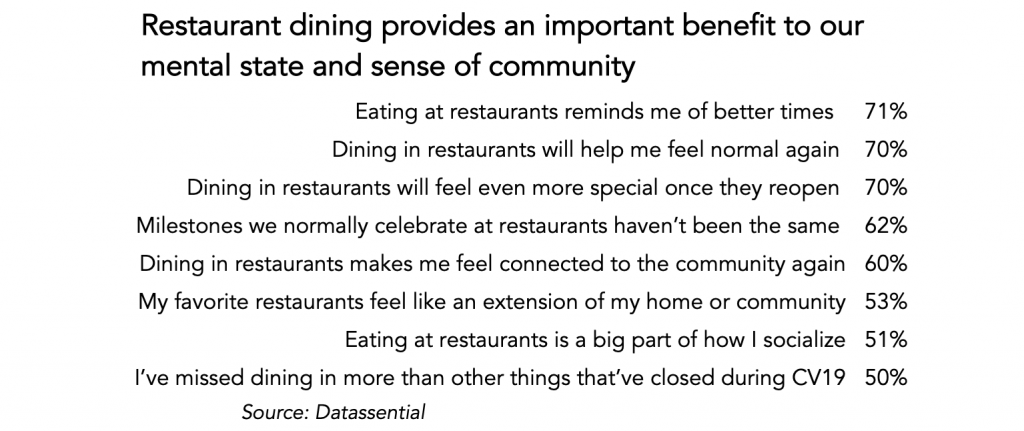 Morning Consult has classified common pre-pandemic OOH activities into four distinct categories: regular routines, periodic pastimes, infrequent indulgences and atypical activities. The four pre-pandemic activity levels have an impact on how much the activities within each category are missed by Americans and how soon and the frequency with which adults plan to return to the activities post-pandemic.
According to Morning Consult's research, regular routines include things that the vast majority (65%+) of people do at least once a week, such as traveling in your own car, going to the grocery store and going to a local store. They classified eating at a local restaurant or café and going to a gym as a periodic pastime, things 50% to 75% of the population do less often, a few times a month or less frequently. Infrequent indulgences are rarely done by 75% to 90% of the population and include such things as going to a shopping mall or a fine dining restaurant. Atypical activities are done by 90% of people only a few times a year at most. For most people, visiting LBEs and cultural institutions are atypical activities, not done very often.
However, generalized categories don't tell the full story. What might be a periodic pastime for most people can be a regular routine for some people. For example, some people might be active gym members, going several times a week, making it a regular routine for them rather than a periodic pastime. Even for LBEs, there will be the regulars, the members and diehard fans who visit several times a month, making it a periodic pastime for them. Many types of LBEs have leagues that people attend, typically weekly, such as for bowling and high-speed go-karts. League attendees would fall into the regular routine category rather than as an atypical activity.
Morning Consult did an in-depth analysis based on their extensive polling of how often people did different activities pre-pandemic, how much they missed them during the lockdown and how often they plan to do them post-pandemic. They found regular routines, are more likely to be done at the same frequency, if not more often post-pandemic. For periodic pastimes such as going out to eat at a restaurant or cafe, the more frequently people did them pre-pandemic, the more they're missed and generally, the more likely they will be done the same amount, if not more, post-pandemic. They found the post-pandemic decrease in periodic pastimes for some people is possibly due to finding some alternatives during the pandemic, such as in the case of restaurants, curbside or meal delivery. Also, a heightened fear of catching a disease in public places might be a factor.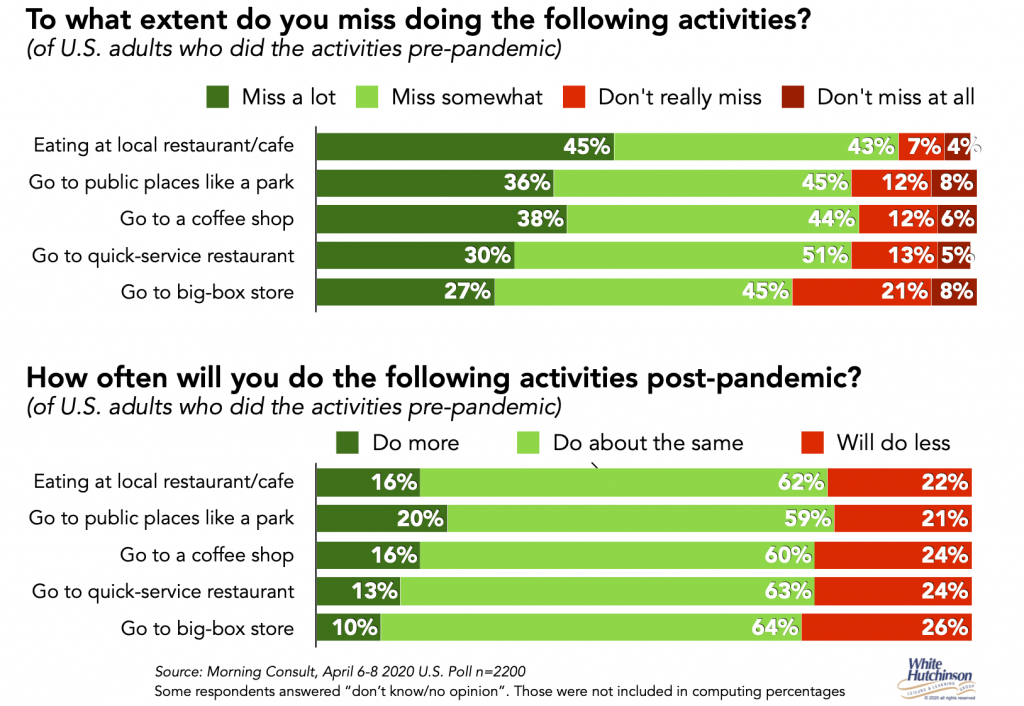 For infrequent indulgences, there was again a direct correlation between how often they were done pre-pandemic, how much they were missed and the frequency of doing them post-pandemic, which is likely to be the same.
For atypical activities, including attending LBEs such as family entertainment centers (FECs), Morning Consult again found that those that did them more frequently pre-pandemic tend to miss them more, but in general, adults are middle of the road in terms of how much they miss them, with only about half of Americans missing them.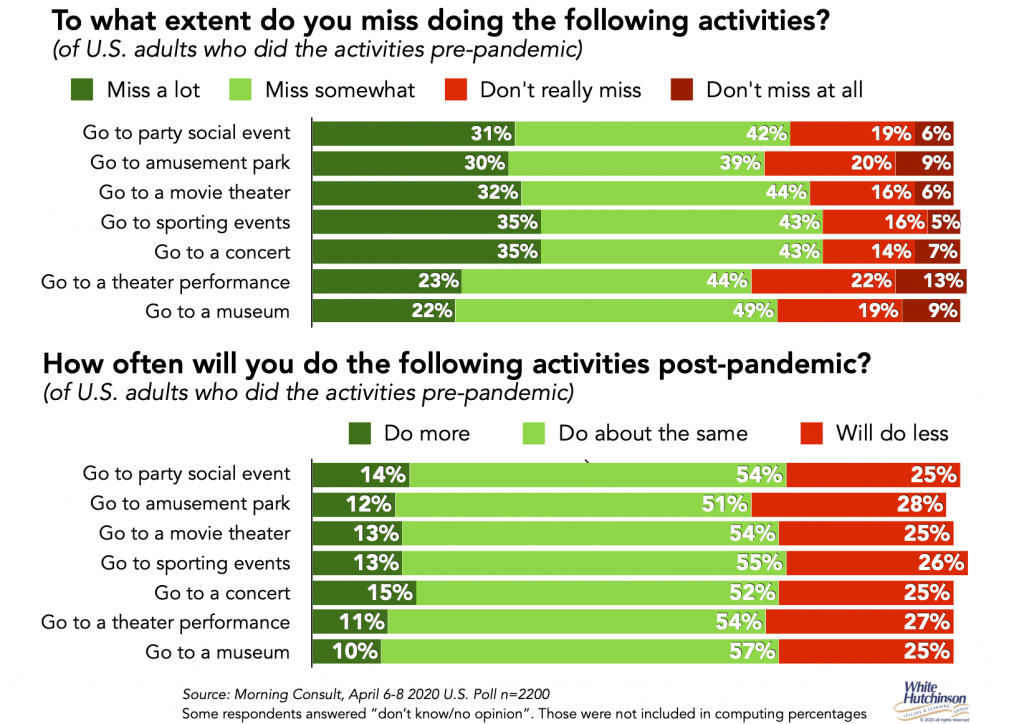 43% of adults said they miss going out to eat at a local restaurant or café a lot, but only 25% miss going to an amusement park a lot. In terms of peoples' expectations for doing them post-pandemic, for restaurants the net change in expected attendance (those planning to do it more minus those planning to do it less) is a negative 6%; for social events, it's negative 11%; and for amusement parks, it's negative 16%. Learning to live without during the lockdown as well as finding new alternatives, such as virtual entertainment and socialization options, can be a factor in a decrease.
So in summary, the research found that the more often people previously did an activity, the more it was part of their routines and normal, the more they miss it, the sooner they are likely to do it when it reopens and generally the more frequently they will do it.
This helps explain why dining in a restaurant is the top activity people want to return to doing, as it had been their most frequent pre-corona OOH leisure activity. So, dining out should have the most continuing stickiness post-pandemic. For LBEs, those customers who attended the most often should miss them the most and are more likely to return. However, for people who only went to LBEs occasionally, maybe only once or twice a year, the likelihood of returning post-pandemic is less. The most likely occasional exceptions are the seasonal ones, such as fall corn mazes and pumpkin patches, that fall into the category of a tradition, which has a strong annual routine quality.
All the survey information was for post-pandemic activities. It won't necessarily reflect what people will return to the soonest and with more or less frequency during the post-lockdown phase when things open up but before the pandemic ceases to be a risk. During that time period, people will be adding a new consideration to their cost-benefit analysis of whether to visit; their risk of catching the coronavirus. Some people won't consider it a risk, so their behavior should match Morning Consult's analysis. However, most people will consider it a risk to some degree. There is a significant percentage of the population with high-risk medical conditions, over one-third of the prime age 25-44 market (37%), that puts them at high risk of serious illness or death if they catch Covid-19. This will influence whether they even go to an LBE before there is a vaccine, regardless of how much they may miss it, and which ones they would prefer to go to. Some pose a higher risk than others. Indoors is riskier than outdoors. A greater length-of-stay increases the risk. The greater the crowding, the greater the risk. How clean and disinfected the facility is as well as the behavior of both staff and customers (are they wearing masks, are they social distancing, are they washing their hands, etc.) affects the perception of its safety.
Colleen Dilenschneider just released results from her most recent survey that ended June 8th where she examined people who previously were attendees at different types of cultural institutions and a few other activities on their likelihood to return to those same activities at their pre-coronavirus normals after restrictions are lifted, i.e. the results for each type of activity only reflects the intent of previous attendees of those activities to again visit as they had in the past. Previous attendees at public parks and botanical gardens showed the highest intent to visit again, more so than their past normals. The other activities where the intent to visit was higher than previously in descending order were public beaches, zoos and aquariums. Places including sports arenas, science centers, concert halls and movie theaters showed an intent to visit again that was far less than in the past.
Colleen concluded that we will see a redistribution of demand among different OOH activities based on the prerequisite of how safe people perceive they are from catching the coronavirus on a visit. The activities that allow visitors relative freedom of movement, are less hands-on interactive and particularly those in the outdoors showed increased likelihood to visit. Indoor ones with minimal visitor movements and more tactile interactivity showed lessened demand. The study also found that a sizable percentage of previous visitors do not feel comfortable doing so without first observing significant operational changes to assure their safety, including mandatory face coverings at the top of the list.
Here's the latest data from a June 2-5 Morning Consult poll on the percent of the population that feels comfortable returning now to different activities that confirms Colleen's above conclusions.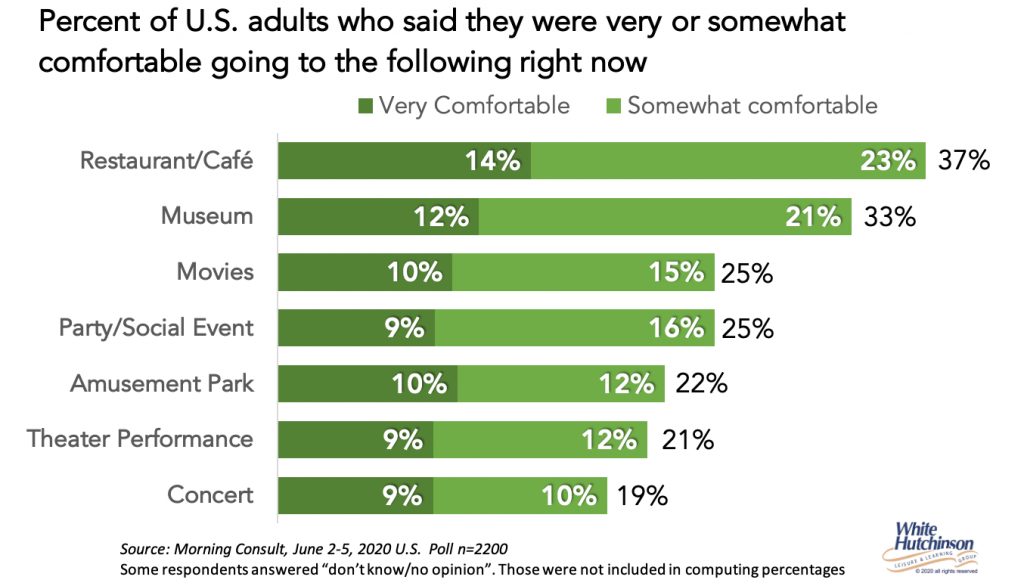 The about findings give a good indication of where initial demand for LBEs might fall – a preference for outdoor ones, followed by indoor ones with freedom of movement versus those with fixed seating. Outdoor venues such as miniature golf, eatertainment golf driving ranges such as Top Golf, and outdoor agritainment farms such as pumpkin patches and corn mazes, should benefit the most once they open up. There is also a strong possibility that demand for relief from cabin fever will shift activities from indoor entertainment options to outdoor recreation, which is perceived as very safe.
What is likely to happen when an LBE opens is that there will be an initial spike of attendance from the pent-up demand of the regulars who miss it the most. It will help them feel normal by getting back into a routine. However, that initial spike may not pan out to be an indication of their longer-term attendance. For a large part of the population who were only occasional attendees, many will not miss visiting, so won't, as it wasn't part of their routines, so isn't important for them in order to regain a sense of normalcy. That will be both the post lockdown and post-pandemic challenges for LBEs, to gain back the occasional attendees.
Of course, there is at least one other factor that will impact the return by regulars as well as less frequent pre-pandemic attendees – whether the pandemic has negatively affected their financial condition and their discretionary spending.