Following is some very recent polling data that I sorted through from multiple sources on the current state of consumers' fears that they or a member of their family will catch coronavirus and the impact of this fear on their willingness to visit out-of-home entertainment and restaurants. I've cited data from a number of polls to illustrate the consistency of what they all are finding, including trends.
YouGov, an international research and analytics company, has been constantly running surveys to track peoples' Covid-19 fears and their behaviors. Here is their most recent data on peoples' Covid-19 worries as of June 1st and 2nd.

Basically, their survey shows that half of people are scared and worried about Covid-19.
A May 25-28 Washington Post/ABC News poll found that 42% of Americans said they personally know someone who has been diagnosed with coronavirus, a sharp increase from 11% who said this in March. The poll found 63% of Americans overall continue to worry that they or a family member will catch the coronavirus. That was only slightly down from the 69% the poll found two months earlier.
An Engine Insights June 5-7 poll found that 7 in 10 adults are concerned about contracting coronavirus (35% were very concerned) and over three-quarters (78%) are concerned that a member of their family will contract the virus (46% were very concerned).
Findings from a June 10th survey by Datassential found that 47% of people are "very worried" about coronavirus.
A very recent June 10-11 ABC News/Ipsos poll found consistent results, with 69% somewhat or very concerned that they themselves or someone they know will be infected with the coronavirus.

Data from a May 29-June 1 CBS News Poll shows not only a 69% concern for all adults, but also a breakdown by age and political party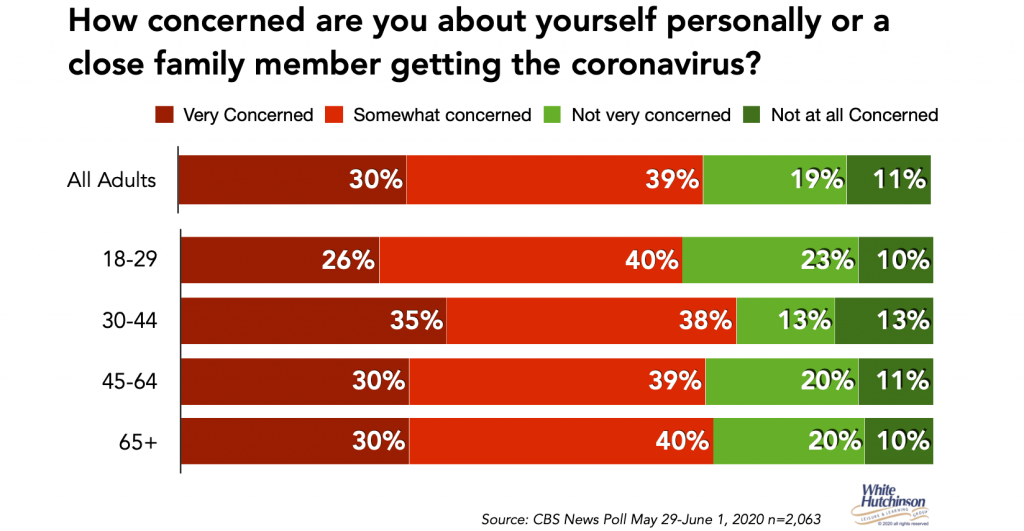 It is surprising how little variation there is in the level of concern by age. The 18-29 age cohort shows the least concern.
The CBS News poll shows a very pronounced partisan variation of fear by political party, with Democrats being highly concerned, Independents less concerned and Republicans the least concerned.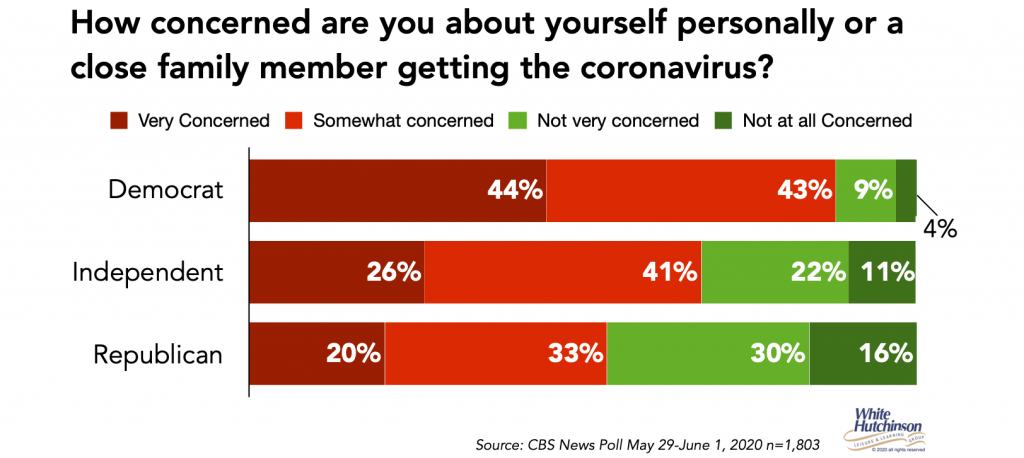 Generally, all the polls are showing that around two-thirds of Americans are worried and fearful they or a family member will catch the coronavirus.
Peoples' fears and worries are definitely impacting their behaviors. The next chart shows results from a very current June 9-11 poll by Morning Consult of how comfortable people are in doing different activities. I arranged them in the decreasing order of being comfortable doing them.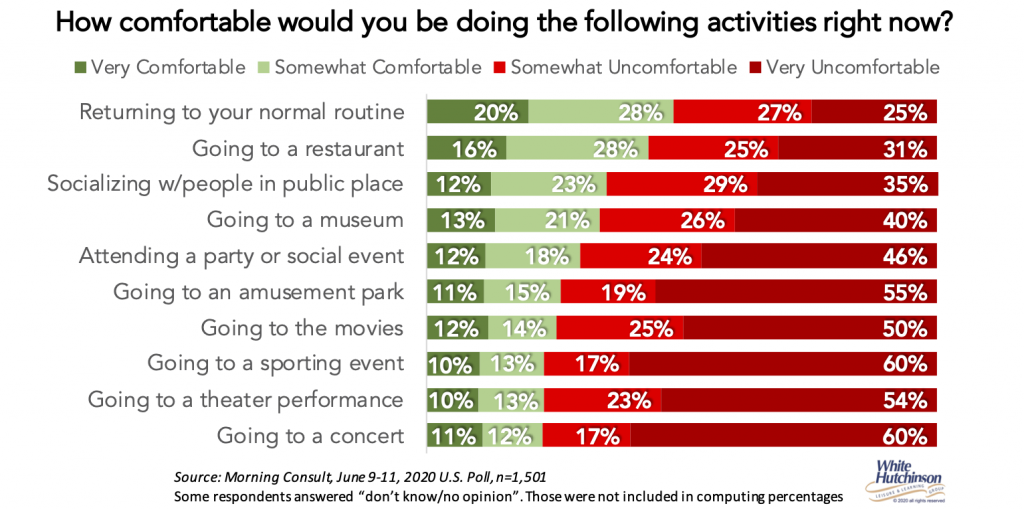 The data indicates that approximately one-half of people are very uncomfortable visiting location-based entertainment venues (LBEs), whether indoors or outdoors.
Going to an amusement park shows a higher percent of people very uncomfortable than the percent very uncomfortable going to the movies (the combined percentages of very and somewhat uncomfortable are basically the same for both). Intuitively, that didn't make sense to me as movies are indoors where you sit in fixed seats for around two hours, considered a riskier environment for catching coronavirus than walking around outdoors, such as at an amusement park. I went back through the previous Morning Consult survey data and that relationship has been consistent. Perhaps it's the perception of large crowds that makes people a little less comfortable going to an amusement park.
It is interesting that people were more comfortable "returning to your normal routine," more so than any of the activities listed. The results are probably high as "normal routine" can mean so many different things to different people. Many peoples' normal routines may not include going to public places perceived as Covid-19 risky.
Here's the breakdown of how comfortable people are doing select activities by age cohort.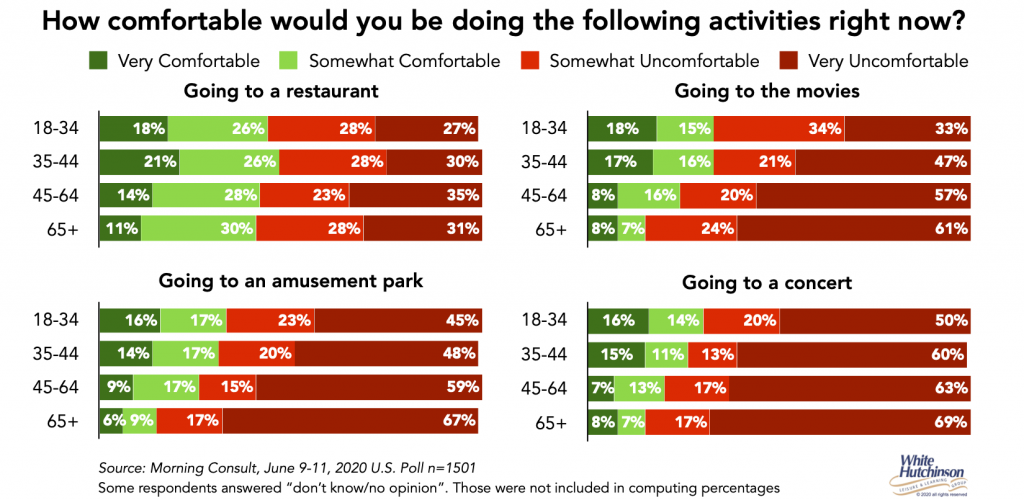 Comfort is generally highest with the youngest age cohort and decreases with age with the exception of restaurants, where the 35-44 age group shows the highest level of very comfortable.
Here's the results from a June 10-11 ABC News/Ipsos poll for what previous participants of some activities are currently willing to do. With the exception of eating at a restaurant, over 60% of people are uncomfortable going to any of the venues listed.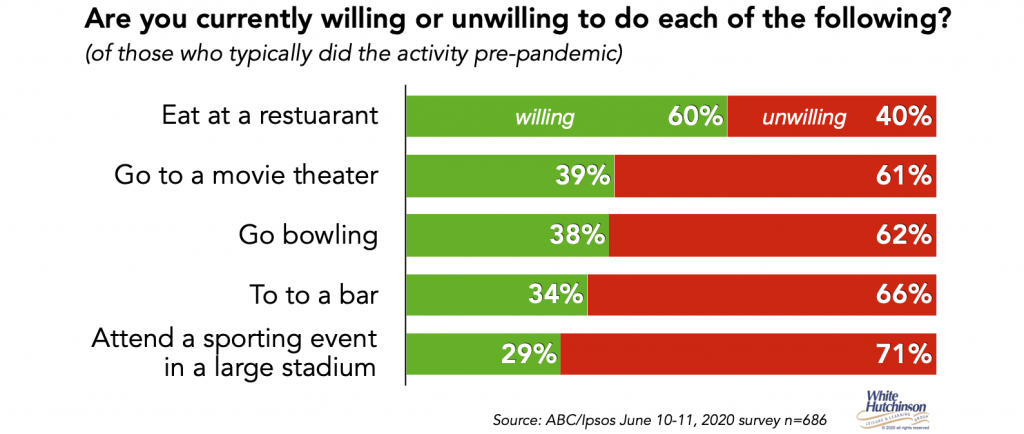 The CBS News Poll had a breakdown by age and political party on the extent, if any, people will be returning to public places.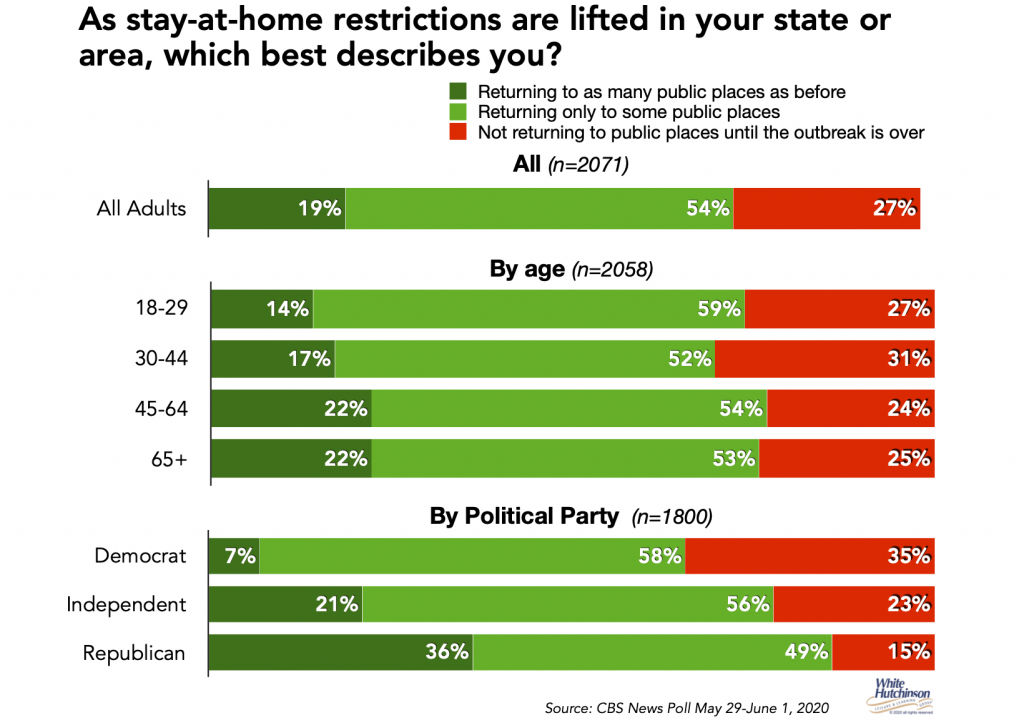 Age and political party variations are consistent with the other polls.
Engagious in their June 3rd Wave 5 polling found that one-quarter of people (26%) who regularly attended theme parks said they would not be comfortable returning until there was an approved Covid-19 vaccine and/or a proven medical protocol to mitigate and remedy the effects of the virus. One-third said they definitely would visit a theme park within the next two months.
The good news is that although we have more than half the population currently uncomfortable and unwilling to go to different types of LBEs and to go out for dining, the percent comfortable and willing to go has been on the increase. The below chart shows the changes over a little less than one month. We've seen about a 20 percentage point increase in people comfortable and willing to go to a restaurant and almost consistently a 10 percentage point increase in people comfortable and willing to go to different types of LBEs.

CivicScience has been polling people weekly on "How soon from now would you be comfortable going to a major public event (concert, festival, sporting event, etc.)? Major public events are considered the riskiest for catching Covid-19. Yet, between the week of April 26 and the week of May 31, the percent of people comfortable going went from 15% to 20%.
Datassential has been polling people on their restaurant activity. On May 7th they found that 55% of people said they were "definitely avoiding eating out." On June 10th, that had decreased to 47%.
We also have a Gallup Panel poll showing a marked decline over 1.5 months from 78% to 64% of people avoiding public places.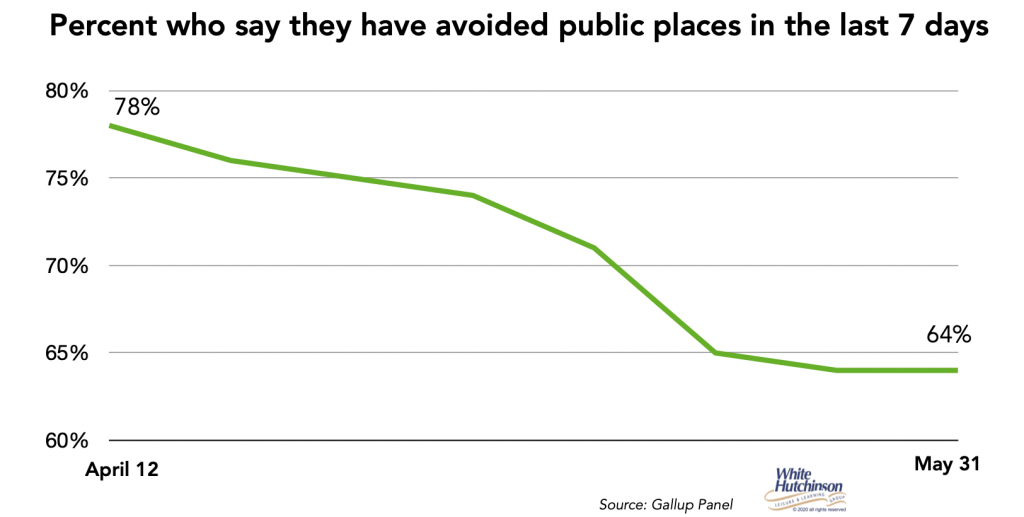 A just released Axios/Ipsos poll taken June 12-15 indicates there is risk that the improving willingness to visit public places could reverse. The poll found more Americans are very concerned about the overall COVID-19 outbreak than last week, as a majority (56%) express high levels of concern about a second wave of the coronavirus. 54% are extremely or very concerned about the outbreak, up from 48% last week. 64% view returning to their pre-COVID life as risky right now, up from 57% last week. As discussion of a second wave mounts, Americans report seeing many 'normal' activities as being riskier than just a week ago. The number of Americans who report viewing gatherings of friends and family as risky has climbed 5 percentage points from last week (57% moderate or large risk from 52%). Views of the risk of dining in a restaurant climbed from 60% a week ago to 64%.
We are just starting to get data on peoples' actual behaviors after restaurants and LBEs reopen. Dave & Buster's has reopened some of their units. They reported that reopened stores are averaging same-store sales in early June at an average of 37%, ranging from a low of 18% to 55%, compared to 2019 levels. As I reported in an earlier blog, their cash flow breakeven point is around 70% of previous sales, so they're about halfway there.
It is likely that we will see the percentage of people comfortable and willing to go to restaurants and LBEs continue to increase as their pandemic fatigue wins out over their concerns, especially if they see safe practices at businesses including consistent social distancing and mask wearing and high levels and consistent regular sanitation. However, as the very recent Axios/Ipsos poll indicates, if there is a serious spike in infections and hospitalizations resulting from the current opening up or there is a growing fear of a second wave, that trend could reverse.
Regardless, it is not realistic to believe that the percent of people visiting LBEs or restaurants will get back to pre-pandemic levels until sometime after there is a vaccine. The fear of going out (FOGO) will persist for a significant percentage of the population, at least one-quarter, who will infinitely avoid public places and gatherings, especially ones at LBEs, until deployment of a vaccine. And that 'sometime' we get back to pre-pandemic attendance could be a number of years after a vaccine, depending a lot on the severity and length of the recession that will impact peoples' discretionary spending on out-of-home entertainment and dining. While restaurants can compensate for depressed dine-in revenues with curbside and delivery sales, LBEs need to plan for an extended period of depressed attendance levels.