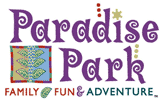 Lee's Summit, Missouri
The World's First Hybrid
Family Entertainment & Children's Edutainment Center
Designed and Produced by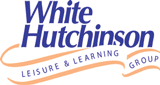 Winner of
the International Association for the Leisure & Entertainment Industry's (IALEI)
2004 Golden Token as Best New Family Entertainment Center
In 1992, Jon and Juli Ellis opened their family fun center named Putter's Paradise in Lee's Summit, Missouri, a small town located just outside Kansas City, Missouri. The center included a small clubhouse of about 2,500 square feet and two miniature golf courses. In 1993, the Ellises added an 8-station outdoor batting cage. Then in 1994, the clubhouse was expanded to 3,500 square feet to accommodate a 20-station game room and a birthday party area. Finally, in 1998, a 17 tee-station outdoor driving range was added.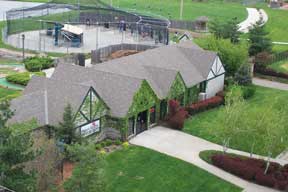 Original Putter's Paradise Clubhouse Prior to Start of Renovations in 2002.
As Kansas City grew during the 1990s, Lee's Summit grew even faster due to its excellent school system, superior quality of life and the extension of interstate highway I-470, making it an easy commute to Kansas City. Between 1990 and 2003, Lee's Summit became a much-desired white-collar family suburb of Kansas City, and the population grew from 46,500 to 75,300, with average family incomes of $95,600 in 2003.
The Ellis' realized that with their 15 acres of land and the growing market population, there was an opportunity for major expansion. So in late 2000, they retained the White Hutchinson Leisure & Learning Group to conduct a market feasibility study for expansion. The feasibility study found there was not only an ample market area population to support expansion, but also a great target market niche of white-collar, upper middle-class and above, college-educated families with children. What's more, there was little competition meeting that market's needs, especially for younger children. The report also found the driving range was not all that profitable and not the best synergistic use of the land to complement a family entertainment center. Rather, the report recommended the driving range be replaced by a family-oriented go-kart track.
As a result of the market study findings and recommendations, the Ellis' then commissioned the White Hutchinson Leisure & Learning Group in 2001 to prepare preliminary plans, a cost estimate and pro forma financial projections.

After securing financing and required zoning approval for the expansion, the White Hutchinson Leisure & Learning Group was retained to design and produce the new center for the Ellises. This included not only the design, but also the creation of a new brand identity for the center since it was now less 'golf' oriented. The new name Paradise Park was chosen to maintain its market reputation with the previous facility. White Hutchinson also specified and coordinated the procurement of all equipment and supplies and assisted with all aspects of start-up management, including training and development of policies and procedures. As in all of White Hutchinson's production work, all aspects of start-up management and training was a collaborative effort with the Ellis' and their key management staff.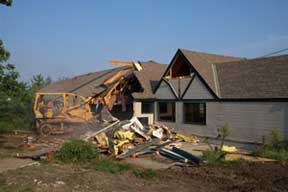 Construction was phased to maximize revenue by keeping the facility open as long as possible. Half the new parking lot and the go-kart track were constructed first. Then on September 3, 2002, the bulldozer arrived to demolish the old clubhouse and a trailer was set up in the new parking lot as a temporary office and ticketing facility.
Throughout the balance of construction, the owners were able to operate the miniature golf, go-karts and batting cages, as well as continue attracting group business at the campfire area.
The end result is Paradise Park, a 38,000-square-foot indoor and outdoor combination family entertainment center and children's edutainment center. The family entertainment portion opened in late November 2003 and the children's edutainment (play & discovery) center opened February 2004. The Grand Opening took place on May 7, 2004. All that remains from the original Putter's Paradise is 10 holes of miniature golf (now expanded to 18 holes) and the batting cages.
Paradise Park was awarded the 2004 Golden Token Award as the best new/renovated family entertainment center by the International Association for the Leisure & Entertainment Industry (IALEI).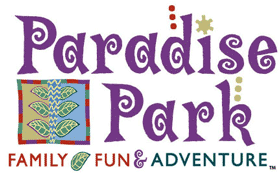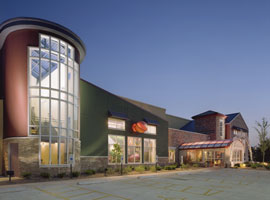 One-half of the first floor of the new building features a children's edutainment center, designed for families with children up to age 8. The edutainment center is not only a Kansas City 1st, but the first in the Midwest.
The children's edutainment area has an admission fee and parents are required to accompany their children. The center features 14 unique play areas for children. All the play events are being designed as developmentally appropriate, meaning they will match children's developmental needs for participatory play that contributes to their development and learning. The children's edutainment center also includes a one-half acre outdoor adventure play garden.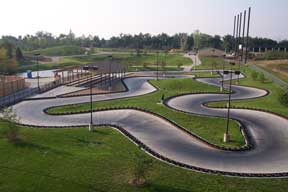 The other half of the building's first floor houses the family entertainment area with a Foam Factory, bumper karts, rock climbing and a large gameroom with over 60 redemption skill games. Outdoors there is a heavy landscaped miniature golf course, family go-kart track and batting cages.
Both the children's edutainment and family entertainment areas feature upscale café areas with quiet and comfortable seating areas. The menu includes children's and gourmet fresh baked pizza, calzones, ethic wraps, fresh sandwiches, fresh salads and a coffee and espresso bar.
The 2nd floor of the building houses six birthday party rooms and a large multi-purpose room that will accommodate up to 180 people for special celebrations. The party rooms are designed so they can be used weekdays to offer children's workshops. The outdoor family area includes a dedicated picnic area with BBQ facilities and a pavilion building that will seat up to 150 people. The picnic pavilion is also be used for summer day camps and for evening campfire events.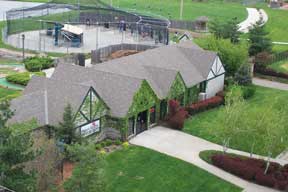 |
To see video commercials of Paradise Park click on the images below: