In one of my blogs last week, I discussed a secondary impact of the pandemic that will adversely affect returning to normalcy, especially for the out-of-home entertainment and arts industry. It's the long-term impact of the economic struggles and misery so many people are experiencing. The pandemic has exacerbated economic inequality. As a result, there will be an increase in the bifurcation of out-of-home entertainment and arts, a trend that was already underway before the virus arrived. An even greater share of fees and admissions will be coming from the higher socioeconomic.
There are two sides to inequality. There will be two Americas in the post-pandemic world. There will be the people currently going through financial hell at no fault of their own with job losses and declines in their financial well-being. These are predominately people in the service industries – musicians and artists, small business owners, dog walkers, ride-share drivers, office janitorial workers, hotel workers, parking lot attendants, and yes, workers at out-of-home entertainment and arts venues (OOH E&A). But on the opposite side of economic inequality, there are the other Americans who have become better off during the pandemic. Yes, better off. Since March, they have kept their jobs and incomes and have been able to save money they didn't spend on vacations, travel, dress clothes, haircuts, bar tabs, attendance at OOH E&A, and commuting to work now that they're working from home. They've been able to pay down credit card debt and have increased their savings. They've seen their net worth increase from the rise in the stock market and increased home values.
Here's some data to demonstrate how predominately the higher socioeconomic, those higher-educated and higher-income people/households, have not been at all adversely impacted by the pandemic as of late November, early December. The majority haven't had any loss of employment income and are not having any difficulty paying usual household expenses.
The true unemployment rate also documents the current wide economic inequality. People with no high school degree have four times greater under/unemployment as people with an advanced college degree using the real employment rate by education calculated by the Ludwig Institute. The rate combines both unemployment and underemployment – the percentage of the U.S. labor force that does not have a full-time job (35+ hours a week) but wants one, has no job or does not earn a living wage, conservatively pegged at $20,000 a year before taxes (basically $10/hour).

The wealth gap between the winners and losers has also increased during the pandemic due to the increase in stock values either by direct stock market investment or in retirement accounts, along with the disparity of stock ownership along the socioeconomic spectrum. Stock values* have increased by one-sixth (16.6%) since the beginning of the year and yesterday (December 22nd). Upper-income Americans are almost five times as likely to have personal investments in stocks/bonds/mutual funds as lower-income Americans. Middle-income Americans are less than three times as likely. The median value of stock holdings increases dramatically with incomes, so stock increases give the higher-socioeconomic the greatest absolute dollar gains.

Like the Pew Research Center data in the above graph, a Money Crashers poll also found a strong correlation of stock ownership with income levels. They also found a strong correlation with education, as well.

Homeownership inequality has also increased the wealth gap between the winners and losers during the pandemic. According to an analysis by Redfin, the median home sale price increased 15% year over year during the four weeks ending December 13, 2020, in 400+ metro areas. Higher educated and higher-income households have much higher homeownership rates. Additionally, their homes' values are much higher, so the 15% increase is a greater absolute price increase than for less educated and lower-income households who own homes.

The value of their stocks, homes, and other assets make higher socioeconomic households significantly wealthier than lower socioeconomic households. The wealth of college graduates is more than four times greater than for high school graduates and more than three times greater than for adults with just some college.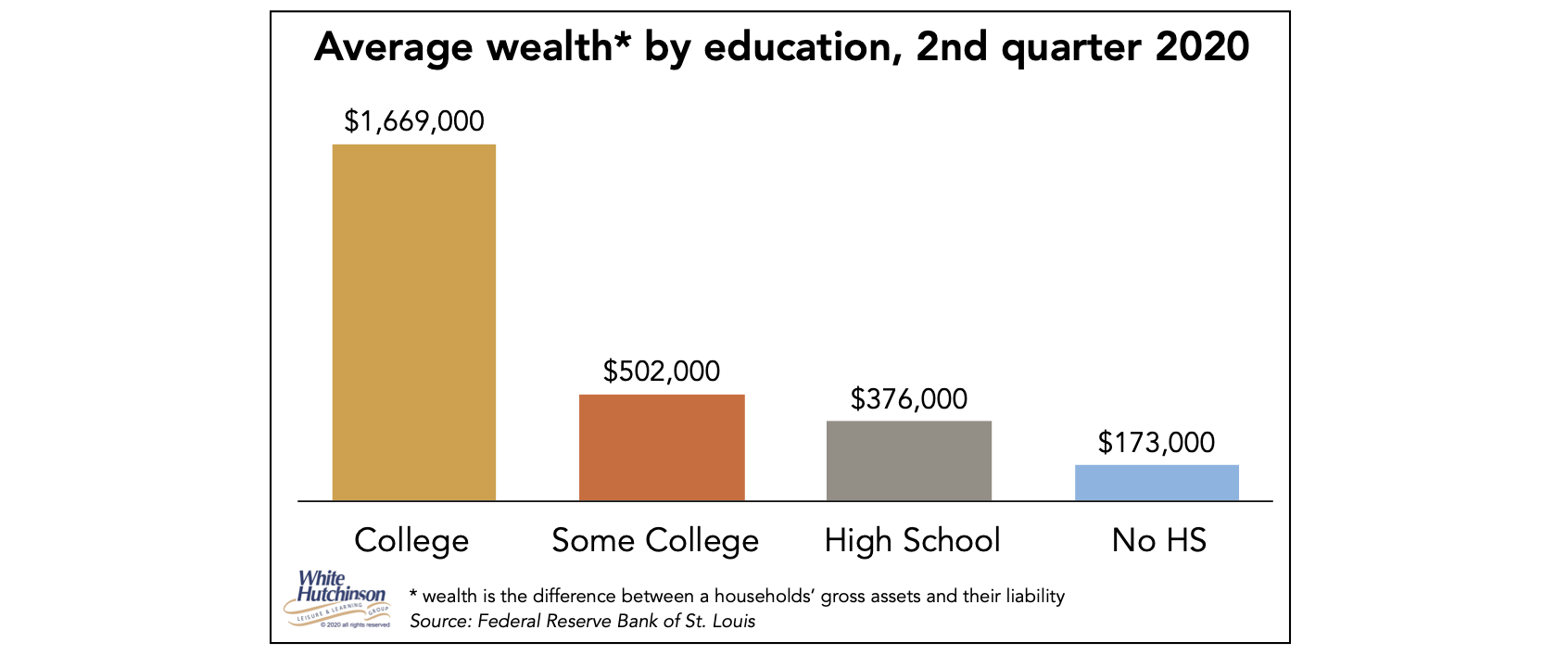 Many higher socioeconomic Americans have also become better off in another way during the pandemic. They now have more leisure time, as the coronavirus dramatically accelerated telework, better known as work-from-home (WFH). This means they save nearly one hour a day (52 minutes on average) commuting to work in addition to all the transportation savings.
As of early December, more than one-third of households (37%) had a worker working from home full or part-time because of the pandemic. They skewed heavily to higher income and more educated households—roughly two-thirds of working adults with $100,000+ incomes or a Bachelor's+ degree WFH.

Surveys had found that somewhere between 5.7% to 14.6% of Americans were already teleworking before the pandemic struck. Adding those to the workers who switched to WFH due to the pandemic means that approximately one-half of workers are currently working from home. These predominately higher socioeconomic WFH workers will have on average more than four additional hours a week to devote to other activities, including attending OOH E&A. Previously, higher socioeconomic Americans have had the least amount of leisure time, possibly constraining their attendance at OOH E&A.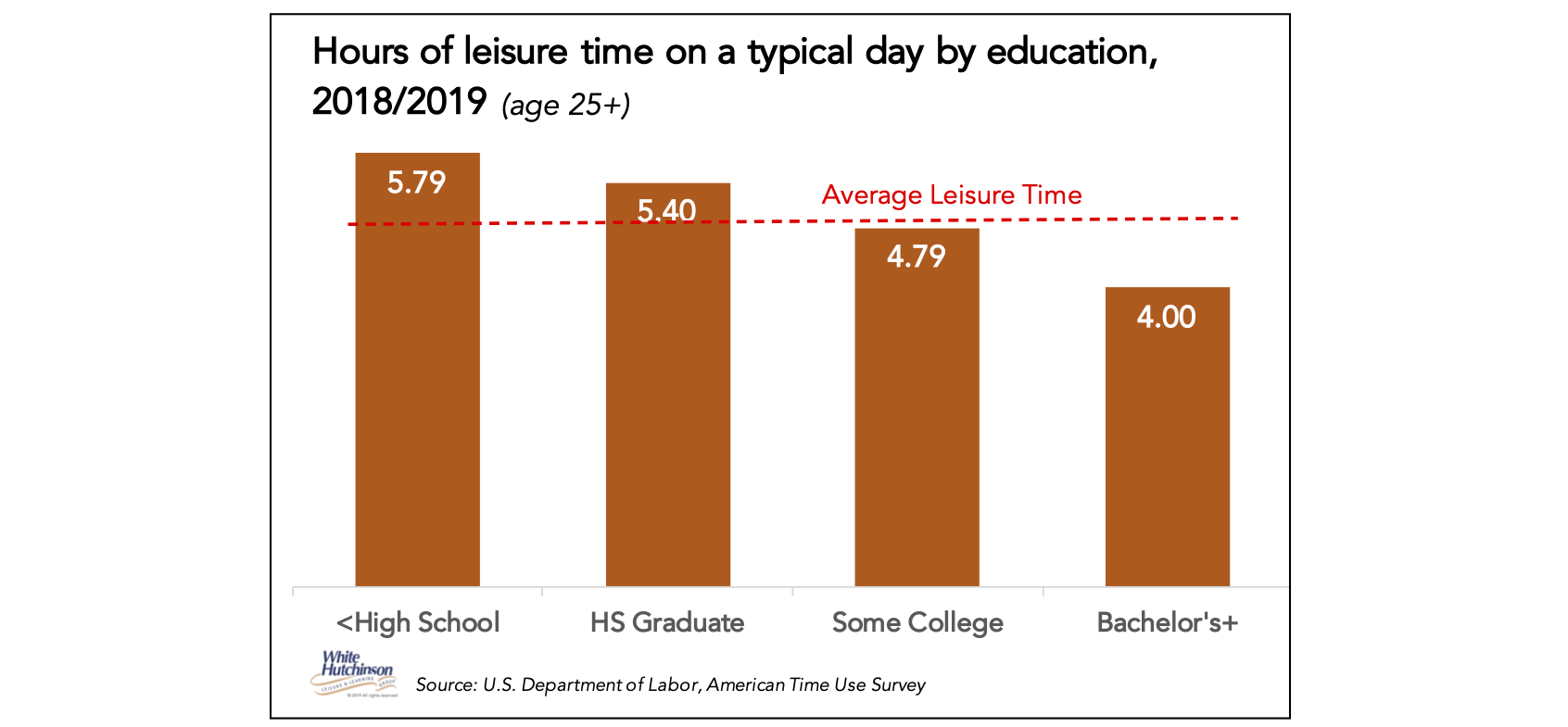 So, there we have it, two diverging Americas. Much of the lower socioeconomic under financial distress and increasing wealth inequity and much of the higher socioeconomic enjoying increased financial and time well-being during the pandemic, both of which will be long-term.
The future of out-of-home entertainment and arts will become even more bifurcated than in the past. (in 2019, 73% of fees and admission came from bachelor's and higher degree households). To thrive in the post-pandemic world, OOH E&A venues need to adjust their business models to make sure they appeal to the higher socioeconomic customers who are likely to account for 80% or more of all revenues.
* increase to the Vanguard Total Stock Market Index fund
Follow me on Twitter and Linkedin – I try to post news and information relevant to the location-based leisure, LBE and FEC industries a few times every weekday.
To subscribe to this blog, click here