Dr. Anthony Fauci recently raised his prediction for the percentage of people with Covid antibodies that the country needs to achieve herd immunity for the coronavirus to fade and for life to return to normal to 80% to 85%, possibly even 90%. He said, "We really don't know what the real number is. I think the real range is somewhere between 70 to 90 percent."
The formula for calculating herd-immunity threshold factors in the number of people infected by each individual with the virus. The higher the infection rate by each infected person, the higher the proportion of the population that needs to become immune to reach herd immunity. With the new, more increased infectious mutations of Covid spreading in and from the U.K. and South Africa, it is quite possible herd immunity will require a high percentage.
Following are my new calculations of whether we will reach herd immunity at the higher threshold ranges of 80%, 85%, and 90%.
The threshold to reach herd immunity includes people who become immune to Covid either by prior infection or by vaccination. We still don't know how long immunity will last from either. Two recent research studies suggest Covid immunity can last at least 8 months after infection. Most infectious disease experts see no reason it won't last longer. Assuming it will last for several years means that people previously infected who don't get vaccinated can be included in the percentage of people with immunity needed to reach herd immunity.
The share of the population who have been infected and should have immunity is much greater than the almost 19 million, nearly 6% of the population, being reported by the CDC. A recent research study issued November 18th by The Royal Society estimates the U.S.'s actual infection rate was 22.8%. Since cases are currently surging and are likely to continue to remain high for several months, in the following calculations, I increased the percentage of the population that have or will be infected before wide vaccination to 30%. I'm also assuming that the immunity from infection is long term, at least two years, meaning people infected in March 2020 will have immunity until at least March 2022.
We don't have any real history with the approved Pfizer and Moderna vaccines to know how long immunity will last from vaccination. Most infectious disease experts believe it will be a robust, long-lasting immunity for at least several years. In the calculation below, I will assume it will be longer than one year.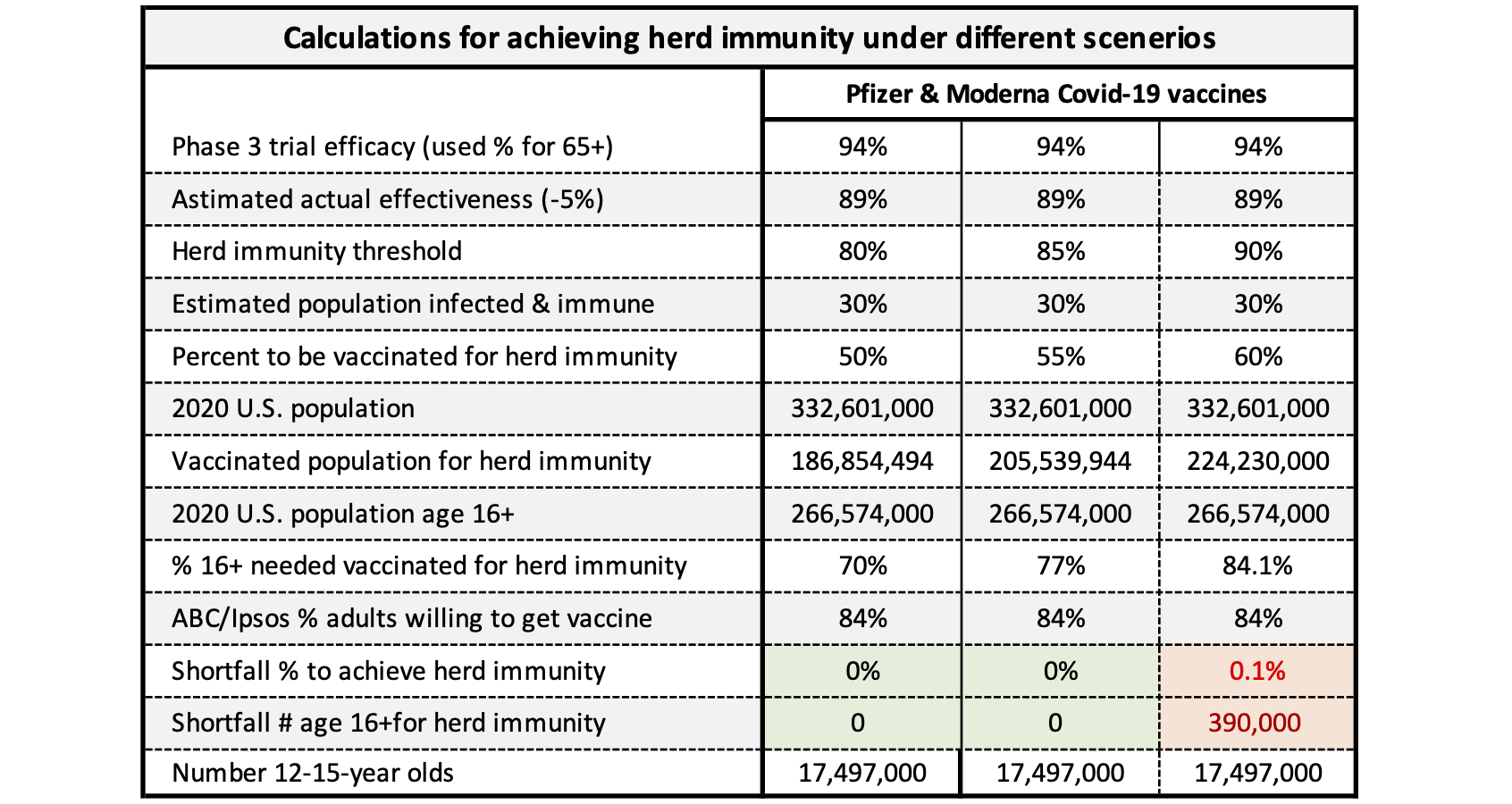 Here's an explanation of the calculations in the second column for the Pfizer and Moderna vaccines. In their Phase 3 trials, the Pfizer and Moderna vaccines' lowest reported efficacy, the percentage of people protected from getting sick, was 94%. However, in real life, vaccines' actual effectiveness is typically less, so I used 5% less for an actual effectiveness of 89%. If the herd immunity threshold is 85% of the population and 30% of Americans will have immunity due to prior infection, that leaves 55% of the population required to gain immunity through vaccination. That results in 205.5 million people who haven't been infected needing to be vaccinated or 77% of the age 16+ population. It is doubtful a vaccine for people younger than age 16 will be approved for use until sometime later in 2021. The highest percentage of adults from any poll who report that they will get a Covid-19 vaccine is now at 84% based on the ABC News/Ipsos December 12-13 poll.

The percentage of people saying they will get the vaccine is now higher than the 77% who will need to get vaccinated, meaning herd immunity can be reached. Even if the herd immunity threshold is 90%, it appears that herd immunity is extremely close using these assumptions. Just a few more people, possibly some 12-15-year-olds since Moderna has started a trial for children as young as age 12, would get us to herd immunity.
Only the Pfizer and Moderna vaccines have been approved for use in the U.S. The U.S. has contracts for 200 million doses from Pfizer and 200 million doses from Moderna with an option for 300 million additional doses. Since both vaccines require two doses, that is enough to vaccinate every American. 200 million of the doses from both companies will be supplied through the second quarter of 2021, enough to vaccinate 200 million people. That would be enough to vaccinate the required number of age 16+ who haven't been infected to reach herd immunity. However, previously infected people will also be eligible to be vaccinated. If a large number do, that means herd immunity won't be achieved by July 2021 unless another vaccine in Phase 3 trails receives emergency authorization from the FDA and becomes available during the first half of 2021. Three vaccines are currently in Phase 3 trials – the Oxford/AstraZeneca, Novavax, and Johnson & Johnson vaccines. The Oxford and J&J vaccines are expected to complete their trials and receive potential FDA emergency authorization in the first quarter of 2021.
Even with at least one additional approved vaccine, it is likely that we won't see herd immunity until sometime later in 2021 at the earliest. And suppose prior infection and vaccination doesn't result in a long-term immunity as I assumed in the calculations. In that case, there is the possibility that herd immunity either won't be reached or might temporarily be reached and then lost unless booster vaccine shots become available.
Even once herd immunity is attained in most areas of the U.S., it's still possible to have large outbreaks, such as in areas where infection/vaccination rates are lower than the required herd immunity threshold (see my previous blog for a more in-depth discussion of this).
Yes, there appears finally to be light at the end of the tunnel, but we still don't know how soon in the future we will reach that light.
Follow me on Twitter and Linkedin – I try to post news and information relevant to the location-based leisure, LBE and FEC industries a few times every weekday. 
To subscribe to this blog, click here