Back in March, when the shelter-in-place and shutdown orders were first issued, there was a general perception or at least a hope that there would be a recovery back to pre-coronavirus normal no later than by Fall. Location-based entertainment (LBE) businesses, including family entertainment centers (FECs), believed they would only have to weather being closed and then operate with reduced attendance and revenues for a few months. Now here we are seven months later in the Fall and the dark cloud of the coronavirus risk and its disruptive impact on our lives and the revenues at LBEs and FECs continues.
Dr. Fauci warned us that a vaccine would not be an overnight event that returns us to a normal way of life. Based on the most optimistic forecasts, even if a vaccine is approved later this year or early next year, there are many uncertainties about ever achieving herd immunity. These include whether the vaccine will have a high enough effectiveness, supply chain challenges of getting it distributed, the need for ultra-cold freezers for many candidate vaccines, the continued decentralized state rather than nationally led efforts, and convincing enough people to get vaccinated. Current surveys find that between 44% and 50% of adults say that if an FDA-approved vaccine to prevent Covid-19 were available right now at no cost, they would agree to be vaccinated, far short of the 75% to 80% probably required to achieve herd immunity. Also, there currently are questions about how long immunity lasts. Several people have been reinfected by Covid-19, in one documented case with a virus with a different genetic makeup than for their first infection, inferring that catching the coronavirus or being vaccinated does not necessarily afford immunity. Immunity may only last for a few months, such as with the coronaviruses that cause the common cold that only gives short-lived protection. The coronavirus might be like the flu, requiring us to get annual vaccinations to protect us from new genetic mutations.
Even under the most optimistic scenario, social distancing, face coverings, and operating and capacity restrictions on many public business activities, including LBEs and FECs, will continue at least into late 2021 and possibly longer. There will probably not be an end to the pandemic, but rather a slow fade, easily stretching into at least 2022 or later. Even then, the coronavirus will probably not be entirely eliminated even if it is no longer an immediate pandemic-level threat. The coronavirus will likely become endemic—meaning slow, sustained transmission will persist. The virus will continue to cause smaller outbreaks, much like seasonal flu. Whether bacterial, viral, or parasitic, all but one disease pathogen that has affected people over the last several thousand years is still with us because it is nearly impossible to eradicate them entirely. The only disease that has been eradicated through vaccination is smallpox.
More than 7 in 10 adults (72%) currently consider the coronavirus a severe or moderate health risk in their local community.

The most recent Axios/Ipsos poll finds that more than 6 in 10 adults consider dining in a restaurant (62%) and attending in-person gatherings of friends and family outside of their household (62%) a large or moderate risk.

Most telling about people's apprehension of visiting public places and activities is that only 9% consider dining at a restaurant or attending gatherings as having no risk of catching the coronavirus.
The most recent Morning Consult poll shows that a large percentage of Americans, ranging from 1 in 3 for eating at a restaurant to greater than one-half for going to an amusement park, the theater or a concert, are not ready to return to different public activities for more than six months.

These results are consistent with what other polls are finding.
Regardless of the extent that safety protocols are in place, as long as the virus poses a significant material threat to life, the majority of people are saying they will not be returning to many pre-pandemic public activities. This includes visiting LBEs and FECs. Many of these unwilling people are in the 40% of adults who are highly vulnerable to Covid due to underlying medical conditions or their age.
It's no wonder that so many people continue to be fearful of public activities with the seven-day daily average of U.S. infections now running more than 60,000 cases a day.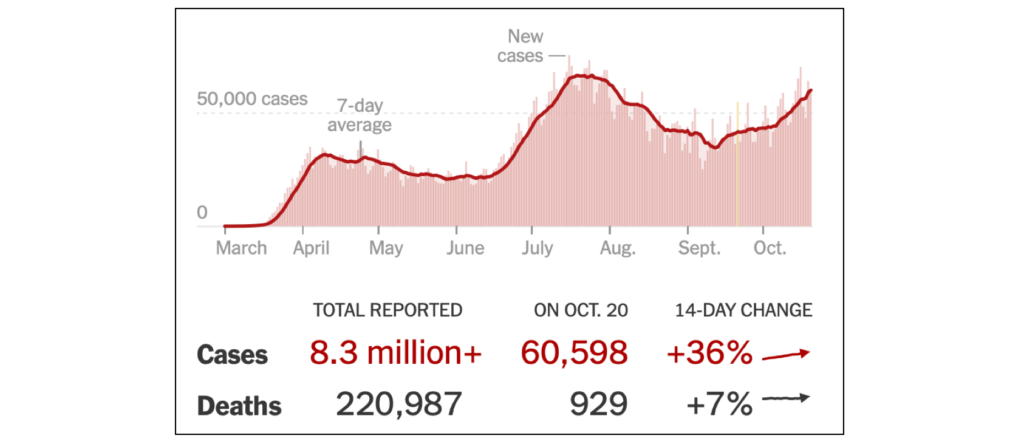 Infections are likely to continue to surge higher as the weather turns cold, restricting entertainment to only indoor gatherings and activities that pose a higher risk than most outdoor activities. Nearly 8 in 10 adults (78%) report that spending more time inside public places during the cold weather is a large or moderate risk.

Additionally, we're now seeing rising coronavirus fatigue and impatience with people returning to activities that have a high infection risk. Gallup found that Americans are less likely now than at any point since the pandemic's early days to say they are avoiding events with large crowds, public places such as stores and restaurants, and small gatherings. There have been significant declines from mid-to-late July and new low points for each trend since early April.

And as infection rates rise, as they currently are in most U.S. areas, comfort levels for public activities are highly likely to decline. The 7-day average is now exceeding 50,000 cases a day
The Axios/Ipsos poll found that more than one-third of adults (35%) personally know someone in their community who tested positive for coronavirus. Nearly one-quarter (23%) personally know someone in the U.S. who has died due to the coronavirus, of whom more than 4 in 10 were a family member or close friend (42%). The latest ABC News/Washington Post poll found nearly three-quarters of adults (73%) are worried they or an immediate family member might catch the coronavirus (or say it has already happened), a new high from 69% in late March.
The pandemic and its continuation into 2021 are a genuine existential threat to LBEs and FECs. Continuing government restrictions in many areas, combined with the majority of people unwilling to visit, will continue to severely restrict attendance and revenues, in most cases well below the breakeven ability to pay bills. Many LBEs and FECs lack the capital to underwrite their operations long-term until their revenues return to positive cash flow. They've been closed with no revenues and then reopened with severely reduced revenues. Also, those that reopened have had to invest in additional expenses for safety measures, including equipment, supplies and added labor costs.
Back in my July 8th blog, I predicted: "that at least 30% of FECs will go out of business and be permanently closed by the end of 2021, perhaps even sooner." At the time, I stated I might need to increase the percentage depending on how long it takes the country to get the coronavirus under control. In that blog, I described the high rate of closures as decimation, defined as "destruction of a large proportion of a group or species," which I think is the bleak future for the LBE industry. Large numbers of LBEs and FECs will likely not make it to the post-pandemic new normal.
Here we are, more than three months since that blog, and the future is looking a lot bleaker in terms of how long it will be to arrive at the post-pandemic world. Accordingly, I am raising my prediction to 35% of LBEs and FECs will not survive, and even then, I may be overly optimistic.
Recent information from a very successful and well-capitalized national LBE chain, Dave & Buster's, illustrates the challenges that many LBEs and FECs face. As of October 4th, D&B had 99 of 136 stores open. Of stores open at the end of September, 81 were comparable stores with comparable store sales of 65% compared to 2019 levels (excludes 5 open stores where governments have not permitted the arcades to open, which traditionally generate 58% of their store revenues.) The company estimates that their EBITDA breakeven point under their lean operating model is 50%-55% of 2019 sales. EBITDA stands for earnings before interest, (income) taxes, depreciation and amortization. Accordingly, determining D&B's cash breakeven point requires adding in their interest expense and any debt principal payments, assuming no income taxes if there are just breaking even. That means on a cash flow basis, their breakeven point is higher than 50%-55%. As of October 4th, the company had debt of $744 ($5.47 million per store). If we assume the debt has no required principal payments, which it didn't in 2019, and an interest rate of 4%, that would increase their cash breakeven point to around 55%-60%.
Most LBEs and FECs have higher operating costs than D&B. Many, especially newer ones, have significantly higher debt burdens, sometimes debt as high as 90% of their development cost using SBA guarantee programs. D&B only pays interest on its debt and as a large chain and public company, has access to low-interest-rate borrowing. Many LBEs and FECs have higher interest rates and must make substantial principal payments as well. Even if their lenders give them forbearance of principal payments, their debt burdens still exceed D&B's.
Most LBEs and FECs lack the liquidity and access to additional capital that D&B has. On February 2, 2020, D&B only had $24.6 million of cash on hand. During the pandemic, they were able to shore up their liquidity by raising an additional $210 million in cash by drawing down $100 million from a credit line and selling $110 million in stock. In other words, they were able to raise more than $1.5 million per store to help meet operating losses during the pandemic. As of October 4th, the company had $197 million in cash on hand ($1.45 million per store).
CEC Entertainment, Inc., the operator of Chuck E. Cheese's, is an excellent example of what happens to an FEC that has high debt and low pre-pandemic profitability. An analysis I did in June found that their cash flow breakeven was 97% of 2019 revenues and their debt per store was equal to each store's 2019 revenues, whereas D&B's debt per store is currently about half of store 2019 revenues. As a result, CEC has filed for Chapter 11 bankruptcy, and their future is very uncertain.
The reduced attendance at LBEs and FECs that is sure to continue will not be evenly distributed among types of venues or areas of the country. Nor will the failure rate. Many factors will shift which centers get the larger share of attendance and which will permanently close over the coming year or more before we arrive at the post-pandemic era.
Debt – Those venues with high debt payments are highly vulnerable, as their cash flow breakeven will be very high, most likely higher than their reduced revenues. Venues with high debt burdens, like CEC, are highly likely not to survive
Rent – Rent is usually the second or third highest operating expense after labor and debt. It is unlikely that even those landlords who have given rent concessions to date will be willing to extend them until post-pandemic arrives (although it would be a wise move as they are unlikely to find replacement tenants. Some rent is far better than none). Venues with high rent payments are at higher risk.
Perceived safety – For the minority of people currently attending LBEs of all types, this is not a concern. But for the somewhat uncomfortable group, perceived safety from catching the virus is a determinant to a possible visit. Outdoor non-stadium type venues have a strong advantage as outdoors is less risky than indoors. These include agritourism farms, miniature golf, and even go-karts. Indoor-outdoor hybrids, such as the social-eatertainment driving ranges like Top Golf and Drive Shack should do well, as they are mostly outdoors, conditioned against the cold weather with heaters in their driving bays and the driving bays are socially distanced from each other.
Location – Where the LBE is located in the country has a considerable influence on its attendance during the pandemic. Communities with low infection rates or that skew heavily Republican should have a higher percentage of the public willing to attend. Pre-pandemic, many markets in the U.S. were experiencing over-expansion of LBEs and FECs, reducing the attendance of most. Until there are significant closings, centers in those areas will continue to have their attendance negatively impacted not just by the virus, but also by too much competition.
Age – Younger adults are showing a higher propensity to visit LBEs than older adults. Those centers that predominately target younger guests should fare better than those that don't.
Social – The in-person social isolation the pandemic has caused has people craving for IRL socialization. Those centers that offer highly social experiences should have an advantage over those that only provide solo or shared experiences, such as just sitting next to each other in a movie theater.
Socioeconomics – the pandemic has accelerated the already underway trend of the socioeconomic bifurcation, the gentrification of attendance and spending at LBEs. Those centers designed and operated to attract and cater to the higher socioeconomic, especially bachelor's and higher degreed guests who in 2019 accounted for 7 in 10 dollars spent at LBEs, should struggle less than those designed for the middle class.
It is most unfortunate, actually sad, that the virus will ultimately cause so many LBE and FEC owners to close their businesses. This will be incredibly painful for so many entrepreneurs who invested their life savings in their centers and worked so hard to make them a success before the coronavirus struck.
When we finally emerge on the other side of the pandemic, the competitive LBE and FEC landscape is sure to be different, both based on which centers survive and on how consumers' out-of-home leisure behaviors will have changed.
Follow me on Twitter and Linkedin – I try to post news and information relevant to the location-based leisure, LBE and FEC industries a few times every weekday.
To subscribe to my blog, click here