Pre-pandemic, food and beverage had become crucial to the appeal of location-based entertainment centers (LBEs), especially eatertainment ones where the food and drink can be the majority of revenues. That is why I spend as much time following research and trends in the restaurant industry as in the entertainment industry. That assures that I can give our clients the best possible advice and designs for their LBEs, including family entertainment centers (FECs). Here's some of the latest research on the factors influencing people's decision-making for on-premises dining during the coronavirus pandemic.
While people's food and drink preferences are continually changing, some things remain the same as pre-pandemic for dining out during the coronavirus. A 2019 survey by Toast, the restaurant POS and software company, found that the quality of food, taste and flavor preferences and value were the top three most important factors for guests' decisions for which restaurant to visit. The food itself held the top two selections. Toast's recent survey during the pandemic found that those three preferences are still the same top three, with the food quality, taste and flavor preferences still the two most important. The third was value, 4th was the price point, 5th was convenience, and the 6th was cleanliness.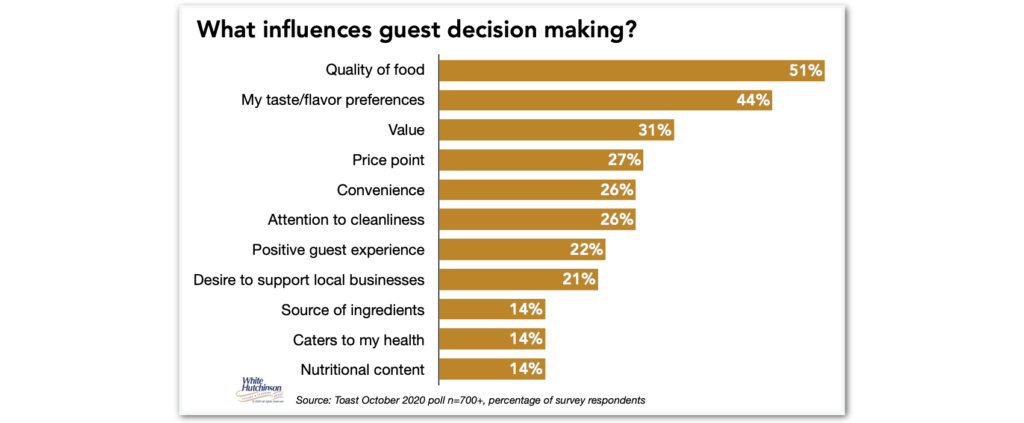 For the cleanliness and health risk concerns for dining out during the coronavirus, the cleanliness of tables rated highest, followed by food safety and cleanliness and then staff safety.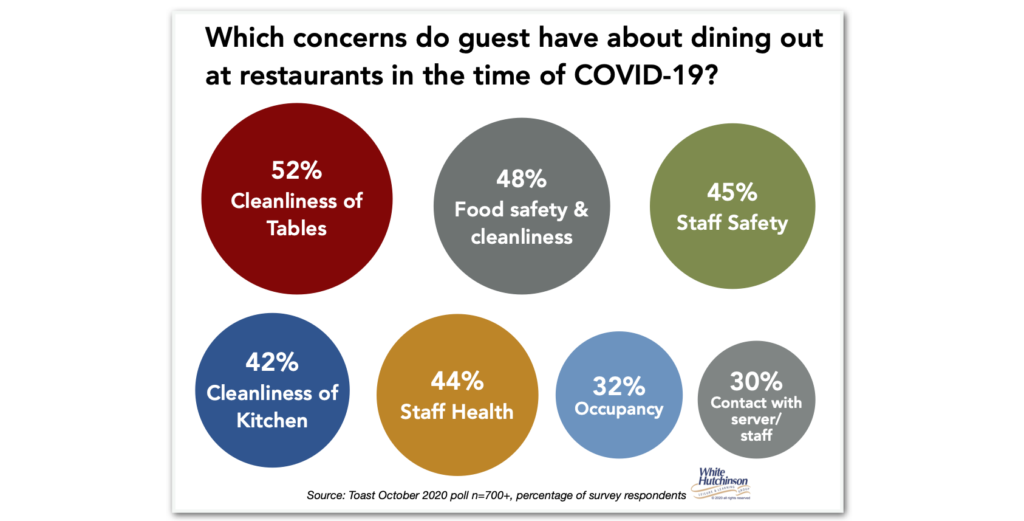 Toast's poll also examined what factors influence returning to a restaurant that guests had previously dined at. Again, the food quality was the most important factor of whether they'd return, followed by attention to cleanliness and safety. Following food quality and safety and cleanliness, survey respondents also rated value (31%) and menu options (27%) as important factors influencing whether they'd return to a restaurant.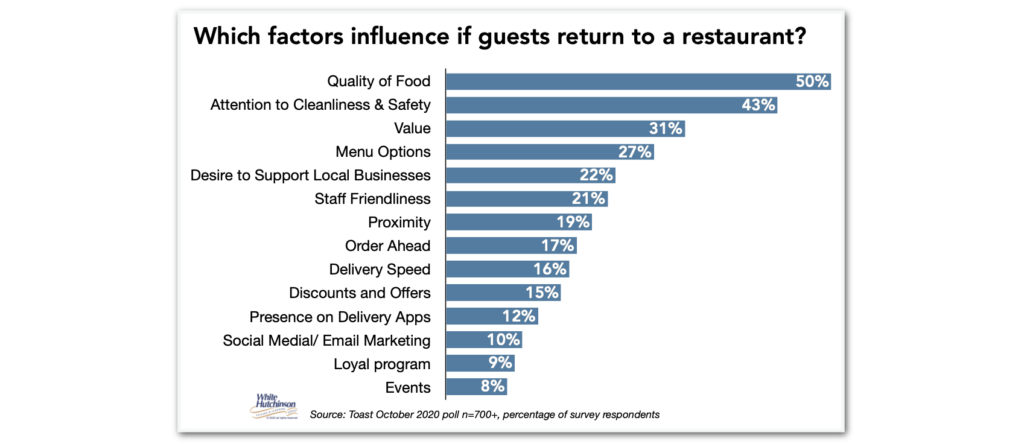 Half of the survey respondents (50%) say they would definitely not revisit a restaurant if they noticed staff appearing to be ill. The lack of personal protective equipment (PPE) is another significant influence on whether people would return to a restaurant. One-third of survey respondents (32%) reported that they would definitely not revisit a restaurant if they noticed workers weren't wearing PPE.
During Covid, safety and cleanliness are concerns for restaurant diners. Toast's survey found that 64% of guests reported that seeing staff take safety precautions and wearing PPE was their most important consideration when returning to in-house dining. Hand sanitizers at every table came in next (49%), followed by single-use menus coming in third at 40%.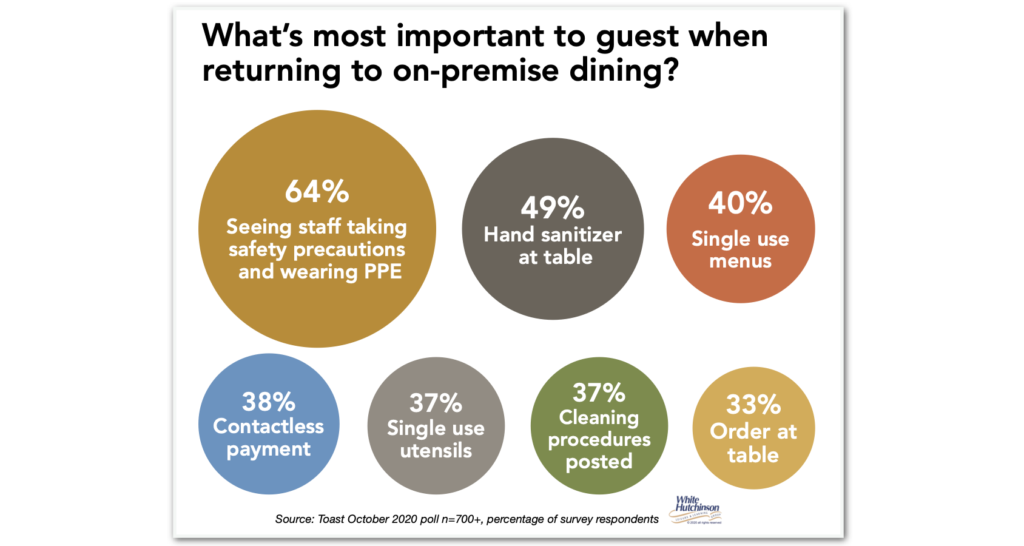 In the last few weeks, we've seen what was a nascent food trend pre-coronavirus, climatarian-friendly menus, suddenly coming to the forefront during the pandemic.

Just over one week ago, Panera Bread added the carbon footprint to its meals, designating more than half of their entrees as having a low impact on the climate based on calculations by the World Resources Institute. WRI calculates a dish's carbon footprint by analyzing the agricultural supply chains' emissions and the land used to produce the meal. If a dish's carbon footprint falls below an established per-meal threshold and meets a nutrition safeguard, it is featured on "Cool Food Meal." Following their introduction, Panera reported a 126% (week-over-week) increase in the sale of their Cool Food Meal menu items.
This week, Chipotle Mexican Grill launched Real Footprint, a sustainability impact tracker for five metrics:
Less carbon in the atmosphere
Gallons of water saved
Improved soil health
Organic land supported
Antibiotics avoided
HowGood, an independent research company, is providing the metrics for Real Footprint.
Chipotle teamed up with Bill Nye the Science Guy to produce this video on how the Real Foodprint works.
The first restaurant chain introducing menu carbon transparency was the 40-unit Just Salad chain that introduced the Climatarian Menu of their seven items with the lowest greenhouse gas emissions in mid-September. They are also displaying the greenhouse gas emissions associated with each of their menu items.
According to an April survey by the International Food Information Council, two-thirds of people (67%) are concerned about the impact of food production on climate change, with one-third (34%) being very concerned. An October 23-26, 2020 Morning Consult poll found that more than 4 in 10 Americans are very concerned (45%), and 3 in 1 are somewhat concerned (32%) about the impact of climate change on the U.S. environment (total – 77% concerned).
It is becoming clear that a substantial portion of restaurant customers consider the sustainability of menu items an important consideration in which restaurant they chose to eat. With the two largest fast-casual restaurant chains in the U.S. now heightening awareness of the impact of food choices on climate change and the environment with their sustainability-forward menu initiatives, we are sure to see a growing share of consumers adopting more eco-conscious dining behaviors. The COVID pandemic is helping to further this trend, as research by OnePoll found that almost half of Americans (47%) have started eating more plant-based food amid the Covid-19 pandemic, and 43% made an effort to eat less meat.
The restaurant eco-conscious menu movement should result in an increasing number of flexitarians who will seek meatless vegetarian options for many of their meals, including the many quality plant-based meat alternatives that are successfully imitating the flavor and texture of meat. A growing number of consumers will also opt for plant-forward menu items that have reduced portions of meat. The availability of a wide selection of sustainable menu items is sure to become a growing influence on which restaurants consumers will visit and which menu items they will select.
Follow me on Twitter and Linkedin – I try to post news and information relevant to the location-based leisure, LBE and FEC industries a few times every weekday.
To subscribe to this blog, click here