There is new in-depth research on the comfort of returning to concerts that offers some interesting insights into who is most likely to return to other types of location-based entertainment venues (LBEs) and what measures will make guests the most comfortable in returning.
The Morning Consult October 14-16 poll examined peoples' comfort levels of returning to indoor and outdoor concerts. Among all adults, more than 4 in 10 say they would be very or somewhat comfortable going to an outdoor concert right now (44%), and slightly more than 1 in 3 say they'd be comfortable going to an indoor concert right now (32%).
With the poll's large number of respondents (2,200), large data set, and level of granularity, I was able to calculate the different comfort levels for both regular concert attendees, people who pre-pandemic went to several concerts in a typical year, and not regular concert attendees who previously only attended once a year or less based on the allowed capacity of concert fans at both indoor and outdoor concerts.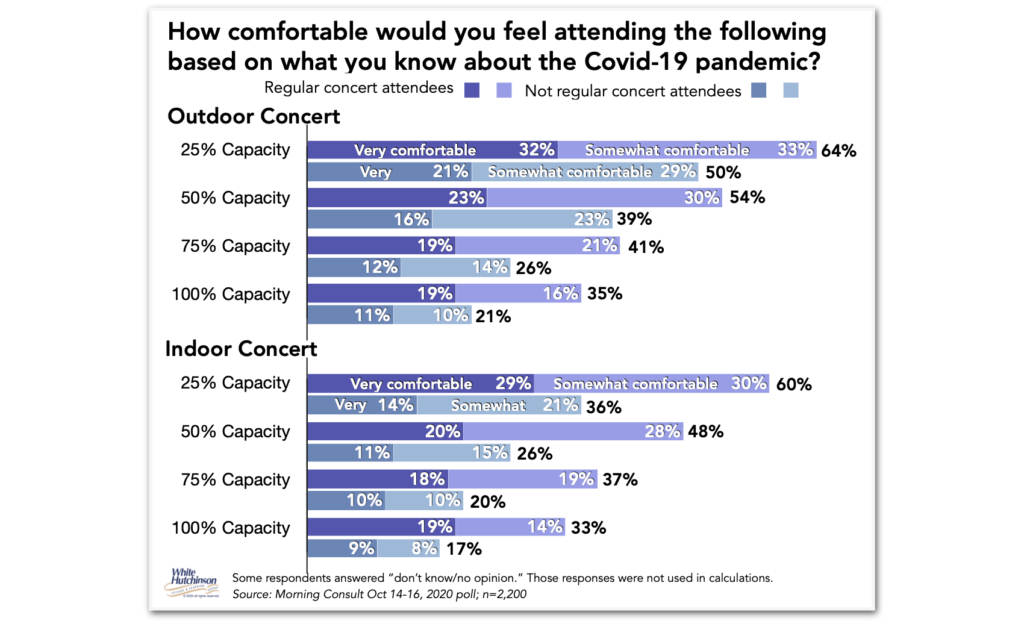 The first thing that stands out is that comfort levels decrease significantly as venue capacity with fans increases from 25% to 100%. The percentage of people who feel very or somewhat comfortable attending at 100% fan capacity is about half the share comfortable at 25% capacity for both indoor and outdoor concerts and for both regular and not regular attendees. The second noticeable observation is that far more regular concert attendees are comfortable attending at all levels of fan capacities for both indoor and outdoor concerts than not regular attendees. Third, regular concert attendees hardly show any less comfort attending an indoor concert than an outdoor concert. Their decreased comfort at indoor concerts is only 2 to 4 percentage points less than outdoor concerts at the equivalent capacity. Conversely, the percentage of not regular attendees comfortable attending an indoor concert is considerably lower than for attending an outdoor concert. For example, at 50% capacity, 39% of not regular attendees are comfortable attending outdoors compared to only 26% indoors, a 13-percentage point difference.
Poll respondents were asked to what extent different measures would make them more comfortable attending a concert once Covid-19 is under control and live events resumed. Here are the top ten measures that would make regular concert attendees feel more comfortable.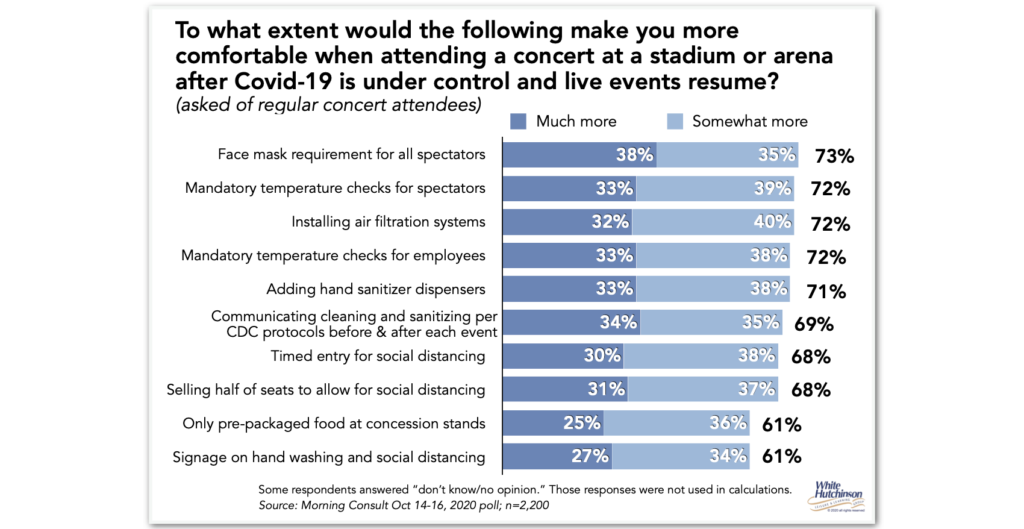 Requiring all spectators to wear masks had the highest rating, with nearly three-quarters of regular attendees saying it would make them feel much more or somewhat more comfortable. There was then little difference in the number of poll respondents who said the next seven measures would make them more comfortable.
A mandatory mask requirement for spectators makes both regular and not regular attendees more comfortable than filling only half the seats to allow for social distancing. Again, as in the first graph, based on the concert venue's percentage capacity, regular attendees have a higher comfort level than not regular attendees.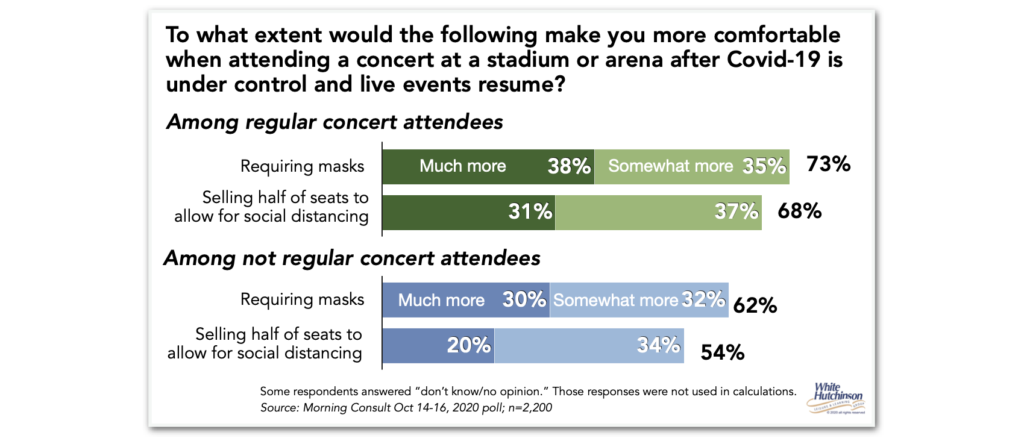 To understand who regular concert attendees are, I dug into the poll data to determine their demographics. Surprisingly, they are a rather diverse group by age, education, and income. Possible exceptions are that age 65+ are only 1 in 10 regular concert attendees, and people with a bachelor's or higher college degree make up over half of regular attendees (54%).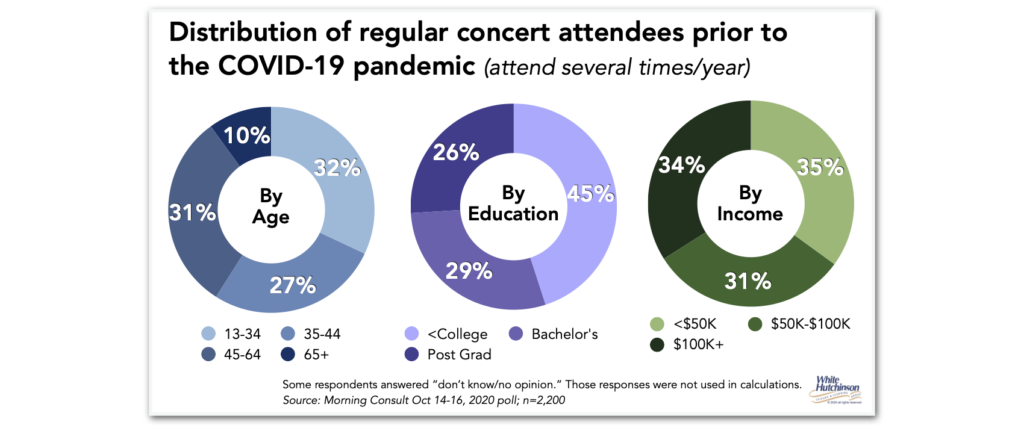 Attending a concert is considered a public event with a very high risk of catching the coronavirus as people are sitting or standing close together for an extended time. What can be inferred from the above findings on the comfort of attending a concert on what will make consumers more comfortable attending other types of location-based entertainment (LBE), including movie theaters and family entertainment centers (FECs)?
Mandatory mask-wearing consistently received the highest rating for concerts. For both regular and not regular concert attendees, mask-wearing makes them more comfortable than restricting the venue's capacity to only 25% or only selling half the seats with social distancing. Without question, mandatory mask-wearing is the number one measure that LBEs and FECs should implement, with no exceptions, as I discussed in my blog two months ago. However, Covid-19 risk reduction measures should not be limited to only mandatory mask-wearing. Implementing as many of the first chart measures as possible, plus others will further increase people's comfort levels to visit.
The other important insight that concert data reveals is that regular attendees are far more comfortable returning than not regular attendees. Regular attendees also seem to have a lower risk tolerance of catching the coronavirus at a public event. This makes a lot of sense. If a person has been doing something regularly, they obviously enjoy doing it, and since attending was a habit, it creates "stickiness" and a desire to return even after a long period of absence. The desire to return also appears to make them consider the risk less than someone who wasn't a regular. This means that LBEs and FECs should focus their marketing efforts on previous regular attendees, as they are the consumers with the highest probability of returning. Without a doubt, having an email list of past attendees is the most efficient way to reach out to them after being closed by sending emails to return when reopening. It is essential to communicate to them in the email everything that is being done at the venue to make it as safe as possible to visit.
One broader insight from all the data is it appears the vast majority of the public understand that coronavirus is caught through airborne transmission. People also seem to grasp what measures will mitigate their chance of catching it at public events.
Follow me on Twitter and Linkedin – I try to post news and information relevant to the location-based leisure, LBE and FEC industries a few times every weekday.
To subscribe to this blog, click here