Our company has been accessing and analyzing data from surveys and polls that are being conducted on an ongoing basis, sometimes daily, by over a dozen different companies on Americans' reaction, beliefs and changing behaviors due to the Covid-19 pandemic. We are constantly looking for poll data that gives insight on when and to what extend consumers will be returning to location-based entertainment (LBE) and leisure venues of all types, including restaurants, family entertainment centers (FEC), the movies, bowling and cultural venues.
Here's the results from a very recent Ipsos/ABC May 13-14 poll of U.S. adults on what they are indicating is their willingness to return to different out-of-home activities.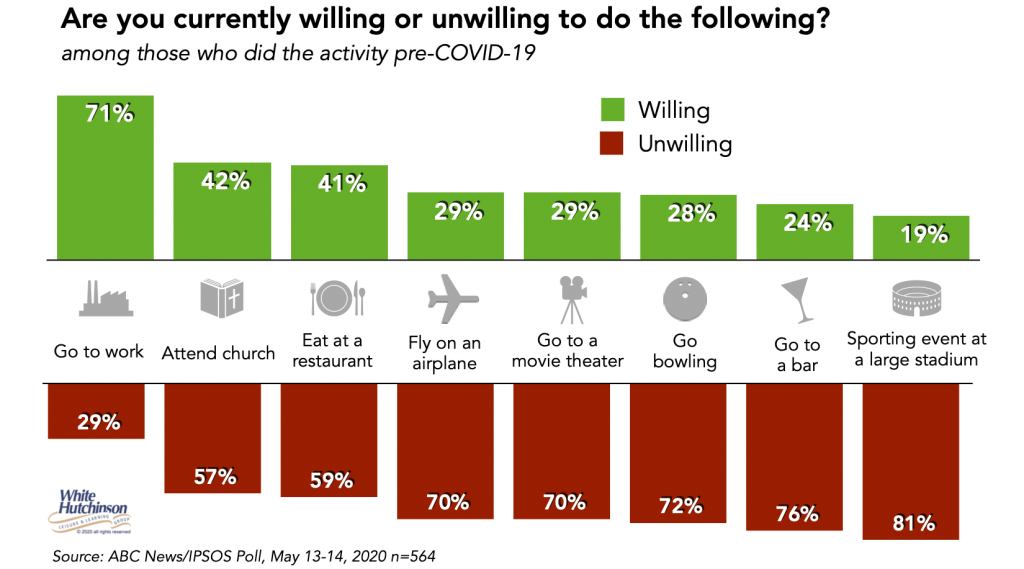 In an earlier blog, I reported results from a previous Ipsos/ABC poll conducted two weeks earlier, where the survey question was worded slightly differently: "If social distancing orders and restrictions on public activity were lifted tomorrow, how likely would you be to do each of the following?" The percent answering willing in the current poll showed some changes compared to the percent previously answering "likely" or "somewhat likely."
Over the two-week period, there has been a decline in those willing versus likely/somewhat likely to: go to work (77% declining to 71%), attend church (46% to 42%) and eat at a restaurant (44% to 41%). Fly on an airplane is unchanged at 29%. The recent poll shows an increase in the percent of adults willing to: go to a movie theater (24% increasing to 29%), go bowling (22% to 28%) and go to a bar (21% to 24%). The percent willing to go to a sporting event at a large stadium declined very slightly from 20% to 19%.
The recent poll shows some positive direction for entertainment destinations, but it is still not really the good news we need. Although 29% of adults who went pre-Covid-19 now say they are willing to go back to a movie theater and 28% who went pre-Covid-19 are willing to go bowling again, that means over 70% are not currently willing to visit a cinema or go bowling. The current low percentages willing to go are not financially sustainable attendances for any type of LBE. Depending on a number of expenses, including fixed costs such as rent and debt that will vary from LBE to LBE, the cash flow breakeven point for most LBEs would require the percentages to be flipped with roughly at least 70% or more willing to go.
All the percentages cited above are averages for all adults. The new survey found a drastic split by political ideology for returning to normal activities. For each of the listed activities, Republicans are more likely than Democrats to say they are willing to resume.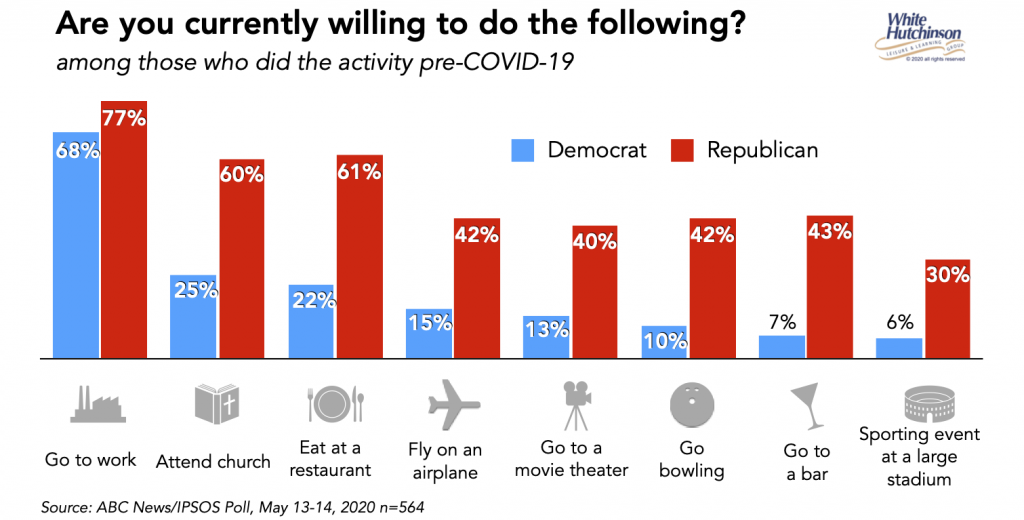 In a striking partisan division, Republicans are roughly three times as likely as Democrats to eat at a restaurant (61%-22%), fly on an airplane (42%-15%) and go to a movie theater (40%-13%). Republicans are four times as willing to go bowling (42%-10%), five times as willing to attend a sporting event at a large stadium (30%-6%) and six times as willing to go to a bar (43%-7%). There is some common ground across ideologies for one activity, with most Democrats and Republicans both being comfortable returning to work, 68% and 77%.
Once LBEs, restaurants and cultural attractions open, there is the possibility that initial attendance will give a false sense of a faster recovery to pre-pandemic levels of business than reality. The minority of consumers ready to return, with their pent up demand, could all rush to visit in the first few weeks after opening, making the businesses very busy at their reduced government-permitted capacities. And according to the polls, it looks like those initial crowds will be very heavily Republican. But then after that initial stir-crazy rush to escape from lockdown, those customers will revert to their pre-Covid frequencies of visits and the true on-going low attendance levels will reveal themselves based on the low percentage of pre-pandemic customers visiting.