Vol. VIII, No. 1, January/February/March 2009
---
---
Institute on Sustainable Environments for Young Children to Visit Reggio School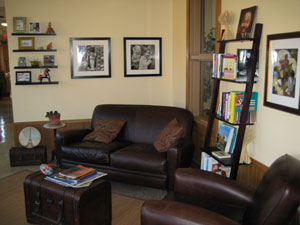 We are creating healthier childcare centers -- one center at a time. The 2009 Institute on Creating Sustainable Environments has added a pre-conference tour day on how to create healthier environments for young children. On June 10, 2009, the Institute will visit the Pembroke Early Education Center in midtown Kansas City, Missouri. Representatives from the school attended one of the Sustainable Institutes in the past and have implemented many of the sustainable practices they learned.
The Pembroke Early Learning Center is a beautiful building that exemplifies best practices for creating a nurturing and homelike environment. As you can see from the photo of the parent resource area, the building truly has soul. One of the delightful aspects of this remarkable facility is how each teacher's classroom reflects his or her values and personality while still holding true to the Reggio approach to learning. You will absolutely be amazed how each teacher uses his or her own atelier or art studio.
To find out more about our pre-conference day for the Institute on Creating Sustainable Environments (including past participants' comments) or to register, visit our website at www.whitehutchinson.com/children/sustainableinstitute.shtml.
Vol. VIII, No. 1, January/February/March 2009
---
---