We are now more than one year into the pandemic, which has disrupted life and threatened the survival of out-of-home (OOH) leisure businesses, especially location-based entertainment venues (LBE), many that have tragically already permanently closed. The light at the end of the tunnel appears to be getting closer with the Biden administration's aggressive roll-out of vaccinations, the decline in infections and hospitalizations, and the new stimulus legislation. But questions remain. When will public life and visits to out-of-home leisure businesses such as LBEs, restaurants, and sports venues that we've had to forgo for so long return and to what extent of their pre-pandemic levels? To what extent will altered lifestyle changes be permanent? The answers aren't simple, as there are a number of factors that will determine the future.
Vaccinations
It currently appears that any American age 16 and older who wants the coronavirus vaccine will be able to be fully vaccinated by summer. A recent CivicScience poll finds that more than six in 10 adults who previously attended the movies, sporting events, or a concert say they will very or somewhat likely wait until they are fully vaccinated to return.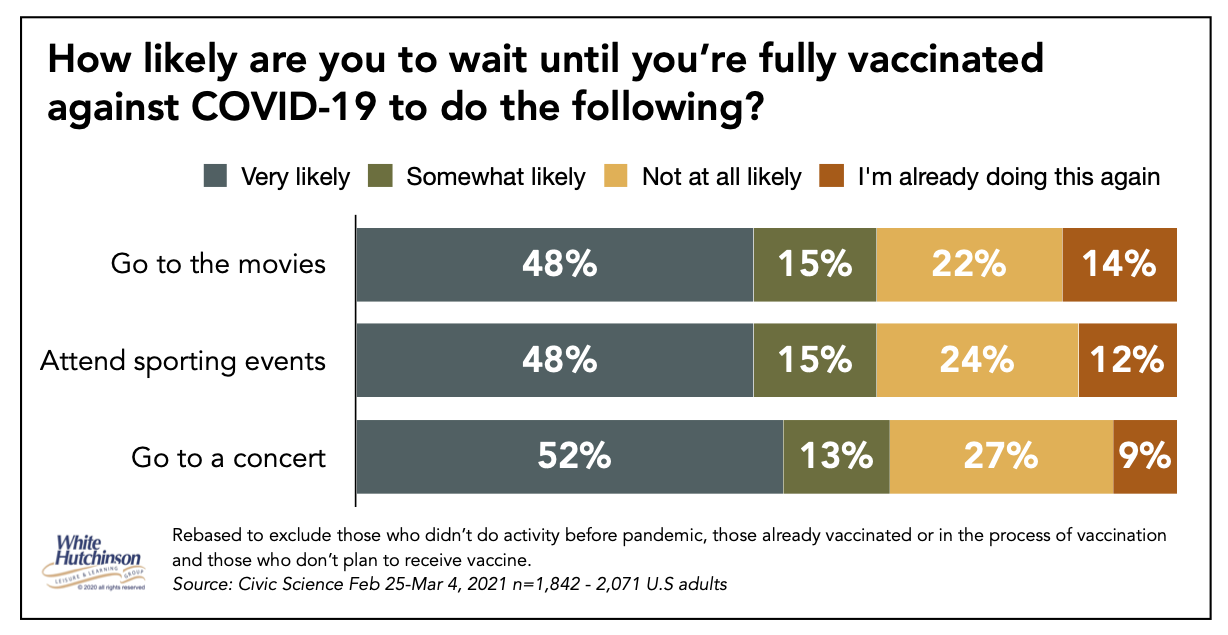 Other CivicScience surveys confirm that the vast majority of Americans, roughly in a two-to-one split, plan to wait to get vaccinated before resuming pre-pandemic OOH leisure activities
This indicates most people won't return to location-based entertainment (LBE) and sports events until at least this Fall.
Reservations
But even with vaccination, CivicScience found that more than a third of people harbor some reservations about returning to OOH entertainment and sports venues, suggesting that previous capacity attendance is still much further off into the future.
Datassential's recent consumer research found that a large percentage of people consider social and public activities still a risk even after being fully vaccinated. Nearly three-quarters believe attending a sporting event or live concert risky even when vaccinated.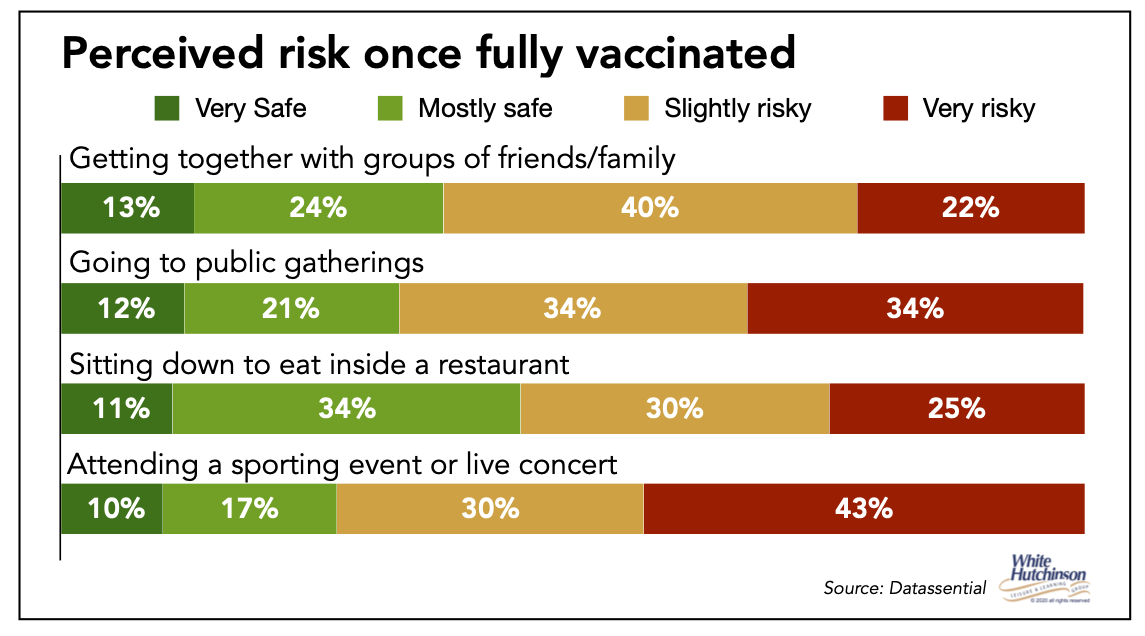 The reluctance, the continued fear, may be due to the vaccines not being 100% protective from catching the virus, although the science finds them 100% protective for hospitalization or death. Some people may be concerned about becoming asymptomatically infected and spreading it to loved ones who cannot be vaccinated. The emergence of Covid-19 variants that the vaccines might not protect against could also be a concern. People with autoimmune conditions or who are immunocompromised due to medications or chronic illness can get the vaccine, but recent research found they will receive lower immunity levels, so they will continue to worry about the risk of being exposed to the coronavirus in public places.
A March 5-8 Axios/Ipsos poll found that eight in 10 adults say they'll continue to wear a face mask in public until the pandemic ends, even after they're vaccinated. And of course, many people could just have a long lingering fear of public places and mixing with strangers that they developed during the pandemic and will extend to perceived health risks beyond just the coronavirus. Consumer research by MRI-Simmons found that two-thirds of people report they will be a lot more cautious in what they do and how they do it after Covid-19 passes.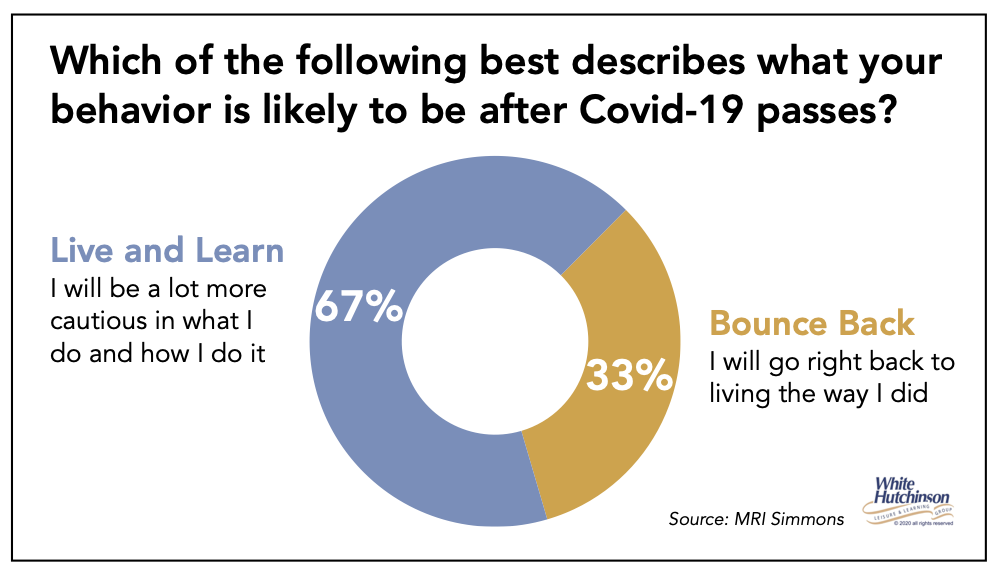 There is serious doubt whether a high enough percentage of Americans will agree to get vaccinated to reach herd immunity threshold. Experts now warn that America can't truly achieve herd immunity until the entire world does. That could take years. Even then, Covid-19 may continue to be endemic.
New habits
Before the coronavirus arrived, we had regular habits of visiting restaurants, LBEs, sports events, and other leisure destinations. But for over a year now, with minor exceptions, Covid-19 shrunk our world to our homes. We were not able to continue those habits. We found new at-home options, mostly virtual ones and hobbies, cooking, gardening, and other pastimes, or found safe OOH options, such as outdoor activities in nature.
The longer people do something, the longer it becomes their norm. Consumer habits can change after someone tries a new way of doing things two or three times out of necessity. Research on habit formation has found that it takes no more than 254 days to form a new habit. After more than a year, all our new activities have become habits. Many of our new behaviors pass two other tests for a habit to continue – first, it needs to bring some benefits, and second, the constraints of keeping up with the habit need to be low; it is easy to continue. Our at-home leisure habits pass those two tests. New pleasure-based habits are tough to break because enjoyable behavior prompts our brains to release dopamine. Dopamine is the reward that strengthens the habit and creates the craving to do it again.
Another influence will contribute to the continuation of our pandemic-acquired leisure habits past vaccination. To cope with the stress of living in constant fear for our health, our very lives, and that of our loved ones, fear of the economic consequences, and all the other uncertainties Covid brought, the human brain tries to resolve uncertainty with routine. So, during the pandemic, while denied our previous OOH leisure pastimes, we found new at-home routines, new routines for spending our leisure time.
A Harris study in August for the American Psychological Association found that most Americans (78%) reported the pandemic is a significant source of stress. And, two in three adults (67%) said they have experienced increased stress over the course of the pandemic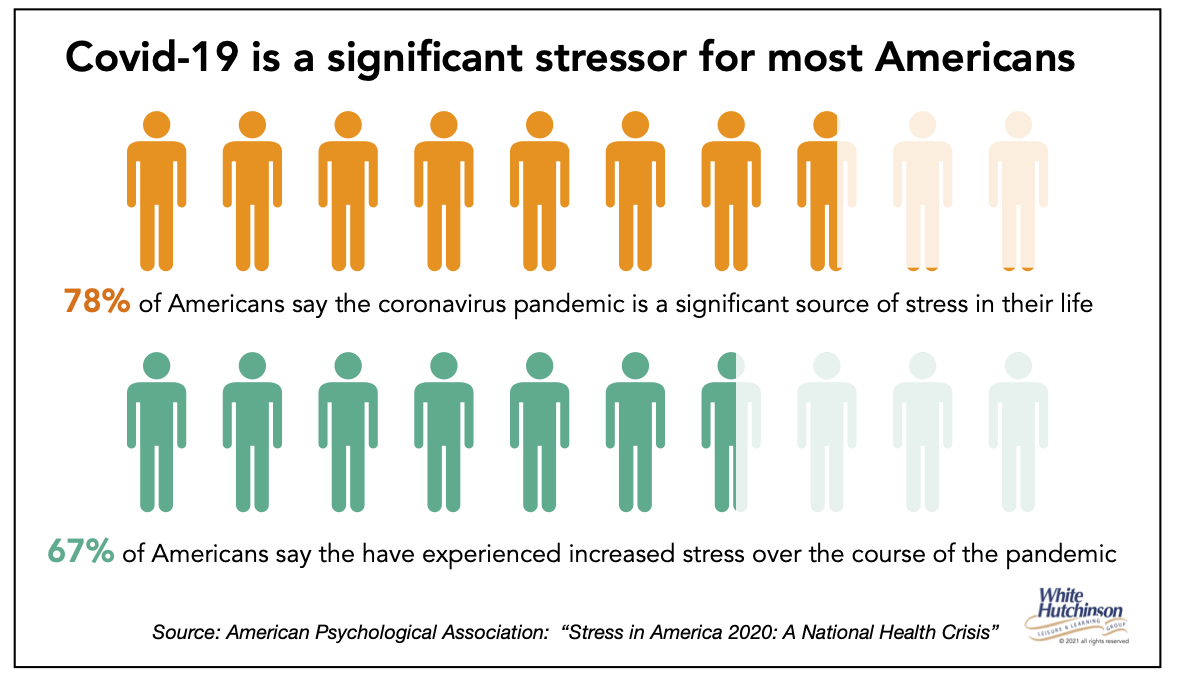 Likewise, last month, CivicScience found that two-thirds of adult experienced more stress and anxiety during the pandemic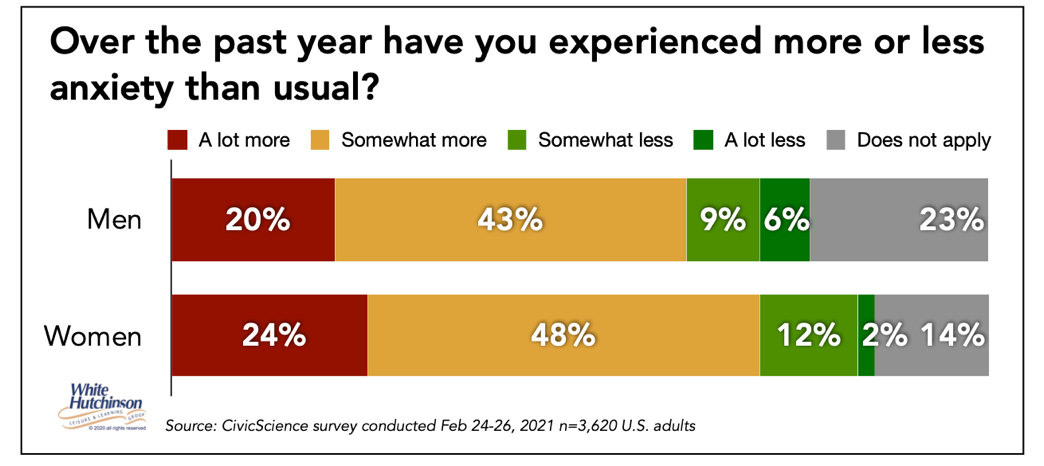 CivicScience polls between December 9th and March 8th found that more than half of adults still report feeling stressed over the past week.
Getting fully vaccinated doesn't flip a switch in your brain, melting your stress away. The lingering psychological trauma will persist neurochemically in our brains, what you might call Covid-PTSD. Many people will continue their newly acquired routines to deal with the continuing stress. "Just because the war is over, doesn't mean that what happened during the war doesn't still activate you, doesn't still haunt you in some ways," says Adrienne Heinz, a research psychologist at Stanford University School of Medicine. For many people, even when they again venture into the outside world they consider safe from the virus, the newly acquired habits will be permanent replacements for some of the time spent with pre-pandemic activities.
An early March Ipsos poll found that not everyone who previously participated in OOH leisure activities is now looking forward to doing them again. More than one in four people who said they previously attended sports and music events, cinemas, and theaters say they are not at all or not much looking forward to doing them.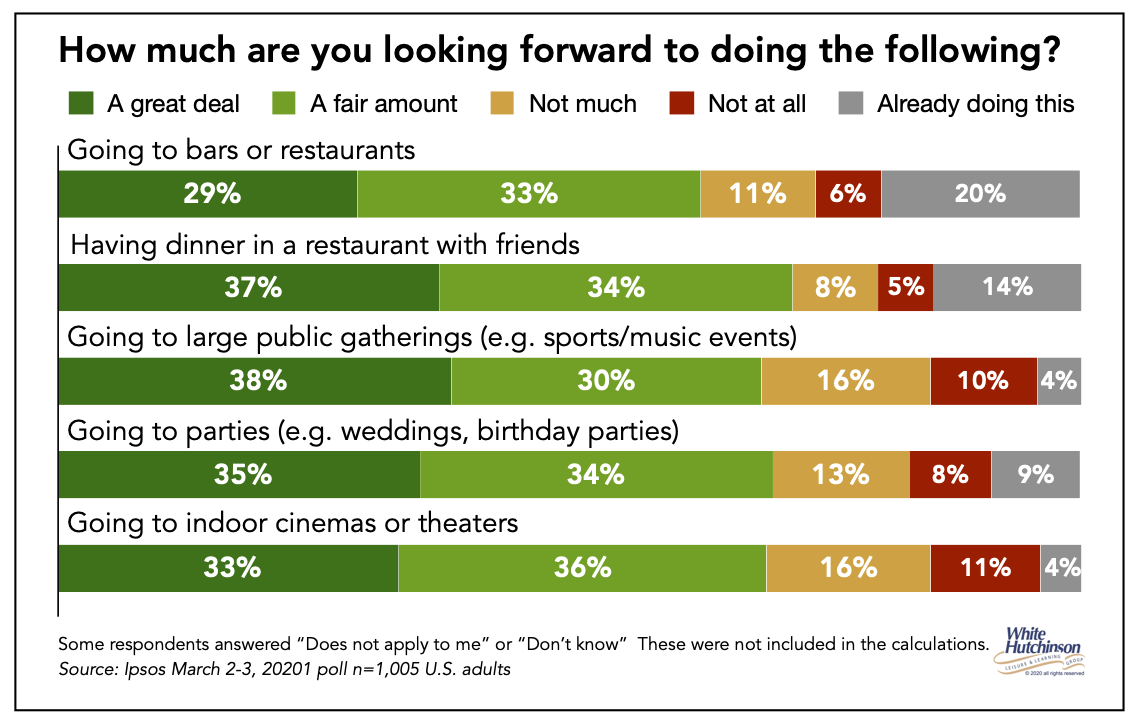 Many behavior changes acquired during the pandemic may well be here to stay. MRI-Simmons' research found that 60% of people say the pandemic could change the way they act permanently. More than half (57%) said they started using new technology that they'll continue to use. Almost half (48%) said there are things they used to do they'll never do again.
The demand for many OOH leisure activities, including dining in restaurants and attending LBEs and sports, may be permanently reduced long-term.
Financial impact
The pandemic has been financially devastating for some Americans while leaving others virtually unscathed or even in better shape.
More than 4 in 10 adults (44%) report having been laid off/lost a job or had to take a pay cut or both.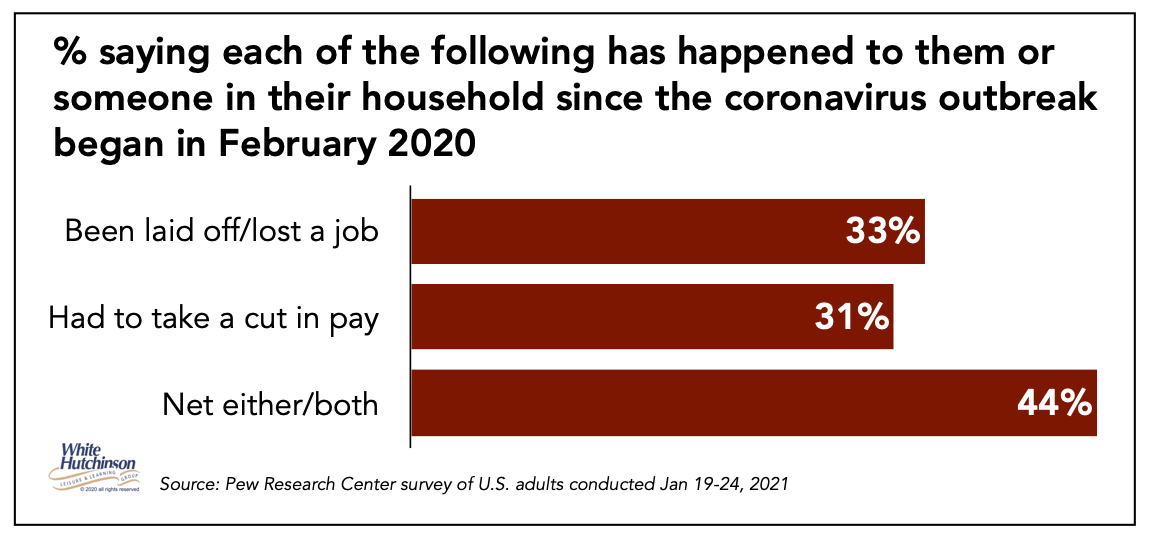 Greater than four in 10 Americans (43%) say they're still feeling the financial impact of losing a job or income within their household more than one year into the coronavirus pandemic.

The most recent Census Bureau Household Pulse Survey found large groups of Americans are currently experiencing financial hardships, including food insufficiency, getting behind in rent or mortgage payments, and difficulty paying usual household expenses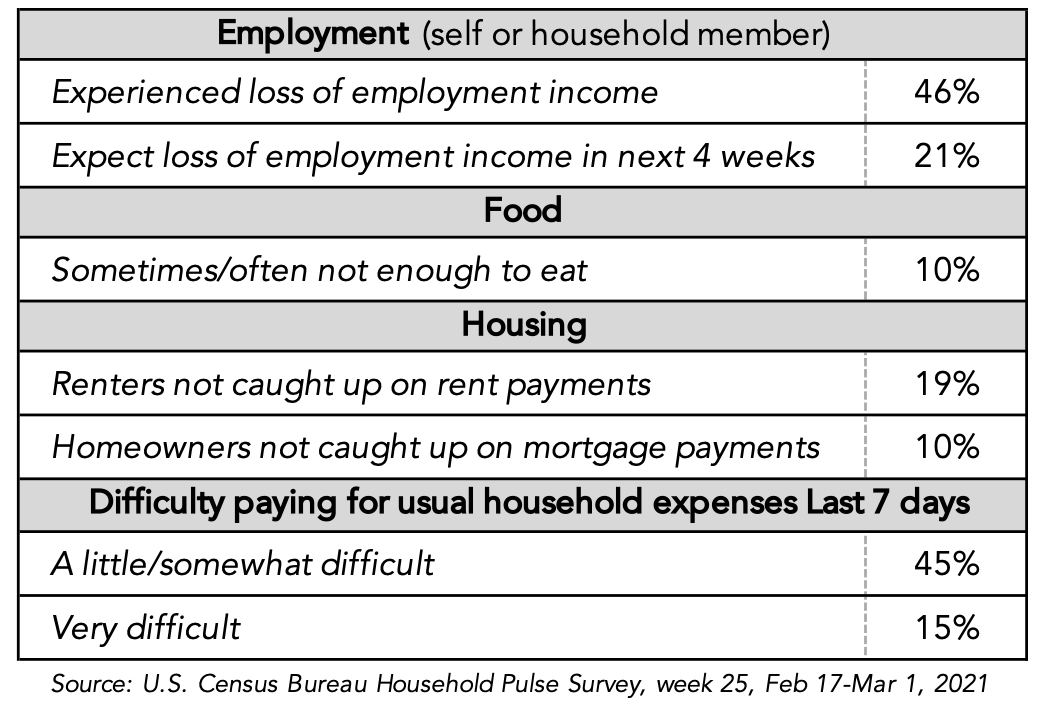 Nearly one-third of adults (32%) say their household's financial situation is currently poor.

More than half of non-retired adults see a harder long-term financial impact due to the pandemic. It's 40% even among households that didn't experience a job or wage loss.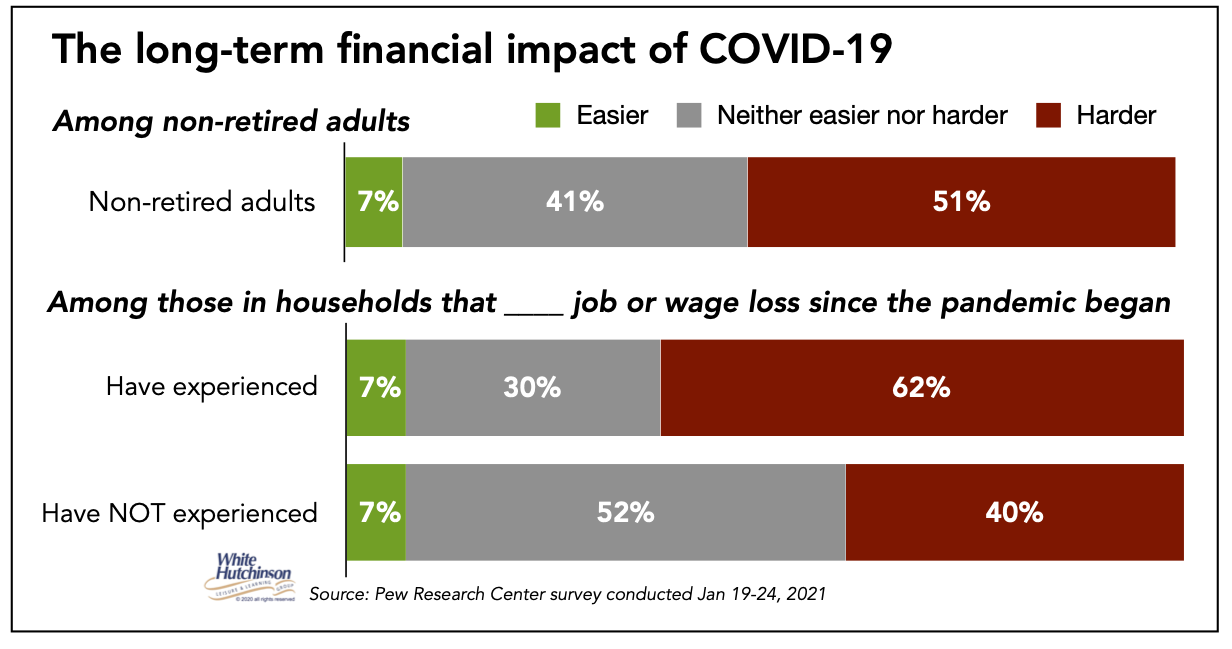 It will take most of these economically struggling Americans years to pay off overdue bills, newly acquired debt, restore savings and retirement accounts, get reemployed, even get back to their prior incomes. Even with a robust economic recovery brought on by the recently enacted American Rescue Plan, it may not be until 2024 that most of these households economically recover. In the meanwhile, their discretionary spending for OOH leisure activities will be severely limited.
Renovated nests become sanctuaries
Two-thirds of homeowners have made the most of corona-time by investing in their homes. The vast majority say their investment results from wanting to make their living spaces more comfortable and suitable for their new lifestyles, according to an OnePoll survey.
A February 2021 CivicScience poll found that nearly four in 10 homeowners (41%) plan significant home improvements in the next six months.
Many homeowners are doing maintenance, replacement, repair, and remodeling work themselves. The Home Improvement Research Institute found that in February 2021, 62% of homeowners have started a new DIY project, and nearly two-thirds of DIYers (64%) are planning to start a new project in the next few weeks.
The home has become the new sanctuary for many home-owning households, as they have spent the year remodeling indoor spaces, prioritizing outdoor space, cooking in cozy kitchens, and looking for ways to combine – and separate – their work and home lives. A February OnePoll survey found that nearly three-quarters of people (73%) who have invested in repairs and remodeling to their homes during the pandemic feel more pride in their homes. Almost two-thirds say they are the happiest they've been with the homes—ever. More than two-thirds of these proud nesters (66%) believe they'll spend more time post-pandemic at home because they've fallen in love with their homes. More than a third (37%) describe their redecorated homes as sanctuaries for themselves and their families.
Harris polls found that three-quarters of Americans (75%) said they learned during the pandemic that they prefer socializing in smaller group gatherings at home over going out to bars or restaurants. Three-fifths (59%) said they didn't miss going out to bars to socialize as much as they thought they would, and six in 10 (60%) said they've learned over the past year "how much they love entertaining at home in small pandemic pods."
American's new-found love for spending time in their homes and socializing there is sure to continue into the post-pandemic era.
Turning the corner
Although we may be turning a corner and the light at the end of the tunnel is looking closer, there's still a lot of murkiness when life will transition to the post-pandemic era and what life then will look like.
With the reluctance of many people to return to their pre-pandemic OOH leisure activities even after being fully vaccinated, new behaviors and habits developed during the pandemic will be continuing into the future. Between the discretionary spending restrictions some people will have and people's increased love and enjoyment for just staying home in their remodeled sanctuaries, OOH leisure destinations face a new post-pandemic reality. Some people will rush back to their old OOH leisure activities. But for the majority of people, it will be a slow and gradual return, and some will not return at all to some of their previous OOH pastimes. It could be a lengthy recovery period.
The size of the out-of-home leisure market, and especially for location-based entertainment, may very well shrink. Based on people's changed believes, values and preferences, there will be a redistribution of the remaining demand among different types of LBEs. Whatever competitive advantage a LBE held in 2019 is no more. All LBEs will be start-ups in a new post-pandemic competitive landscape.