The charts below show the percent of all adults and Millennials (born 1981-1996) who said they were very or somewhat comfortable visiting different out-of-home public activities from the middle of August when the lowest percent indicated they were comfortable through the past weekend. The comfort percentages are overlaid on the 7-day rolling average of the number of U.S. coronavirus infections (in gray).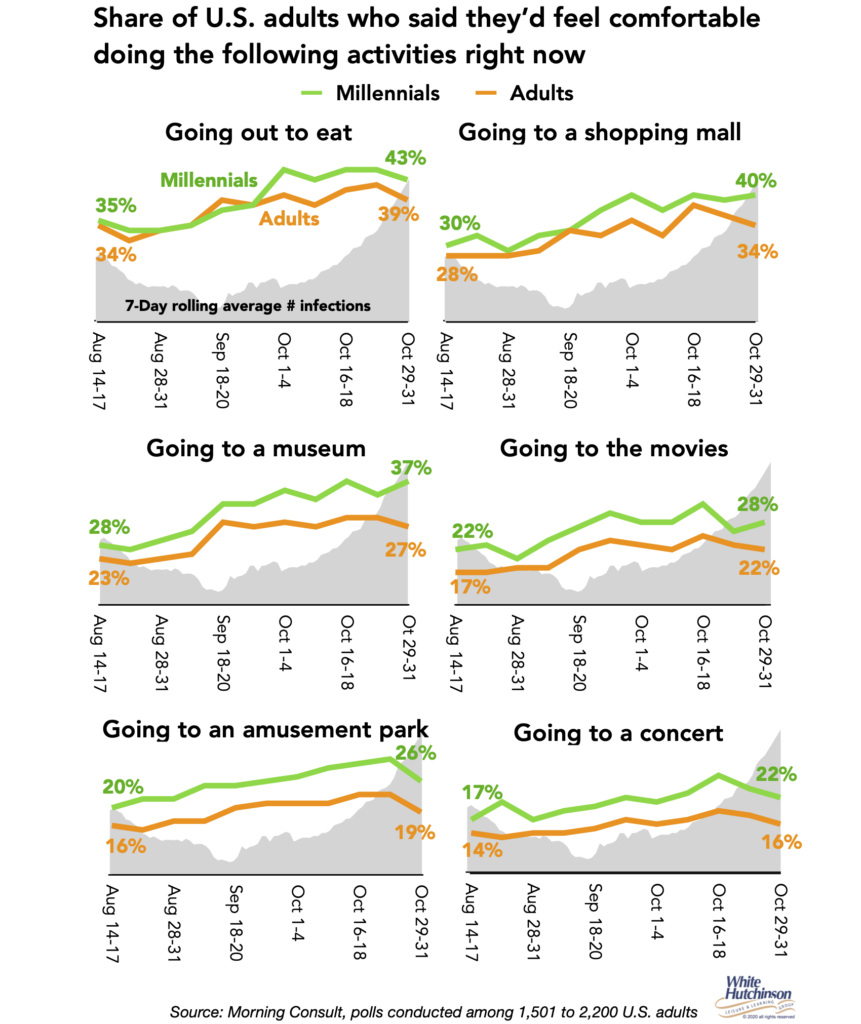 For all adults, there was a decline in comfort as infection numbers surged. It looks like the decline in comfort started when infection numbers reached approximately the level they were back in mid-August.
What doesn't fit that pattern is Millennials going to museums and the movies. Despite the rising number of Covid-19 infections, their comfort levels show an increase this past week after a decline the week before. We'll have to wait until the next poll to determine if that anomaly is a longer-term trend with that generation.
There aren't any polls tracking the comfort of visiting community-based LBEs such as family entertainment centers (FECs), bowling centers, laser tag, etc. Polls have shown that museums are consistently rated the safest for all the different types of out-of-home entertainment and cultural venues. It is probably reasonable to assume that the comfort of visiting community-based LBEs will fall somewhere between the comfort of museums and the comfort of amusement parks. Both allow freedom of movement, which gives people more control of their social distancing versus concerts and movie theaters. Although mostly an outdoor experience, amusement parks have consistently been rated low in comfort, perhaps due to their crowding. Since we see a definite decline in comfort for visiting both of these venues, it is safe to assume there is also a decline in visiting community-based LBEs. I estimate that less than a quarter of all adults and around one-third of Millennials currently feel very or somewhat comfortable attending a community-based LBE.