When I examine the polls and surveys on what location-based leisure activities people miss the most and which will be the first they return to after being bunkered down in their homes for so long, dining at a restaurant is consistently at the top of the list, much more so than visiting a location-based entertainment venue (LBE) or cultural institution.
An August 28-30 Harris poll found that over two-thirds of adults (68%) say they miss dining out compared with just slightly more than one-half missing going to a movie theater (51%) or attending events like concerts, theater and sporting events (55%).
An August 28-31 Morning Consult poll found that 35% of adults currently feel very/somewhat comfortable going out to eat at a restaurant or café, a far greater percentage than feel as comfortable attending cultural venues and LBEs.

Three different polls at the end of August and early September found that between 35% and 49% of adults say they will be comfortable eating at restaurants within the next month, a much higher percentage than felt comfortable attending museums and LBEs.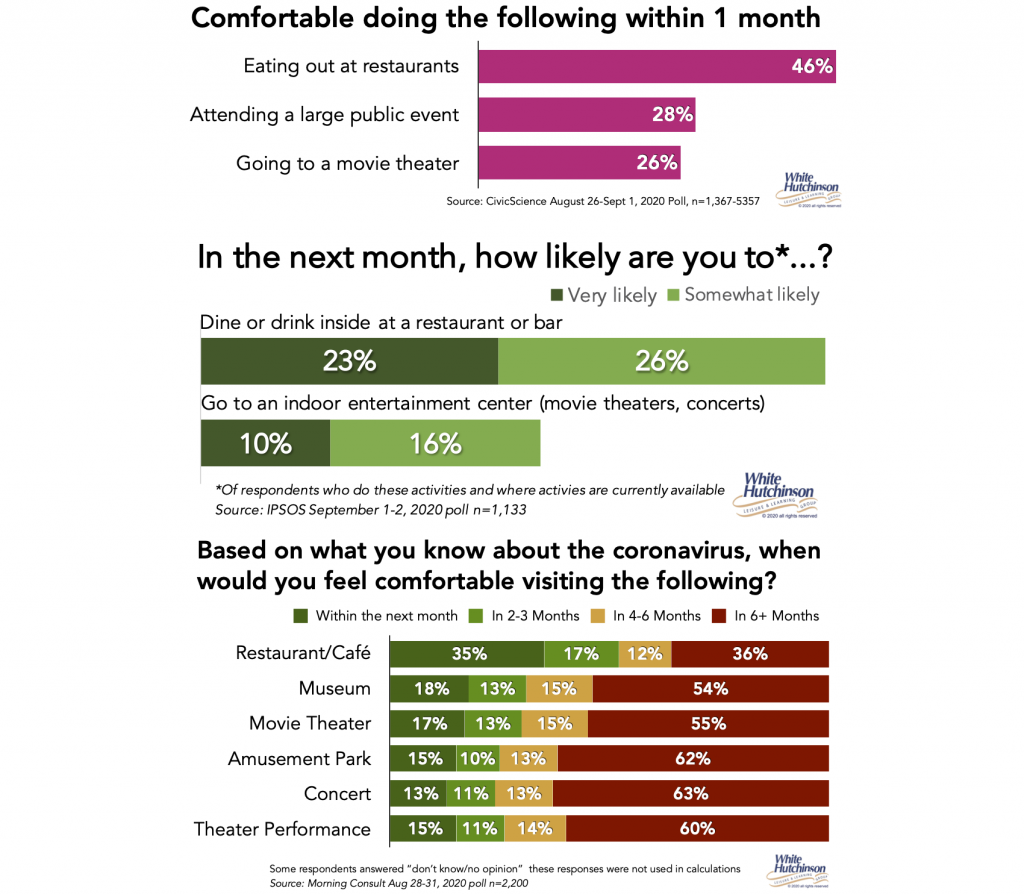 It's no surprise that people miss going to restaurants the most and are more willing to dine out now versus other leisure venues. Social dining is a quintessential human experience shaped by evolution. Cooking at a fire extended the waking day into the evening for our early ancestors, freeing up daytime for foraging and other essential activities and moving social time to the evening when they could eat and talk around the campfire. The semi-dark may have made evening social activities more 'magical' and engaging, giving rise to a preference for carrying out such activities in the evening. Social eating evolved as a mechanism for facilitating social bonding. As a social species, we're programmed by evolution to perceive food as a social experience as well as nourishment.
This important function of social dining was confirmed by Robin Dunbar in his 2017 research paper, Breaking Bread: the Functions of Social Eating. His research found that social eating makes us feel bonded to others and makes us feel better about ourselves when we share a meal. He also concluded that evening meals at which laughter and reminiscences occur and alcohol is drunk are especially likely to enhance feelings of closeness.
A Morning Consult poll found that the number one thing people currently miss about dining out is socializing with friends and family, followed by food they can't or haven't made at home. Similarly, a Fourth survey found that the number one reason people eat at restaurants is to socialize with friends and family. We're social creatures by evolution. We're hard-wired to get together with other people face-to-face sharing and enjoying food and drink. So, it's only natural that social dining currently has a stronger appeal than LBEs and cultural activities.
Another factor contributing to the higher appeal of restaurants is that pre-pandemic, it was one of our most frequent out-of-home (OOH) leisure activities. Back then (which now seems so long ago) according to NPD, there were approximately 185 annual per capita visits to restaurants. The National Restaurant Association found that 38% of 2019 restaurant visits were for dine-in (The rest were for carry-out, drive-thru and delivery). That would mean per capita dine-in visits averaged 70 per year. Of course, some segments of the population; especially the higher-socioeconomic, young adults and childless households; dined at restaurants multiple times that, and others far less. Although prior habits can lose appeal after long extended periods of being restricted from doing them (such as during the pandemic), those that were the most routine, those activities that were most frequent, and those that fulfilled multiple needs (such as nourishment and IRL social connection) will continue to be missed and be the first people will crave returning to. Getting stuck at home so long with nothing but at-home meals and being socially isolated IRL also increases the desire to dine out again for not only the food, but its social dimensions.
Pre-pandemic research by Technomic found that in a world where technology often replaces face-to-face interactions, consumers seek greater connection to others and the world around them. They're looking to the restaurant experience as a way to forge deep, meaningful social connections with friends and family, no different than our ancestors did. Three-quarters of surveyed adults (75%) agreed, "I enjoy the social aspects of dining out at restaurants." Three-quarters (76%) also agreed that "Visiting restaurants is a form of entertainment for me."
A significant portion of people prefer visiting restaurants over attending LBEs. A YPulse 2016 survey found that nearly 8 in 10 millennials (78%) prefer going out to a restaurant more than other options, including various entertainment venues.

During and after the pandemic, restaurants will continue to have strong appeal. They are the primary competitors to LBEs. Evolution did not program us to bowl, whack golf balls, play escape games or play arcade games. Although some of those activities are social, they lack the primal "gather around the campfire while you dine, drink and socialize" predisposition evolution programmed us to do.
Pre-pandemic, the LBEs that were proving to be the most successful were the ones that also incorporated a dining and drinking experience (sometimes referred to as social eatertainment). In fact, for most, the food and drink was the primary draw, typically the majority of the revenues, and the entertainment was the icing on the cake. The combination of the food and drink and interactive social games raised the fidelity of the social experience. Preferably, the food and beverage will be enjoyed at the same time the interactive social games are played. The second best is to offer a debriefing experience after the play with social dining and drinking.
Research by Technomic found that 70% of consumers prefer to visit eatertainment venues over typical casual dining restaurants for group occasions. "When they get together in groups, they want to do something, and eatertainment is meeting that need," said Technomic managing principal Joe Pawlak. Those group and celebratory events can range from birthday parties (not just for children), corporate groups, team building, anniversary parties, award ceremonies, to even weddings.
LBEs that include a dining and drinking experience as part of the mix need to make sure the food and drink are attractive during the pandemic, including people's concerns about catching the virus. First and foremost is high quality, craveable food and drinks that include the elements of adventure and discovery; food and drink that you can't easily make or enjoy at home. People have not lost their 'foodie' desires during the pandemic. Also, people are now seeking sustainable foods and food and drinks that boost their immunity and health (functional foods), developing trends that have been accelerated by the coronavirus.
A McKinsey survey examined consumers' anxiety levels for indoor restaurant dining and what interventions would most reduce their anxiety. The survey found that more than 8 in 10 people (83%) have medium to high anxiety about dining indoors in a casual dining restaurant.

McKinsey found that the most significant contributors to dine-in consumer anxiety are close or active interactions with other customers, followed by touching shared surfaces.
Based on the McKinsey survey and another one by Technomic, to attract people who are in the somewhat comfortable or moderately anxious categories, here are the top things LBEs need to do (in decreasing order of importance to consumers) to make their dining and drinking experience as Covid-19 anxiety-free as possible.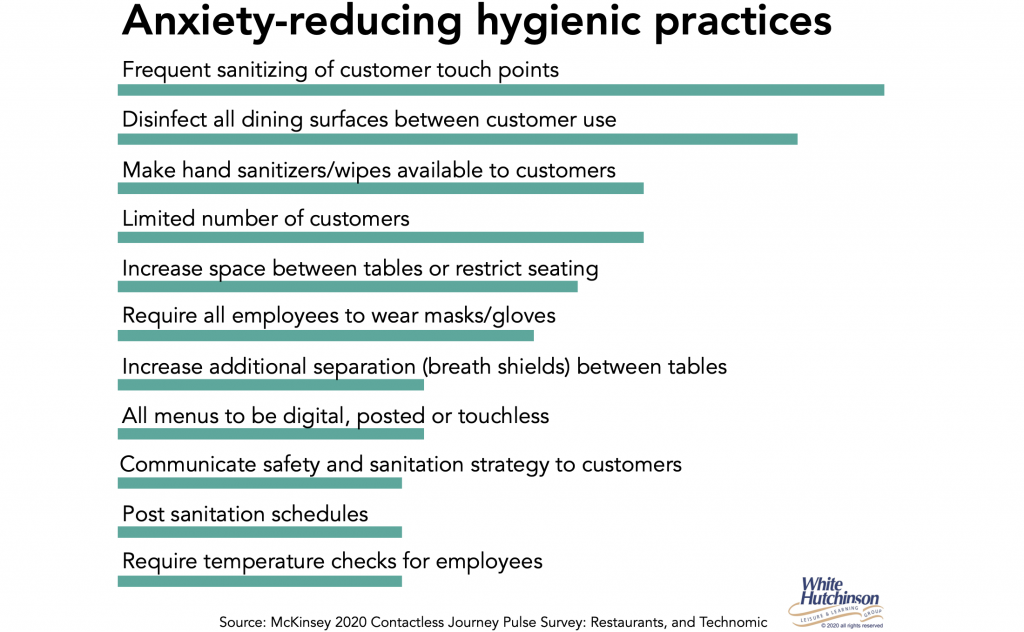 Until infection rates significantly decline and/or there is wide inoculation through a vaccine, the very uncomfortable/highly anxious people will prove difficult, if not impossible, to attract for dine-in.
As one recent article described it, you need to practice "hygiene theater." Whether some of these measures reduce the chance of catching the virus isn't the issue. What is important is what customers believe will make them safe and then to assure them it is being practiced.
Little things can make a difference. For example, most sanitizing recommends leaving the treatment on the surfaces for 3 minutes. When sanitizing a table, wipe it down, set an egg timer for three minutes, and let the alarm go off before wiping it dry, so customers see and hear what is happening. Things not on the list above can also help people feel safer, such as delivering the food to peoples' table covered, or offering a paper bag they can put their masks in when not wearing them.
Those eatertainment LBEs that make the guest dining and drinking experience as safe and positive as possible and broadly communicate their health and safety measures to guests will be able to maximize their attendance and revenues during these trying times. They might even get a competitive leg up on restaurants that only offer food and drink.