This year two major trade organizations changed the definition of their industries. Both are telltale signs of the major digital disruption that is occurring to all types of out-of-home (OOH) B2C businesses, including OOH leisure and entertainment.
According to the National Restaurant Association's latest State of the Industry report, digital technology has changed what makes a restaurant a restaurant. Delivery, drive-thru, and takeout now make up 63% of all restaurant traffic. The NRA says the basic paradigm of what constitutes a restaurant in America is changing and will continue to evolve in the years ahead. They have modified how they look at the industry and now define the industry in terms of "points of access" rather than physical restaurant locations.One recent example is delivery-only operations from ghost kitchens that feature a web storefront but no dining room, drive-thru window or carry-out for customers.
Each year the Motion Picture Association of America(MPAA) reports on the state of the film industry. Previously, their annual reports were almost totally focused on results at the movie theater box office – attendance and revenues at the physical movie theater. This year they have expanded the scope of the report to include extensive in-depth analysis of the home entertainment market, both digital at-home entertainment and physical home entertainment options such as Blu-ray and DVD rental and sales. The latest MPAAreport also now even provides estimates of subscriptions to pay TV and online video services.
The MPAAreport found that movie theaters now only capture one-third of all U.S. consumer film/video entertainment spending.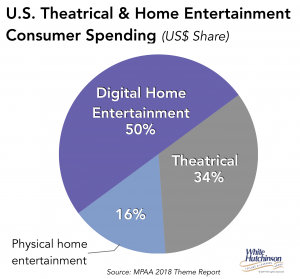 What's happening to the restaurant and film industries as well as to all other forms out-of-home leisure and entertainment is what I call the "digitalization of place." Slowly, leisure culture is changing as we go less and less to a physical OOH destination and is migrating more and more to digital options we can enjoy in our home. As Faith Popcorn, CEO of the BrainReserveputs it, there is a new lifestyle trend underway with Digital Cocoons (people who cocoon in their homes with digital technology).
Just as the movie and restaurant industries are looking at themselves differently – as now encompassing digital and at-home leisure experiences as well as traditional location-based ones, the location-based entertainment industry, which includes family entertainment centers (FECs), needs to do the same and no longer look at their competition as only other location-based venues, but rather as every entertainment experience consumers can have. That is the new entertainment competitive set. The same as the restaurant industry's changed paradigm, the entertainment industry has become multiple points of access of which OOH venues are only one.
All the at-home technology options raise the bar of what it takes to get people to leave the convenience of their homes to visit a physical location for leisure and entertainment. Today, OOH entertainment has to be high quality, high fidelity, to win. Many location-based entertainment business models that worked in the past no longer meet the higher bar that at-home digital technology has created, and that bar is continually moving even higher every day.