Chuck E. Cheese's same store sales have been on a long-term decline for years. Overall comparable store sales have declined by more than one-quarter (-26%) since 2003.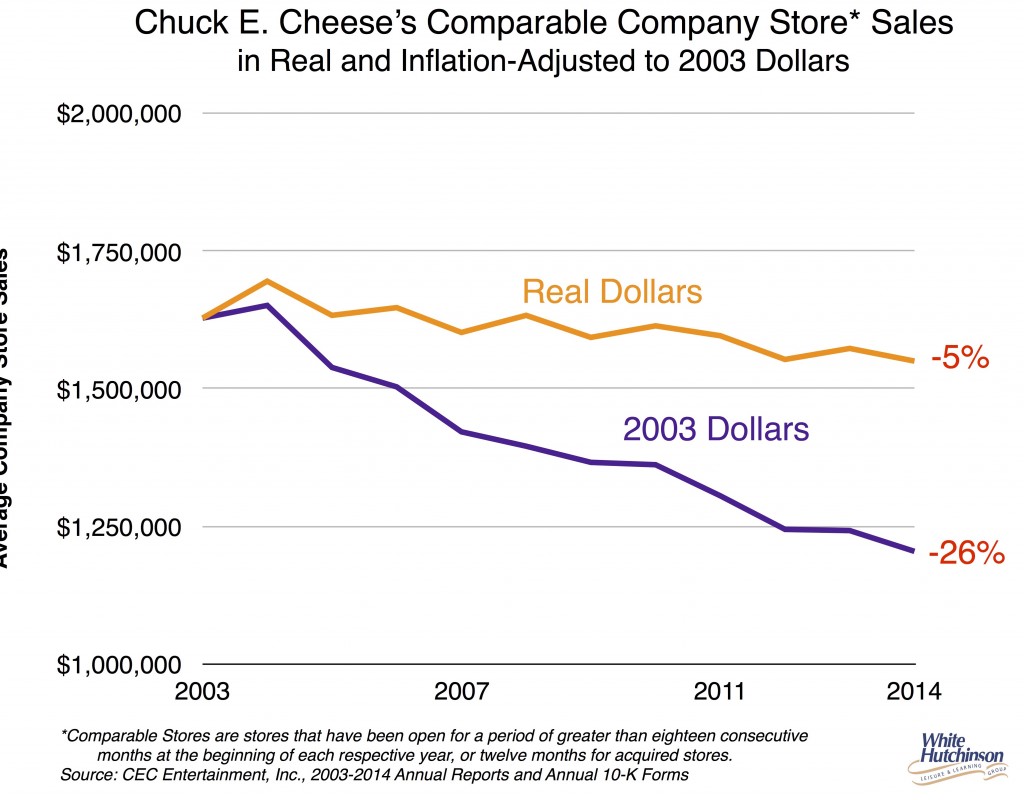 The decline is totally due to a decrease in food and beverage revenues, which have declined by half per store (-52%), whereas entertainment revenues have increased by one-quarter (+26%). CEC is no longer the dining destination it once was.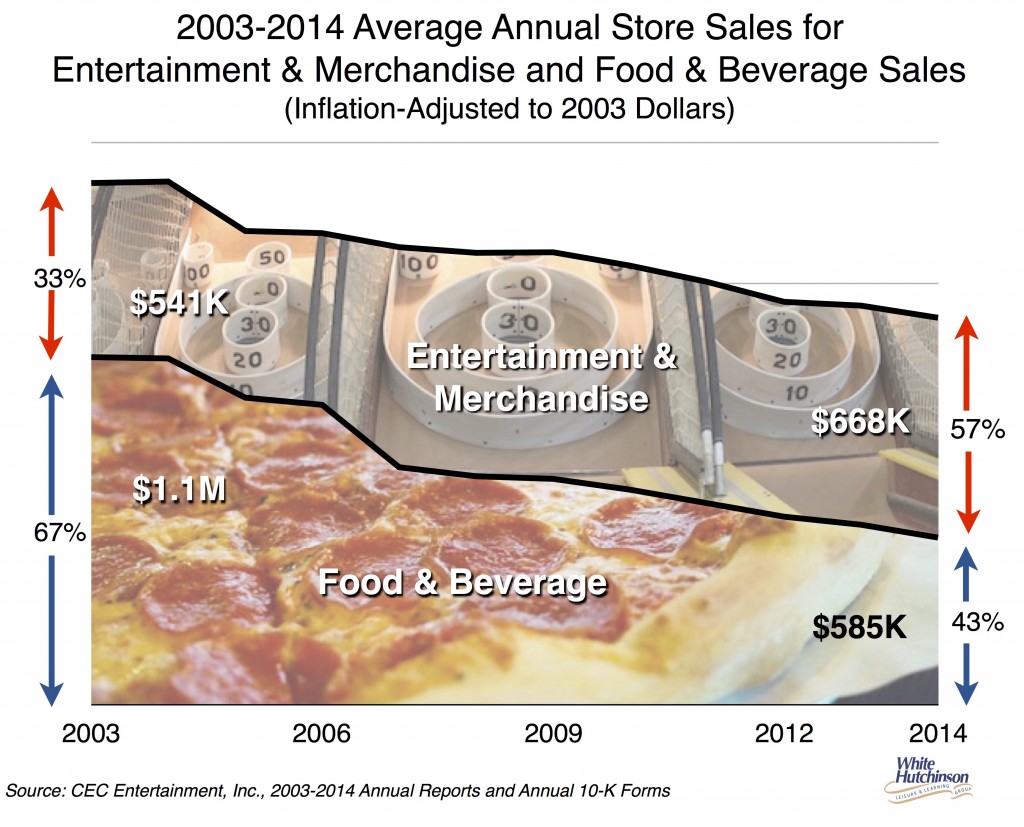 In early 2014, CEC was acquired by Apollo Global Management (APO), a Wall Street private equity firm. One of their first moves to improve the 38-year-old chain's sales was to upgrade the menu to cater to "adult tastes" by introducing new pizza with fresh made from-scratch thinner crusts with "23 fewer calories than a regular slice of pizza" and flavors like BBQ chicken and Cali Alfredo and new whole wheat wraps. Now they've come out with a limited time special mac 'n' cheese pizza available only through the end of the year. They're even experimenting with expanding their extremely limited beer and wine selection (you want red or white?)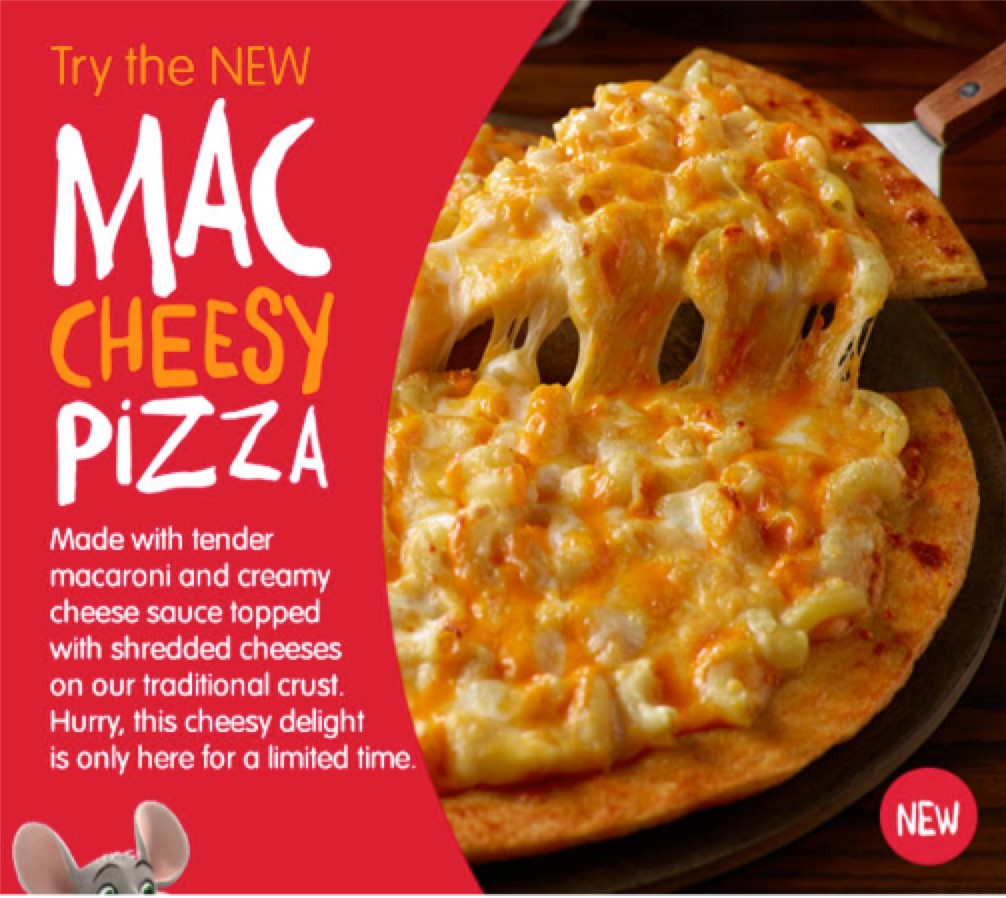 Greg Casale, the head chef at CEC, tells the press that a desire to attract Millennial mothers is behind the menu change. "Her kids know it's a fun place to go, but Millennial moms want to provide that great experience without sacrificing for themselves," he says. "Before she was a mom, she was going to places like Panera and those concepts. She wants something that fits into her millennial lifestyle."
Chef Greg has the right idea, to make a visit to CEC more appealing to the parents and removing their visit veto factor. I've never talked to a single parent who hasn't put a visit to CEC in the dreaded category. But Chef Greg, I really don't think you get it. That mom you said was going to Panera before she was a mom is still going to Panera. And she's going to a lot of other restaurants in the same order-at-the-counter fast casual style as Chuck E. Cheese's including Zoë's Kitchen, Chipotle, Jason's Deli, Noodles & Company plus all the expanding fast casual pizza chains including Pie Five, MOD Pizza, Maddio's, Blaze Pizza, Chipotle-owned Pizzeria Locale and many others. And many times she's going with her children.
Chef Greg, you really need to get out of the kitchen and check out the fast casual restaurants that Americans, including mom and her kids, are loving and eating at on a regular basis. That mom isn't ordering a mac 'n' cheese pizza for herself or for her kids. For mom it's probably a whole-wheat thin crust pizza, many times with healthy toppings, such as all veggies, and for her kids she's watching the calories and looking for a well-balanced meal. And 2015 has brought on her desire for clean food without any artificial ingredients, especially for her kids.
Chef Greg, when you check out those other restaurant chains, make sure you check out the Future Foodies kids menu Noodle's & Company offers. Kids get to pick their entrée, drink and two sides. And all the food has no artificial flavors, colors, sweeteners or preservatives. Many of their kids' meals meet the nutritional criteria of the Kids LiveWell program that many moms know about.
Chef Greg, if you have any doubt about moms desire to see their children eat healthy and nutritious food at restaurants, just check out this photo of the Moms Rising movement. You'll notice they're all those Millennial moms your company so desires to attract and they're campaigning for nutritious and healthy restaurant food for their children.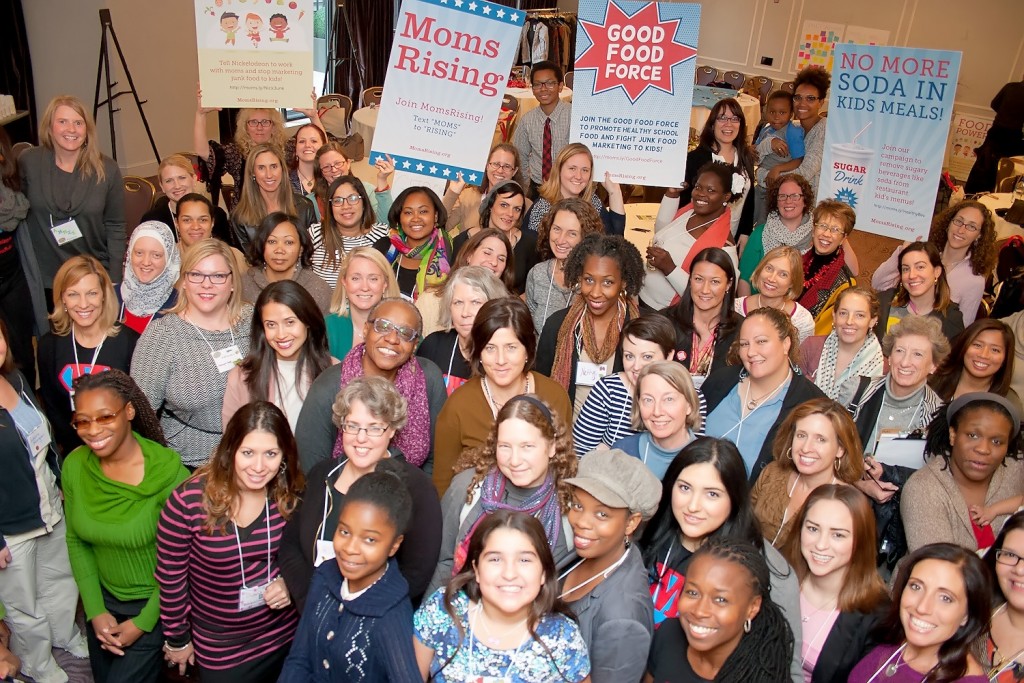 Chef Greg, Chuck E. Cheese's is stigmatized from all the horrible food it offered parents (and their children) in the past. Your new menu is still so in the past. It's a 2005 menu in 2015. If you want to change your image and attract those Millennial moms, you need to radically change your food offerings to match their 2015 expectations based on all the other restaurants they visit and their contemporary sophisticated food preferences. Stigmas are not removed with incremental changes.
Chef Greg, you need to do your research, and when you do, you will find many of those Millennial moms are foodies and sharing foodporn on social media. If they do take a photo of your mac cheesy pizza and post it on social media, I'm pretty sure it will get a label along the lines of 'yuck'.
Aaron Allen, global restaurant consultant at Aaron Allen & Associates, has this to say about Chuck E. Cheese's, "It's the Blockbuster video of the restaurant industry," referencing the video rental chain that was eventually undone by streaming video and the Internet.
Greg Chef, if you don't want Allen's prediction to come true, you need to upgrade CEC's menu to one moms will love and one they will want to feed their children. Get real!