The National Center of Health Statistics recently released final data on 2011 births. The data shows that the annual number of children born in the U.S. has declined by 364,000 or 8% since 2007. It is believed that the economic conditions brought on by the Great Recession triggered the baby bust. No one knows whether the recent baby bust is the beginning of a long-term trend.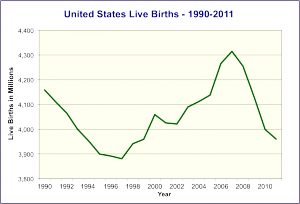 Births declined in every state except Alaska and North Dakota where the oil drilling boom has brought on a significant population increase. Arizona ranked worse with a 17% decline in births.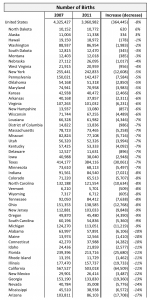 The decline in births doesn't necessarily foretell the death of children's entertainment centers. The data is for large geographic areas. Within many metropolitan areas there are older areas with declining births and numbers of younger children and other younger and growing neighborhoods with increasing number of births and younger children.
There will continue to be viable markets for children's entertainment centers. However, there will be less opportunities than in the past.
What this means is that market feasibility studies for new children's entertainment centers need to carefully examine the birth trends in the trade area to determine whether the number of young children will grow or decline over the life of the center, how that change in births breaks down for the socioeconomic households that are the target market and what then are the implications for long-term profitability.