Our February 2013 Leisure eNewsletter featured an article, Evidence that the staycation trend is both real and long-term. In that article, we examined household entertainment participation and spending on trips and found that since the year 2000, overall participation has dropped 34% and average spending has dropped 38%.
The National Park Service just released 2012 attendance data for recreational visits to U.S. national parks. We examined annual park visits back to the year 2000 and found additional evidence of the staycation trend. Overall attendance is only down one percent over the 12 years. But when you adjust for the population's growth and calculate visits on a per capita basis, attendance has declined by 11%.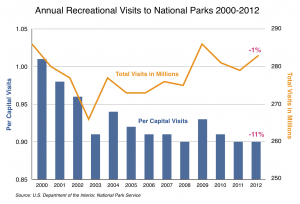 The decline is not as dramatic as it was for entertainment venues, perhaps since national park visits can be more affordable and some parks are visited on day-trips to locations close to home. Nevertheless, the attendance pattern seems to support the long-term staycation trend we found with visits and spending at entertainment venues on trips.