In March, the US Food and Drug Administration (FDA), which regulates food safety for the federal government, recommended discontinuing self-service buffets and salad bars until the pandemic subsides. Officials said this was due to the communal serving utensils, which are frequently touched by multiple patrons who may be contagious, as well as the crowds that can form around some items without social distancing. On top of the federal guidelines, at least 38 states and Washington D.C. have also issued rules restricting buffet service.
The FDA guidelines note that Covid-19 is not thought to be transferred by the food itself, but rather through respiratory droplets from people in close contact.
Nearly three-quarters (73%) of U.S. adults say that they previously frequented restaurant buffets. Among them, a whopping 75% of typical buffet-goers say they'll be less comfortable with the shared food concept in the years to come. Women are less comfortable returning to buffets post-pandemic than men and the level of comfort decreases with age.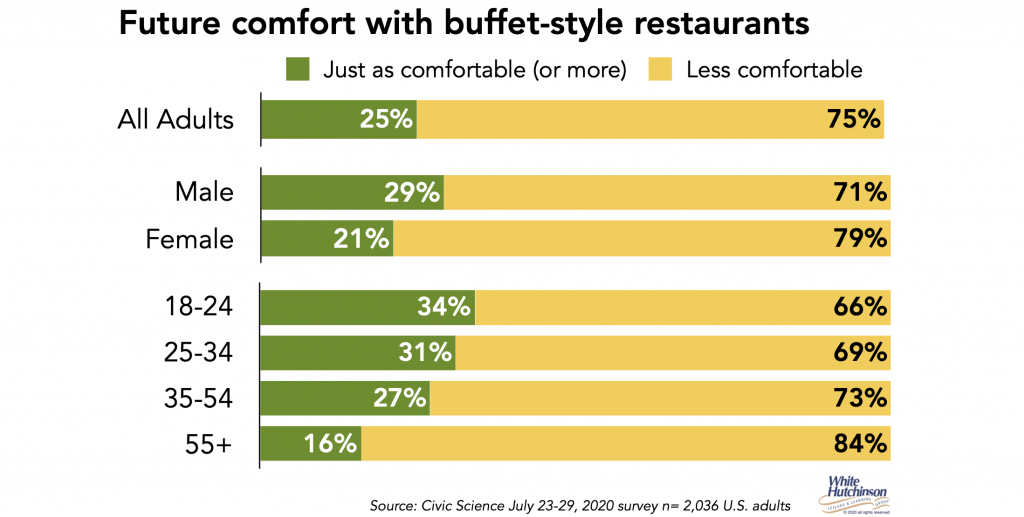 We're seeing the extinction of buffet-style restaurants. Garden Fresh Restaurants, which owns the Souplantation and Sweet Tomato buffet restaurants, has filed for bankruptcy. Many other buffet restaurants have closed. Others are changing their food service models to cafeteria or table service.
Pizza buffet-entertainment centers have been a small segment of the family entertainment center (FEC) industry. The largest FEC pizza buffet chain, John's Incredible Pizza, has been revamping its massive buffet to operate safely during the coronavirus pandemic by shifting to an all-you-can-eat table-service restaurant model. Customers now order their food using the John's app and all of the food is brought to their tables.
Where the elimination of buffets affects almost all FECs, as well as many other types of location-based entertainment venues (LBEs) is with corporate and group events. Group events have traditionally represented around 30% of revenues. Traditionally food service at group events has been buffet style, which is an efficient way of serving large numbers of people with little to no labor permanently required at the buffet line.
Most FECs and LBEs are not set up to offer individual plated service. Also, at many events, food is served over a period of time rather than everyone sitting down and eating at the same time.
One option to replace the self-service buffet is to set it up cafeteria style, where staff is behind the food line and they dish selections out to each attendee as they indicate what they would like. The one issue with cafeteria style is it can still create a long queue of people waiting to be served and makes maintaining social distancing very challenging.
The best option is to have a number of individual serving stations distributed around the meeting space, each with different selections, much like the separate meat carving station that you often found at buffets. Pre-Covid, one of our clients found this to be a very efficient way to give a more upscale presentation to group food service versus the tradition buffet line.
Regardless of whether it is cafeteria style or individual serving stations, labor cost will be higher than for a buffet due to the additional staff that will need to be serving the food.
This is just one of a multitude of changes that FECs and LBEs will need to make to operate in corona-time and probably even post-pandemic, as the above poll indicates due to a permanent heightened fear of catching some disease that the pandemic is causing some people to develop.