Our company has been conducting extensive research about how digital entertainment and social media are shrinking FEC and location-based entertainment (LBE) venues' market share of both leisure time and discretionary spending. We have been reporting our findings in both our Leisure eNewsletter and in presentations. Now along comes another form of competition to LBEs.
The other day I had a chance to visit the new Scheels 220,000-square-foot sporting goods store that recently opened in the Overland Park, Kansas area of the Kansas City metro. You might call the store a mega-big box sporting goods store at its 5-acre size. It is the latest addition to Scheels' 25-store chain located in 10 states.
Unlike a typical sporting goods store or department store, Scheels has a collection of entertainment venues in addition to its sports and sportswear. And the entertainment is FREE!
The free entertainment includes a huge 16,000 gallon aquarium, a 65-foot operating Ferris Wheel, photo opportunities, a wildlife mountain, shooting galleries, a soft-containment play unit for children, mini-bowling, laser shot shooting and sport simulators for golf, soccer, hockey, baseball, football and basketball. There are also two fully animated, talking US Presidents.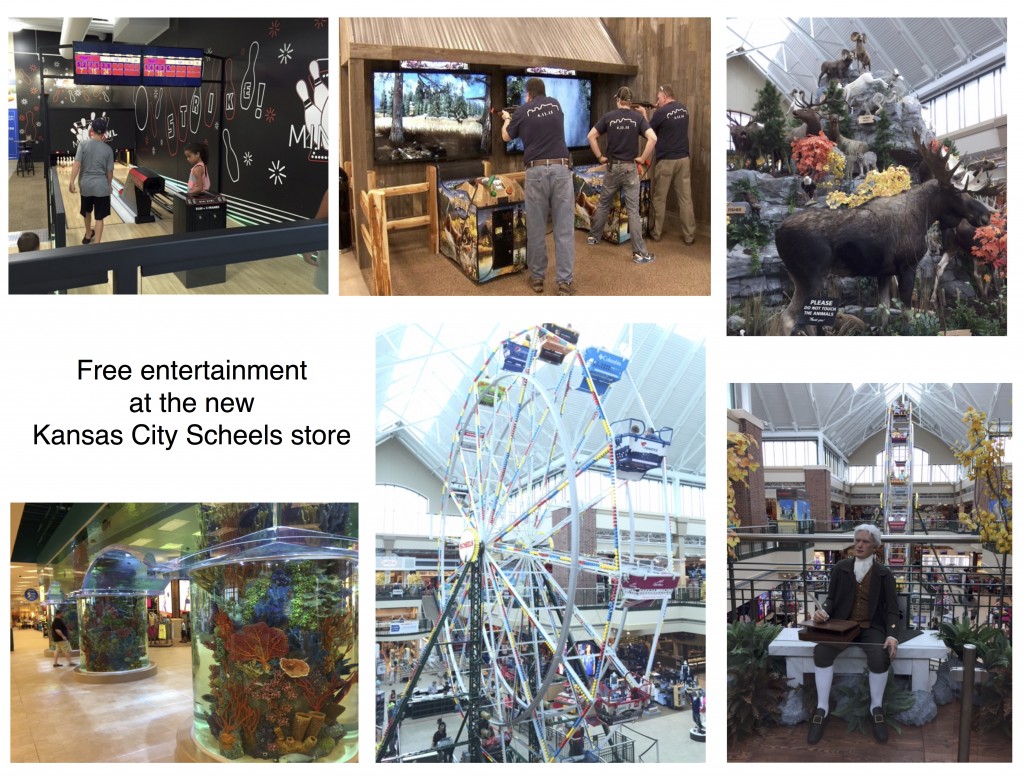 And in addition to the free entertainment, there is a deli and fudge shop serving gourmet soups and sandwiches, Starbucks coffee and specialty drinks, 24 flavors of homemade fudge and 18 flavors of gelato (these you have to pay for).
So just think about it. You have a 5-year old girl and a 10-year-old boy and you're looking for somewhere to go with them one night or on the weekend. Go to a family entertainment center or go to Scheels? I have a feeling both mom and dad would pick Scheels where the kids can be entertained at no cost, the parents can get their Starbucks fix (I'm still suspicious that Starbucks adds some special additive substance to their coffee) and maybe do a little shopping as well.
Scheels is not alone in non-entertainment businesses attracting people with entertainment. It's a major trend in retail called retail-tainment or experiential retail. Today to get buyers away from their screens and online retail and out of their homes, you need to offer more than just stuff to buy. You need to offer them an experience. Just think about places like Build-a-Bear, the Disney Store or the Apple store. It's an experience to go there. Scheels has just raised the bar higher with their pure free entertainment offerings.
It's not just retailers who are becoming experiential. The major mall and lifestyle center developers understand that to drive traffic past their stores, they need to also offer an experience and entertainment. And many are now programming FREE entertainment into their projects, whether it's a free children's play area or movies on the lawn at night as just two examples.
This is raising the bar for FECs and LBEs of all types. With expanding free attractive options for entertainment and experiences, FECs and LBEs now need to offer something even better, something with Higher Fidelity in terms of the overall experience, if they expect people to show up and actually pay for it.