Nation's Restaurant News magazine and WD Partner's undertook a comprehensive study of customer attitudes toward 139 different restaurant chains. Eight different dimensions of attribute were measured. One common theme emerged for all types of restaurants, the relative unimportance of value compared with other attributes. Consumers said attributes such as cleanliness and food quality were more important to them than value.
In the Limited-Service Pizza/Italian restaurant category that covered eleven restaurant brands, Chuck E. Cheese's had the lowest rating of all the brands in five of the seven attributes measured and came in second lowest in Likely To Recommend or Likely to Return (Sbarro had the lowest score for each).
The chart below shows the scores. Scores are based on the percentage of respondents who choice 1 or 2 out of a five number scale with 1 being the highest rating.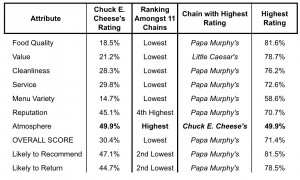 It is amazing that with such poor ratings CEC Entertainment, the owner of the vast majority of Chuck E. Cheese's and the franchisor of the rest, is so profitable with consistent EBITDA's in the mid-twenty percentages and good cash flows. You would think with Chuck E. Cheese's low rating on cleanliness that mom's would keep their children away in droves.
The explanation for CEC's success is probably attributable to the fact that it ranked higher than any other chain in its category for atmosphere. Atmosphere to the survey respondents most likely reflects the entertainment, the games. It appears that the presence of the entertainment, which generates approximately 50% of CEC sales, has an appeal to customers that overcomes CECs other shortcomings. That would make CEC's formula, 'Come for the fun and stay for the food, even though our food isn't good quality, we don't offer great value and we aren't the cleanest restaurant in town.' Sounds a little counterintuitive, but their eatertainment formula does work.
Chuck E. Cheese's is working on improving their food quality, as they have rolled out a new fresh dough pizza. If the pizza is improved, it should also increase their value perception.