We're still at the beginning of the pandemic lockdown that is sure to last a number of months. Yes, it may be early to be making predictions on what the post-pandemic, out-of-home, location-based entertainment (LBE) landscape might look like, but a number of trends and likely events will probably shape it.
Our company's pre-pandemic February 2020 Leisure eNewsletter included the article Why 2006-2007 was a pivotal date for the disruption of the attraction-based entertainment venue business model. In the article, we discussed the decline in attendance and in repeat appeal that most attraction-based entertainment centers, including most family entertainment centers (FECs), were experiencing wa due to a number of factors including:
The shift from conspicuous consumption of things to conspicuous leisure
Out-of-home leisure experience choices being driven by the desire for status-worthy, shareworthy experiences that can be posted on social media
The self-commoditization of attractions – been there, done that
Dining being considered as an entertainment experience
Over expansion in many markets
The growth of one- and limited-time events
An increased adoption of at-home and digital entertainment
The growth of voracious leisure
In that article we cited the declining comparable sales of Dave & Buster's stores as evidence of the decline in attendance at traditional location-based entertainment business models, such as FECs. With 137 stores, D&B is the second largest LBE chain after Chuck E. Cheese's. D&B has been in business for almost four decades, having opened their first store in 1982. They just released their 4thquarter report for their past fiscal year that ended February 2, 2020, during which none of their sales had yet been impacted by the outbreak of Covid-19. Here's the results for the 4th quarter and the full 2019 fiscal year and a graph showing quarterly results since 2015.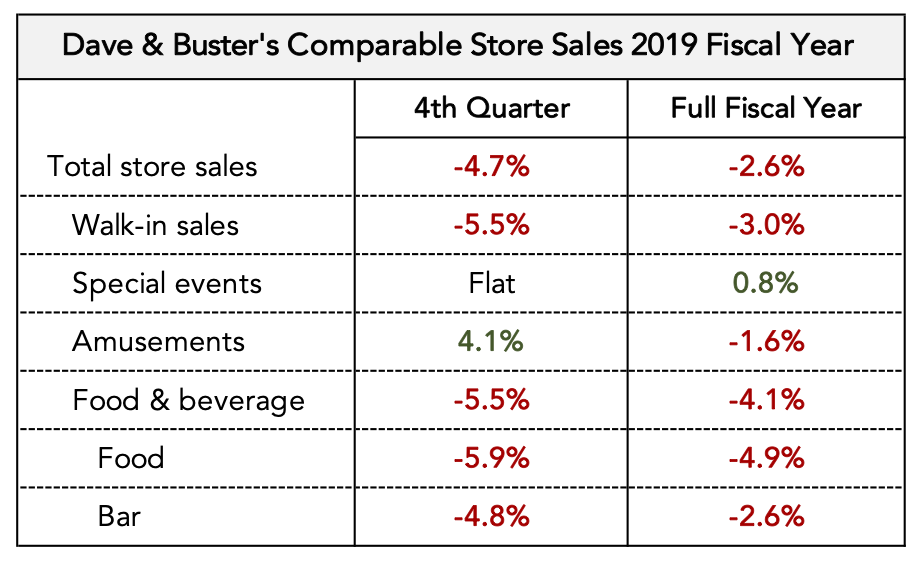 However, the above data doesn't tell the full story as results are not inflation adjusted. Adjusted for inflation, D&B's fiscal year comparable store sales were down 2.8% in 2017, down 2.9% in 2018 and down 4.7% in 2019. That is a clear 3-year negative trend in their comparable store sales. The calculates out to a one-tenth (-10.4%) overall decline in comparable store sales over the past three fiscal years.
Obviously, when we get to the other side of the pandemic and can leave our homes, the out-of-home leisure competitive landscape is sure to have a new normal. Many location-based entertainment venues will not reopen due to insolvency. There will be less competition. The percent of LBE and FEC venues that will go permanently dark will depend on how long the pandemic quarantine and social distancing lasts. However, the behaviors of post-pandemic consumers will be forever changed, and this will impact whether supply and demand will be in balance or not.
The pandemic has accelerated the trend of the increasing use of screen-based and at-home digital entertainment including the adoption of many digital options by people who were non-users before the crisis. Some of that shift is sure to stick. Many consumers will be deeper in debt and cash poor, limiting their purchases of out-of-home entertainment. Unemployment will be higher than pre-pandemic. So, while the out-of-home entertainment supply will have decreased, so will have consumer demand.
And the post-pandemic new normal will not happen at the flick of a switch. Although consumers will be craving the return to out-of-home experiences of all types and face-to-face socialization, the fear of going out into public that the coronavirus instilled in people will not vanish overnight. It will be a slow ramp up to a return to out-of-home public life. And as has been the experience in Wuhan, China after the stay-at-home orders were lifted, some people still refused to leave their homes and developed agoraphobia, the fear of leaving your house.
All these factors make it highly likely that the location-based entertainment businesses that make it to the post-pandemic world will still experience a highly competitive landscape where supply will exceed consumer demand for at least some time. The ones left standing may find that initially at least, competition for consumers' attendance and spending might in fact be fiercer than pre-pandemic.
In future blogs I will be discussing other predictions and some considerations and strategies for LBEs and FECs to be successful in the post-pandemic world.