Back in November, in my blog, First mover doesn't succeed unless its also best mover, I compared two first mover community-leisure center (CLV) chains that are rolling out centers across the country, Main Event Entertainment with its new model, and Top Golf. Main Event was the example of a first mover that wasn't a best mover, whereas Top Golf was the example of a best mover.
Point Orlando, a 408,000-square-foot retail-restaurant-entertainment destination on International Drive in Orlando, Florida, originally opened in 1997 and has been under redevelopment since 2007. As part of the redevelopment, it needed another entertainment anchor to drive footfall. Its owners, Brixmor Property Group, finally landed Main Event by making 48,000 square feet available on the ground level under the Regal Cinema IMAX theater.
However, the space was not the standard size, dimensions and shape of Main Events' prototype big box centers they are building from the ground up everywhere else. For one, the space was longer and not as deep. It also had lower ceilings. This forced Main Event to change its design.
I had a chance to visit the center several weeks ago. It looks like Main Event's need to come up with a different design to fit the space at Pointe Orlando may be its good fortune, as the center is a major improvement over its big box prototypes. For one, with a lower ceiling, the space is more intimate. You don't feel like you are in their typical high ceiling, wide-open big box. Different areas have more definition, rather than just being spread out on a big box floor where you see everything from one location. They also did something smart with their bowling. They put family bowling at one far end next to the gameroom and ropes course. At the other far end is the adult area with billiards and an adult bowling area. The bar and restaurant areas separate the family and adult areas.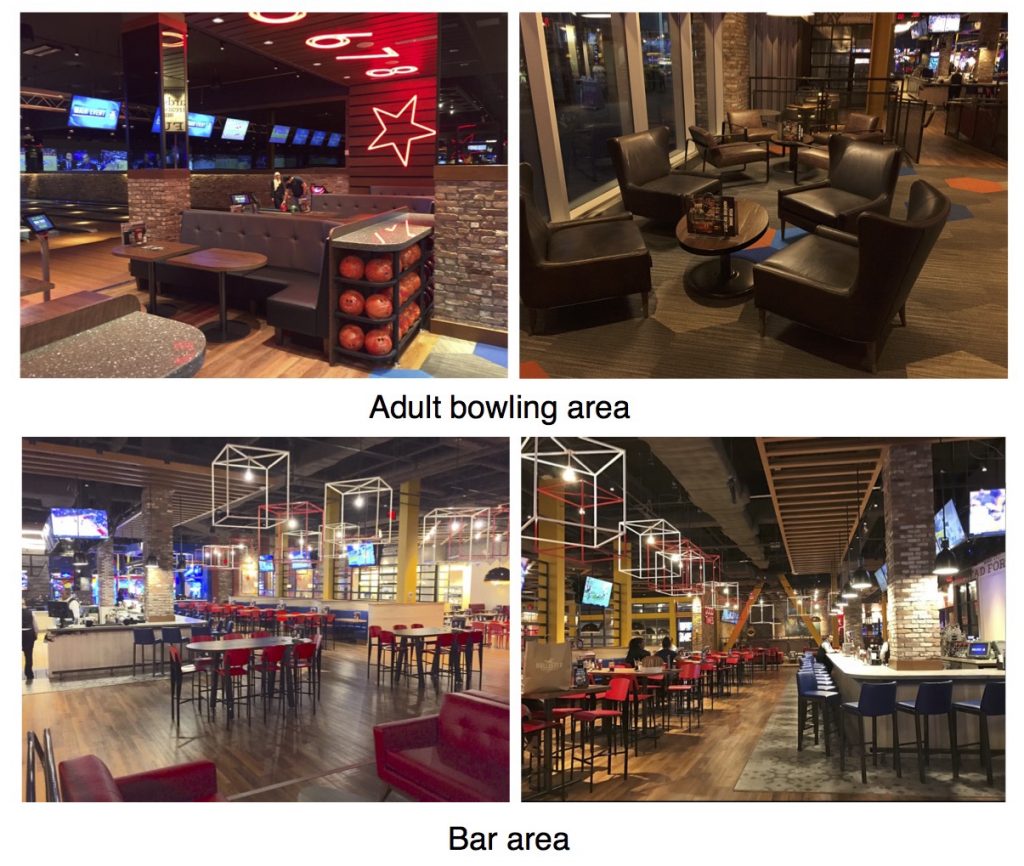 So although they continue to try to follow yesteryear's FEC model of serving two markets at once, families with children and adults (no longer the most successful formula in the evolved specialized age of CLVs that focus on one niche market), at least the two different areas are a better match for each group in terms of separation and specialization.
With the lower ceiling and the different space shape, Main Event ended up with more walls that allowed for far more attractive interior finishes. In fact, they definitely upgraded the interior feel of the space.
They still haven't mastered how to be a destination restaurant, especially with the design, as the restaurant area is just one big space with the tables spread out in a large open area, not very intimate in feel. On the plus side, they do have an outdoor patio area. The food was mediocre at best. My pizza had what at least felt and tasted like a frozen par-baked crust. The crust was almost tasteless.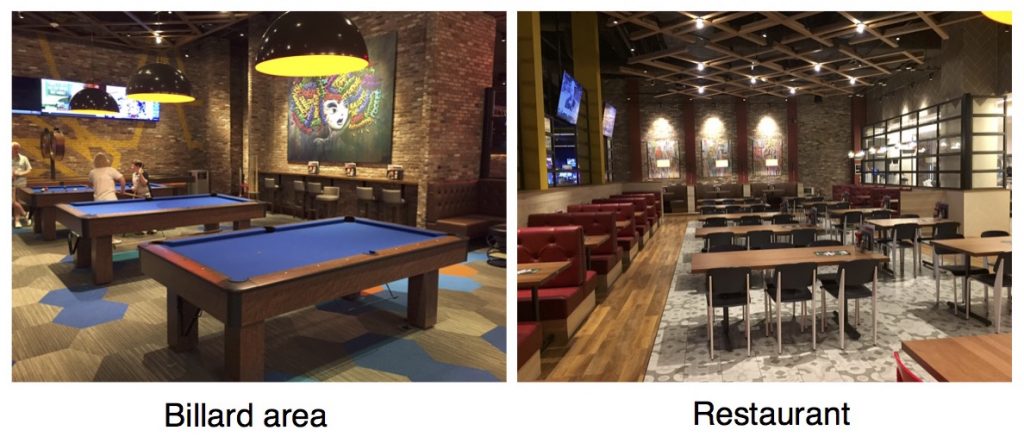 Point Orlando has many high quality restaurants including Copper Canyon Grill, Maggiano's Little Italy, The Capital Grille, Tommy Bahama & The Oceanaire Seafood Room. Compared to all the other dining options at Pointe Orlando, Main Event will have little appeal as an adult dining destination, although I can see it working for families. And in terms of adult entertainment, Main Event is competing with Dave & Buster's and King's, both just 5 minutes away up International Drive. They each offer free parking, whereas it's pay parking in Pointe Orlando's garage, $6 for 2-3 hours and $8 for 3-4 hours. In terms of the expectation for quality food in a bowling-based venue, Splitsville Luxury Lanes in Disney Springs has set the standard in Orlando. It even serves sushi. Main Event's food comes nowhere close.
One thing Main Event continues to completely fail at is acoustics. At Pointe Orlando, they did nothing to address it. They didn't even use carpet throughout most of the center, including in the gameroom (a standard industry practice), which can help moderate poor acoustics. I've heard from some residents in Orlando that on a busy night it is almost impossible to hold a conversation. Main Event still doesn't understand that the primary reason people go out to CLVs of all types is not necessarily the entertainment, it is to socialize. And that requires being able to hold a conversation without shouting.
One potential problem the Pointe Orlando center may cause Main Event is that it is nicer than their other locations. Since Orlando is a major tourist destination, many customers from their other locations come to Orlando on vacation. After visiting the Pointe Orlando Main Event, they're expectations are raised for what to expect at a Main Event, so when they go back home, they could be less satisfied with the Main Event in their home town. Customer satisfaction = what customers expect minus what they actually experience.
This is not good for Main Event, especially since their same store sales for the six months ending December 31st were down 2.9% while other entertainment chains like Dave & Buster's saw increases (+1% for D&B's 2nd quarter and +5.9% for their 3rd quarter ending October 31, 2016).
Despite its flaws, the Orlando Main Event is a clear contrast to the typical FEC big box model they are rolling out with their built-from-scratch new centers. The Orlando Main Event clearly shows how inferior the big box model is in many respects.