A just released study by The University of Michigan Transportation Research Institute shows that there has been a continuous decrease in the number of people with a driver's license across all age groups over the past three decades.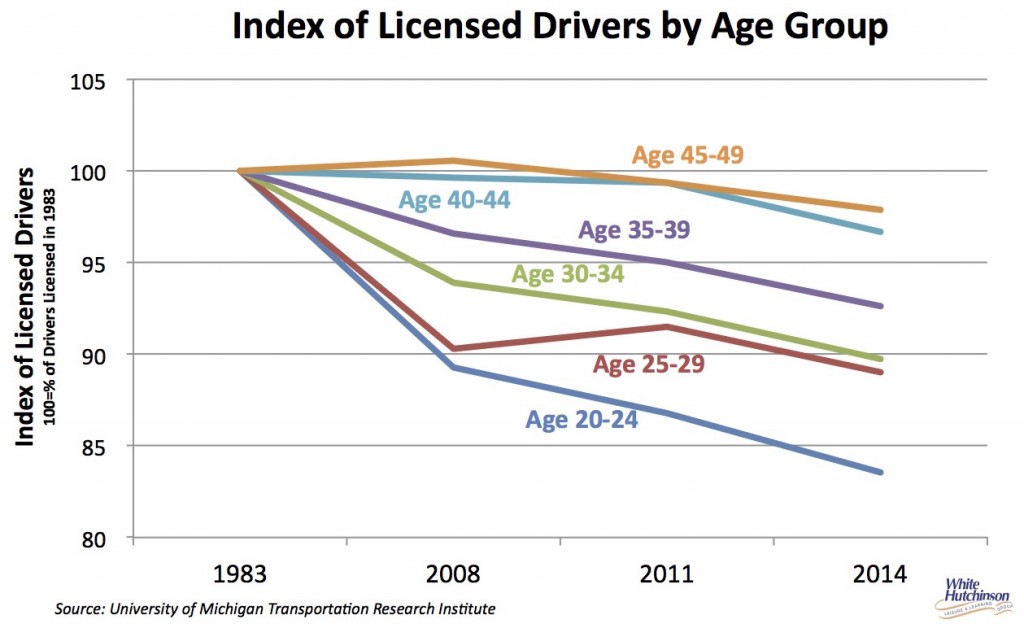 The younger the age group, the greater the decline. For 20- to 24-year-olds, the decline has been from 92% holding a license in 1983 to only 77% in 2014, a one-sixth (-16%) decline. The age 25 to 29 age group saw a 11% decline to 85% licensed in 2014 and the 30-34 age group saw a 10% decline to 87% licensed. And remember, this data precedes any impact that could be attributed to the recent Uber, Lyft and other ride sharing options.
This 20-34 age group, basically what are called Millennials, is a prime target market for many types of location-based leisure and entertainment venues. This trend of declining licensed drivers has implications for location-based businesses. Fewer people driving means fewer people with easy access to visiting location-based business. Of course, in some situations this may be offset by improvements in public transportation and now by the ride sharing services.
A more important implication is that the decline in licensed drivers is a result of where people chose to live, especially the younger adults, so it is affecting where many LBEs need to be located to capture that market. Our Leisure eNewsletter that will be emailed out next Monday includes an article that discusses research findings on the migration of young adults to new living locations due to their desire to reduce their commuting time and gain more leisure time. Make sure to check it out.
To subscribe to our Leisure eNewsletter, click here.