In my June 2015 blog I reported on Americans' plans for taking a vacation in the coming summer months. Skift, a travel intelligence and marketing company, periodically surveys Americans about their vacations and just released the results from their January 2016 survey on the actual vacations that Americans took in 2015. The results are not encouraging for any location-based leisure venues that cater to vacationers, whether they are out-of-town on a trip or on a staycation at home. 41% of Americans didn't a single day off in 2015 and another one-sixth took less than five days of vacation. Those are the same percentages as the results for 2014 (within the range of statistical significance).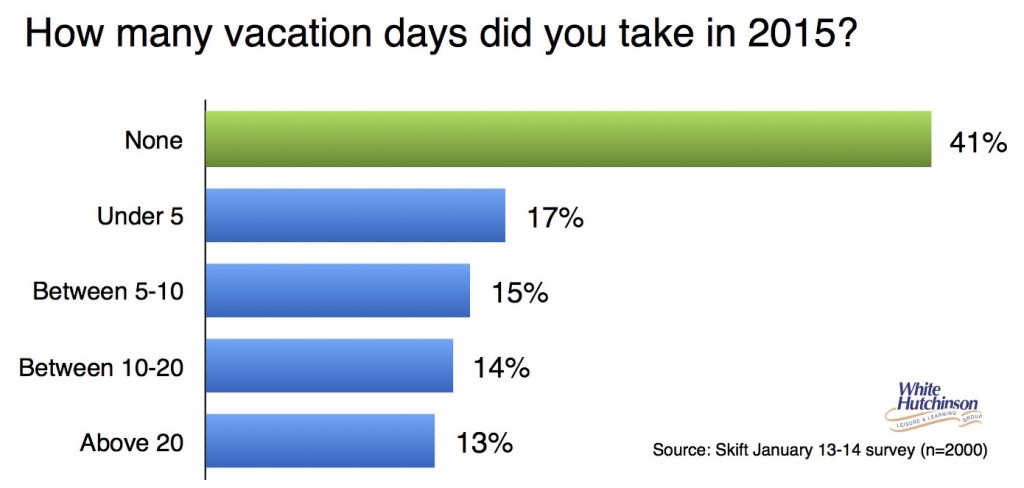 Some other highlights from analysis of the data include:
U.S. Midwesterner are the least likely to take vacations, while residents of the North, East and West the most likely to.
Americans living in rural areas are the biggest group taking no vacations, compared to those living in urban and suburban areas.
Wealthy Americans took the most number of days off in 2015, while the opposite happened at the poorer ended of the income spectrum.
Parents and their families have more trouble taking vacations than the non-parents.