Our company has been tracking the long-term trend in location-based entertainment spending that has shown a decline started around the turn of the century. We now have new, more current data thru June 2014 and it appears that trend is continuing.
The U.S. Bureau of Labor Statistic's Consumer Expenditure Survey is an incredible resource for analyzing consumer spending and participation trends. It has been published on a calendar year basis. However, starting in 2012, BLS also started publishing a midyear update. They have just released the midyear update for July 2013 thru June 2014. So we now have three consecutive midyears of reports to look for trends.
The midyear reports don't break spending into the finer segments that the annual data allows. They only report entertainment in a very broad category of fees and admissions that includes all recreation expenses; social, recreation and health club memberships; fees for participant sports; admissions to cinemas, theaters, amusement parks, museums, sporting events and other similar venues; and recreational lessons. Nevertheless, the broad category is still a good indication of out-of-home entertainment and recreation spending.
Since 2000, we have seen an overall decline in location-based entertainment, sports, recreation and club spending. Inflation-adjusted, it is down by 21% from 2000 spending and down by nearly one-quarter (23%) from its high point right before the start of the Great Recession.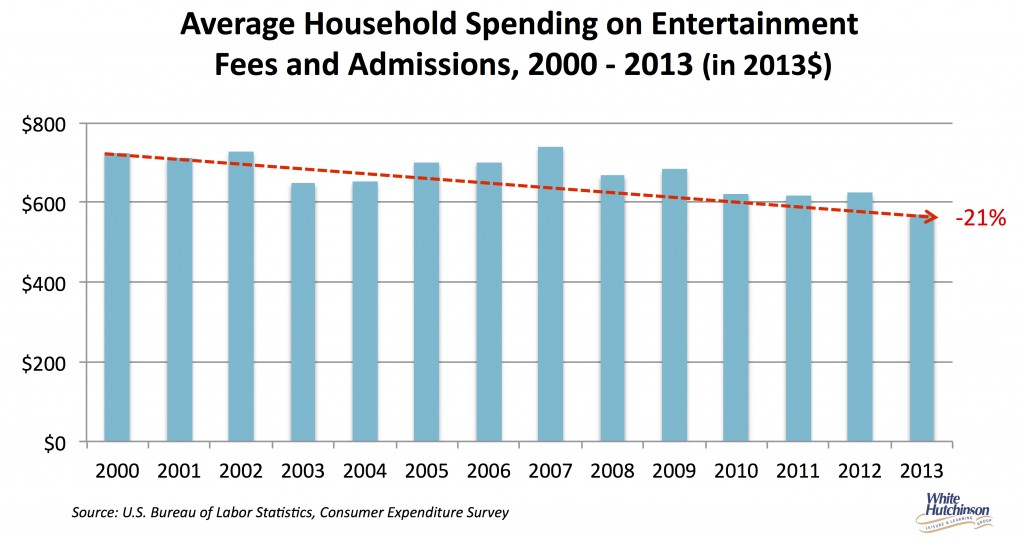 The new midyear report confirms the downward spending trend is continuing. Average inflation-adjusted household spending for this broad category of entertainment declined by 9% between the July-June midyear ending in 2012 and the most current one ending June 2014.