American's spending on tchotchkes—trinkets, junk, yard sale finds, gift shop items, home decor trinkets and other decorative items for the home—is an excellent measure of their impulse spending, the fluff available in household budgets. It's a good gauge of American's economic wellbeing, rising when Americans are feeling economically flush and falling when they are feeling financially pinched. Back in 2007 the American Consumers Newsletter started to name tracking that spending the Tchotchke Index.
We dug into consumer spending data to show you what has been happening to the index since it's 2000 peak of average household tchotchke spending of $240 (in 2013 dollars). It fell to a low of $158 in 2004 following the 2001 recession, 9/11 and the dotcom bubble, recovered to $226 during the housing boom and has been on the decline ever since to the low in 2013 of $103, 57% below its peak.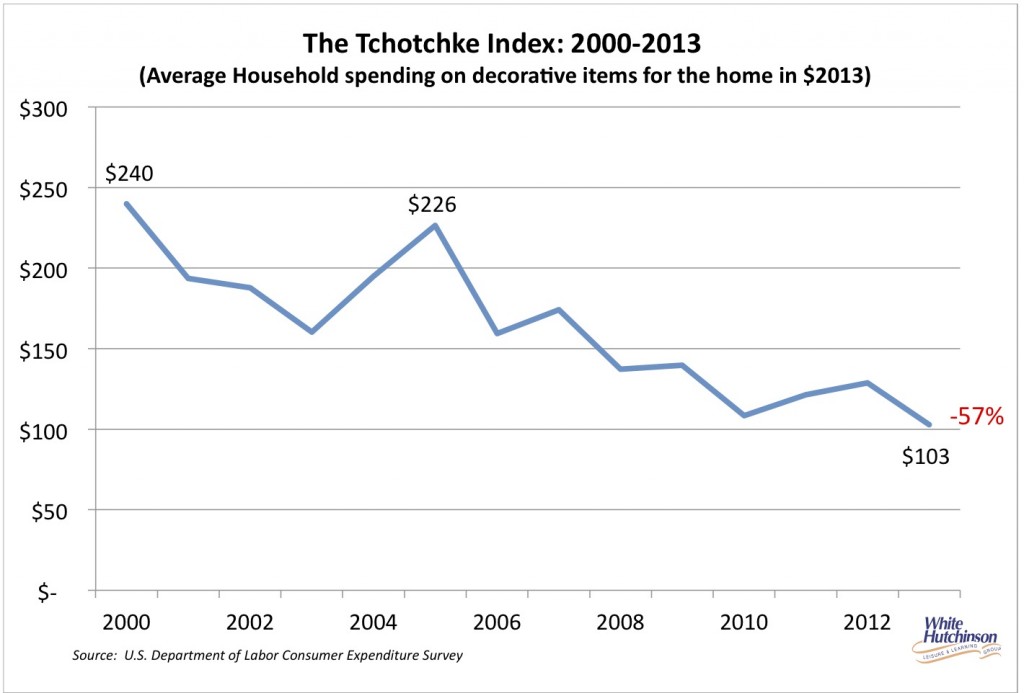 It is no coincidence that we have seen a similar long-term decline in location-based entertainment spending starting in the early 2000s, rising in the mid-2000s and then declining since – a pattern comparable to the Tchotchke Index. Many Americans continue to cut back their spending on not only tchotchkes, but other discretionary items including location-based entertainment.