In this blog and in our company's Leisure eNewsletter, I write extensively about our company's research and analysis of the fast evolving and rapidly changing intersection of personal digital technology & bricks-and-mortar entertainment. The Triple Revolution of the Internet, social media and the always-on-connectivity of now ubiquitous mobile devices is disrupting the entertainment venue industry in ways and at a speed that most in industry fail to recognize, let alone take action to stay competitive.
Below is a graph that illustrates the change in spending over the past decade. The average American household has increased their total spending on all types of entertainment, including admissions and fees at bricks-and-mortar entertainment, cultural and sports venues and on all forms of digital entertainment including social media (88% of social media users consider it entertainment), by one-quarter (24%, inflation-adjusted) over the past ten years, increasing from 3.5% of all their spending to 4.4%.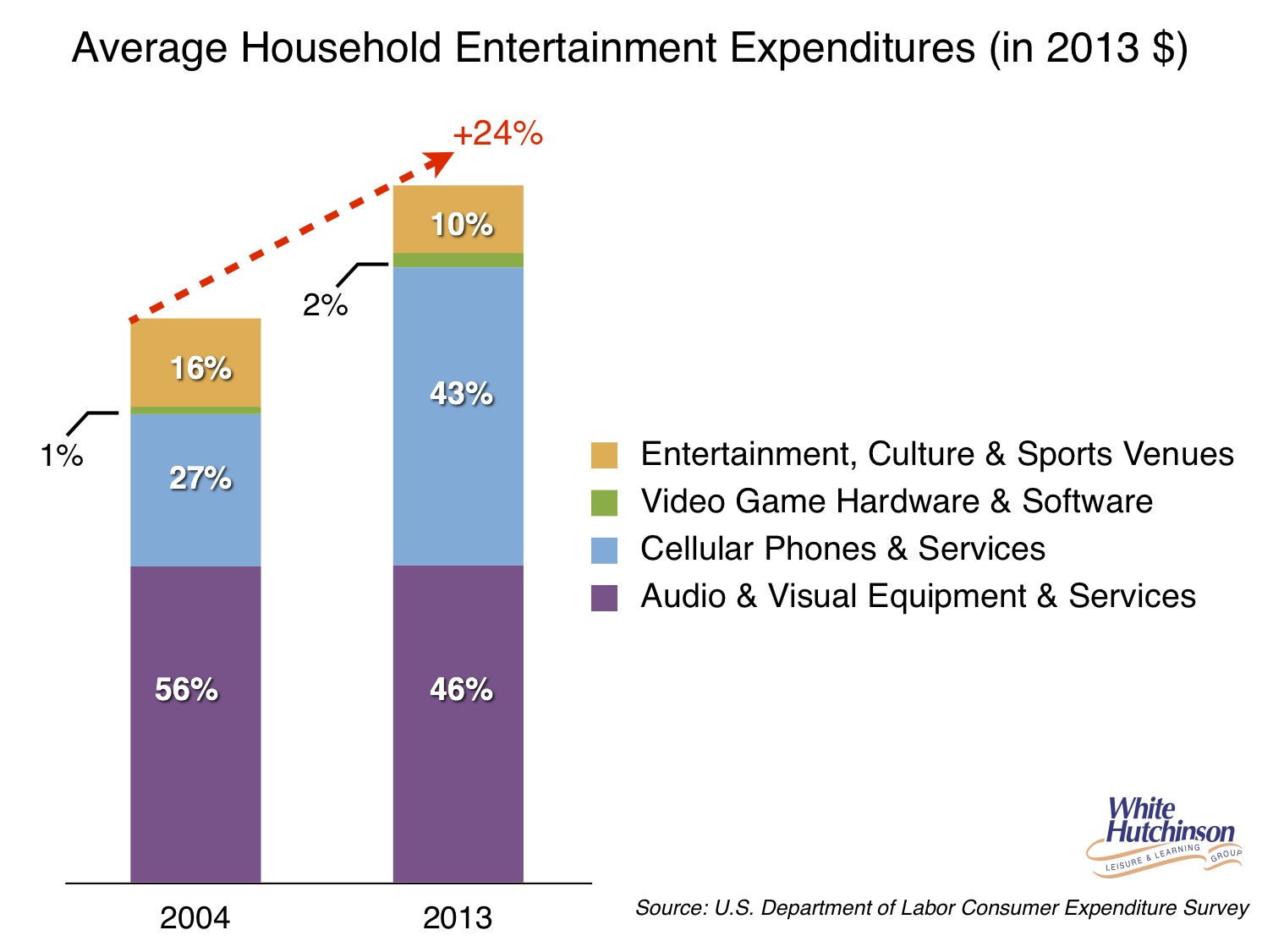 But here's what we see as the real mega-trend that should have entertainment and other venues alarmed. Average household spending on both video game hardware and software and on cellular phones and services (think predominately smartphones and apps) has almost doubled (+96% for both), whereas admission and fee spending at entertainment, cultural and sports venues has decreased by one-quarter (-24%), from 16% of all entertainment expenditures to 10%. And when we look at the data year-by-year, it is apparent that the trend started many years before the Great Recession, indicating that it is a long-term trend.
This digital disruption of where entertainment dollars are being spent is something everyone in the business of attracting customers to any type of leisure destination needs to recognize. In order to assure their future they will need to take action to transform their venue to become competitive with the fast growing siren call of at-home and mobile digital entertainment.