It seems like an overnight sensation. All of a sudden from their beginning on the West Coast, we have commercial indoor trampoline centers (also called parks) popping up everywhere. These centers feature a large grid of trampolines (10,000+ SF) with thick layers of padding covering the metal support structure for predominately children's open jumping sessions. The centers also offer exercise programs and sports such as dodge ball using the trampolines. We have identified over a 100 centers that have opened across the U.S.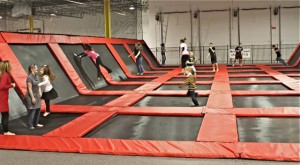 Click to see video of one trampoline center in action.
What's driving the rapid growth of this concept? It reminds me of Yogi Berra's saying, "It's like déjà vu all over again." We saw a similar phenomenon back in the early 1990's with the rapid growth of pay-for-play soft-contained-play (SCP) centers, Discovery Zone being the major chain with perhaps another 500 individually owned centers. There had been a recession resulting in a lot of unemployed management people looking for a new career and the cost of entry was around $500,000. So America entrepreneurial zeal and reasonably affordable entry price drove the expansion engine. If you don't remember, the SCP center concept didn't have legs, Discovery Zone filed bankruptcy and perhaps 95% of the independently owned SCP centers closed. The flaw was that all the wannabees copied the early Discovery Zone model that hadn't proved the test of time and Discovery Zone itself was nothing but a stock market play to cash in by taking the rapidly expanding company public before it imploded with bankruptcy in 1996.
We've seen a similar trend with the other variety of indoor jump centers, inflatable centers. This concept started earlier than trampoline centers and had a low start-up cost in the $500,000 range. About a half a dozen franchises emerged, helping to promote its expansion and over saturation in many markets. Like SCP centers, inflatable centers are based on a single attraction and are now dying off across the country since reaching a peak of around 500 centers.
Any new children's entertainment concept will work for the first year or so due to novelty and first time users checking it out. The wannabees check the concept out while it is hot and conclude it is a viable business model and imitate what they see. In the location-based entertainment industry, the challenge is to have a concept that has long-term repeat appeal, and by long term I mean at least ten years. The first year or so is no test for that.So today we have all the ingredients in place fueling the opening of trampoline parks just like the SCP craze – lots of unemployed upper management, lots of vacant flex-warehouse space at attractive prices with landlords willing to rent to start-up businesses and a reasonable entry cost of around $1.0-$2.0 million. And we have a number of trampoline park franchises helping to promote concept and its expansion.
But here's the problem with indoor trampoline centers. It too is an unproved model for long-term viability. But worse, unlike soft-contained-play units that are designed to be safe, and inflatable centers that are reasonably safe if recommended safety standards are followed (unfortunately, most inflatable centers don't), the trampoline centers in my opinion are downright dangerous. Children are getting injured in droves.
Since November, one Midwest trampoline park has had ambulances dispatched to it for trauma injuries ranging from broken ankles and dislocated shoulders to a head injury— a 13-year-old girl who fell on her head and reported tingling in her arms and difficulty breathing. Another West Coast center had fifteen ambulance calls since the place opened last fall, several of which were for serious injuries. These are only the ambulance calls; they don't include the injuries where the parents took their children to the hospital.
The potential for devastating injuries concerns Dr. Gary Smith, director of the Center for Injury Research and Policy at Nationwide Children's Hospital in Columbus, Ohio. He sees the trampoline parks as a progression from the use of backyard trampolines, which nearly tripled the number of trampoline injuries in the 1990s, with 11 deaths. One law firm reports that trampoline injuries may cause brain injuries. The Consumer Product Safety Commission reports there are approximately 100,000 trampoline injuries a year, mostly all to children on home trampolines. The trampoline parks are new, so CPSC doesn't cite any figures yet on injuries there.
Here's a notice on one trampoline park chain's website that comes up before you can enter the website (the company's name is deleted to protect the guilty).
All participants must have a valid XXX waiver completed/signed prior to entering the XXX playing court. Those under 18 must have their waiver signed by their

parent

or

legal guardian

.
Jumping on the XXX playing court is a fun & fit activity for just about any age, shape or ability. However, it is a physical activity and there is the potential for injury.
The waivers these centers require read more like what Evel Knievel might have been required to sign. Think about it. The trampoline parks market themselves to parents as a fun place to bring their children, but at the same time tell the parents that the park's ownership is so afraid that the children will be injured, the parents need to sign an agreement not to hold the park responsible when their children are injured.
In many legal jurisdictions, the law does not give a parent the right to waive their own child's personal injury claim. Many times the signed waiver is only an attempt by the trampoline center to make the parent believe they can't make a claim against the center when their child is injured.
I believe trampoline centers have all the ingredients to cause them to die off faster than SCP and inflatable centers. First we have their single dimensional nature – just trampolines. Not all children enjoy jumping. Children require a variety of different type play and entertainment. Second, it's a novel concept without long-term staying power in terms of its repeat appeal. Third, and perhaps the most significant reason, is that responsible parents are not going to take their children to have fun with an unsafe activity. Word-of-mom about the safety and injuries is starting to spread across the Internet based on a number of recent newspaper stories. And in terms of their financial model, trampoline parks have very low capacity per square foot of center size.
And if that isn't enough to do them in, we will probably shortly be seeing multiple lawsuits about trampoline park injuries, insurance companies refusing to continue to insure them, municipalities passing regulations prohibiting them and probably the Consumer Product Safety Commission cracking down on them. Right now there are no CPSC safety regulations or ASTM standards for these commercial trampoline centers, as the trampoline safety standards that do exist are designed for consumer home trampolines.
I've been working as a consultant and designer in the family and children's entertainment and play industry for 23 years. It's amazing how in that short of a time we are seeing the second occurrence of déjà vu in the children's entertainment center industry. It's unfortunate, as many well meaning entrepreneurs, many recovering from a battering in the Great Recession, are going to lose their shirts and perhaps what wealth they were able to hang onto. Worse, this time around we'll going to injure and hopefully not kill children in the process. There are so many alternative time tested, safe and proven concepts in the children's entertainment and play center industry. I guess it just goes to show how "the next big thing" can cause entrepreneurs to be blind to history's lessons and to not follow the tried and true.
To learn more about the children's entertainment industry and what works, read my 1997 article about the downfall of SCP, Is Soft Contained Play Dead? and other articles about children's center listed on our website.