---
More on pocket pies
In last month's article on walk-around portable food, we discussed the handheld 'Pocket Pie' that the MOD Pizza chain has introduced as a new LTO (limited-time offering) as a possible handheld walk-around menu item for agritourism festivals.
Randy White, our CEO, visited a MOD Pizza to check it out. He tried the Italiano. Here are two photos of it. The Pocket Pie comes in the triangular paper holder in the left photo. The dollar bill is in the right photo so that you can see its size. Dollar bills, all U.S. paper money, is almost exactly 6 inches long. The Pocket Pie is about 8' long.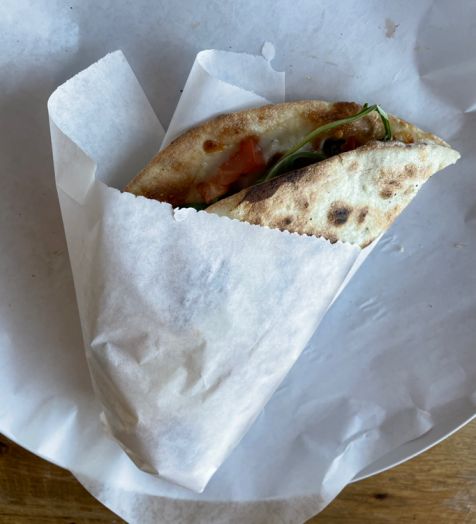 MOD Pizza's Italiano Pocket Pizza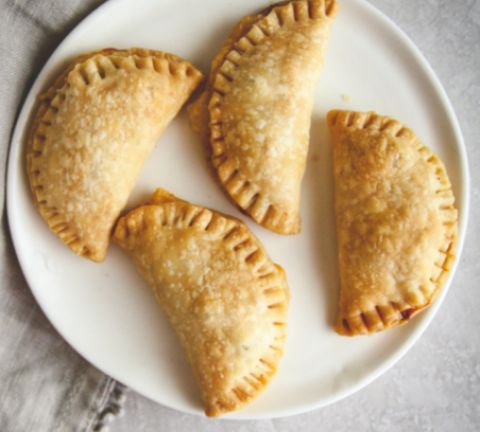 Empanadas
He concluded that although it was tasty, it was too large for a walk-around handheld and could be messy since the crust isn't sealed all the way around; the sauce can drip out the end. He thinks what might work is to make around a 5-inch calzone-style handheld as it is sealed all the way around, much like a Southern fruit hand pie. Calzones are just an Italian variation of an empanada. With empanadas, handhelds can have a wide variety of savory fillings other than pizza ingredients.
Let us hear from you if you've had any success with a handheld along these lines, and we'll share your story with our readers in an issue.
Subscribe to Agritourism Today
---