The Worlds Values Survey is periodically conducted in almost 100 countries containing almost 90% of the world's population. It is used by political scientists, sociologists, social psychologists, anthropologists and economists to analyze many topics including the importance of different life activities and subjective well-being.
We dug into the survey data to see if the Great Recession had any impact on how people in the U.S. value work and leisure. The following graph shows the percent of adults who consider work and consider leisure as rather important or very important in their lives.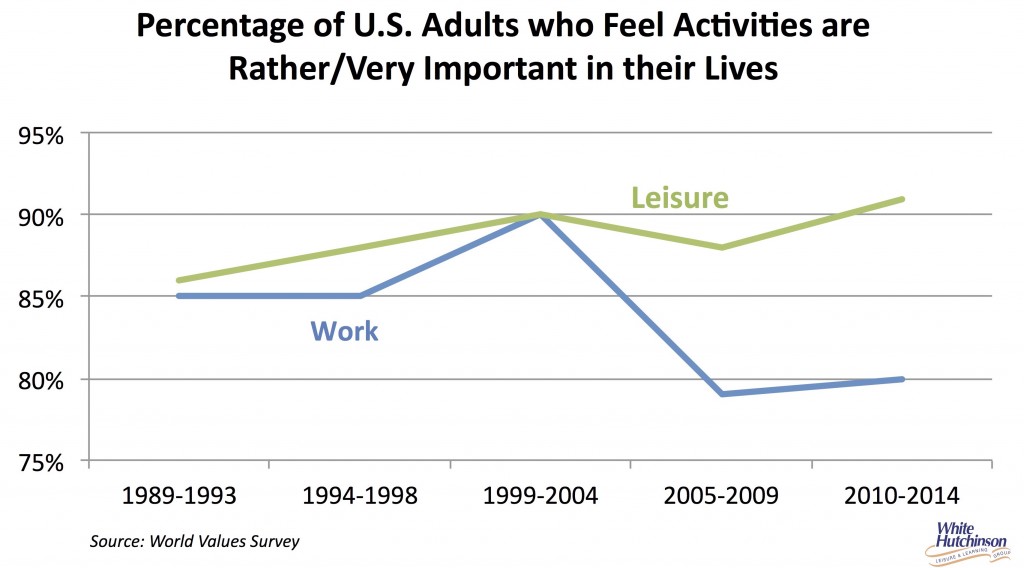 As the graph clearly shows, there was a dramatic drop in the importance of work around the time of the Great Recession that has stayed low through last year. The importance of leisure went up.
When we looked at the ratings based on adults' education levels, in the 2010-2014 survey, there was little difference based on educational attainment for the importance of work. But more adults with college degrees rated leisure as rather/very important (94.0%) than adults with lower levels for education (89.5%).
We will be taking a look at other countries in the future to see how adults there compare.