Helio Center, considered Vietnam's largest and most modern FEC, opened to the public on February 11, 2015 in time for the Tet holiday. The 157,000 square foot (14,600 square meter) indoor and 2.5-acre (one hectare) outdoor family entertainment center is located Da Nang, Vietnam. Da Nang is located on the coast midway between Hanoi and Ho Chi Ming City (formerly Saigon). It has a metropolitan area of one million and is a very popular tourist location for Vietnamese and foreigners alike with its beaches, 5-star resorts and less crowded and laid back lifestyle.
Randy White, CEO of the White Hutchinson Leisure & Learning Group, designers and producers of Helio Center, said work started on the project in July 2012 with market and culture feasibility. It then immediately proceeded to design and construction. Considering the complexity of the building design with its ground floor, mezzanine and a basement garage for 1,000 motorbikes and 53 automobiles plus sourcing and procurement of entertainment equipment and finishes from all over the world, Randy said, "The FEC was actually completed in a very timely manner, even by Western standards."
Man Quang, CEO of Helio Center, said, "It is exciting to be able to bring a totally new entertainment experience to Vietnamese people with this state-of-art, world class FEC. I am confident it will be a major attraction and bring much joy and happiness to both residents and tourists for many years to come."
The FEC includes both adult-oriented and family attractions:
  14 lanes of duckpin bowling including VIP lanes
  Children's edutainment (play and discovery) center
  Indoor ice skating
  4 indoor rides
  Combination Ballocity and soft modular play structure
  150 redemption, simulator and video games
  Redemption prize store
  Indoor go-karts
  19 private karaoke rooms
  Celebration and birthday party rooms
  Multi-purpose theater-style performance, karaoke and meeting room
  Coffee and bakery café
  Food court featuring five different world cuisines and a bakery
The outdoor area includes:
  Children's discovery play garden
  Multi-level seating for the coffee and bakery cafe
  Restaurant village which will seat over 600 buildings featuring different cuisines
  Children's boating school
  Children's motorbike and automobile driving school
  Bumper boats
At peak times, the FEC will accommodate 4,000 guests. The center employs a staff of 600. Helio Center cost more than USD 45 million by Western cost equivalents.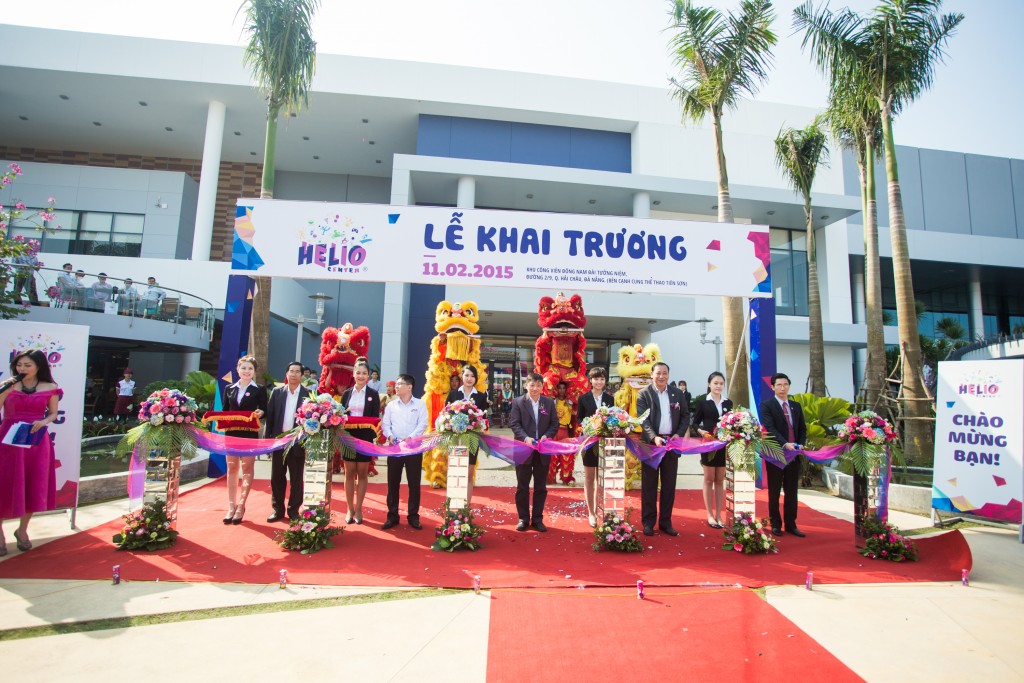 Helio Center started its marketing campaign, predominately on Facebook, well before opening. By opening, it had already registered 50,000 members who will use its Power Card debit card system to pay for games, attractions and food and beverage, get discounts and earn points towards VIP status.
Unusual for entertainment projects, White Hutchinson designed the building with a natural daylighting roof monitor system that allows the majority of the center to be totally lit by daylight during the day to save on electrical lighting costs. The project also incorporates a number of special acoustic treatments to prevent it from being too noisy.
A unique feature of the basement garage is the security system it has to prevent the theft of motorbikes, something you won't find in the West. There is a small charge to park your motorbike, 2,000 dong (10 cents US). When a motorbike enters the garage, they stop at the security check-in, pay and a computer-camera system records both the driver's face and the license plate. Then when leaving, the driver drives through a security checkpoint that verifies the original driver is on the motorbike by matching the license to the original photo of their face.