2013 North American movie box office results are in. On a per capita basis, movie attendance declined 1.3% in 2013 after an increase in per capita attendance in 2012 compared to 2011.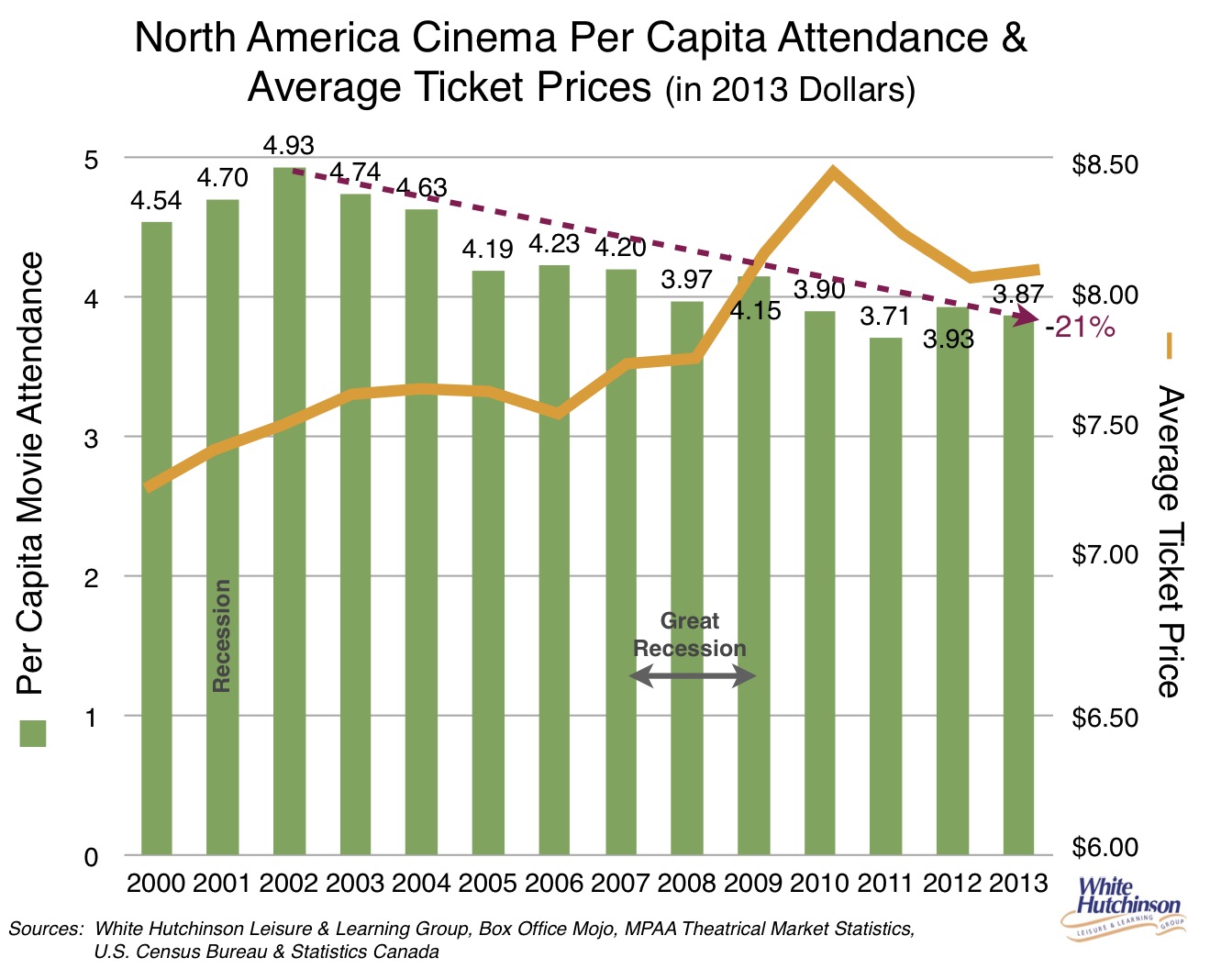 There is always some year-to-year variance in movie attendance based on the movies offered each year, especially if there are any blockbusters such as Avatar in 2009 and Marvel's The Avengers in 2012. However, as can be seen on the graph below, the 2013 attendance decline is a continuation of a long-term trend of declining per capita attendance from its peak in 2002. Per capita movie attendance has declined 21% since that peak year.
Moviegoing has the highest participation rate of any type of out-of-home location-based entertainment (more than three times greater than the next most popular, bowling). Roughly two-thirds of the U.S./Canadian population age 2+ went to a movie at the cinema at least once in the past few years. The data on participation isn't in yet for 2013, so we can't tell whether the decline in per capita attendance is attributable to a decline in the participation rate or a decline in the number of movies moviegoers are seeing each year, or perhaps both. In any case, our research indicates that other forms of entertainment are slowly displacing moviegoing. Moviegoing appears to be a bellwether of what is happening to all type of location-based entertainment.
Our company's research suggests that the root cause for the decline is at-home and mobile digital entertainment, both viewing movies at home on large screen HDTVs as well as on mobile devices, and other forms of entertainment including games and social media. Digital entertainment is also taking market share away from other forms of location-based entertainment.