Earlier this year The Bureau of Labor Statistics at TED: The Editor's Desk posted a graph on their website showing "Travel expenditures during the recent recession, 2005-2011." The post stated that 2011 average annual consumer expenditures for travel for pleasure was down 6% from its peak in 2007. When we looked at the data used to generate the graph, we were surprised that it was not inflation-adjusted. Between 2007 and 2011, inflation (the consumer price index) showed that consumer prices had increased by 8.5%.
So to set the record start, we have redone the graph with all expenditures adjusted for inflation and also included 2012 data.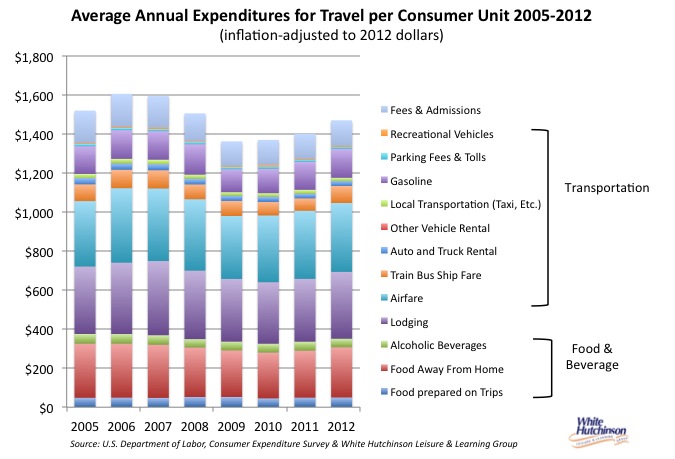 When adjusted for inflation, the drop in travel expenditures was much greater than the Bureau reported. From its peak in 2007, average household total pleasure travel expenses in 2011 were down 14%, not 6%. Food and beverage was down 9%, lodging down 10%, transportation was down 14% and entertainment fees and admissions (from its peak in 2006) were down 21%.
There was an uptick in expenditures in 2012, but travel expenditures are still down from their peaks:
Total travel expenditures:  -9% from 2007
Food and beverage:  -5% from 2007
Lodging:  -10% from 2007
Transportation:  -9% from 2007
Entertainment:  -20% from 2006