As I'm sure you have seen in our Leisure eNewsletters, we follow a lot of research about the digital and social media worlds in order to better understand the disruptive impact they are having on location-based entertainment.
UCLA's Cooperative Institutional Research Program has surveyed American college freshmen for 47 years, asking them about their demographics, high school experiences, college choices, attitudes toward issues, and future plans. Last fall they obtained data from 192,912 first-time, full-time students entering 283 four-year colleges and universities and recently reported the results in The American Freshman: National Norms Fall 2012 report.
Amongst pages and pages of survey results, I found some interesting data concerning the time they spent with media entertainment and social media: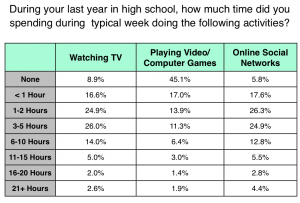 It appears that high school students spend a lot less time watching TV, on social media or playing video games than many reports would have us believe. Most amazing to me is the 45% reported NOT playing any video game during the previous week, whereas for example, a report by the Pew Internet & American Life Project reported that in 2008 virtually all American teens played computer, console, or cell phone games. Since the UCLA survey sample is so large, it's hard to not believe the results are valid for the 41% of all high school seniors who went on to a four-year college in 2011.